Looking for the best electric guitar for the money? We have a list of great low priced brand name electric guitars that are guaranteed not to break your bank.

We certainly hope you benefit from the information we provide in this article! Just so you know, we may receive compensation if you use the links on this page. If you do, thank you so much!


Five Electric Guitars That Offer the Best Value
Top 5 electric guitars for the money at glance:
| | | | |
| --- | --- | --- | --- |
| Product | Image | Rating | Relative Price |
| #1 Overall Best Value | | | $$ |
| #2 Best Budget Model | | | $$ |
| #3 Most Versatile | | | $$ |
| #4 Fastest Neck | | | $$ |
| #5 Best Classic Features | | | $$$ |


Until you know for sure that guitar is something you want to stick with and want to keep on playing, you want to make sure your money invested goes as far as possible. Luckily, there are many great beginner electric guitars on the market that won't break the bank.
Below, we have a list of five of the best low priced electric guitars that are definitely worth looking into.


In Review: The Top 5 Electric Guitars for the Money






1. Best Electric Guitar for the Money: Yamaha Pacifica PAC12 Electric Guitar



Yamaha Pacifica PAC12 Electric Guitar


If like most of us, you want to get the best value for your money, it's essential to do your research such as that which went into this article.
The smooth design of the Yamaha PAC12 includes one of the sleekest external designs on the market. All Pacifica models have a similar design – meaning while the PAC12 is the lower-end model on the market, it benefits from a similar design to some of the more expensive models.





Yamaha's Pacifica PAC12 is a popular choice for beginner players due to its low price and robust functionality. It's a great way to get your foot in the door.
This guitar offers quality performance despite being less than $200, and you'd be hard-pressed to find a similar guitar in with the same performance at this price point. This model provides much more sound power and range than other guitars in its market segment.
Considering this model remains a popular stalwart in the industry after almost 30 years, you can trust the Yamaha Pacifica PAC12 is built to last.





Key Features
Professional Quality at an Entry-Level Price
Smooth Design
Variations to choose from
Plenty of power and internal master controls
Factory Warranty Included
Made under strict quality controls during the manufacturing process




Pros and Cons


Yamaha Pacifica PAC12 Electric Guitar Review


What We Like
Solid, attractive design popular within the music community
Great performance sound quality for a guitar in its price range
Affordable price point – especially for entry-level guitarists
Included warranty protecting against manufacturing issues
Built by one of the most trusted companies in the industry
Multiple colors available


What We Don't Like
Not as high of quality as more expensive models
Not as many features as more expensive models
Doesn't come with additional accessories – amplifier is needed to play







For more details, read our complete comprehensive Yamaha Pacifica PAC12 review here.






2. Best Budget Model: Epiphone Les Paul SPECIAL-II





Epiphone Les Paul Special-II Electric Guitar


If you're a fan of electric guitars, there's a high chance you've heard of a Les Paul – it's one of the world's most popular designs. The Les Paul SPECIAL-II is Epiphone's most basic offering, but being one of the most affordable electric guitars on the market, it also has plenty to offer.
Choosing the right guitar is a complicated process that should entail plenty of research. In this review, we'll take an in-depth look at the Epiphone Les Paul SPECIAL-II with an aim to provide a bit of that research for you.






Epiphone is one of the world's most notable guitar manufacturers. While they originated in Turkey in the 1800s, the current company, Gibson, is best-known as one of America's most famous musical institutions. The firm is currently based in Nashville, Tennessee.
This particular Epiphone guitar model is also featured as a package in our Best Guitars for Beginners Guide. For a more detailed look at the instrument on it's own,, you can read our full review here.





Read What Epiphone Les Paul Special-II Users are Saying


Key Features
Classic Les Paul design
Electronics that perform
Warranty that lasts
One of your best sounding options under $200.
Built from basswood and a solid option in general.




Pros and Cons


Epiphone Les Paul SPECIAL-II Review


What We Like
Famous Les Paul design that you can't find anywhere else
Solid sound output, especially for a guitar of this price range
Lifetime warranty for certain components of the guitar
Plenty of features and solid electronics
Assurances of one of the largest guitar manufacturers in the world
Great customer feedback
Extremely affordable price point – a good entry level guitar


What We Don't Like
Doesn't come with any accessories
Isn't as advanced as some of the other Les Paul designs on the market







Interested in more info? Check out our in-depth Epiphone Les Paul II review here.






3. Most Versatility: Jackson JS22 Dinky





Jackson JS22 Dinky Electric Guitar


Do you want a solid body guitar that is attractive, plays well, and won't cost you an arm and a leg? If so, look no further than the Jackson JS22 Dinky, with its solid basswood body made with a beautiful finish.
This right-handed guitar from Jackson has a one-piece neck made of solid maple, and it also has graphic reinforcement on the joint. The bolt-on scale length is 25.5 inches, and there is a truss rod. This affordable guitar looks great, and it sounds awesome when you play it through an amp.





If you love the classic Jackson tone, you will enjoy playing the JS22 Dinky. It has all of the things that musicians love about Jackson guitars, but it comes at an affordable price so anyone can have their own awesome Jackson guitar.





Key Features
This guitar has many upgraded features, including an arched top, high-output ceramic pickups, a graphite-reinforced maple neck, bound fingerboard and headstock, and attractive black hardware, so you get a really great looking guitar
The bound rosewood fingerboard has 24 jumbo frets. This makes this guitar really stand out from other beginner, low-end guitars that do not have the full fretboard. You can go a long way on this guitar, and it's going to grow with you
Enjoy the dual, high-output Jackson humbucking pickups that have ceramic magnets, along with three-way blade switching. There is also a synchronized fulcrum tremolo bridge, as well as die-cast tuners


Pros and Cons


Jackson JS22 Dinky Review


What We Like
If you are looking for a guitar with that crunchy sound needed for rock and metal, this is a great option. The JS22
Dinky has the sound that rock musicians crave
This guitar is going to give you a lot of sustain, so you can create some pretty cool effects while you are playing
The smooth, rosewood fretboard is easy to play on, and it isn't going to wear or warp easily. The tuning system ensures that you will stay in tune as you practice and play


What We Don't Like
There can be a problem with a buzzing on some of the frets, which can only be fixed by taking the guitar in for adjustments
No setup is done on this guitar, so you must do it all once it arrives. This may not be the best option for a beginner with no experience in this area







Need more details? Read our comprehensive Jackson JS22 Dinky review here.






4. Fastets Neck: C-1 SGR by Schecter





Schecter C-1 SGR Electric Guitar


Let's start by discussing the C-1 SGR from Schecter. This is an attractive, uniquely shaped beginner guitar that plays as great as it looks. It has one very unique feature in that it has 24 frets, something that you aren't going to find in a lot of beginner electric guitars.
Priced very affordably, this SGR guitar from Schecter is an ideal inexpensive instrument you can definitely grow with. The pickups produce clean balanced tones that can easily be colored with a variety of effects.





If you are looking for a cheap guitar that has a decent sound quality, this is one of the models you need to seriously consider. It may be cost-effective, but there really is nothing cheap about this guitar. It looks and plays awesome.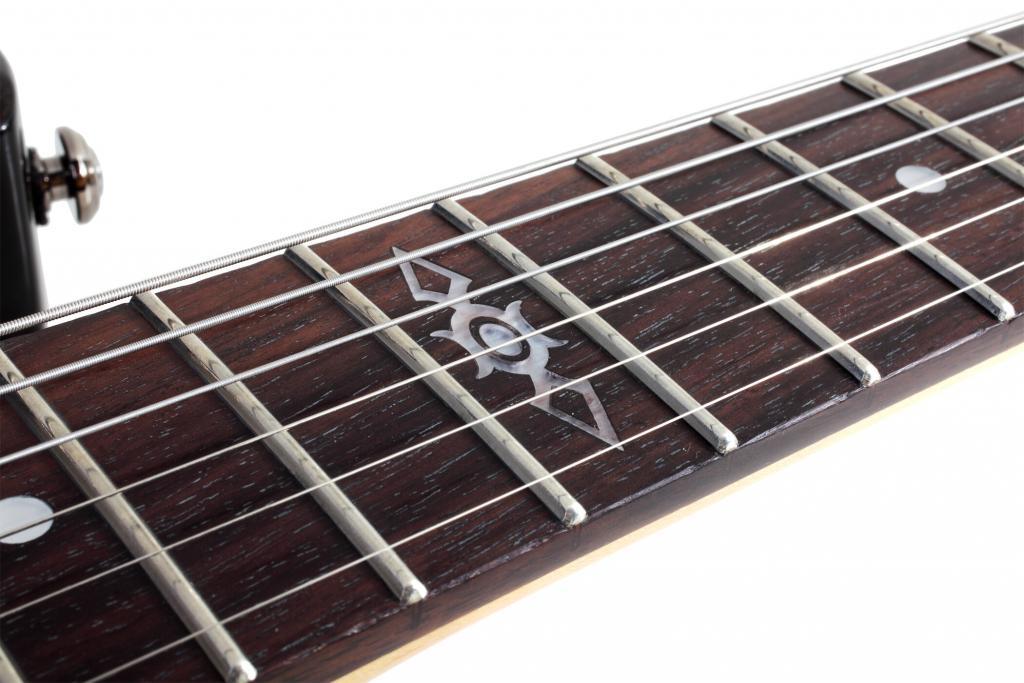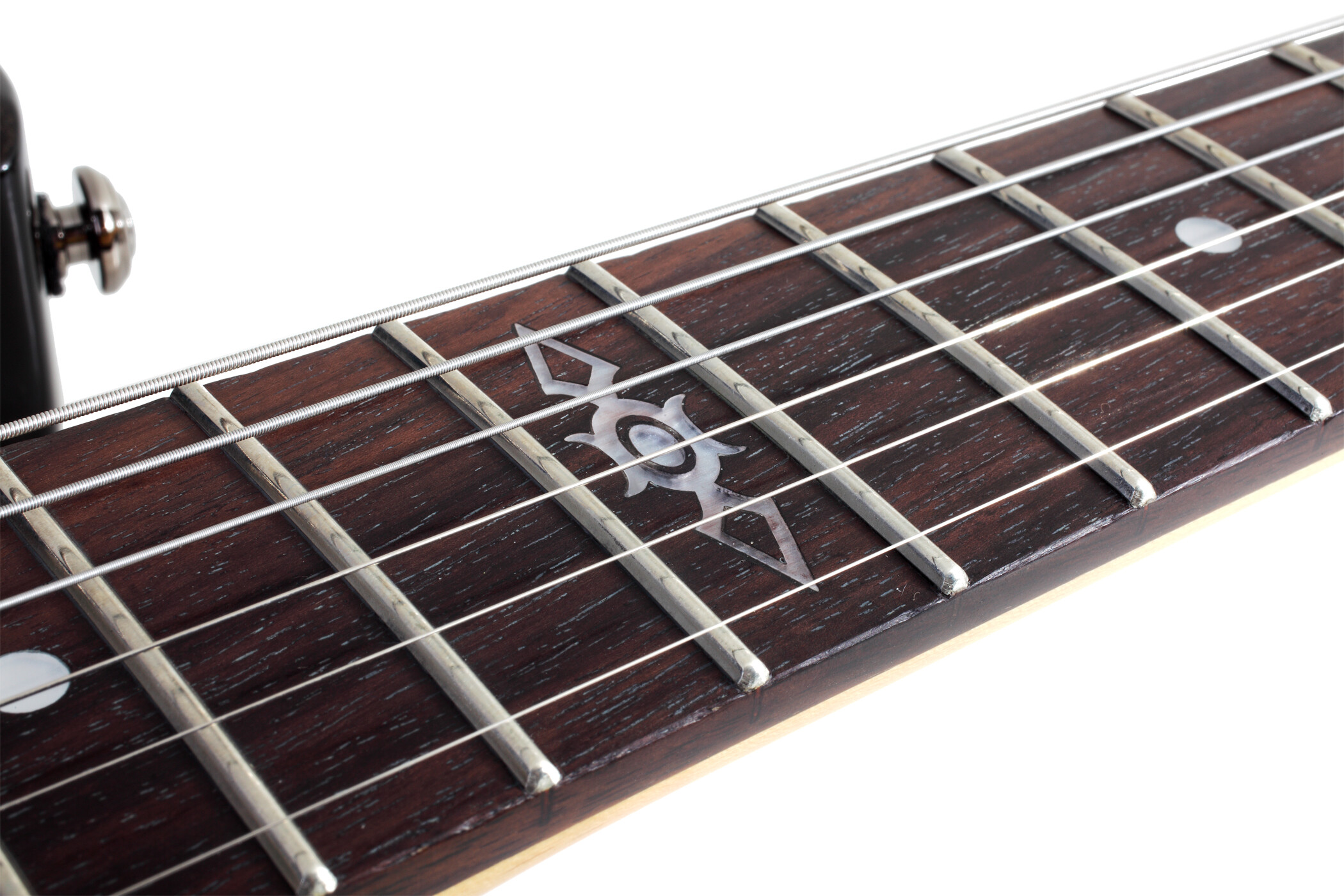 Click Here to Read the Latest C-1 SGR Reviews >>


Key Features
This electric guitar has a unique looking fretboard. While the pearloid dots aren't unique to this guitar, they really do stand out against the rosewood fretboard, and there is a unique filigree pattern on the 12th fret
The shape of the C-1 SGR is interesting and attractive. It has a smooth, arched top that makes this guitar very comfortable to play, whether you are sitting or standing. This also makes it easy to use both the controls and the fretboard
The hardware on this guitar is made from polished, black chrome, something else that sets it apart from other entry level guitars that just have regular or polished chrome in silver tone. This is just one more feature that gives this guitar its unique appearance




Pros and Cons


Schecter C-1 SGR Review


What We Like
Shown in a walnut satin, this guitar also comes in many other attractive colors, including midnight satin black and electric blue.
This is a guitar that is going to grow with you as you learn. Most beginner guitars do not have 24 frets, so you can't really get into the cool leads that you want to learn
There is nothing you need to do with this guitar to make it ready to play, except to tune it. The guitar will arrive with loose strings, so there will be no warping in the neck to make it unplayable


What We Don't Like
There can be a problem with a buzzing sound between the frets which is quite annoying
There is sometimes a problem with the pickups, and you can get similar guitars at the same price level with better pickups







Read our complete expert Schecter C-1 review here






5. Best Classic Features: Epiphone Les Paul-100 Electric Guitar





Epiphone Les Paul 100 Electric Guitar


A lot of musicians enjoy playing on Epiphone guitars, and for some very good reasons. For starters, even the low-end models are fun to play on, and they look and sound terrific. Take the Epiphone Les Paul-100 electric guitar for instance.
This guitar has a mahogany body with a maple top and a rosewood fretboard, and it comes in the traditional sunburst finish. It has all of the features we love about a Les Paul, but comes at a fraction of the price.
One of the things we love about this guitar is the body, because it is slightly slimmer than LP Studio or Standard guitars. It is more lightweight than other models, making it easier to play while standing for extended periods of time.






Key Features
This guitar has a classic LP tone, thanks to the 700T and 650R open coil, Humbucker pickups. Each pickup has its own separate volume and tone controls, so you can control each one individually to get the sound you really want
Some of the standard features of all Epiphone guitars, including the Les Paul-100, include 500 Ohms potentiometers, as well as the Epiphone heavy-duty, three-way pickup selector toggle switch and non-rotating heavy duty output jack
This guitar is going to tune easily, and stay in tune, thanks to the Epiphone Lock-Tone locking Tune-o-Matic bridge. There is also a stop-bar tailpiece that is going to give you more sustain, along with attractive chrome hardware



Pros and Cons


Epiphone Les Paul-100 Electric Guitar Review


What We Like
This guitar is made with similar specs as the Les Paul 1952 original, but all of the parts are new. You are going to get the look of a classic Les Paul, without spending a lot of money.
The mahogany body with a maple top is lightweight and slim, and easy to use for long periods of time. The neck is also made from mahogany, and bolts onto the body
This model guitar is available in four different colors, including Heritage Cherry, ebony, Sunburst, and Vintage Sunburst


What We Don't Like
There can be a problem with buzzing on some of the frets, and you may need to take it in for adjustments, which is not worth it for such an inexpensive guitar
You may have a problem keeping this guitar in tune, unless you take it in for a neck adjustment, which again, isn't really worth it for a low-end guitar







For more info, you may be interested in our complete Epiphone Les Paul 100 review.






Our Best Value for the Money Guitars Finalists:




Conclusion – Which Electric Guitar is the Best Deal?
As you can plainly see, you don't have to go out and spend hundreds of dollars for a decent beginner electric guitar. This is particularly good when you have children who want to learn, but you aren't sure if they're actually going to stick with it.
Any of these guitars will be a great choice for the beginner who wants a quality guitar to learn on, and they come from some of the most trusted guitar manufacturers in the world.
All told, considering fit, finish, cosmetics, playability, and bundled accessories, we'd have to say the overall winner in this shootout is the Yamaha Pacifica PAC12. Simply put, it represent the overall best electric guitar for the money.


EDITOR'S PICK





Check Yamaha Pacifica Availability! >>


Overall Build Quality

Overall Sound Quality

Overall Value Factor
Summary
Overall Average Score:






Remember the Guitar Accessories!