Some great inexpensive electric guitar choices at glance:
Until you know for sure that guitar is something you want to stick with and want to keep on playing, you want to make sure your money invested goes as far as possible. Luckily, there are many great beginner electric guitars on the market that won't break the bank.
Below, we have a list of five of the best low priced electric guitars that are definitely worth looking into.


Great Value Electric Guitars

C-1 SGR by Schecter
On Sale!
Let's start by discussing the C-1 SGR from Schecter. This is an attractive, uniquely shaped beginner guitar that plays as great as it looks. It has one very unique feature in that it has 24 frets, something that you aren't going to find in a lot of beginner electric guitars. Priced very affordably, this is a ideal inexpensive guitar that you can definitely grow with. It has clean, balanced, colored pickups, and it can be used with a variety of effects.
If you are looking for a cheap guitar that has a decent sound quality, this is one of the models you need to seriously consider. It may be cost-effective, but there really is nothing cheap about this guitar. It looks and plays awesome.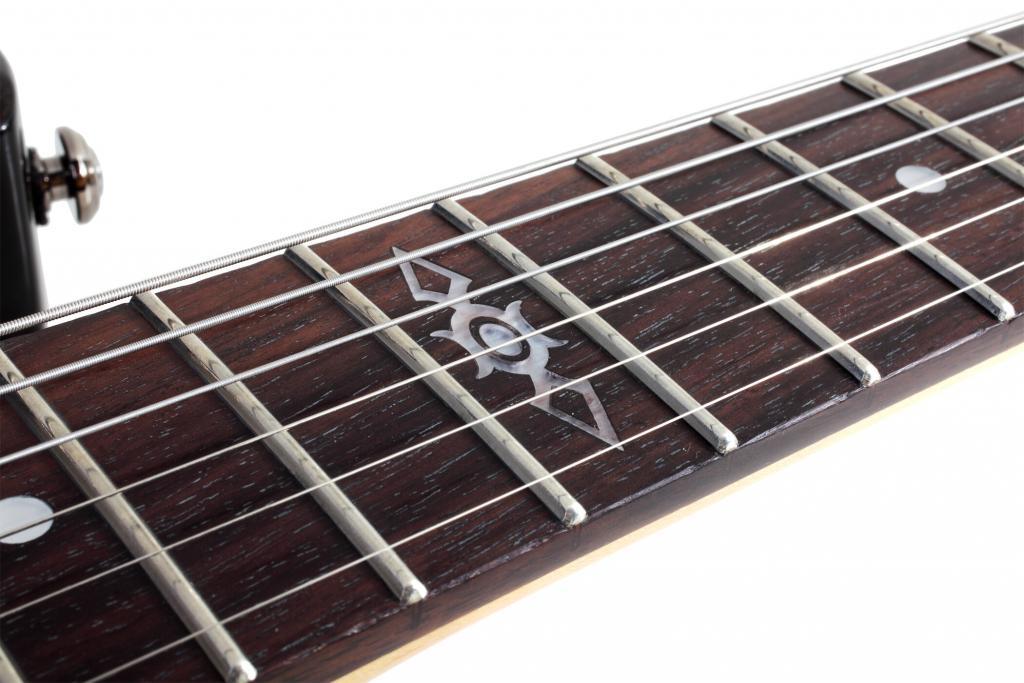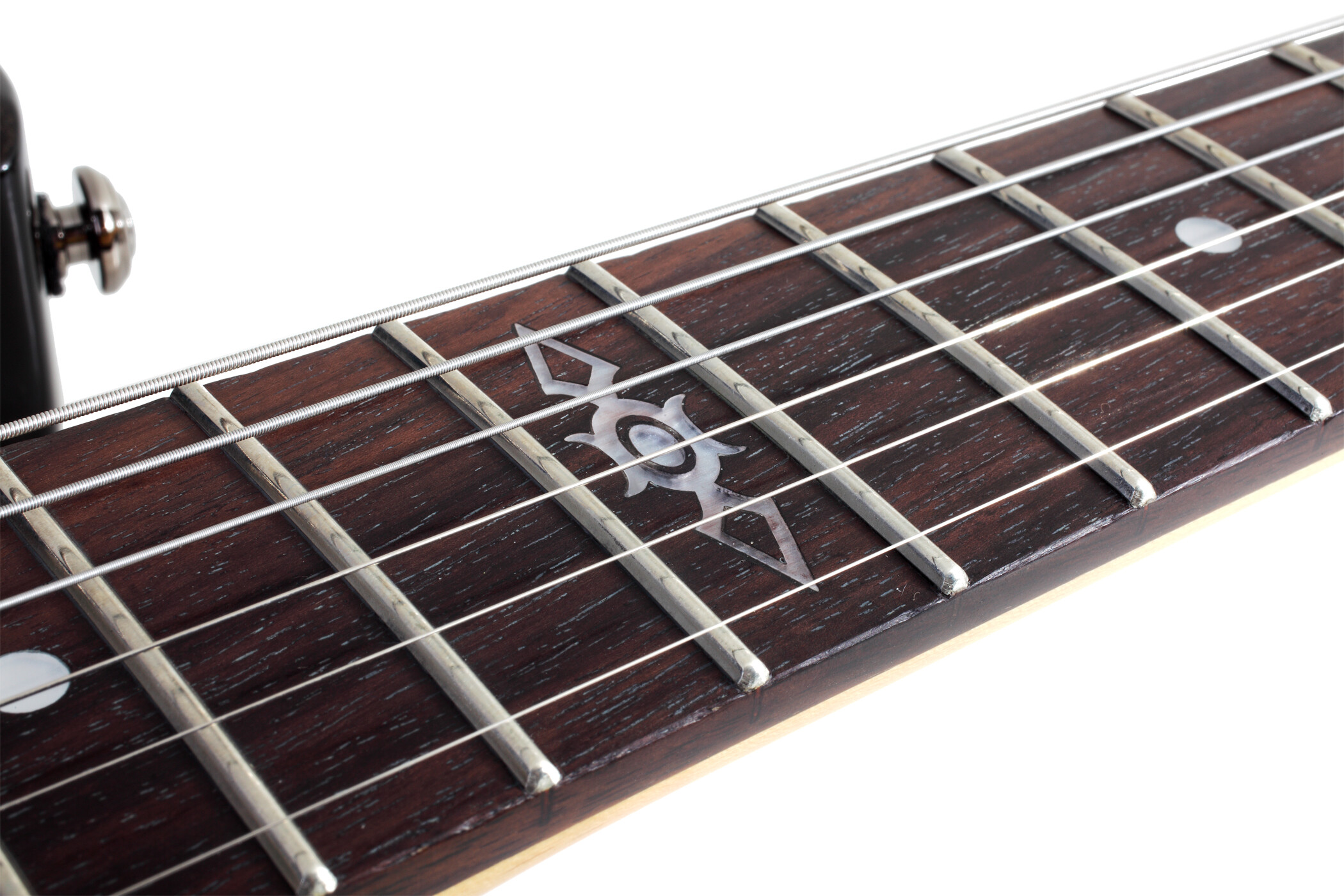 Features
This electric guitar has a unique looking fretboard. While the pearloid dots aren't unique to this guitar, they really do stand out against the rosewood fretboard, and there is a unique filigree pattern on the 12th fret
The shape of the C-1 SGR is interesting and attractive. It has a smooth, arched top that makes this guitar very comfortable to play, whether you are sitting or standing. This also makes it easy to use both the controls and the fretboard
The hardware on this guitar is made from polished, black chrome, something else that sets it apart from other entry level guitars that just have regular or polished chrome in silver tone. This is just one more feature that gives this guitar its unique appearance
Pros
Shown in a walnut satin, this guitar also comes in many other attractive colors, including midnight satin black and electric blue.
This is a guitar that is going to grow with you as you learn. Most beginner guitars do not have 24 frets, so you can't really get into the cool leads that you want to learn
There is nothing you need to do with this guitar to make it ready to play, except to tune it. The guitar will arrive with loose strings, so there will be no warping in the neck to make it unplayable
Cons
There can be a problem with a buzzing sound between the frets which is quite annoying
There is sometimes a problem with the pickups, and you can get similar guitars at the same price level with better pickups
Verdict
All in all, if you are looking for an inexpensive electric guitar to learn on, and one that is going to grow with you as you learn, the C-1 SGR from Schecter is a great guitar to start out with. Yes, it does have some minor pickup issues, but all in all, this is a great sounding guitar, and you won't find many other beginner guitars that actually have 24 frets.
Read our complete expert Schecter C-1 review here.



Maestro by Gibson Electric Guitar Starter Package
On Sale!
Maestro by Gibson Electric Guitar Starter Package, Vintage Sunburst
This classic single cutaway body shape is made of Linden and has a maple veneer.
The bolt on neck is made of maple with a natural satin finish. The fingerboard is rosewood with dot inlays.
With chrome hardware, this guitar has a wrap-around tailpiece with black speed knobs and one screaming humbucker pickup.
NOTE: Kindly refer the User Manual from the Technical Specification before use which is highly recommended.
Everyone wants to play a Gibson or a Fender guitar, but many people think that they can't have a quality guitar from either of these manufacturers without having to spend a ton of money. If this is what you've been thinking, it's time to think again. Both manufacturers offer some great quality, low-end guitars, including the Maestro by Gibson. This electric guitar comes with a starter package, so you have everything you need to start playing right away.
This is a cutaway guitar that's similar in design to the early Les Paul body style Gibson guitars that are so sought-after. The classic design lets you play comfortably, both while sitting and standing, and it offers an ideal tone for anyone who wants to play rock and roll.
Features
The Maestro by Gibson has a Linden wood body, along with a solid maple neck and rosewood fingerboard with dot inlays, making it look as great as it sounds. You will love the classic sunburst pattern that is common in Gibson guitars
This guitar has a 24.75-inch scale length. This means that there is a lot less tension on the strings, so you don't have to press on the strings as hard as you would with other guitars. This is great for beginners who haven't toughened up their fingertips yet
The tailpiece on this guitar is a traditional, wrap-around design that allows you to enjoy extra sustain, and the precision tuners are die-cast, so the guitar is going to stay in tune longer than other cheap guitars
Pros
This is a starter package that comes with everything you need to start playing, including a practice amp, an aux cord, a strap, extra strings, picks, and a DVD with beginner guitar lessons
The Humbucker pickup is a Gibson design, and it delivers a strong and powerful tone that is perfect for rock and roll
There are separate volume and tone controls, and a headphone output jack that cuts out speakers when you are practicing with headphones
Cons
Check the package when it arrives, as not all of the accessories that are promised are always included due to packing errors
Some people find that this is not a comfortable guitar to play, especially while sitting, because it has many sharp edges
Verdict
If you really want to play on a Gibson guitar, it is definitely within your reach with the Maestro. This starter package has everything you need to begin learning and playing right away, including a lesson DVD that will help you to get started. You can buy this guitar for much less than it's upper-priced counterparts, so you don't have to spend a lot of money before you decide if you are going to continue learning and playing.



Epiphone Les Paul-100 Electric Guitar
A lot of musicians enjoy playing on Epiphone guitars, and for some very good reasons. For starters, even the low-end models are fun to play on, and they look and sound terrific. Take the Epiphone Les Paul-100 electric guitar for instance. This guitar has a mahogany body with a maple top and a rosewood fretboard, and it comes in the traditional sunburst finish. It has all of the features we love about a Les Paul, but comes at a fraction of the price.
One of the things we love about this guitar is the body, because it is slightly slimmer than LP Studio or Standard guitars. It is more lightweight than other models, making it easier to play while standing for extended periods of time.
Features
This guitar has a classic LP tone, thanks to the 700T and 650R open coil, Humbucker pickups. Each pickup has its own separate volume and tone controls, so you can control each one individually to get the sound you really want
Some of the standard features of all Epiphone guitars, including the Les Paul-100, include 500 Ohms potentiometers, as well as the Epiphone heavy-duty, three-way pickup selector toggle switch and non-rotating heavy duty output jack
This guitar is going to tune easily, and stay in tune, thanks to the Epiphone Lock-Tone locking Tune-o-Matic bridge. There is also a stop-bar tailpiece that is going to give you more sustain, along with attractive chrome hardware
Pros
This guitar is made with similar specs as the Les Paul 1952 original, but all of the parts are new. You are going to get the look of a classic Les Paul, without spending a lot of money.
The mahogany body with a maple top is lightweight and slim, and easy to use for long periods of time. The neck is also made from mahogany, and bolts onto the body
Thig guitar is available in four different colors, including Heritage Cherry, ebony, Sunburst, and Vintage Sunburst
Cons
There can be a problem with buzzing on some of the frets, and you may need to take it in for adjustments, which is not worth it for such an inexpensive guitar
You may have a problem keeping this guitar in tune, unless you take it in for a neck adjustment, which again, isn't really worth it for a low-end guitar
Verdict
If you love the look of a Les Paul guitar, you can have it without having to pay the price of an actual Les Paul. The Epiphone Les Paul-100 is a great looking, and great sounding guitar that is ideal for the beginner with a small budget. It is available in four different colors, and hardware that is all made with the same quality that you would expect from any Gibson guitar.



Jackson JS22 Dinky
Jackson JS22 Dinky - Satin Black
Body Body shape: Double cutaway Body type: Solid body Body material: Solid wood Top wood: Not applicable Body wood: Basswood Body finish: Gloss Orientation: Right handed Neck Neck shape: Dinky Neck wood: 1-piece Maple with graphite reinforcement Joint: Bolt-on Scale length: 25.5 in. Truss rod: Standard Neck finish: Satin Fretboard Material: Rosewood Radius: Compound Fret size: Jumb
Swift, deadly and affordable, Jackson JS Series guitars take an epic leap forward, making it easier than ever to get classic Jackson tone, looks and playability without breaking the bank
Upgraded features such as arched tops, new high-output ceramic-magnet pickups, graphite-reinforced maple necks, bound fingerboards and headstocks, and black hardware deliver more for less
The JS22 Dinky Arch Top has an elegantly arch-topped basswood body, bolt-on maple speed neck with graphite reinforcement, compound-radius (12"-16") bound rosewood fingerboard with 24 jumbo frets and pearloid sharkfin inlays, and a bound headstock
Other features include dual high-output Jackson humbucking pickups with ceramic magnets and three-way blade switching, synchronized fulcrum tremolo bridge, black hardware and die-cast tuners
Do you want a solid body guitar that is attractive, plays well, and won't cost you an arm and a leg? If so, look no further than the Jackson JS22 Dinky, with its solid basswood body made with a beautiful finish. This right-handed guitar has a one-piece neck made of solid maple, and it also has graphic reinforcement on the joint. The bolt-on scale length is 25.5 inches, and there is a truss rod. This affordable guitar looks great, and it sounds awesome when you play it through an amp.
If you love the classic Jackson tone, you will enjoy playing the JS22 Dinky. It has all of the things that musicians love about Jackson guitars, but it comes at an affordable price so anyone can have their own awesome Jackson guitar.
Features
This guitar has many upgraded features, including an arched top, high-output ceramic pickups, a graphite-reinforced maple neck, bound fingerboard and headstock, and attractive black hardware, so you get a really great looking guitar
The bound rosewood fingerboard has 24 jumbo frets. This makes this guitar really stand out from other beginner, low-end guitars that do not have the full fretboard. You can go a long way on this guitar, and it's going to grow with you
Enjoy the dual, high-output Jackson humbucking pickups that have ceramic magnets, along with three-way blade switching. There is also a synchronized fulcrum tremolo bridge, as well as die-cast tuners
Pros
If you are looking for a guitar with that crunchy sound needed for rock and metal, this is a great option. The JS22 Dinky has the sound that rock musicians crave
This guitar is going to give you a lot of sustain, so you can create some pretty cool effects while you are playing
The smooth, rosewood fretboard is easy to play on, and it isn't going to wear or warp easily. The tuning system ensures that you will stay in tune as you practice and play
Cons
There can be a problem with a buzzing on some of the frets, which can only be fixed by taking the guitar in for adjustments
No setup is done on this guitar, so you must do it all once it arrives. This may not be the best option for a beginner with no experience in this area
Verdict
All in all, if you are looking for a beginner electric guitar that looks and sounds great, the Jackson JS22 Dinky is a great option. Yes, there are some minor issues with buzzing, but at such a low price, you can't expect to have a fine machine. This guitar is perfectly adequate for the beginner, and the 24-fret neck will allow you to grow as a musician without having to upgrade to a new guitar right away.



Squier by Fender Mini Strat Electric Guitar
On Sale!
The Fender Stratocaster may be out of reach in price for the beginning guitar player, but the Squier from Fender is the next best thing, and a favorite of many beginners (and quite a few professionals as well). The  Mini Strat Electric Guitar is a bundle package that supplies everything the budding guitarist needs to start learning and playing as soon as they take it out of the box. There is even a clip-on tuner included, so beginners don't have to worry about learning how to tune right away (this is a skill that all musicians need to learn eventually).
This is a small version of the traditional Stratocaster, making it ideal for children, or anyone who has small hands. Many women find that they love playing on this guitar because of its size, not to mention the great overall quality and sound.
Features
This beginner guitar package comes with everything you need to start learning and playing right away. The bundle package includes the Squier guitar, a practice amp, a strap, picks, a clip-on electric tuner, an aux cord, a polishing cloth, and a lesson DVD to get you started
If you have kids who want to learn how to play the electric guitar, this is a great guitar for them to start out on. It is smaller than a traditional Strat, and it's lighter in weight, making it easier for smaller kids to learn on. This may just be the best electric guitar available for children
This may be a small guitar, but it is big on features, including three-way Fender single-coil pickups and a five-way switch that lets users switch between various pickup combinations to get just the sound they are looking for
Pros
This guitar has a C-shaped, maple neck with a 20-fret fingerboard. It may not have the 24 frets offered by other guitars we have discussed today, but it is still an excellent choice for beginners
This guitar has a thinner body and slimmer neck profile than other similar guitars (including many Strat copies), making it easy to play
There are improved machine heads for easier tuning, and it is going to stay in tune better than other low-end guitars
Cons
Because this is a low-end guitar, there have been some issues with it staying in tune, even with the Fender hardware
Check the box upon arrival to make sure that everything has been shipped. Sometimes, due to packing errors, some of the items may be missing
Verdict
All in all, if you are really interested in playing a Strat, but you can't afford several hundred dollars or more for a beginner guitar, the Squire Mini Strat Electric Guitar is your next best option. Fender Squier guitars have been used by many musicians who have gone onto much bigger and better things, and it is a great guitar for anyone to start out on.



Compare our Best Choices:
Conclusion
As you can plainly see, you don't have to go out and spend hundreds of dollars for a decent beginner electric guitar. This is particularly good when you have children who want to learn, but you aren't sure if they're actually going to stick with it. Any of these guitars will be a great choice for the beginner who wants a quality guitar to learn on, and they come from some of the most trusted guitar manufacturers in the world.
All told, considering fit, finish, cosmetics, playability, and bundled accessories, we'd have to say the overall winner in this shootout is the Schecter C-1 SGR. Simply put, it represent the overall best electric guitar for the money.