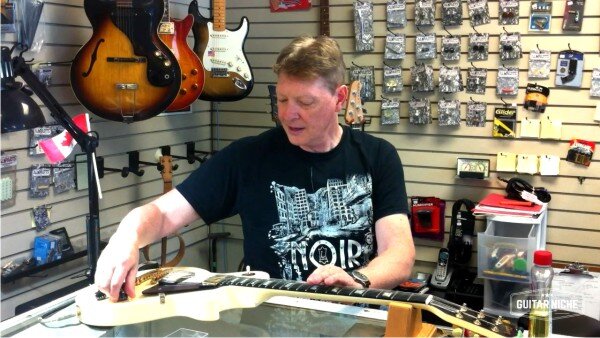 Guitar Setup Cost
Yes, I'm a real person, with bills and overhead just like you.
What I do, and have been doing for decades, supports me and my family. For that and for the opportunity to serve you I have endless gratitude.
Repair & Setup Prices
Prices are for labour only, parts are not included unless specified. The guitar setup cost is not included in repair prices but is often required.
All Prices in Canadian Dollars – CAD.
*Please Note*
These are average guitar setup and repair prices which may vary according to the condition of the instrument and complexity of the work.
It doesn't cost you a penny to have a look at it and estimates are FREE. If you're interested in learning more on how to set up a guitar yourself, go here, or visit the Guitar Niche Blog for even informative articles.
Have something to say or need help with anything?
If you have any specific guitar setup problems or questions please share them, I'd love to hear from you.
With your input and feedback, Guitar Niche will help that many more frustrated guitar players.
---
In the local Brantford area?
Call 226-922-0890 to speak with me directly, love to hear from you! If you have any questions about a specific guitar setup cost, or repair issue, drop me a line.
General Information
| | |
| --- | --- |
| Bench Rate | $75.00 per hour |
| Minimum Charge | $25.00 |
| Clean and Restring (strings extra) | $25.00 |
| Repair Estimate | no charge |
| Major Repair/Restoration Estimate | no charge |
Complete Guitar Setup
| | |
| --- | --- |
| Acoustic Guitar | $70.00 |
| Electric Guitar | $70.00 |
| Bass | $70.00 |
| Mandolin | $70.00 |
| Locking Tremolo Guitar | $85.00 |
| 12 String Guitar | $80.00 |
| Banjo | $70.00 |
| Resonator Guitar | $70.00 |
Common Guitar Repairs
| | |
| --- | --- |
| New 6 String Nut | $50.00 |
| New 12 String Nut | $70.00 |
| New Saddle | $50.00 |
| Install Tuning Machines | $45.00 |
| Re-glue Minor Separation | $45.00 |
| Re-glue Acoustic Bridge | $135.00 |
| Re-glue Broken Headstock | $65.00 |
| Re-glue Broken Headstock with Touchup | $160.00 |
| Custom Routing | $75.00 Hr |
Fret Work
| | |
| --- | --- |
| Complete Fret Dress | $150.00 |
| Minimum Fret Dress | $75.00 |
| Heat Press (no Guarantee) | $50.00 |
| Glue and Re-Seat Frets | $50.00 |
| Dress Fret Ends | $30.00 |
| Complete Refret | $300.00 |
| Complete Refret with Binding or Lacquer | $400.00 |
| Partial Refret | $200.00 |
Electronics
| | |
| --- | --- |
| Minimum Bench Charge | $35.00 |
| Pickup installation – Single | $50.00 |
| Pickup Installation – Pair + | $75.00 |
| Complete Rewire | $65.00 |
| Replace Output Jack | $15.00 |
| Replace Pots | $45.00 |
| Replace Switch | $20.00 |
| Custom Electronics Design | $75.00 Hr |
| Custom Mod Wiring | $75.00 Hr |