If you're a Tele fan getting ready to build your own guitar, which is the best Telecaster kit to start with? Let's have a look at some of the better offerings on the market.

What's the Best Telecaster Guitar Kit?
Apart from buying a Telecaster guitar, many passionate guitarists decide to take a DIY approach and build one.
With numerous guitar kit manufacturers to choose from, not all of them offer the same level of quality and durability of components.
Buying a kit from a substandard manufacturer will end up with inferior parts making what should be a very gratifying project, a miserable experience.
For this reason, sourcing a good quality Telecaster guitar kit is imperative, and we're about to help you do so.
In this article, we'll list the five best DIY Telecaster guitar kits, recommend the best brand, and point out several details to consider when buying your guitar kit.
We certainly hope you find this article helpful, informative and unbiased. Just so you know, we may receive compensation if you use the links on this page. If you do, thank you so much!

Telecaster Guitar Kits Compared
| | | | |
| --- | --- | --- | --- |
| Product | Image | Key Feature | Rating |
| *TOP PICK* | | Custom fitted neck joint for maximum tone | (4.8) |
| | | Excellent quality considering the low price | (4.7) |
| | | Outstanding pre-made wood cutting, drilling, and shaping | (4.7) |
| | | Offers superior materials such as quality maple and mahogany | (4.5) |
| | | Mahogany body and neck are higher quality for its price range | (4.5) |
Top 5 Telecaster Guitar Kits in Review

DIY Electric Guitar Kit – Ash TL Build Your Own Guitar
The first item we'll describe is the Ash TL Guitar Kit. It's manufactured by TheFretWire – one of the most respectable brands in the industry.
Ash TL Overview
This model features excellent materials. The body is made of ash, while the choice for the fretboard and neck is maple. There's also the standard fret style with 21 frets and chrome hardware.

Ash TL TFW002A Kit Highlights
Each component in this kit is designed to fit the body perfectly. It includes a predrilled body, a fretted neck, and all hardware and electronics required for installation. This FretWire DIY Tele guitar kit also comes with a pre-installed truss rod and a bolt-on neck joint.
TheFretWire TFW002A Kit Features
Ash body
Maple fretboard and neck
Chrome hardware
Bolt-on neck joint
Pre-installed truss rod

FretWire Ash Tele Kit Key points:
The Good
Out of the box, the kit looks great due to the ash body. The wood is lightweight, and once you build your DIY Telecaster guitar, you'll find that the material gives it a pleasant tune. Moreover, the ash body will provide you with good sustain.
Additionally, this model features the S-S pickup configuration. Therefore, it's ideal if you're looking for articulate tones on your electric guitar.
Lastly, the price isn't steep at all, considering the high-quality components this kit provides.
The Bad
To get the desired final product, you might need to do some patching and sanding on your guitar. Plus, you'll need to add some holes to mount the bridge and pickguard.
FretWire Ash Tele Kit in Review
What We Like
Graceful look
Lightweight design
Pleasant sound and good sustain
Articulate tones
Reasonable price

What We Don't Like
You'll need additional holes for the bridge and pickguard
Some patching and sanding may be necessary to get the desired finish

Check FretWire Ash TL TFW002A Availability >>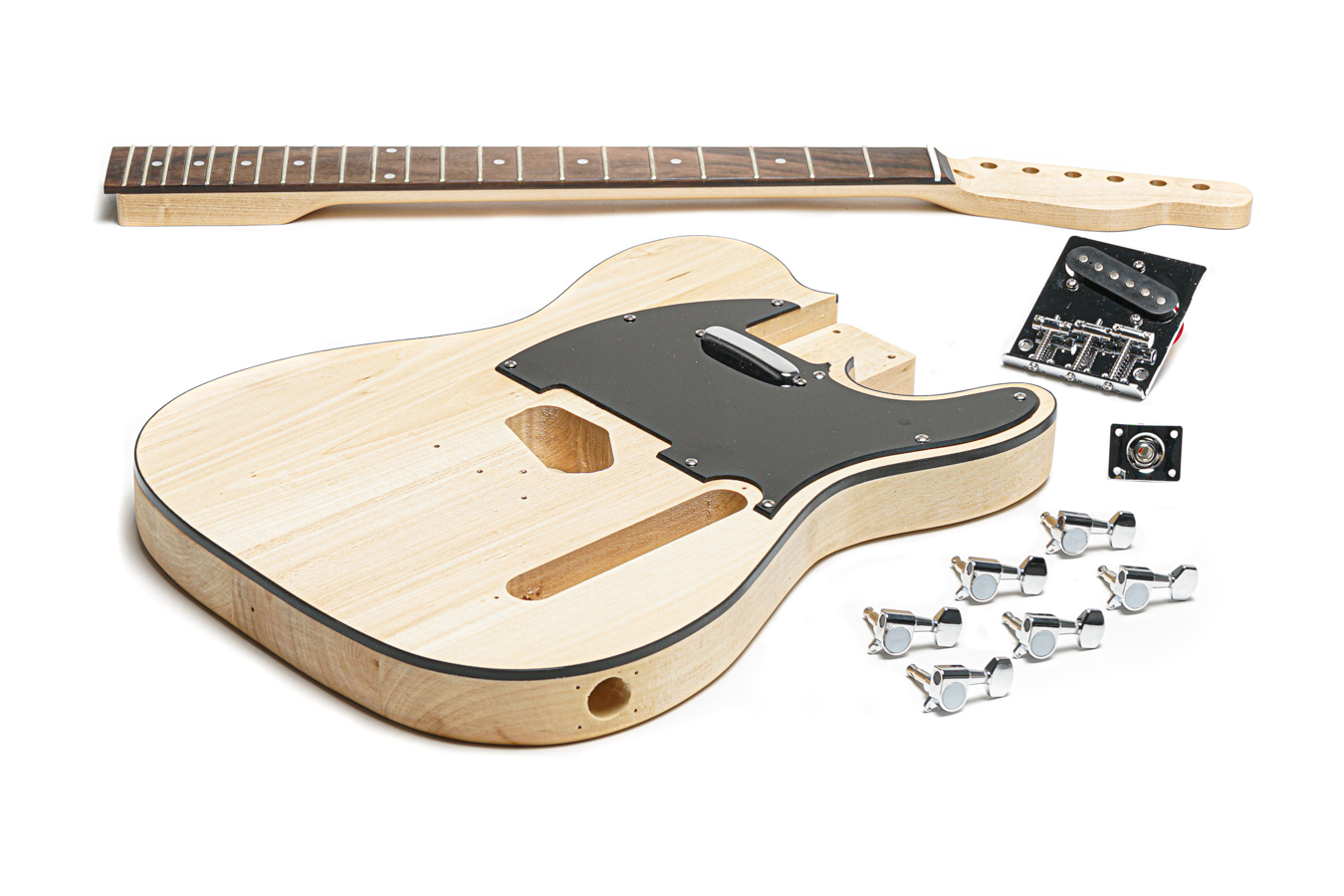 SOLO TCK-1 DIY Electric Guitar Kit
This model produced by SOLO Guitars, is the most affordable guitar kit in our roundup. Still, the manufacturer managed to put together many high-quality components in this item.
Solo TCK-1 Kit Overview
This SOLO Telecaster electric guitar kit features a basswood body with a poly sealant. The neck is made of maple, whereas the fingerboard's material is rosewood. The construction is a bolt-on, and there are 22 frets.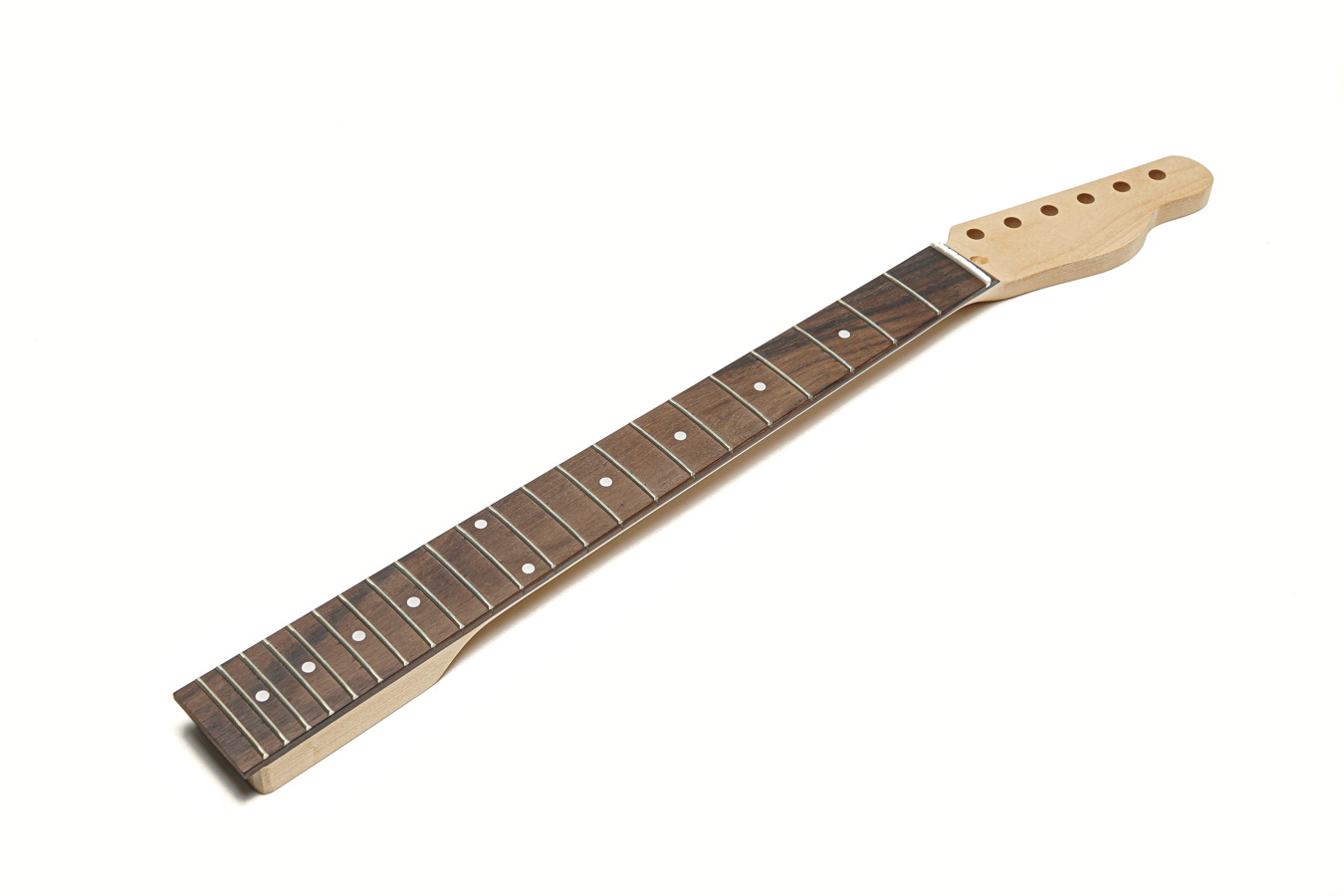 Solo TCK-1 Kit Highlights
The kit has gorgeous black binding around its basswood body. Assembling the guitar can be done quickly due to the pre-shaped headstock.
This might not be ideal if you're looking for a customized headstock carve, but it will save you some time while putting all the pieces together.
Solo TCK-1 Features
Basswood body with a poly sealant
Maple neck
Rosewood fingerboard
Predrilled holes
Pre-shaped headstock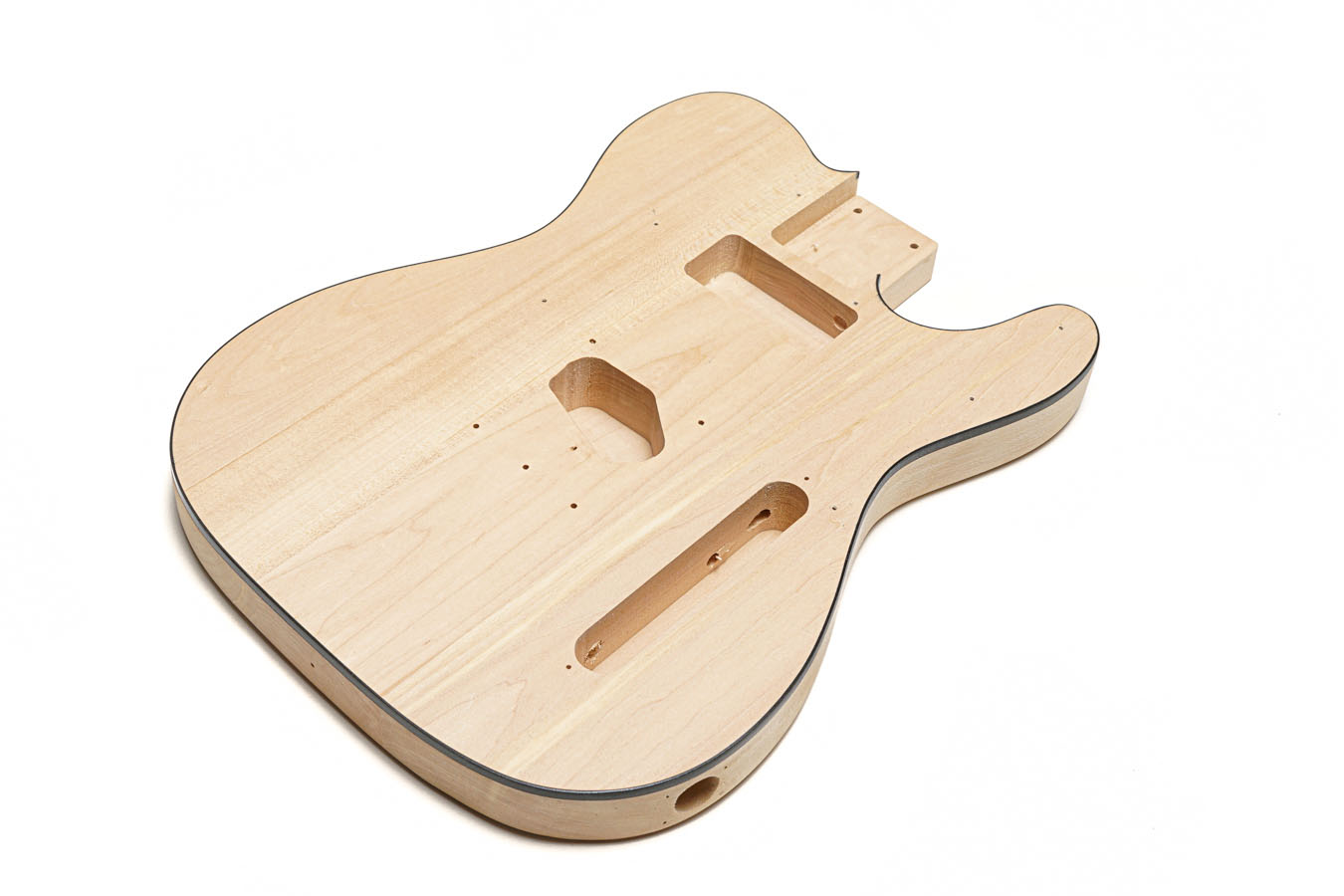 SOLO TCK-1 DIY Tele Kit Key Points:
The Good
Apart from excellent materials, this kit boasts many other benefits. First, all the tough woodworking is already complete.
The same goes for all the hardware. This model also has a pickguard assembly, strings, a neckplate assembly, and all the other components necessary to put the guitar together.
Additionally, the price is one of the most significant advantages of this kit. It's the cheapest item here, and you're highly unlikely to come across equally good equipment at the same price.
The Bad
The only hole that's not predrilled is the string tree. This may not be a deal-breaker, but having an option to use this hole would have been nice.
Moreover, once assembled, the guitar is one of the heaviest models available, which might not suit some players.
What We Like
Cost-efficient
Solid materials
Complete woodworking
Contains all the pieces necessary for the assembly

What We Don't Like
Lack of a string tree hole
Quite heavy

Check SOLO TCK-1 DIY Guitar Kit Availability >>

SOLO TCK-100 DIY Semi Hollow Electric Guitar Kit
This is another kit found at SoloMusicGear.com. The item is slightly pricier, and some materials are different from the previous entry.
Solo TCK-100 Kit Overview
Just like the TCK-1 model, this TCK-100 Kit contains 22 frets and a bolt-on construction. The body is also made out of basswood, but this item has a maple top. The fingerboard is maple as well.

Solo TCK-100 Kit Highlights
The guitar has stylish white binding enclosing the body. The manufacturer has already handled the challenging wood cutting, drilling, shaping, leveling, and dressing.
The kit includes all the items you need for the assembly, such as mounting screws, an Allen key, strap buttons, strings, etc.
Solo TCK-100 Thinline Kit Features
Bolt-on construction
Basswood body
Maple top and fingerboard
Straightforward wiring
Pre-made fret leveling and dressing

SOLO TCK-100 Tele Kit Key Points:
The Good
This guitar kit is convenient for several reasons. For example, the assembly is rather straightforward. The wiring is simple, and the nut slot depth setup is quick and easy.
After you've put all the components together, you'll find that the guitar is relatively light and easy to play. Lastly, the maple parts give your instrument an appealing appearance.
The Bad
As for the downsides, the neck pocket fit isn't perfect. Although it sits within acceptable parameters, it could be snugger. Another problem is that there are no instructions on removing the sealer from the body and neck.
What We Like
Simple installation
Easy wiring and the nut slot depth setup
Lightweight
Elegant appearance

What We Don't Like
The neck pocket fit isn't ideal
No advice on how to get rid of the sealer from the neck and body

Check SOLO TCK-100 DIY Semi Hollow Kit Availability >>

FretWire TL Thinline Style Build Your Own Guitar Kit
The TL Thinline Style guitar kit is another stunning entry from FretWire. It's the most expensive item on this list, but it justifies the cost due to various properties.
FretWire TL Thinline Style Kit Overview
This DIY Telecaster guitar kit features stellar materials. The body is made of mahogany, whereas the neck and fretboard are constructed of high-quality maple. Also, it has chrome hardware, and its fret style is standard.

TL Thinline Style Kit Highlights
The kit is easy to assemble and is an outstanding base for a fun DIY project. Again, the materials are excellent, and the two humbuckers are loud and rich.
Moreover, every hole is predrilled, meaning that the beginners will just need to screw in the parts that come with the kit.
You may need to do some finish coating and sanding since the wood is unfinished. However, this can give you a lot of freedom – choose any finish you want.
On top of that, there's no detailed woodworking involved with this Thinline Telecaster DIY kit.
TL Thinline Style Kit Features
Mahogany body
Maple fretboard and neck
Loud and rich humbuckers
Predrilled holes
Chrome hardware
Standard fret style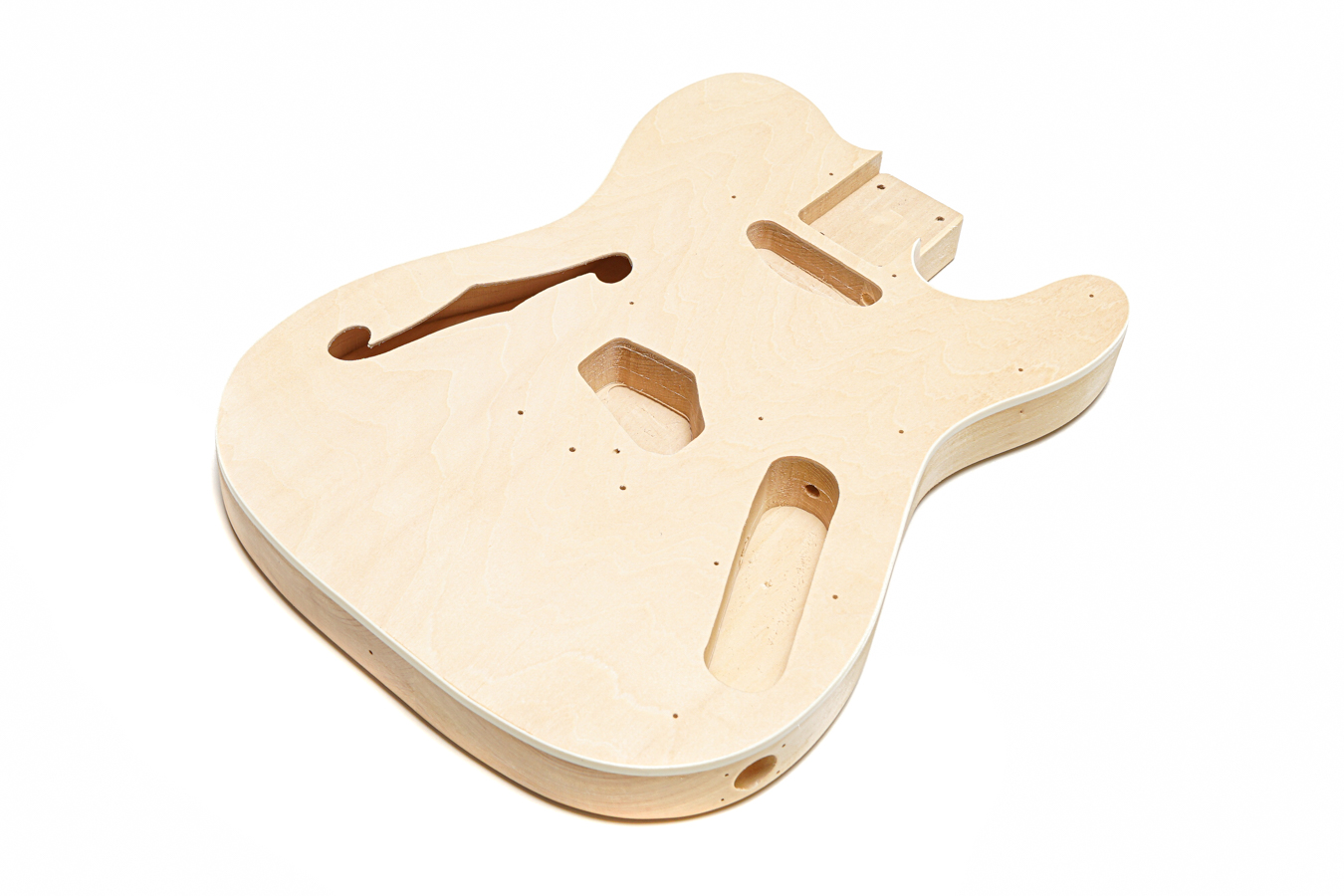 TheFretWire Thinline Tele Kit Key Points:
The Good
Despite being the priciest entry, many other kits on the market don't come close to this model. Namely, you usually don't see tonewoods this solid in this price range.
The same goes for humbuckers, which help provide a punchy sound. Finally, even novice guitar players will have an easy time putting the kit together.
The Bad
The unfinished wood does give some freedom to experiment with the finish, but this means you'll have to put in some extra work with the guitar build.
What We Like
Solid tonewoods
Great humbuckers
Simple installation

What We Don't Like

Check FretWire TL Thinline Style Guitar Kit Availability >>

StewMac T-Style Electric Guitar Kit
The final contender is a T-style electric guitar kit produced by StewMac. It's one of the most prominent brands on the market, and this item delivers in many areas.
StewMac T-Style Kit Overview
This guitar's body is made of mahogany, and the same material is used for the neck. There's also the pre-fretted Indian Laurel fingerboard. Moreover, the neck has a blank peghead and a pre-installed two-way truss rod.

StewMac T-Style Kit Highlights
The body and neck are made of higher-quality mahogany than other Telecaster guitar kits that go for the same price. The parts fit each other perfectly, and the fretwork itself is excellent.
Also, the tuners are solid, and you don't need to replace them. The same goes for the pickguard, which is great-looking and thick.
StewMac T-Style Kit Features
Mahogany body and neck
Pre-installed two-way truss rod
Pre-installed fingerboard inlays
Classic Tele-style bridge and chrome hardware
Thick pickguard
Pre-slotted nut
StewMac T-Style Guitar Kit Key Points:
The Good
This StewMac Tele kit features a marvelous price-to-quality ratio. You receive all the electronics and the hardware necessary for the installation, and most of the materials are of good quality.
The body comes in three pieces, but all of them blend in very well. The holes are accurately drilled, and all the Tele guitar kit instructions are clear and easy to follow.
The Bad
While most of the construction is satisfactory, some parts aren't up to par. More specifically, the pickups included in the kit are low-quality ceramic pieces. If you want to get a better tone out of this instrument, you're going to need to swap them out.
Another potentially problematic issue can be fret sprouts. Though fairly common with inexpensive, quick dried necks, the sharp fret ends that protrude beyond the sides of the fretboard need to be removed to make the neck comfortable.
What We Like
Relatively affordable
Most of the kit includes high-quality materials
The three body pieces are a snug fit.
Accurately drilled holes
Clear and simple instructions

What We Don't Like
Low-quality pickups
Relatively expensive

Check StewMac T-Style Guitar Kit Availability >>

Telecaster Guitar Kit FAQs
When purchasing your Telecaster build kit, you want to look for the most renowned and reliable brand available.
This way, you'll make sure all the pieces of your kit fit together perfectly and that the guitar sounds good once assembled.
In this section, we'll recommend the finest Telecaster guitar kit on the market and present crucial details you should bear in mind when buying one.
Are DIY Guitar Kits Any Good?
Not all guitar kits are equally good, and this depends on the manufacturer. For example, reputable brands, such as FretWire, are almost guaranteed to sell you a high-quality item.
Therefore, you should buy your kit from a trusted company to significantly lower the risk of purchasing a defective instrument.
The main factor that determines whether your kit is good is probably durability. You should buy a guitar that's verifiably strong, stable, and sturdy.
It may force you to spend a bit more, but at least you'll know you're getting your money's worth. If the wood is high-quality and sturdy, you're much more likely to have a long-lasting instrument.
Another detail you should consider is the customizability. Some manufacturers let you customize almost every component in your kit.
Simply put, if you want to build a unique guitar, try to buy a kit that gives you the most freedom to experiment.
Are FretWire Guitar Kits Any Good
We've covered a couple of FretWire Tele kits here, and we wouldn't have if we thought they were junk.
The brand is known for creating quality products that both beginners and advanced guitar players can enjoy.
The main parts of the guitar (the body and neck) are pre-drilled and well fitting, plus their kits include all the items you need to put together a fully functional electric guitar.
Whether a mahogany or ash body, and with fast playing necks, rest easy knowing that FretWire offers guitars that sound and perform great.
They also offer a convenient option to upgrade the tuners and pickups to professional brands right off the order page.
Are Solo Guitar Kits Any Good?
Solo Guitar kits can be a great grab. Even though it's not the most renowned brand in the guitar kit industry, the manufacturer still has some excellent items.
As we mentioned in the reviews above, the company makes some of the most affordable guitar kits out there. Best of all, this doesn't come with a considerable drop in quality.
Solo features several different body materials, such as basswood. You can also choose from solid options, such as maple and mahogany, for the neck and top. For the fingerboard, pick rosewood or maple.
Overall, despite not belonging to top-class guitar kit manufacturers, Solo still offers some decent, cost-effective items.
Is It Hard to Make Your Own Guitar?
Despite how clear and straightforward some instruction manuals are, making your own guitar can be quite challenging. Many details can lead to frustration while putting your instrument together.
For instance, if you're used to buying fully-assembled items from stores, you know how straightforward it is – plug it in and play it.
With guitar kits, the learning curve associated with DIY assembly is steep because it consists of various components and processes.
Furthermore, building a guitar can be quite time-consuming. Even though the kit features all the necessary components, you'll need to assemble them in the correct position and sequence.
Another obstacle could be looking for other parts if you purchased a basic kit only.
On top of that, there are several tasks you may need to perform on your guitar. These include cutting, sanding, drilling, painting, gluing, staining, etc. All these jobs require a lot of time and patience, depending on your skill level.
Another potential hindrance is the lack of necessary tools for the job. If you don't have all the required items, the assembly will take even longer.
A few essential tools include:
You'll need a ruler to keep the distance between components accurate. A good practice is to get a ruler with measurements in both millimeters and inches. You don't have to buy a cutting-edge item – all you need is an accurate ruler.
Trimming your guitar strings to an appropriate length requires a sharp string cutter. Since the strings for Telecasters are made out of metal, a pair of scissors won't do the trick.
If your guitar kit doesn't have a truss rod wrench, you'll need to buy one. The item is necessary to adjust the relief of your guitar's neck, and the proper size depends on the size of the truss rod bolt.
Screwdrivers will allow you to loosen or tighten the bolts. They're also used to adjust the intonation. Just make sure that your screwdriver matches the size of the screws and bolts from the kit.
Twisting the tuning pegs using just your hands is tedious. That's why you should use a string winder. It'll expedite and facilitate the whole process.
Either of these tools will help you adjust nut pressure, neck, saddles, pads, and other parts.
A work mat isn't essential but will help shield the guitar from slips and scratches during the assembly.
Is It Cheaper to Build Your Own Guitar?
If you want to get a build-your-own Telecaster guitar kit and assemble the instrument by yourself, it can be both cheaper and costlier than buying a finished product. It ultimately depends on what you consider to be the basic price point for a finished guitar.
For example, some guitar kits require additional materials and components, such as pickups, that significantly raise the project's cost. Additionally, a fully parted out guitar using premium supplies will run you many hundreds of dollars.
Another factor that influences the total cost is whether or not you have all the tools. If you lack some of them, the price goes up even further and can exceed the cost of buying a pre-assembled guitar.
What Are the Best DIY Guitar Kits?
We've already listed the top five build-your-own Telecaster kit options. To sum up, FretWire appears twice in this roundup with the Ash TL and TL Thinline Style guitar kits.
Solo Music Gear also has two noteworthy, affordable models – the Solo TCK-1 and the TCK-100 Semi-hollow guitar kits. Finally, StewMac have deserved their spot on the list with the top-grade StewMac T-Style electric guitar kit.
It's worth noting though, if price is your primary driver, the TC-10 from Saga is well worth a look for those on a budget.

Who Wins the Best Tele Kit Shootout?
In our opinion, the best overall brand is FretWire (thefretwire.com) with their two top options – the Ash TL and TL Thinline Style guitar kits. Both kits have a lot to offer, but the Ash TL is the best Telecaster DIY guitar kit at the moment.
Each item features high-quality tonewoods (ash and mahogany) and has appealing maple components. Also, the assembly process is relatively straightforward in both cases.
Overall, the Ash TL guitar kit is the winner because of its traditional style and slightly lower price. It's sibling, the TL Thinline Style, offers the same durability and customization features, but it is a bit pricier and may be out of range for some players.
All in all, we pick the Ash TL as the superior Telecaster guitar kit.

Check Today's TheFretWire Ash TL Guitar Kit Price! >>
Ease Of Use

Parts Quality

Sound Quality

Value Factor