In this Epiphone Les Paul 100 review, we give this guitar a good going over. With full electronics controls, classic styling and a bolt-on neck, does it hit the sweet spot for features in the mid-level price range?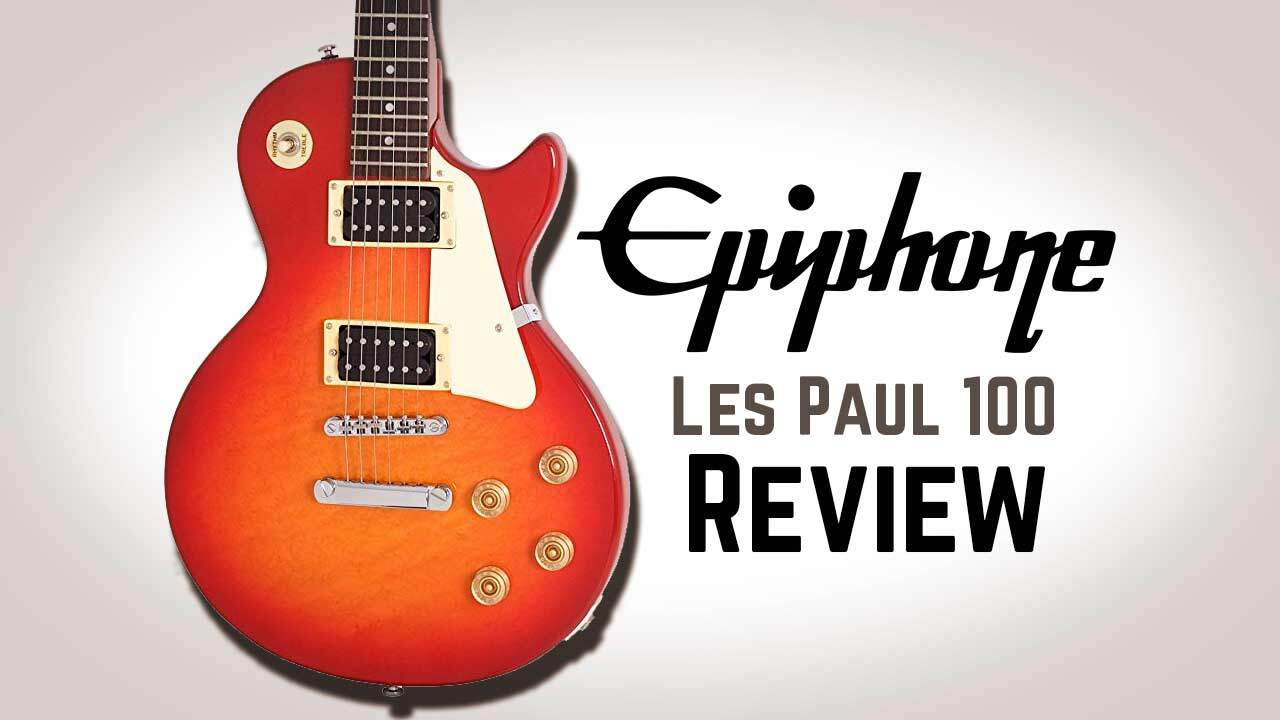 We certainly hope you benefit from the information we provide in this article! Just so you know, we may receive compensation if you use the links on this page. If you do, thank you so much!


Does the Epiphone Les Paul 100 Play Authentic? Find Out in Our Complete Review
The Epiphone Les Paul 100 Electric Guitar at a glance:





Epiphone Les Paul 100 Guitar in Heritage Cherry Sunburst


USER FRIENDLINESS

4.3 / 5

Loud, humbucking pickups and smaller scale length are student friendly

BUILD QUALITY

4.3 / 5

Tuning stability can be hit or miss, but generally the guitar is built to last

SOUND QUALITY

4.6 / 5

Fantastic output, crunch, and classic tones from the Les Paul

VALUE FACTOR

4.2 / 5

Pricier than other beginner guitars but a fine re-creation of an iconic guitar




Les Paul 100 Electric Guitar Overview
Epiphone guitars, the affordable line of guitars authorized by Gibson, has a long and admirable history when it comes to producing quality electric guitars. The Les Paul 100 is no different, representing an affordable alternative to the Gibson Les Paul.
Featuring two humbucking pickups, the Les Paul 100 is built to rock. Featuring the classic Les Paul archtop shape, beginners will be getting a comfortable, versatile, and iconic guitar.






A Reliable Remake of the World's First Signature Guitar
Epiphone's Les Paul 100 is an affordable way for beginners to get their hands on a high quality, arch top Les Paul. Made famous by Les Paul himself, Slash, Jimmy Page, and many other iconic players, the Gibson LP has helped shape rock n roll history.
Famous for the warm, full sound of its humbuckers, the Les Paul 100 is a great option for players who play rock, hard rock, or metal-style music. While there are many Epiphone Les Pauls that have upgraded features, the simple and streamlined construction helps keep the cost down.


Who is the Epiphone Les Paul 100 for?
Closer to $300 than $200, the Les Paul 100 is a bit more expensive than some of its similarly-rated peers. However, it is still tailored to beginner and student guitar players skill set.
The Les Paul 100, a Gibson-style guitar, has a smaller scale length at 24.75" than comparable Fender-style guitars like the Telecaster or Stratocaster. This may make it easier for some beginners, thanks to the size of the frets and neck.
Many players also often consider these guitars easier to bend notes on as well. Even better, the humbucking pickups have less noise or buzz than single coils, and produce high output sounds.
That makes the Les Paul 100 a great live instrument for beginners and students as they form their first bands.





What Comes in the Epiphone Box?
Unlike the Squier Affinity Telecaster, the Les Paul 100 cannot be purchased as part of a package deal with included accessories.
This means that you'll have to go out and purchase your own accessories such as a strap, picks, clip-on tuner, and extra strings separately if you're a beginner.
For some players who already stretched their budget just to get the Les Paul 100, this could be troubling. However, you can get Epiphone's cheaper Les Paul II model in one of those beginner friendly packs!


Les Paul 100 Features





Epiphone's Les Paul 100 is built around two powerful hot open-coil humbuckers. Humbuckers are by definition noiseless, helping to reduce the buzz and hum in your whole rig. Plus, humbuckers are higher output than single coils, giving you loud, full layers of distorted guitar tone.
The Les Paul 100 has a Mahogany body and neck, giving it a full, sustaining tone. Unlike Gibson and higher end Epiphones, the Les Paul 100 has a bolt-on neck, not a set in neck.
The C shaped neck is covered by a Rosewood fretboard. The neck should be comfortable for most new players, especially thanks to the shorter scale length. The arched top is a maple cap, that comes with a stunning heritage cherry finish.




Unfortunately, Les Pauls like this are known to have some tuning instability, thanks to the angle of the strings as they enter the nut.
Rounding out the features are 22 comfortably medium jumbo frets, the classic tune-o-matic bridge style, and a gloss finish that makes the guitar shine.


Highlights
Loud, rich humbuckers
Beautiful, glossy heritage cherry finish
Comfortable, slim body profile
Small scale length is easier for beginners


See and Hear it in Action
Curious how the Les Paul 100 and those open coil humbuckers sound? Check out this great demo of the guitar, played both clean and overdriven, below! You'll quickly see how you can recreate those vintage Les Paul tones with ease.




Epiphone Electric Key Points


Epiphone Les Paul-100 Review


What We Like
Beautiful arched top
Powerful humbucking pickups
Smaller scale length
Great finish options


What We Don't Like
Below average tuning stability
Pricier than some competitors








Other Affordable Electric Guitars to Try


There has never been as many great cheap guitars for young players as there are right now.
While it is easier than ever to find great guitars under $200, it also is harder to sift through the many great options.
If you're looking for a classic Fender design, Squier's Affinity Series Stratocaster might be for you.
The Affinity Strat is tried and true recreation of the three pickup Stratocaster, arguably the most iconic electric guitar of all time.
---


At an equally affordable price tag, you'll find even more tonal diversity in the Stratocaster.
Plus, it's also sold as part of great beginner packages by many common retailers, making it student friendly.
Just like the Affinity Strat, you can also find an affordable and high quality Telecaster from Squier.
The Affinity Tele maintains that classic bright, Fender Tele tone that can be found throughout rock n roll's history.
It's versatile enough to cover rockabilly, country, rock, and blues and all that comes for under $200!
Find out more in our Squier Affinity Telecaster review.
---


Tired of hearing about Fender and Gibson?
Ibanez has just the electric guitar for you! Check out their GRX70, a "super-Strat"-style guitar that mixes modern features with stunning finish options.
For players who want to pursue more technical styles of music such as fusion, metal, or Steve Vai-inspired madness, look no further.
The Ibanez GRX70 adds a unique HSH pickup diagram and dive-bomb ready tremolo system to a sub-$200 shredding machine.
Check out our Ibanez GRX70 complete review here.






Final Thoughts: Does the Epiphone Les Paul 100 Hit the Mark as a Good Mid-Level Guitar Purchase?
If Fender single coil guitars aren't your style, the Epiphone Les Paul 100 is a superb alternative. It's great for beginners in both practice and live settings, and the humbuckers can faithfully reproduce classic rock and blues lead tones.
Unfortunately, affordable Les Pauls are known for having some tuning issues, so getting a clip on tuner is highly recommended. But for beginners or students who want to play high volume and high gain music, the Les Paul 100 is a dependable, and fairly affordable option!
Plus, with that heritage cherry color and glossy finish, there aren't many guitars that look this good at this price point!





What are Epiphone Les Paul 100 Owners Saying? >>


User Friendliness

Build Quality

Sound Quality

Value Factor