There's country music, and then there's country music on steroids. This is bluegrass, or at least the briefest explanation of the genre. Anyone who has ever listened to bluegrass music knows that it's all about speed and tone.
To play bluegrass the way it was intended, you're going to need a good weapon. In this article, we'll show you some of the best bluegrass guitars available. Don't expect low prices – expect quality, awesome tone, and playing comfort.
Great Bluegrass Guitars Compared
Guitar

Image

Rating

Relative Price

#1 Best Bluegrass Acoustic

A top quality workhorse guitar

(5.0)

$$$$

#2 Best Mid-Range Acoustic

Modern design with exceptional transparency

(4.3)

$$$

#3 Best Budget Model

Fishman Sonitone pickup system

(4.8)

$

#4 The King Of Acoustics

Traditional tone and huge bottom projection

(4.9)

$$$$

#5 Classic Engineering

ARE tone aging

(4.4)

$$$

#6 Style and Electronics

Mahogany elbow binding

(3.9)

$$

#7 The Underdog

Pressure-tested cedar top

(4.2)

$
We hope you find this article helpful, informative and unbiased. Just so you know, we may receive compensation if you use the links on this page. If you do, thank you so much!
Top 7 Bluegrass Guitars in Review






(5.0)
A top-end round-shoulder dreadnought acoustic-electric guitar from Gibson.
Top-Tier Bluegrass Axe
Gibson is, without a doubt, one of the two most popular guitar brands on the planet.
You may love them, you may hate the brand, but the fact remains – they make fantastic guitars for almost every player's need. Of course, bluegrass musicians have a lot to be happy about here.
The J-45 Standard from Gibson features a top-notch tone wood blend and has a lot of style.
The Workhorse
The J-45 Standard has been aptly nicknamed "The Workhorse" – used on stages and in studios all across the world.
Its premium mahogany side and back build is highly resonant and brings a lot of depth to the J-45 Standard's tone foundation. Of course, this is contrasted with the Sitka spruce top, which evokes tonal clarity and presence.
The high-grade rosewood on the fretboard is visibly different to most other fingerboards of the same base material. The VTC pickup system from LR Baggs has a lively, robust, and, above everything else, natural sound to it.

Check Today's J-45 Standard Price >>
Gibson Acoustic J-45 Standard Features
Workhorse acoustic guitar
Back and sides made out of solid mahogany, bringing out a round and warm sound
The Sitka spruce top evokes tone clarity and projection
Soft fretboard edges for extra comfort
VTC pickups from LR Baggs help the J-45 Standard sound natural even when plugged in
Huge Attention to Detail
Gibson's J-45 Standard offers a uniquely good build. A lot of attention to tonal and physical details went into this guitar's design.
The result is an all-round workhorse that performs brilliantly for studio recording and stage performance.
Expect to Pay a Lot
This is a Gibson guitar. Not only that, but it's a quality Gibson guitar. So, expect quite a hefty price tag here. Other than that, it's pretty much perfect.

Gibson J-45 Standard Key Points
The Good
Uniquely good build
Excellent tonewood combination
LR Baggs VCT pickups
Versatile


The Bad









(4.3)
A modern-shaped grand auditorium acoustic-electric guitar from Taylor.
Grand Auditorium Bluegrass Machine
Taylor is a widely renowned acoustic guitar brand that's popular with various bluegrass musicians.
Out of all Taylor guitars, however, the 214ce Deluxe is probably the best fit for a bluegrass enthusiast who's looking for a quality mid-range guitar.
Although it's still a fairly large-bodied instrument, this bluegrass axe isn't a dreadnought. It boasts a grand auditorium shape, like many other Taylor-made guitars.
A Very Comfortable Shape
The grand auditorium shape appears smaller than the popular dreadnought. If you're worried that the size of the 214ce Deluxe will compromise its volume capacity, you can rest easy.
Although grand auditorium guitars feature a narrower waist than dreadnoughts, their lower bout is actually wider. Many bluegrass musicians will find this guitar shape more comfortable than the dreadnought shape.
The sides and the back of this guitar are Indian rosewood, which brings that claret sweetness type of vibe to its overall tone.
To balance things and bring out that crisp, clear sound, the Taylor 214ce Deluxe has a Sitka spruce top.

Check Taylor 214ce Deluxe Availability >>
Taylor 214ce Deluxe Features
Sitka spruce top for tone balance and projection enhancement
Ebony fretboard on a Sapele neck helps you play smooth and fast
Taylor's proprietary Expression System 2 (ES2) amplifies the tone accurately
The tasteful Venetian cutaway helps with upper-fret access
A grand auditorium model with a huge tone
Versatility Is King
The best thing about this guitar is that it's comfortable for guitarists of any size. Thanks to its slick action, it will appeal to electric enthusiasts and bluegrass guitar players alike.
While the rosewood adds capacity for strumming and flatpicking, the spruce top brings out clarity for fingerpicking.
Strength vs Weakness
The biggest upshot of this guitar (its versatility) is also its downside. More experienced players who know what they're looking for might not like the emphasized versatility.

Taylor 214ce Key Points
The Good
Versatile
Engineered for easily adjustable action
The rosewood build helps with strumming and flatpicking
The Spruce top clears the tone up for fingerpicking


The Bad







(4.8)
An extremely affordable acoustic-electric guitar from Epiphone.
Fishman Sonitone in a Cheap Guitar
If you're looking for a dirt-cheap acoustic-electric guitar for bluegrass that provides great value for the price, look no further.
Epiphone, a daughter company of one of the most popular guitar manufacturers on the planet, Gibson, has released the Dove Studio guitar that sits at a remarkably low price.
Cheap as it is, it sports Fishman Sonitone electronics, which is among the best acoustic guitar pickups available on the market.
The Dove Studio is worth the purchase for the pickups alone. But this model has much more to offer than the fancy electronics.
Enhanced Tone as It Breaks In
Perhaps the most surprising thing on this guitar (in addition to the Fishman electronics) is the fact that it actually sounds better as it ages.
This is thanks to the tonewoods used on it – maple on the sides and back and a solid spruce top.

Epiphone Dove Studio Availability >>
Epiphone Dove Studio Features
Spruce top and maple sides and back help enhance the tone as the Dove Studio ages
Brilliant Fishman Sonitone pickups make Epiphone Dove Studio sound much more expensive than it is
Vintage Dove artwork reminiscent of the original Gibson model
Tuning stability and precision from Grover tuners
Fast and smooth playing thanks to the SlimTaper D neck
A Whole Lot of Cool Features
There is a mind-boggling amount of value packed into this very cheap acoustic-electric guitar.
You get quality Grover tuners, Fishman Sonitone system, and a neck profile called SlimTaper D. This neck profile helps bring smoothness and speed out of your playing.
You Get What You Pay for
It's important that you note that this is a budget guitar. Expect certain parts like the nut and the bridge to be subpar in quality terms.

Epiphone Dove Key Points
The Good
Fishman Sonitone pickup system
SlimTaper D neck profile
Grover tuners
Sounds better as it ages


The Bad







(4.9)
The undisputed standard, and extremely popular acoustic from a widely renowned guitar brand Martin.
An Age-Old Dreadnought
The Martin D-28 is, without a doubt, the most popular bluegrass guitar in the world. Quite a feat, as it's been around since the 1930s, and still retains the top popularity title.
The D-28 hasn't changed much since its inception, because there's been no need for change. It remains a powerful dreadnought guitar that's held dearly in the heart of many bluegrass musicians.
Smooth and Balanced Tone with a Punch
Originally designed to project through a the sonic wall of folk instruments such as fiddles and mandolins, the D-28 sports a well-balanced and dynamic acoustic tone – the foundation of any bluegrass guitar performance.
Thanks to the Sitka spruce and East Indian rosewood, this Martin bluegrass guitar delivers balance to a punchy, full warm tone and volume.
Its build is immediately recognizable, and understated in appearance, there's really nothing overly ornate about the standard aesthetics. But this is the humble profile greatly preferred by many bluegrass enthusiasts.

Martin D-28 Features
Familiar dreadnought shape
Tone depth and "bassiness" perfect with vocals
Fantastic in all "unplugged" environments
High-quality tonewoods for a timeless tone
Low frequency response is never boomy – expect a tight tone
Familiar Tone
If you happen to find the D-28's tone familiar, that's because it's been used on countless records over time. Modern bluegrass musicians either own this model, desire to have it or have a great deal of respect for it.
The Sitka spruce top fits the guitar's rosewood body brilliantly and helps deliver projection and clarity.
May Be Too Boxy for Some
The iconic boxy-shoulder dreadnought build is great once you get used to it, whether you're performing sitting down or standing up.
However, it might be a bit off-putting to electric guitarists, or individuals with a more compact body frame.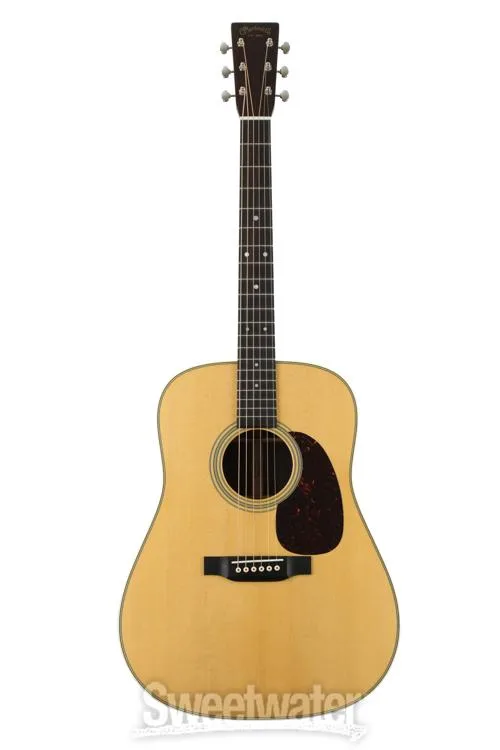 Martin D-28 Key Points
The Good
Traditional bluegrass tone
Rosewood sides and body bring sweet tones
Projection and clarity thanks to Sitka spruce
Overall balanced tone


The Bad
Electric guitarists might not find the shape comfy
Relatively expensive








(4.4)
A mid-range premium acoustic-electric guitar from Yamaha.
Rosewood Warmth
Yamaha is a world-renowned company that makes a variety of products. Quality guitars happen to be one of them, and the Yamaha LL16D is a prime example when it comes to acoustic-electric models.
Every bluegrass player knows how important a warm and rich sound is for this music style.
This is why Yamaha has introduced solid rosewood back and sides on the LL16D's body. To evoke clarity and a crisp tone, they've gone with a solid spruce top.
Artificial Tone Aging
Quality guitars tend to start sounding better with age. Of course, for that smooth aged broken-in tone, years of playing are required.
Yamaha has developed a process called Acoustic Resonance Enhancement (ARE ), that brings the aged tone right out of the box.
The neck is made out of mahogany for extra resonance, and a rosewood fretboard is added for extra depth in tone.

Yamaha LL16D ARE Original Jumbo
Yamaha LL16D ARE Features
ARE tone aging qualities – broken-in tone on a brand-new guitar
Mahogany neck and rosewood fretboard for more resonance and depth
SRT Zero Impact pickup with piezo
Engelmann spruce top complements the rosewood sides and back perfectly
Innovative design
A Top-Tier Guitar for a Mid-Range Price
Piezo is a guitar technology that is usually used to make an electric guitar sound like an acoustic one.
The passive SRT Zero Impact pickups provide each string with piezo elements, further enhancing the LL16D's tone while plugged in.
Considering all the innovative features and a fantastic build, Yamaha LL16D ARE brings much more value to its mid-range price.
Outside The Box
Unfortunately for dreadnought lovers, this guitar simply isn't one – meaning it's lacking in terms of the bottom end and loudness.
Still, there are many bluegrass players who aren't looking for a dreadnought-style guitar.

Yamaha LL16D ARE Key Points
The Good
SRT Zero Impact pickups
Excellent value for the price
Solid, resonant, deep-sounding build
ARE tone aging


The Bad








(3.9)
An affordable acoustic-electric guitar with an elbow comfort binding from Washburn.
Uniquely Washburn Look
Washburn is a reputable guitar brand that makes fantastic mid-range acoustic guitars. Washburn Comfort G24SCE is a great example of a mid-range-level guitar that's cheaper than most mid-range models.
The guitar boasts a really unique appearance that truly stands out. But appearance is not the only feature that sets the G25SCE model apart from its peers.
Mahogany Elbow Comfort
The G25SCE has a mahogany binding for elbow comfort, located on the guitar's left lower bout.
The Fishman Presys+ pickup system is generally found on much more expensive models, but the G25SCE comes equipped with it.
The sides and the back are made out of solid mahogany, which emphasizes resonance. The alternating maple strips help compliment the aesthetics and tighten up the potentially muddy mahogany tone qualities.

Washburn Comfort G25SCE Acoustic-Electric Guitar
Washburn Comfort G25SCE Features
Mahogany binding for extra elbow comfort on the lower bout
Fishman Presys+ pickup perfectly replicates the unplugged sound
Ovangkol fretboard is a beautiful, atypical choice for a guitar
Bookmatched mahogany back panels for a unique look
Neck has a satin finish for playing smoothness
Looks That Deceive
Apart from the fact that you get a high-quality instrument for a fairly low price, with Washburn Comfort G25SCE, this is a very unique looking guitar that will definitely turn a few heads.
Expect surprised reactions when you tell people how much you paid for it. You also get awesome Fishman Presys+ pickup and Grover 18:1 tuners for a fantastic sound and tuning stability.
An Acquired Taste
You may find the ovangkol fretboard weird at first. Don't worry – it's an acquired taste.

Washburn Comfort G24SCE Key Points
The Good
High-quality build
Excellent value for price
Unique appearance
Fishman Presys+ pickups


The Bad
Ovangkol fretboard might take some getting used to








(4.2)
A simple, capable bluegrass acoustic guitar from a Canadian brand Seagull.
Overlooked Quality
Although this is not the cheapest guitar on the list, it's certainly very close to it. Unfortunately, owing to its non-mainstream name, the Seagull S6 often gets overlooked.
Still, this guitar is offering a full-range tone that fits all music styles, although it's predominantly used in bluegrass.
Years of Maximum Harmonic Vibration
Tuning stability is definitely something that Seagull S6 prides itself on. This is all owing to the compound curved top and the integrated set neck. These features also ensure projection and resonance.
To ensure the best possible harmonic vibration, each S6 top is tested for stiffness and rigidity. The overall guitar build here will give you years and years of great performance. Certainly well worth the low price.

Seagull Guitars S6 Cedar Original Acoustic Guitar
Seagull S6 Features
Cedar top is pressure-tested to ensure maximum tonal, response, and projection quality
Proprietary TUSQ nut offer more harmonics than bone nuts
Modified dreadnought body to avoid extra boominess
Perfect neck relief and alignment thanks to the dual-function truss rod
Custom-polished finish for better vibration
Brilliant Guitar for the Money
When put into perspective of how good this guitar's build is, the S6's price point becomes really ridiculous.
You get a high-quality TUSQ nut, excellent neck alignment and relief, pressure-tested top for best tonal quality, and rich, resonant sound.
Some Parts Aren't Perfect
Don't expect a top-of-the-line instrument with maximum-quality parts. You're still paying much less than $1,000.

Seagull S6 Key Points
The Good
Relatively inexpensive
Quality TUSQ nut
Brilliant neck alignment/relief
Pressure-tested top


The Bad
Some parts may lack in quality




Bluegrass Guitars Buyer's Guide
Every guitar from our list will find its ideal owner. We hope that the information provided is more than enough to help you make an educated decision about your new guitar.
However, knowing some basics of the genre and the guitars used for it can help you find the perfect guitar for you.
Here are some common questions that you may be wondering about yourself.
Is Bluegrass Hard to Play?
Bluegrass isn't the most fast-paced genre, but it can't be considered slow, either. Some bluegrass songs are fairly fast.
The genre is relatively straightforward, and most artists tend to use similar chord progressions. When it comes to rhythm, playing bluegrass with your guitar isn't very complex.
First-position G, C, D, F, A, and B chords are used for the most part. These are very basic and pretty much the first thing a beginner bluegrass guitar player learns.
However, as far as solo playing is concerned, bluegrass can be very hard. Although the solo playing mostly involves pentatonic scales, these are played at high BPMs, and there are lots of "runs" involved.
Usually, one guitar is playing rhythm, while the other is soloing. The magic of bluegrass, though, boils down to lead-follow switches.
In other words, as a bluegrass player, you'll be expected to know how to lead and how to follow. More importantly, you'll be expected to know when to start and stop leading.
This is a skill acquired through practice and is based on the "feel" of the performance.
Start with solid rhythms and practice the chord patterns
The best way to practice bluegrass playing is to start with the rhythm. Learn the chords mentioned above and practice them.
Then, find someone to practice with. Be open and don't be afraid to contact people – you're just starting out, that's nothing to be ashamed about. Try not to practice lead and rhythm playing in combination, take turns.
Bear in mind that you are going to have to practice a lot. Jams are awesome, but you also need to put in time on your own, at home. Combining practice and jams will help you learn bluegrass guitar.
What Key is Most Bluegrass In?
As a lively, upbeat genre, it is hardly a surprise that bluegrass relies mostly on the major scale.
Learning the major scale shape and the major pentatonic shape is a great idea for learning how to lead in bluegrass music.
Particular keys are less important. If you learn different major scale patterns, you can move them across the fretboard.
Still, the most common bluegrass keys are G, C, D, A, E, and F. Naturally, the bluegrass genre is rich with quality bands, and there is plenty of diversity to go about.
You'll find bluegrass songs in different keys than these and even those who don't rely on the major scale.
However, the mentioned keys and the major scale (and its pentatonic) are a great place to start your bluegrass guitar playing journey.
Learn the shapes in different scale patterns and play them across the keys mentioned above.
Then, move on to the minor scale and the minor pentatonic scale. It's the most popular scale in the world used in various genres.
Finally, learn the Mixolydian scale. Don't worry, it's a tricky name, but the concept is simple: Play the major scale and move the 7th note down a semitone (one fret back towards the headstock).
Although it's important to learn these patterns, it's even more critical that you play them. Practice soloing over music in various different keys.
What Guitars Do Professionals Use?
You might think that only the pros use the most expensive guitars on the market. In part, you are right; you'll find many professional bluegrass players using expensive top-tier brands such as Gibson and high-end Taylor models, for instance.
But in truth, most popular players are endorsed by a brand, meaning that they don't pay for the instrument or pay only a small fraction of it.
You'll also find many professionals who use relatively cheap guitars. Don't be surprised if you see one of the models mentioned above at a high-profile show.
Therefore, the simple answer here would be professionals use any kind of guitar that suits them best. Until you learn what works for you, don't think about expensive models.
What are the Best Acoustic Guitar Strings for Bluegrass?
Every guitar player will tell you that they know that a particular brand of strings is the best one.
What you won't hear often is the truth: It boils down to personal preference. Don't put too much stock in any one person's opinion.
Try the wide variety of guitar string brands available
As long as we are talking about bronze acoustic guitar strings, anything goes. Bronze banjo, phosphor bronze, nickel bronze, etc., are all great options for bluegrass. Get out there and try out different strings.
What is the Best Guitar for Bluegrass?
The best guitar for bluegrass would be one that featured all the greatest aspects of the models mentioned above.
Unfortunately, such a model doesn't exist, and you're probably going to have to compromise.
If you're looking for a top-of-the-line guitar, take a look at the brands such as Martin, Taylor, and Gibson.
If you're looking for a mid-tier solution, Washburn might not be a bad idea.
But as an absolute beginner, don't go north of $500. If you already own a guitar, even if it's not particularly good for bluegrass, you can start there.
Always keep in mind that good bluegrass guitars aren't necessarily built solely for bluegrass.


Who Wins The Battle For Overall Best Bluegrass Guitar?
All of the mentioned instruments from this list feature great qualities. It all depends on how much you want to spend on a bluegrass guitar.
But the prize for the king of the best bluegrass guitars goes to the renowned Gibson Acoustic J-45 Standard.
This is a reliable, durable workhorse guitar with excellent resonant properties and great clarity and projection.
Its soft fretboard edges ensure player comfort, and LR Baggs VTC pickups are some of the most natural-sounding ones on the market.
We hope that this guide has helped you make the right choice. If not, keep on searching for the instrument that fits you best.
EDITOR'S PICK
Gibson Acoustic J-45 Standard

What Do Gibson J-45 Owners Think? >>
Overall Ease Of Use

Overall Build Quality

Overall Sound Quality

Overall Value Factor