A comprehensive guide to guitar setup tools you must have! Everything you need to start doing your own pro guitar setups to keep your instrument playing awesome!
What Tools Do I Need to Setup a Guitar?
Over time, the same question keeps getting asked by clients hovering over my workbench, "What tools do you use?" and "What tools do I need to do this myself?" among many others of course.
In putting the list together, my approach was this: if I had to start from scratch, what would be the essential must-have tools to get the job done?…
Essential Guitar Setup Tools:
Guitar Tuner
Guitar Capo
String Winder
Small Straight Edge
Guitar Neck Support
Guitar Body Mat
Super Fine Sandpaper
Needle Nose Pliers
Side Cutters
Nut File Set
1/8″ Flat Head Screwdriver
3/16″ Flat Head Screwdriver
5/16″ Flat Head Screwdriver
#1 Phillips Screwdriver
#3 Phillips Screwdriver
5/16″ Nut Driver
Allen Wrench Set
Guitar Radius Gauges
Small Adjustable Wrench
Utility Hand File
Soldering Iron & Solder
Fretboard Conditioner
Guitar Polish
Cleaning Cloths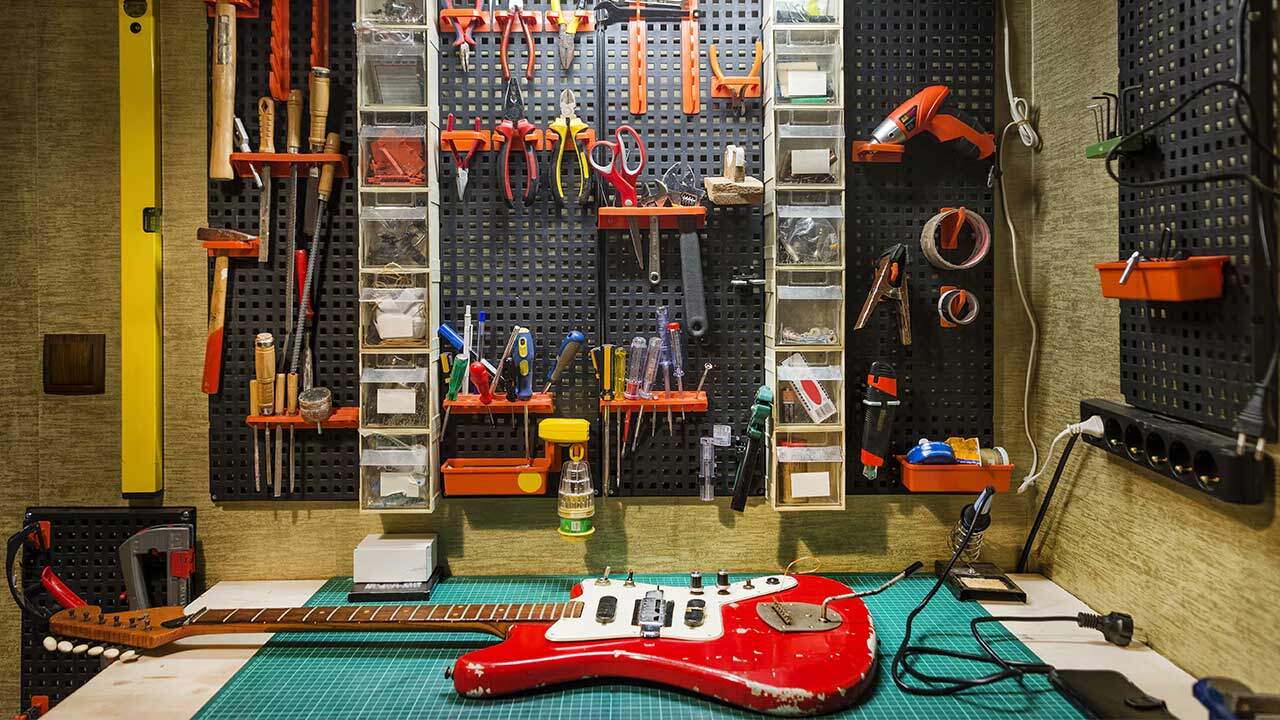 Tool Quality and Working Environment
To do good work, you'll need to set the stage properly. Here are the basic elements to get you started:
A good set of recommended tools that fit your budget
A guide on how to set up a guitar
A clean uncluttered workspace
A bit of time and patience
The quality of the tools will affect the quality of your work, and time spent on the task. Though there is something to be said for being frugal, there is no substitute for using the right tool for the given job.
As much as we'd like to think an economy tool will suffice – and in certain instances it will if it's only used once in a blue moon – any tool you count on do finesse an end result must be up to snuff. And you need to know how to use it, especially if you're charging for your work!
While some of the products presented on this page may look similar, there is a HUGE difference in the quality of their manufacture. It's like watches – do you want a Casio or a Rolex?
That being said, some setup tools listed are a fine choice in their economy versions, the more expensive versions being the result of targeted marketing and good branding. Ultimately the choice is yours.
---
Guitar Setup Tools in Detail:
| | | |
| --- | --- | --- |
| Tool | Premium Product | Economy Product |
| A guitar tuner is a must have tool. Handy for everyday use and absolutely necessary for calibrating exact intonation on guitar or bass. if you're using it strictly for intonation purposes, spend the money on a good one – it's well worth it. | | |
| A guitar capo used intelligently for setups is like having a third hand. It can be used mid way up the neck while you thread the string post on Bigsby fitted instruments, or at the nut to keep loose strings organized. | | |
| For an inexpensive item, it's magnificent at saving your wrist and your valuable time. Tip: on cheaper models, put a metal washer between the key holder and handle, and use a wood screw to hold it all together. It'll last for decades! | | |
| A small straight edge is great for checking short sections of neck straightness, plus finding problematic frets that may be too high or low. What your eyes miss, this tool will see no problem. | | |
| A neck support is a key investment as it keeps the neck and headstock safe by elevating it off the work surface. Plus it gives you room to work around the tuners and such. Make sure the material in the cradle that rests directly against the neck is clean at all times. | | |
| A good mat keeps the guitar body protected from an underlying hard surfaces and from getting scratched by debris. Fibrous materials will get contaminated with sharp edges and eventually cause problems. Therefor it's extremely important they be made of material that releases dirt and cast-off junk easily. | | On Sale! |
| For all kinds of guitar-suited purposes, super fine sandpaper is great for polishing frets and other metal guitar parts to a new shine. Used in the proper grade sequence and with proper technique, it's great for minor finish touch-ups. | | |
| Again, one of those must-have tools for wrangling small parts and getting into tight spaces where your fat fingers can't. Needle nose pliers are a great tool for all sorts of fine guitar setup tasks. | | |
| From chopping off fresh string ends to dispatching any kind of continuous wire that needs to be removed, side cutters are a super handy tool for general use around the guitar. A much better alternative to the kitchen scissors! | | On Sale! |
| A must-have set of small files for finessing guitar nuts and saddles. Better tools = better results. A single file designed to cut one gauge only is worth it's weight in gold. Tip: new files can have a lot of "bite" which can lead to chipping or binding with harder materials. | On Sale! | |
| A 1/8″ flathead screwdriver is particularly useful on vintage instruments and reissues with fine slot screws. It also comes in handy when small phillips screws are degraded, the right angle edges of the blade provide a good bite when extracting worn out screws. | | |
| The 3/16″ is great for general use around the guitar, especially tuner button screws, pickup pole pieces and tune-o-matic bridge intonation adjustment screws. As a rule, any screwdriver with a proper temper will work way better than it's less expensive alternative. | | |
| For stop tailpiece screws and other large slot head screws that need adjustment around the guitar, the 5/16″ size screwdriver is a the tool for job. Tip: it also makes a convenient lever for raising Les Paul bridges when the thumbwheels are sticky – make sure you use appropriate cautions against scratching! | | |
| The #1 Phillips is ideal for dealing with fine Phillips head screws commonly found around truss rod covers, pickup surrounds, pickup height screws, control plates, pickguard screws etc. | | |
| The #3 Phillips is absolutely necessary for things like large neckplate screws and other beefy torque-able items like strap button screws. | | |
| A 5/16″ nut driver is a must-have for adjusting Gibson style truss rod nuts. Deep sockets can work, but they can also be oversized as they often bind against the narrowly milled pockets of some brands. | | |
| A typical guitar friendly set of Allen keys will include 1.5mm, 3mm, 4mm 5mm, .050″, 1/8″, 3/16″,1/4″ and will satisfy the vast majority your guitar setup and adjustment needs. | | |
| A set of radius gauges is essential in fine tuning your guitar's action. Matching your string radius to the fretboard helps create the perfect balance of playability. | | |
| As it replaces a host of individual wrench sizes, a small adjustable wrench is ideal for tightening metal nuts such as the input jack or threaded tuner bushings – regardless of imperial or metric sizing. | | |
| From squaring up nut surfaces and saddle bottoms, to smoothing out sharp fret ends, a simple hand file with the right cut will accomplish a host of necessary jobs by milling down parts of all kinds around the guitar. | | |
| If you're working on electric guitars of any kind, a good soldering iron is an absolute necessity for repairing guitar electronics. Be sure to use the highest quality solder, avoid cold solder joints, and of course refrain from using marettes in guitar wiring – strictly for home improvement please! | | |
| A good quality fretboard-friendly oil will go a long way in keeping your instrument's playing surface in good nick. A fretboard conditioner will help replenish open-pored woods natural resiliency, especially after cleaning. Plus northern climate conditions can tend to dry them out over time. | | |
| You've done a lot of work achieving a great guitar setup. Considering you just had your dirty fingers all over the most intimate parts of the guitar, let's make it look new with a good guitar polish – clean it up! | | |
| Hey, if it is dirty, you need something to pick up the gunk. There are two schools of thought here: use a fine microfibre cloth to remove the surface debris, or use paper towels. My personal preference is a premium quality paper towel – toss the dirt, and the potential scratchy buildup at the same time – forever. | | |
The tools selection criteria was as follows:
Only the best tools for each category were considered
Every item selected had to have a minimum 4 star rating
Every item had to have at least 1 review
All-in-one type tools were avoided to maintain job specificity
Only top rated reviews were considered to ensure product quality standards
Sale prices were avoided as much as possible to maintain constant pricing over time