Let's be honest, the absolute best acoustic guitar under 2000 dollars must have exceptional qualities to make it a great fit your taste and needs.
If you're prepared to make a significant investment on an instrument, you're no doubt looking for a solid build along with playability, resonance, and various other subtleties that make a particular acoustic guitar speak to you.
Great Acoustic Guitars For Less Than $2,000
Compare Select Instruments:

#1 Best Acoustic Under $2000

(4.9)

Fantastic projection and warm bass tones

#2 Best Modern Acoustic

(4.2)

Sounds better with age

#3 Best Value In A Heritage Brand

(4.5)

Rich, vibrant tone

#4 Legendary Acoustic Electronics

(3.8)

Mahogany neck + rosewood fretboard for playability

#5 Best Affordable Modern Acoustic

(4.2)

Sitka spruce top is excellent for strumming

#6 Traditional Triple-0 Tone

(4.7)

All-mahogany build for powerful and warm tone qualities



#7 Best Parlor-Sized Value

(3.7)

Warm, balanced mahogany tone
We certainly hope you find this article helpful, informative and unbiased. Just so you know, we may receive compensation if you use the links on this page. If you do, thank you so much!
Top 7 Acoustic Guitars Under $2,000 In Review
(4.9)

Best Features

Fantastic projection and warm bass tones
Cutting-edge acoustics
Walnut helps it age brilliantly
Mahogany helps tame the high frequencies

Specs

Walnut fretboard and body
Fishman Sonitone pickups
Extremely unique and memorable tone
A quality Gibson below $2,000
A Masterfully Made Guitar
This is a "workhorse" acoustic-electric guitar from one of the world's most popular guitar manufacturers, Gibson.
Gibson sits side-by-side with Fender when it comes to the world's most popular guitar manufacturers. Although they make electric guitars as well, Gibson's acoustic game is strong, to say the least.
The J-45 studio is a dreadnought round-shoulder instrument with warm bass tones and fantastic projection. The J-45 offers brilliant playability and cutting-edge acoustics.
Highlights
The premium Sitka top brings tremendous amounts of presence to this guitar's tonal properties.
On the back and on the sides, walnut is used, which is somewhere between rosewood and maple when it comes to tonality, but it's similar to Koa, when it comes to the clarity brought on by high frequencies. Like Koa, walnut ages gracefully, in terms of tone. The fretboard is also walnut.
The J-45 Studio has Fishman Sonitone electronics which sound as clear as day. Fishman is a renowned guitar pickups company, popular for tonal clarity on their electric and acoustic pickup models.
Gibson Acoustic J-45 Studio Key Features
Walnut body with Sitka spruce top
Mahogany clarity to tame the high frequencies
Walnut bridge to accompany the body
Fishman Sonitone pickups with brilliant clarity
75" scale length – slightly shorter than standard
Truly Memorable
Even though it's still considered a mid-range guitar, Gibson Acoustic J-45 Studio is an instrument of extreme quality. You can try hundreds of excellent acoustic guitars, but the tone you hear coming out of the J-45 is truly unique and memorable. It's built with great care and attention to detail.
Gibson-Level Prices
Gibson is a brand that's notorious for its high-priced instruments. Although the J-45 doesn't go over $2,000, it is at a fairly high price point. Still, you get a high-quality piece of gear, no one's denying that.
Gibson Acoustic J-45 Studio Review Summary
Check Gibson Acoustic J-45 Studio Availability >>
(4.2)

Best Features

Sounds better with age
Resonant
Sparkling highs, stable mids
Comfortable neck

Specs

Koa build
Shaded edgeburst
Sapele neck
Forward shifted pattern body bracing
Full Koa Tone
This is a top-quality shaded edgeburst and layered Koa acoustic-electric guitar from a world-renowned acoustic guitar manufacturer, Taylor.
Taylor is one of the world leaders in the acoustic guitar production business. Although the price tag on Taylor 224ce-K DLX doesn't feel very comfortable, its full-Koa body, fantastic resonance, and rich tone justify it.
A Great-Sounding Guitar That Gets Better as It Ages
Taylor is a widely popular and renowned guitar manufacturer that specializes in acoustic guitars. Thanks to the Hawaiian Koa predominant build, this Taylor guitar brings sparkling highs and solid mids to the table, wrapped with nice crisp snappiness.
The unique thing about this guitar's Hawaiian Koa build is the growing range of sweetness, richness, and resonance over time.
Plug in this acoustic-electric guitar, and the ES2 electronics will give you a rich amplified tone without diminishing any of its acoustic properties.
Brilliant resonance and great EQ qualities have no impact on playability, though. And playability is just as important as a guitar's sound properties.
The stiff Sapele neck will appeal to guitarists who want uninterrupted comfort while playing. Thanks to its stiffness, however, the feel that it has and the sound that it produces remain powerful.
Taylor 224ce-K DLX Key Features
Amazingly, thanks to the Koa-predominant construction, the 224ce-K actually starts sounding better as it ages
Neck is very comfortable but still capable of delivering powerful sound and tone
The ES2 electronics amplify the brilliant acoustic properties of this Taylor guitar without compromise
Gorgeous looking – the top wood is solid Hawaiian Koa, while the back and the sides are Layered Koa with Koa veneer
Gold tuners fit this guitar's style perfectly
The Best Taylor Model for the Price
Don't misunderstand us – Taylor 244ce-K DLX is arguably the best Taylor acoustic guitar for under $2,000.
Still, the feature that shines the brightest on it is the amazing Koa-based build. This tonewood is immensely stable, without sounding dull.
The ES2 electronics were a perfect choice here, as they are capable of providing (picking up) the most realistic tonal picture from an acoustic guitar. Other than that, it looks brilliant, and all the parts work perfectly.
Maple Might've Been Better
Although ebony is the most common fretboard wood type, we feel that a maple fretboard would help bring out even more sparkling brightness out of this guitar without compromising the mids.
Still, this is not to say that ebony doesn't work great here; just that we think that maple would've been a better choice. Roasted flamed maple would've been a great choice. It's also one of the priciest guitars on this list.
Taylor 224ce-K DLX Review Summary
Read the Latest Taylor 224ce-K DLX Reviews >>
(4.5)

Best Features

Rich, vibrant tone
Comfortable satin neck
Resonance
Elegant appearance

Specs

1940s Style 15 throwback
Satin neck finish
Very complex, dark, rich voice
Perfect for singers
1940s Guitar from a 180-Year-Old Brand
This is a throwback Martin guitar that brings elegance, tonal richness, and comfort to the player's hands.
Martin is a guitar manufacturer that has been around for more than 180 years. Over time, their guitars have changed but the quality of their builds has remained top-notch.
The Martin D-15M is a perfect representation of that craftsman's attention to detail. It's a throwback to the 1940s Style 15 models, and what a throwback it is!
All-Mahogany Guitar Dreadnought
Mahogany is among the most resonant tonewoods out there. Typically, a manufacturer will choose to use it for the guitar's body.
The Martin D-15M is an all-mahogany guitar, with the top, back, sides, and the neck made out of solid mahogany.
This gives the guitar a surprisingly dark and full voice, which is astonishing in its complexity. This perfectly complements a higher voice.
Don't expect a fancy-looking guitar here. Its elegance is reflected in its simplicity and straightforward looks.
And, of course, its mahogany build. To supplement the complex, dark, and rich voice, Martin has gone with the traditional rosewood fretboard here.
The neck feels comfortable, making the guitar very easy to play. The satin-finished neck makes sure that your thumb glides smoothly up and down it.
This is a dreadnought-style guitar – bolder, larger body than most guitars, for a richer, louder tone.
Martin D-15M Key Features
Rich, vibrant voice brought to you by a solid, genuine, all-mahogany build
The rich sound goes hand in hand with the rosewood fretboard
Minimalist elegance
Dreadnought guitar
Natural color for extra minimalism
Satin neck for extra playability
The Best of Both Worlds
We've always loved the simple, respectable looks of the Style 15 guitars but never appreciated the ancient build.
The D-15M's build brings the best of both worlds, plus it emphasizes comfort. It is very playable; we love the low oval neck carve. This is absolutely the best acoustic dreadnought guitar under $2,000 that you'll find out there.
Could've Used Electronics
There isn't a whole lot that we have to say against this model. But, the fact remains, no matter how well it fits the singer-songwriter style, it doesn't come with any electronics.
And, loud as it is, bringing a regular microphone to the soundhole will provide a muddy picture for this guitar's brilliant rich and vibrant tone. An optional electronics system would've been nice here.
Martin D-15M Review Summary
What are Martin D-15M Players Saying? >>
(3.8)

Best Features

Mahogany neck + rosewood fretboard for playability
Gorgeous black gloss finish
Cutaway provides easyaccess to higher frets
Maple-cedar combo delivers tight lows and warm highs

Specs

CT4B II preamp
Maple back and sides
Solid cedar top
Bruce Springsteen's choice
Pricey Cheap Guitar
This is a handcrafted acoustic-electric guitar with a dreadnought body from the renowned brand Takamine.
Takamine is a company that generally produces mid-range guitars. They are widely renowned for their affordable prices. The Legacy EF341SC isn't exactly a "cheap" model.
Expect a quality build and great resonance. The CT4B II preamp successfully replicates the Legacy's sound, so you don't have to worry about its stage performance.
Bruce Springsteen's All-Round Dreadnought of Choice
Diversity has always been a part of Takamine's style. With the Takamine Legacy EF341SC, the company has created an instrument for all acoustic needs, cozy or on the stage.
The EF341SC has been a part of Bruce Springsteen's arsenal for decades now for good reasons – its versatility and all-round capability.
The Legacy EF341SC is probably the best acoustic guitar for strumming on this list. But this doesn't mean that it doesn't sound absolutely brilliant for flatpicking.
Thanks to the tonally accurate CT4B II preamp, every playing intensity, from gentle fingerpicking to aggressive strumming, is sonically portrayed in the most brilliant way. The CTB4B II preamp has a 3-band EQ, as well as an accurate tuner.
Thanks to a very comfy cutaway, the player can effortlessly access those upper frets. This cutaway also gives it a modern, fresh look.
The top wood is solid cedar, while you can find maple on its back and sides. The neck is made out of resonant mahogany, and the fretboard is rosewood.
Takamine Legacy EF341SC Key Features
CT4B II preamp with a 3-band EQ and a tuner
Solid cedar top, maple on back and sides, mahogany neck, rosewood fretboard
Fantastic tonal properties for fingerpicking, flatpicking, and strumming
Cutaway for higher string access
Sleek black appearance
Stage-Worthy but Cozy
Takamine guitars aren't expensive, so you can rest assured that you get a fantastic instrument at this price range. The guitar itself sounds perfectly resonant – you get a powerful low end, very clear highs, as well as complex mids.
But it's the CT4B II preamp that truly blew our minds, but then again Takamine has always been known for excellent acoustic electronics.
If you're looking for a guitar that sounds equally good in room conditions and on the stage and plugged in, the Legacy EF341SC might just be your last stop for many years to come.
The Wood is Close
The choice of wood here is decent. That's it. If the manufacturer went with, say, an all-mahogany build, we are certain that this guitar would've deserved and gotten a much heftier price tag.
But, more importantly, it would bring better tonal and feel properties to the table. Still, the guitar sounds and feels better than many $2,000+ guitars.
Takamine Legacy EF341SC Review Summary
Check Takamine Legacy EF341SC Availability >>
.

(4.2)

Best Features

Sitka spruce top is excellent for strumming
Ebony fingerboard and Sapele neck for fast playing
ES2-guaranteed natural amplified sound
Grand Auditorium shape

Specs

Popular with recording engineers
Layered rosewood back and sides
Brilliant for fingerpicking and strumming
Fantastic treble zing
Sounds Bigger Than It Is
This is an acoustic-electric guitar with a Grand Auditorium body that brings dreadnought-level depth and width but features a tapered waist and a contoured body.
The world's leading acoustic guitar company is back with a beautifully contoured, modern-looking Grand Auditorium guitar.
A blind test of this guitar would amaze you – it sounds like a dreadnought model, but it's got a tapered waist, making it appear much smaller.

The Recording Engineer's Favorite
When you hear that a guitar is a recording engineer's favorite model, that means much more than you probably think.
This says a lot about its sound quality. The Taylor 214ce Deluxe has particular treble zing that all the sound engineers (and most guitar players) simply adore because it helps clarify note definition. When recording music, you'll want instruments to sound as clear as day.

Although the 214ce Deluxe can follow through with every playing style, fingerpicking and medium strumming is where its heart is at. This guitar isn't for heavy strummers, but a thinner pick makes strumming sit perfectly in a mix.
The wonderfully balanced and clear tone here is owed to the solid Sitka spruce top, in combination with rosewood on the sides and on the back.
This model features Taylor's proprietary ES2 system, which does a great job of accurately reproducing the instrument's natural tone.
Taylor 214ce Deluxe Key Features
Balanced and clear tone, ideal for recording
The ES2 system accurately reproduces the guitar's natural tone on stage
Treble zing that sharpens the note definition
Tapered waist and contoured body make the 214ce look smaller
Sitka spruce top with rosewood on the back and on the sides
Great Woods for Balanced Tone
Taylor 214ce Deluxe performs remarkably well when it comes to recording. Clear tones and great tonal balance are to be expected here.
However, thanks to the ES2 system, the 214ce is favored by many live performers. The tonewoods of choice work great – they accentuate the treble zing, while balancing the tone out.
A Gentle Beast
This guitar is not for heavy strummers. The balance that the treble zing provides can easily go overboard if impacted by high velocity strumming. Still, using a thinner pick can help here.
Taylor 214ce Review Summary

Read the latest Taylor 214ce Reviews >>
(4.7)

Best Features

All-mahogany build for powerful and warm tone qualities
For strummers and fingerstyle players
Dark wood complements the warm tone
Reasonable price

Specs

Complete satin finish
Classic build
Extremely cheap
Unparalleled craftsmanship
This One's a Steal
This is a very reasonably priced Martin instrument of quality tonewoods and brilliant craftsmanship.
Martin guitars have sort of a typical look to them. This is why Martin guitars are so easy to recognize. The 000-15M model has the recognizable Martin first-class craftsmanship.
This model's build is just amazing, with the best tonewoods out there and fantastic craftsmanship. At this level of quality, getting a guitar for such a low price is a real steal.
Unparalleled Resonance
First of all, we're talking about an all-mahogany build here. This means that the top, the back, the side, and the neck are made out of solid genuine mahogany. This brings unparalleled resonance to the table.
The Martin 000-15M may not be a dreadnought guitar but, thanks to the mahogany build and the rosewood fretboard, you can expect warm, balanced tones. Whether you're a fingerstyle enthusiast or prefer strumming, the 000-15M won't disappoint you.
Martin 000-15M Key Features
All-mahogany build
First-class Martin craftsmanship
Classic, sleek appearance
Warm and balanced tones
Satin finish
Warm Satin Sleekness
The price tag here is definitely lower than the value of this guitar. The tonewoods used are simply amazing and brilliantly crafted – that, accompanied with the satin finish evokes a classic, sleek vibe.
In terms of craftsmanship, it's unparalleled here, like on most Martin models. The guitar itself is very playable and comfortable, and the tones it provides are warm and well-balanced.
No Electronics
Unfortunately, there are no electronics on this guitar. Some people will like this and others will be deterred by it. But, in reality, this isn't the world's best acoustic guitar.
$1,000 to $2,000 is the price range we're talking about on this list, and being closer to the former number is always desirable, which is exactly what the 000-15M offers. At this price range, you can't expect a cool electronics system.
Martin 000-15M Review Summary
Check Martin 000-15M Availability >>
(3.7)

Best Features

Warm, balanced mahogany tone
Free wood vibration thanks to the satin finish
The comfort of the concert body style
Gorgeous vintage looks

Specs

Concert-style (very compact)
Its satin finish enhances its tonal properties
You feel its magic instantly
Extremely clear tone
A Reintroduction of an Old Star
This is a compact concert body-style guitar from Guild. It's also one of first guitars from the brand.
Guild is a guitar manufacturer based in the US that has been making guitars for well over six decades. Back in 1967, Guild produced their very first acoustic guitar.
The M-20 is the modern version of the 1967 model. By reintroducing this compact concert body guitar made out of solid mahogany, Guild has rounded up many new fans. We are one of them.
A Comfy, Tone-Rich Model
Usually, all-mahogany acoustic guitars are larger models, like dreadnoughts. The Guild M-20 is a concert-style guitar, meaning that it's compact. Still, it features an all-mahogany build.
It's top, back, sides, and neck are solid mahogany, which helps produce a warm, clear tone that doesn't get muddy or shrill. Thanks to the rosewood fretboard and bridge, the M-20's harmonic overtones are even further enhanced.
The biggest problem with large guitars is body comfort. Concert guitars, on the other hand, are built with lack of obstruction in mind.
The M-20 tone is midrange-focused, which further enhances the intensity and clarity of each note on the fretboard.
Guild M-20 Key Features
Vintage appearance, to account for the original model's look
Warm, balanced, all-mahogany tone
Clear sonic qualities
Satin finish looks great and helps the wood vibrate
Balanced sound of a concert body style
Extremely Well-Balanced Concert Body Guitar
Everyone can fall in love with all-mahogany builds. This is a tried and true way to evoke warm, balanced, and beautiful tones.
The all-mahogany construction works in tune with the concert build to bring out midrange-focused tones.
This means that clarity and intensity are to be expected here. The rosewood fretboard was a perfect choice – anything else would've disrupted the perfect tonal balance.
Not a Lot of Features
This is a guitar, plain and simple. It isn't especially large and it doesn't have any electronics. Although this model's price tag isn't mind-boggling,
it isn't the best acoustic under $2,000. But this is the kind of a guitar that you try, and feel its magic instantly.
Though it lacks electronics, an LR Baggs Element pickup system would be a perfect upgrade for this instrument.
Guild M-20 Review Summary
What Do Guild M-20 Owners Think? >>
Buyer's Guide
Guitars are complex instruments. There is a wide variety of things to consider when shopping for the best acoustic guitar for under $2,000. Allow us to help you out here.
What Acoustic Guitar Has the Lowest Action?
Before we get to our preferred choice, a little explanation: the lower the action, the closer the strings are to the frets.
As a result, the lower the action, the less effort you need to put into fretting a note/chord while playing. This doesn't make a guitar better, but some people certainly prefer their acoustic guitars that way.
To an extent, action can be lowered on any guitar. On electric guitars, this is done in one of two ways: by adjusting the truss rod from the headstock end of the guitar and by lowering the strings from the bridge part of the instrument.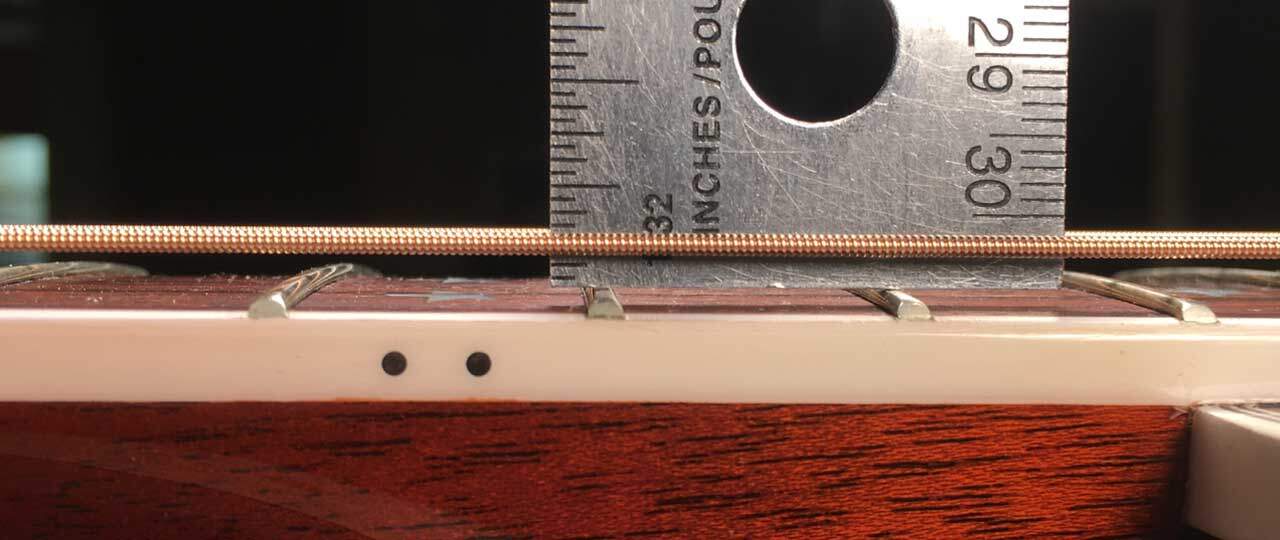 On acoustic guitars, you can't lower the action from the bridge side of things, as it is set in place. You can use certain tools to adjust an acoustic guitar's bridge, but these changes are permanent. Have an expert set this up for you.
But getting a guitar with a low action in the first place is the best idea here. Taylor guitars are famous for their low action and playability. From our list, Taylor 214ce Deluxe has the lowest action.
How Do I Know if My Guitar Action is Too High?
Action that's too high can be a matter of taste. Some people prefer comfort when playing, while others like guitars that "fight back." Too low action will result in dead and dull fretted notes.
This requires raising the action by turning the truss rod end on the headstock counter-clockwise.
A high action will always result in clear, resonating fretted notes. However, the higher the action, the more difficult it is to fret a note. The best way to go would be to adjust the truss rod and set the action to your preference.
If you think your guitar needs some adjustment, we have an extensive guitar setup guide that should help.
How do you know that the action is too high? Well, it's too high the moment it gets uncomfortable for playing.
Don't worry, you aren't imagining things, the action can change as a result of factors such as temperature changes and moisture. These affect the truss rod and, as mentioned, can affect a guitar's action.
What is the Best Acoustic Guitar for Strumming?
When it comes to strumming, you'll want to look for a guitar that has well-balanced tonal properties and tamed high frequencies.
Guitars with tonewoods that boast high frequencies will sound too shrill when strummed with high velocity. When it comes to tonewoods, Sitka spruce is a good choice for aggressive strummers.
A combination of a large body and rich tonewoods will produce great sounds for strumming.
Another important factor is the guitar's size. Dreadnought guitars work great in this department, as they have a higher volume ceiling. This means that you get more oomph when you strum harder, but without distortion at the top.
From our list, Gibson Acoustic J-45 Studio is the best strummer's choice, as it's a dreadnought guitar with Sitka spruce.
What's the Best Acoustic Guitar for the Money?
Although the guitars on our list have different price tags, they are in the similar price range. Regardless of how much you like a guitar's features, it's advisable that you try it before you buy it.
See which of your local guitar stores have the models from the list and get one that suits you the best.
Are Taylor Guitars Better Than Martin?
Taylor and Martin guitars are often put side-by-side. There are various debates as to which one of these two guitar manufacturers makes better products. Taylor and Martin guitars are very different. You'll rarely stumble upon a player who is a devoted fan of both.
Martin is a very old company, with more than 180 years of history. Their most famous D-series models are boomy and loud, capable of cutting through an entire band.
They tend to have a deep, warm sound, rich in mid-range. They have a high noise ceiling, which is why many hard-pickers go with Martins.
For a full overview of their differences, check out our popular article: Martin versus Taylor
On the other hand, we have Taylor, a brilliant brand, launched more than 40 years ago. As a relatively young company, Taylor has brought many improvements to the world of acoustic guitars.
They've bridged the gap between dreadnoughts and more compact guitars with their Grand Auditorium design. Taylors are bright and rich in sound and offer more clarity, but less body, compared to Martin.
So, Taylor guitars aren't better than Martin, and it's not the other way around, either. In the end, it all boils down to the player's preference.



Closing Thoughts
Although we are certain that each guitar on our list will find an ideal owner, we have to give the best acoustic guitar under 2000 dollars award to Gibson Acoustic J-45 Studio. It has by far the best electronics, is fantastic for strumming, fingerpicking, and flatpicking, and is one of the most comfortable acoustic guitars on the market.
However, keep in mind that taste plays a vital role in picking a guitar, electric or acoustic, so don't take our word for it, but go ahead and try these acoustic models out.
Final Scores as a Group: