Want a decent electric guitar to learn on without having to spend tons of money? If you answered "yes", then you need to check out our Schecter C-1 SGR review.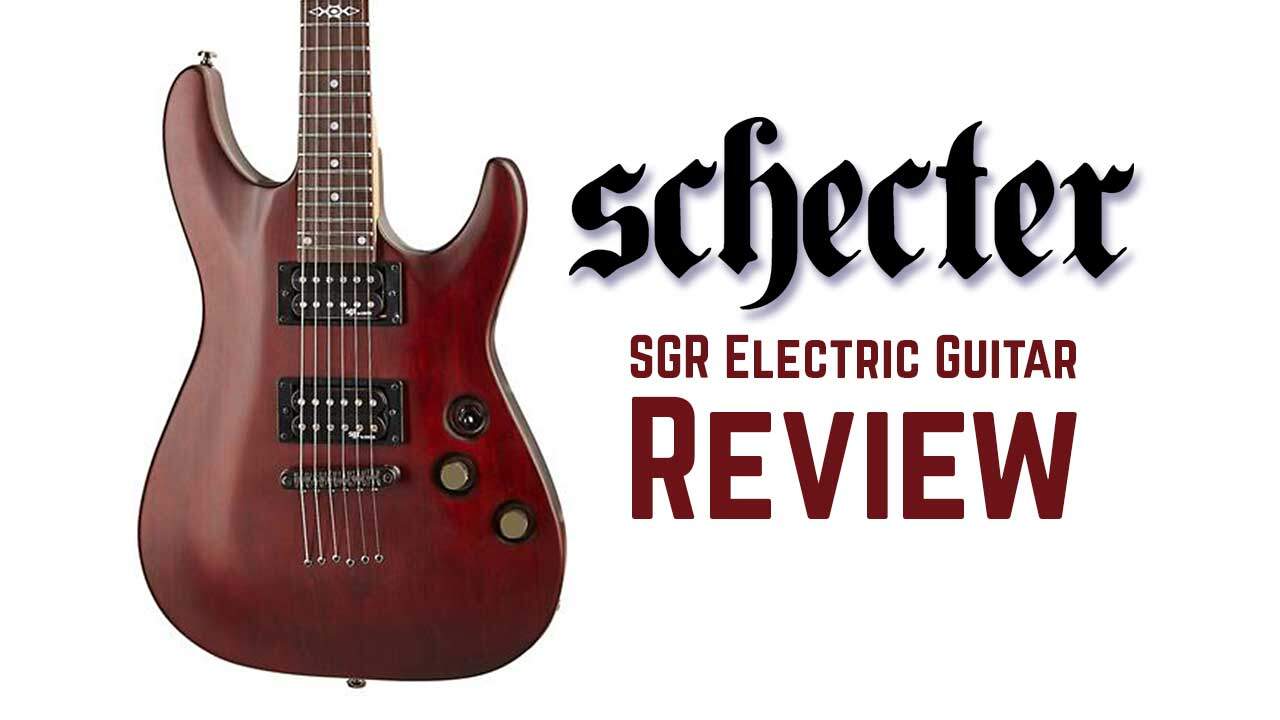 We certainly hope you benefit from the information we provide in this article! Just so you know, we may receive compensation if you use the links on this page. If you do, thank you so much!
C-1 SGR by Schecter Beginner Electric Guitar Review
The Schecter C-1 SGR Guitar at a Glance:





The Schecter C-1 SGR Electric Guitar




Have you decided that you want to learn how to play the guitar? Do you want a decent electric guitar to learn on, without having to spend a lot of money? If you answered "yes" to these questions, then you need to check out the C-1 SGR by Schecter.
This beginner electric guitar has an arched top, carved body with a maple neck, and rosewood fretboard. It also has pearloid dots, with a custom inlay on the 12th fret, and has black chrome hardware.
This is a great looking guitar, and it plays pretty well for one at such a low price. The particular C-1 SGR we examined on the Guitar Niche workbench had all the earmarks of great overall value. Read on to learn more.







Features of the C-1 SGR by Schecter
Many entry-level guitars can have less than great ergonomic design making uncomfortable to play. This guitar is shaped with the comfort of the player in mind.
It has the smooth, arched top, which makes it easy to access both the controls and the fretboard in both sitting and standing positions.
The pickups are clean and reasonably well balanced, and can be used with a variety of effects pedals.
The polished black chrome hardware adds to the sleek design, and looks a lot better than the regular chrome used on other low-end guitars. Some of the best features of this guitar include:







A 24 fret neck
Most beginner guitars have 20-22 frets, but this one has 24 frets for a full two octave span. You can grow musically with this guitar without being limited by not having a full fretboard, and you will be able to do plenty of experimenting with the extended pitches.


Fretboard appointments
Like many other guitars, the C-1 SGR has pearloid dots, but thanks to the dark color of the wood, the dots really tend to stand out.
There is also a unique pattern on the 12th fret that looks like a filigreed shape, also made from pearloid, which gives the guitar a unique appearance.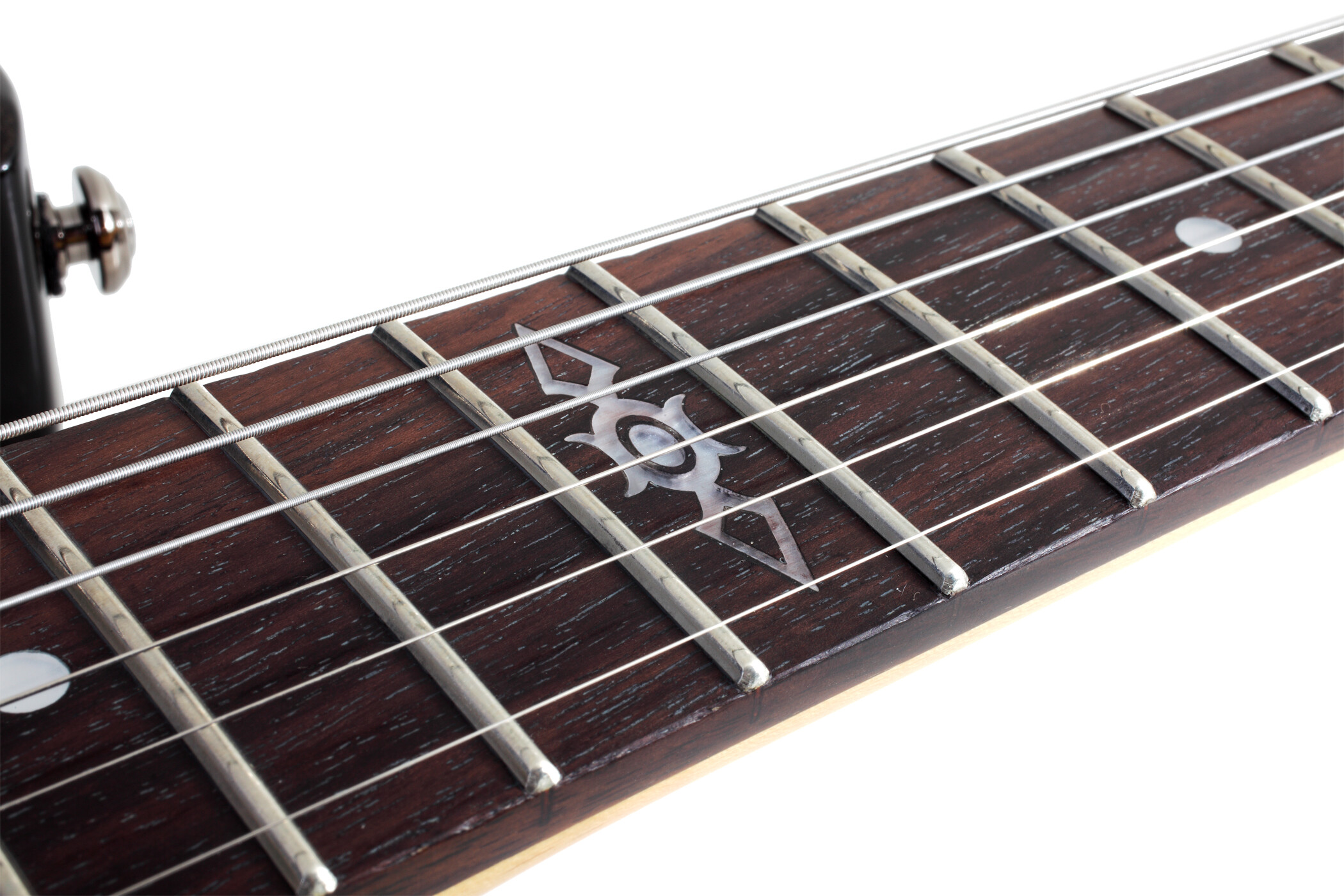 Unique shape
The shape of this guitar is not only comfortable, it is attractive and unique. In fact, if you want something that is a bit different from the typical, boring looking beginner guitar. This definitely one that you need to consider if you are just getting started.


Hardware
The hardware on this model is made from polished black chrome, which adds to the unique appearance of the instrument. It also has a uniquely shaped headstock that makes this guitar different the traditional Fender, Ibanez, and Epiphone entry-level guitars.
As an added, and much appreciated bonus, the Schecter C-1 SGR comes with its own gig bag, so you can easily store it or take it with you anywhere.
The bag is comfortable to carry, with both handles and a shoulder strap, and comes with a cool branded print on the front. All you need to take this guitar out to play is a strap and a cable to plug it directly into an amplifier.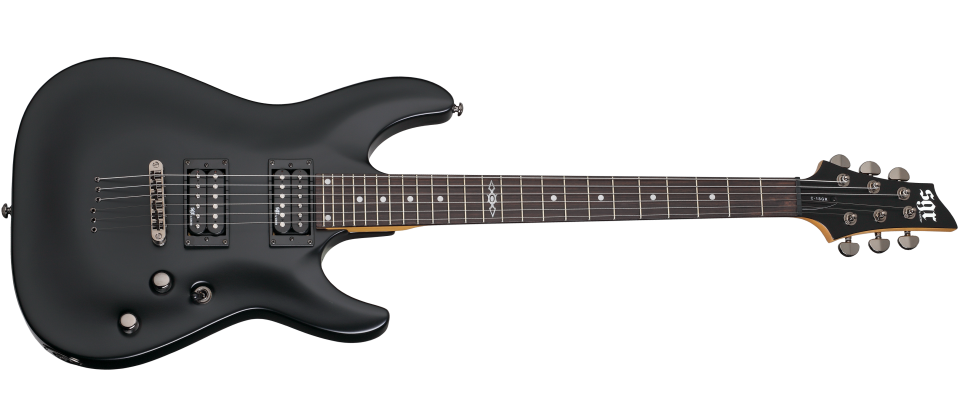 Playability
With the added extra frets, reaching high notes on the nicely finished fretboard was a breeze. Out of the box the setup was ok, but with a few adjustments the action was nice and fast.
There were a couple of small uneven frets in the upper register but they were nothing to complain about considering the price point.




Pros and Cons


Schecter C-1 SGR Electric Guitar Review


What We Like
This guitar comes in a variety of colors, including walnut satin, electric blue, and midnight satin black
You have 24 frets to work with, so the guitar is going to be able to grow with you as you learn and want to experiment more on the higher frets
The rosewood fretboard is attractive with the pearloid dots and interesting 12th fret design, and it is smooth and easy to play on


What We Don't Like
One of the biggest problems we can find with this guitar is that it sometimes will buzz between frets, therefor a minor setup is necessary
There are other entry-level guitars around the same price that have much better pickups
This is probably not the best choice for advanced musicians, as it is designed to be a beginner guitar




What are SGR C-1 Owners Saying? >>




Who is Schecter?
You may be more familiar with guitar brands such as Fender, Gibson, Ibanez, etc., but don't pass over Schecter if you haven't heard the name.
This is a guitar manufacturer that has been around for 40 years, and they have created guitars that have been used by some of the most famous bands in the world, including Motley Crue, The Cure, Prince, Cheap Trick, and the Stone Temple Pilots.


Compare Featured Electric Guitars:






Conclusion – Is the C-1 SGR Worth the Money?
The overall playability and reasonably balanced sound combined with the pleasing cosmetic elements made for an exciting playing experience.
If you are just starting out in the guitar world, and you want to get a quality guitar without having to spend a lot of money, the Schecter C-1 SGR is a great place to start. Not only is this an attractive guitar, but it sounds as great as it looks.
Plus it comes with its own cool looking gig bag as a bonus. The price point is also extremely attractive, so you aren't going to spend a lot of money to get a nice electric guitar to learn on.





What are Schecter C-1 SGR Owners Saying? >>


Build Quality

Sound Quality

Value Factor
---
Manufacturer Info:
Website: https://www.schecterguitars.com/