Does Epiphone's Limited Edition 1959 Les Paul Standard come close to the real version of one of the most famous guitars on the planet? Find out in this exclusive review!
We certainly hope you benefit from the information we provide in this article! Just so you know, we may receive compensation if you use the links on this page. If you do, thank you so much!



Epiphone Limited Edition 1959 Les Paul Standard Review – Is It The Classic You Always Wanted?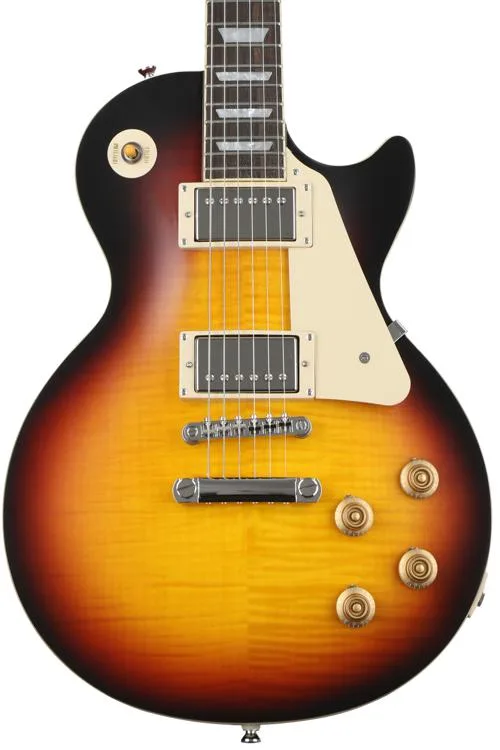 Epiphone Limited Edition 1959 Les Paul Standard Electric Guitar
USER FRIENDLINESS

(4.4)

Great electronics controls but the fat neck may not be user-friendly for some

BUILD QUALITY

(4.5)

Fit and finish are clean and sturdy making it a guitar that's definitely built to last

SOUND QUALITY

(4.7)

Killer Burstbucker tones, excellent dynamics you'd expect from a Les Paul

VALUE FACTOR

(4.7)

Price is good for a "poor man's" vintage guitar from an established brand
Epiphone 1959 Les Paul Overview


Designed in collaboration with Gibson's Custom Shop, the Epiphone Limited Edition 1959 Les Paul promises to bring a lot to the table for long time Les Paul fans.
Resting on the rich history of one of the world's most collectible guitars, Epiphone's much more affordable version of Gibson's historic 1959 Les Paul Standard is being touted as the "poor man's 59 Les Paul".
Along with the recently redesigned headstock (a great cosmetic improvement in our opinion), the Epiphone Limited Edition 1959 Les Paul Standard definitely has a foot in the door.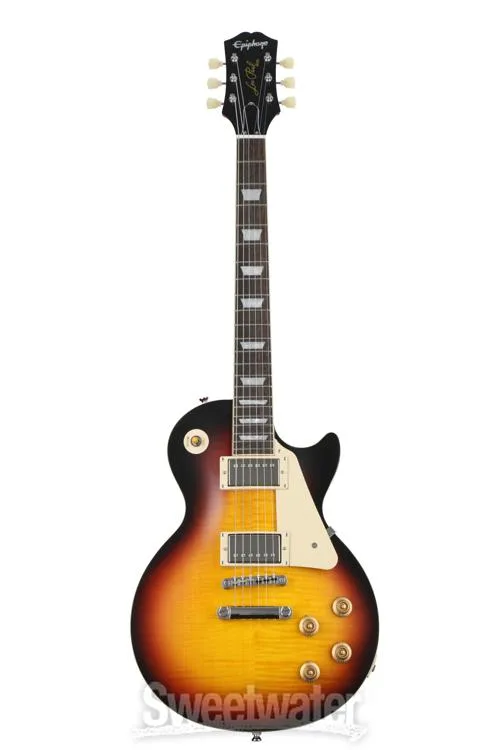 In this review, we'll look at the quality of fit and finish, playability, and how the guitar sounds, and perhaps most importantly, the overall value if you're in the market for just one more guitar.
Epiphone has grown into one of the world's most versatile guitar manufacturers. Originating in Turkey in the 1800s, the company is now well established with a long history of its own, and of being associated with its parent company Gibson.
Considering the relationship between the two companies, it makes a lot of sense to release a tribute to the 1959 Les Paul Standard, pump up the quality, and add an extra layer of respectability to the Epiphone brand.
Retailing at around the eight hundred dollar mark (USD), the re-envisioned 1959 Standard from Epiphone makes for a great deal that should appeal to fans of Les Pauls – especially when you add in the vintage-style pink plush lined case which is included.
A Classic Les Paul Design for Everyone
In general, the Les Paul range of guitars is one of Epiphone's most featured products with the instantly recognizable shape automatically conjures up an instrument with plenty of history.
At its core, the combination of the mahogany body and maple cap, plus the solid mahogany neck are the basis of a traditional Les Paul sonic footprint. Mix in a pair of killer Burstbucker pickups as the output engine and you immediately have a recipe for great tone.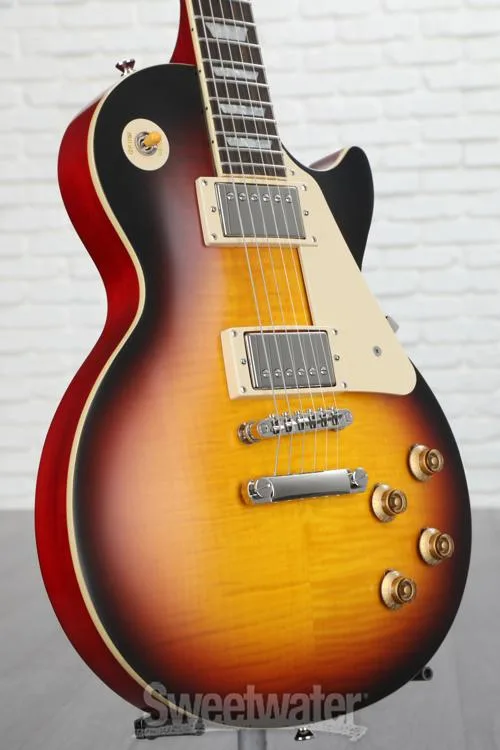 Sporting a great pedigree combined with great build quality, the Epiphone 1959 Les Paul Standard Electric Guitar is certainly a far more affordable option compared to its more purebred counterpart.
Currently available in three classic color schemes: Aged Dark Burst, Aged Dark Cherry Burst, and Aged Honey Burst gloss, all three finishes give a respectable nod to the original cosmetic designs.
Epiphone 1959 Les Paul Standard Features:
Inspired 1959 Gibson Les Paul design
American-made Gibson USA Burstbucker pickups
Mallory 150 polyester film tone capacitors
CTS pots and Switchcraft toggle switch
Figured AAA maple top on a mahogany back
Rounded Medium "C" mahogany neck
Aged gloss finish
Tune-O-Matic bridge
Epiphone Vintage Deluxe 18:1 tuners
Finish Variations to Choose From:
Superior Electronics that Perform
As mentioned, the Epiphone Limited Edition 1959 is powered by two fabulous USA-made Burstbucker pickups: a Burstbucker 2 in the neck position for more of a 57 tone, and a Burstbucker 3 in the bridge for full-on PAF tone.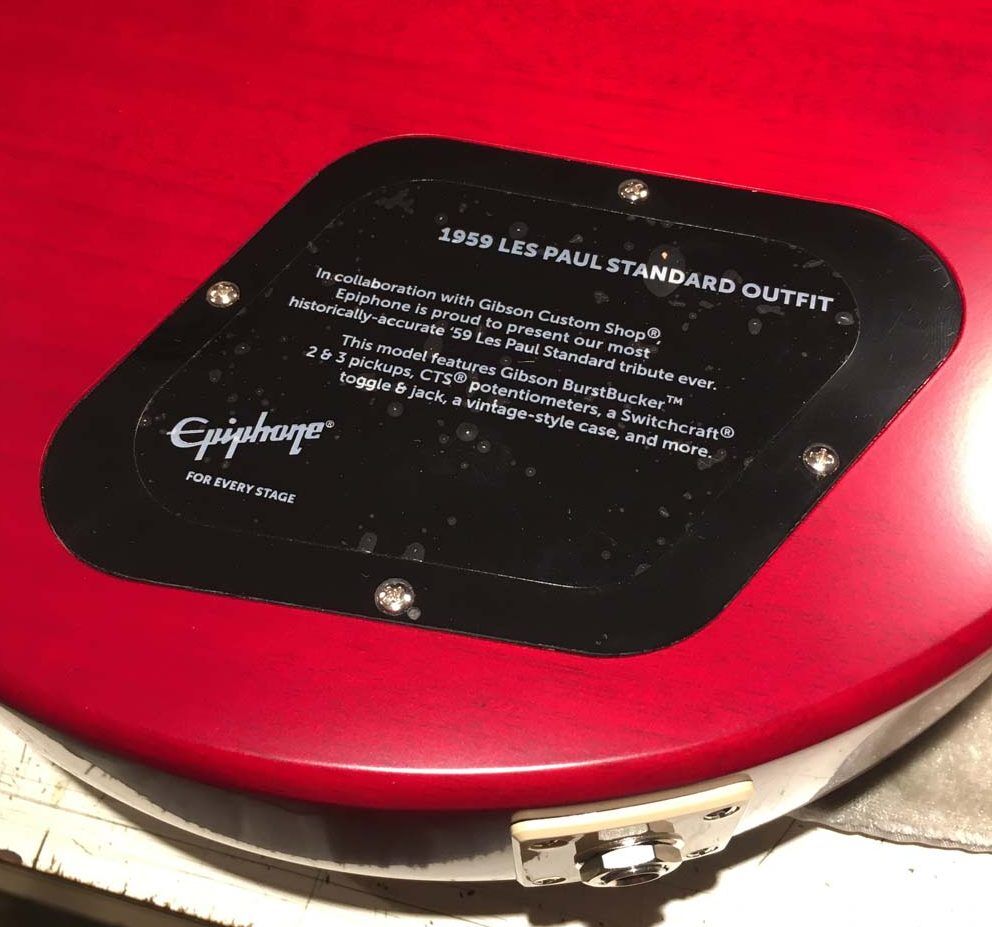 In the main control cavity, you'll find quality CTS pots combined with Mallory 150 polyester film caps which together provide excellent overall control over output.
When we inspected the interior of the electronics cavity, the only real concern we had (other than the unsightly wiring itself) was the lack of extra insulation around the braided pickup wires. Not that it's a huge issue, but the possibility of a short across live contacts should be taken into consideration.
The toggle switch is Switchcraft, a well respected brand known for producing rugged long-lasting electronic parts found in great guitars.
On the face of the instrument, the vintage-style gold bell knobs sit proud just as they would on a real '59.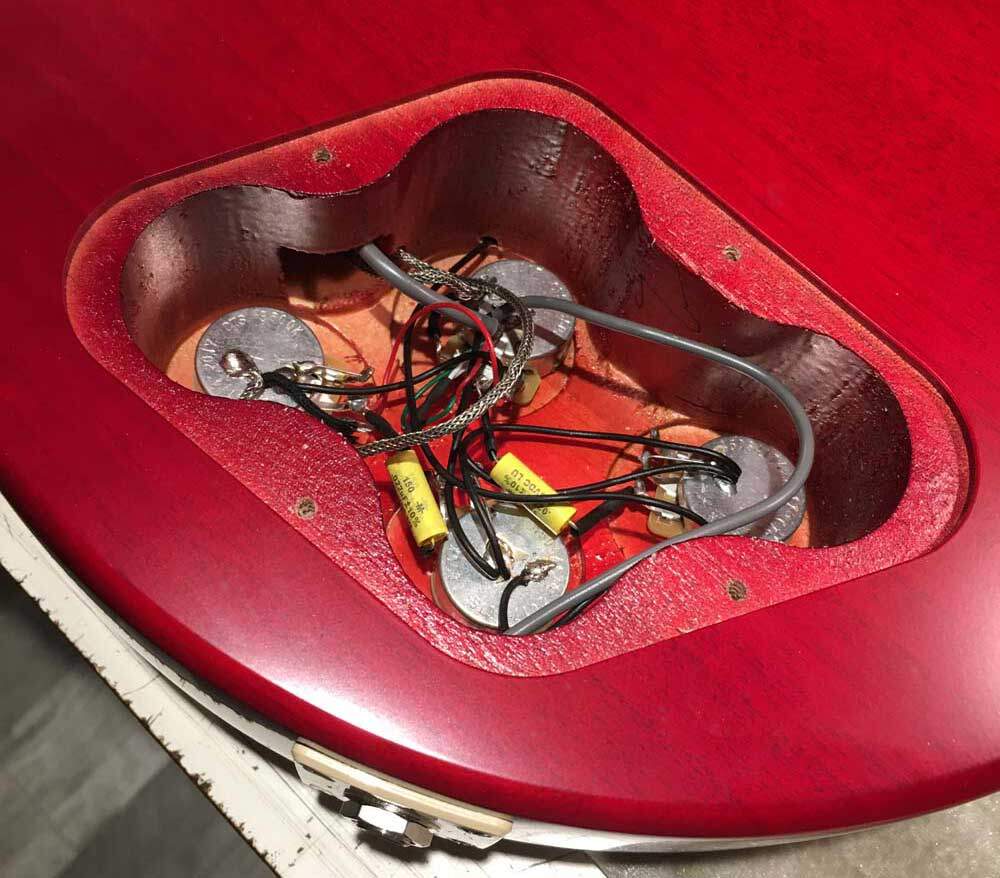 As many players know, superior electronics go a long way in producing the sounds you want. Overall, this is a mod-free, no upgrades required electronics setup right out of the box.
Click Here to Read the Latest Epiphone 1959 Standard Reviews >>
Warranty Coverage That Lasts
Unlike many companies on the market, Epiphone offers a lifetime warranty. As stated on the Epiphone website, "Your new Epiphone instrument is warranted to be free from defects in materials and workmanship for the life of the original retail purchaser".
That being said, you really can't go wrong trusting the company will take care of any issues with their Limited Edition 1959 Les Paul Standard.
While this warranty doesn't necessarily cover everything, it does help ensure that you don't have to worry about manufacturing issues. Considering most other companies only offer a one-year warranty, this is an exceptional offer.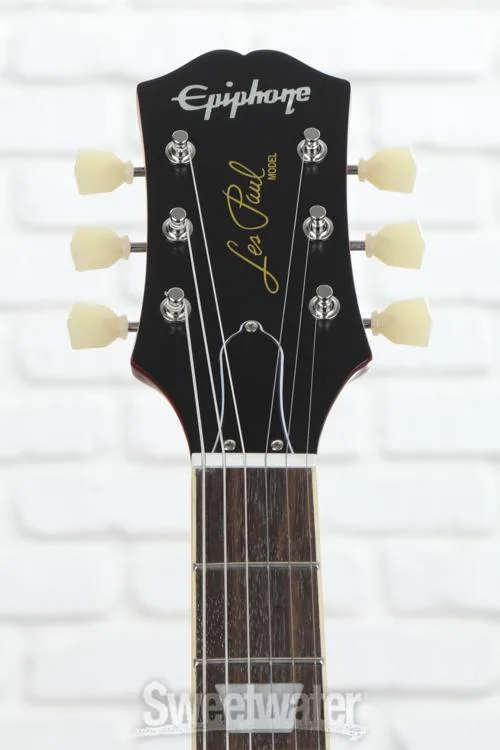 How Does the Epiphone 59 Les Paul Standard Sound?
The Burstbucker pickups are particularly refined producing full, rich, classic (yet controlled) tones. There are few more refined sounding guitars on the market making this is one of your best options for an electric powerhouse of an instrument.
Plugged in, the controls interact on a professional level – which is to be expected. As you roll back the volume controls, the pickups clean up nicely, especially when put through a good tube amp.
There's no hint of the muddiness that comes from cheaper pickups at all. Much the dynamics between the controls can be attributed to the original 50's style wiring.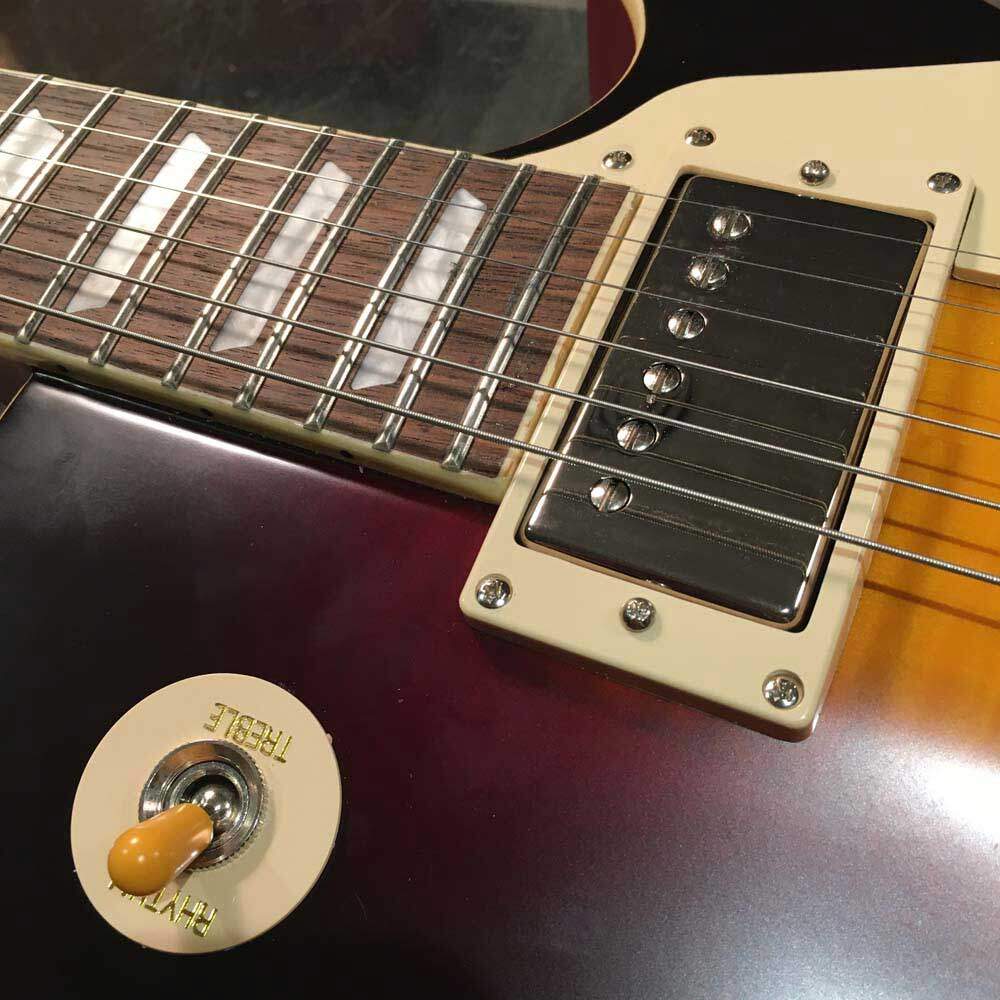 When full out, the pickups are dynamic and responsive to touch and attack – just as they should be.
The tone controls work excellently within the network, rolling off highs in a smooth contour. The .022 Mallory caps easily shunt the hi frequencies well into the ground as you approach zero.
In fact they go so deep some players might find the final cutoff a bit much. That being said, it's better to have too much in this case rather than not enough – you can still dial in what works for your ears.
What's the Build Quality Like?
Our first impression was very good. On the workbench the guitar was resonant and rang out loud, long and strong with a single rake of the strings. Overall, the fit and finish seemed pretty clean.
As expected, the full weight mahogany construction is typical of a Les Paul. The body itself is two pieces and capped with a maple which is finished off with an attractive AAA maple veneer to complete the visual.
The neck was beefy with its rounded medium C contour but was not uncomfortable. A scarf joint was evident where the neck started to flare into the headstock at the back.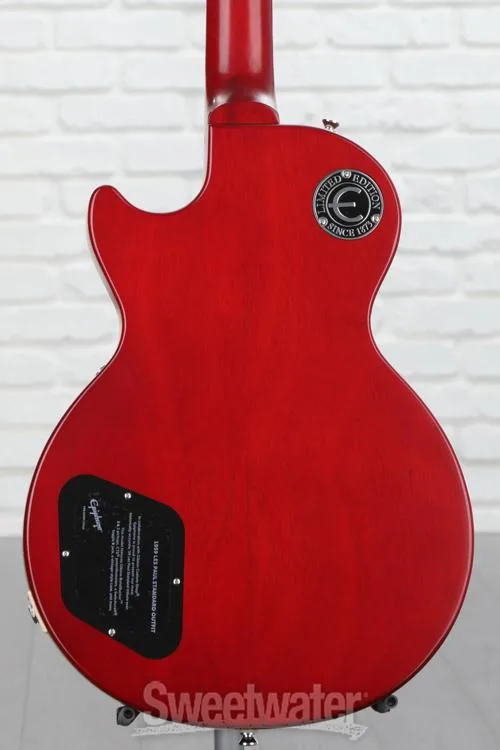 It's worth noting that there isn't a true "59" one-size-fits-all neck profile. Because the original instruments were not so machine made, the more hands-on manufacturing of the day produced variations in neck profiles. That being said, we do have somewhat of a generalized average to go by.
Moving on, the Indian Laurel fretboard was a little dry and happily soaked up a few drops of lemon oil conditioner. The medium-jumbo frets were clean and even, but definitely had a machine finish to them. Nonetheless, the guitar played flawlessly with ringing notes and easy bends.
The newly minted Epiphone Deluxe vintage tuners, much like Kluson keystone tuners, have an excellent smooth feel indicating a high level of attention to machining detail. With an 18:1 ratio and maching vintage-style inserts on the headstock face, the overall effect is indeed complete.

During our setup procedure we noticed a few small things that needed attention:
The slots of the Graph Tech NuBone nut were a little high and needed to be filed down to be more comfortable. Keep in mind, it's not uncommon to have nut slots a little proud from the factory. If you play a lot of slide, this is a good thing and is anticipated.
The knurled nut for the toggle switch was a little loose. Again this is a fairly common issue with some new guitars in general, and was easily tightened up using an appropriate tool.
We noticed the jack was a bit unnaturally stiff when plugging in the guitar. The problem was due to the inner positive contact bumping into the inner wall of the route. The remedy was to simply loosen the jack, rotate it a few degrees, tighten it back up and voila! Problem solved.
Cosmetically, there was a noticeable flat spot at the very top part of what should be the arch. The pickup surrounds were designed to marry with the complete curve therefor there was a small gap evident. With a little work, they could be trimmed to fit.
Lastly, there was a little bit of a sharp edge in a few spots where the binding transitioned to the top. We suspect the uppermost part of the binding liquified a little during the polishing phase producing the edge. The fix was easy and the excess was removed cleanly with a little help of a fine file.
Should you wish to trade or sell the instrument down the road, the resale value is very much in the name. As long as the instrument is kept in good condition, the Epiphone brand will allow you to recover a good chunk of its value.

Epiphone Les Paul Standard Key Points
Epiphone Les Paul 1959 Standard Electric Guitar in Review
What We Like
Iconic Les Paul design and cosmetic appeal
Superior Burstbucker pickups
No-mod, no upgrade required electronics
Clean, solid fit and finish
Traditional tone wood construction
Lifetime (limited) manufacturer's warranty


What We Don't Like
The neck may be a little too beefy for some
Not as light as other instruments
Pickup surrounds to body fit could be better
The jack plate is plastic which could be prone to breaking



Compare other Epiphone guitars:


Final Thoughts On The Epiphone Les Paul 1959 Standard Limited Edition: Is It The Guitar For You?
The Epiphone Les Paul 1959 Standard from Gibson definitely offers a huge bang for the buck. When you factor in the premium electronics and vintage style hardshell case, these upgrades alone make for a good deal.
It's definitely not the original by any means – but it's certainly in the wheelhouse. There are a few small details that could be improved which. when you consider the price point, are easily offset.
Whether you're a collector or an enthusiast, this guitar is designed to hit the sweet spot for anyone looking for a vintage-inspired Les Paul purchase.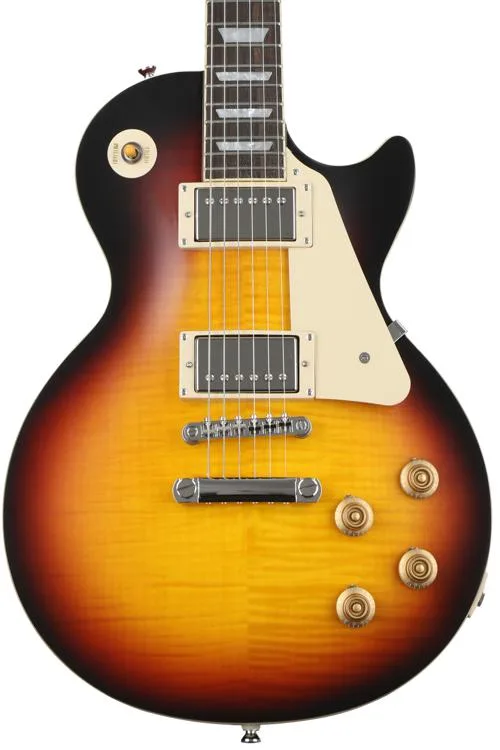 Check Epiphone 1959 Les Paul Standard Availability Here! >>
User Friendliness

Build Quality

Sound Quality

Value Factor
Manufacturer Info:
Website: https://www.epiphone.com/
About: Since 1873, Epiphone is one of American's oldest and most revered instrument makers.