Since 1873, Epiphone has been a highly recognized instrument brand, often outselling its major competitors. Nearly 150 years later, do they have what it takes to keep going?






Epiphone Guitars: Are They Passionate About the Future?
Background and History
Many people just know Epiphone as the little brother company to Gibson, akin to what Squier is to Fender. But in reality, Epiphone historically was one of the giants of the retail guitar world and was Gibson's top competitor.
During the nascent period of the electric guitar, Epiphone was producing hollowbody electric guitars that outsold Gibson, Fender and Gretsch at various times.
We certainly hope you benefit from the information we provide in this article! Just so you know, we may receive compensation if you use the links on this page. If you do, thank you so much!





Started in 1873 by Anasatasios Stathopolous and later run by his son, Epi Stathopolous, they got their start making banjos, violins, acoustic guitars among other stringed instruments.
Originally founded in NYC, it was purchased by Gibson's parent company, Chicago Musical Instrument Co. in 1975 and moved headquarters to Kalamazoo, Michigan alongside Gibson's factories, before moving to Nashville, Tennessee.
Both before and after being purchased by CMI, Epiphone introduced several important electric guitar models that would be used by such legends as John Lennon of the Beatles and The Edge of U2.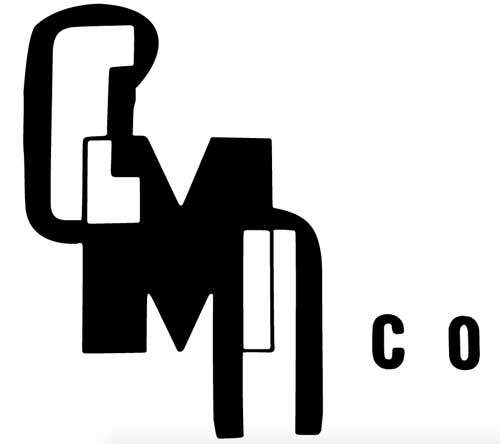 After being bought out in 1957, Epiphone continued to produce their own line of guitars in the USA until 1970 when most production was moved overseas, first to Japan.
Through the years, more and more production was shifted overseas as they transitioned into making budget, entry level guitars for Gibson in Japan, China, and Korea.
Despite mass production of Les Paul's, SG's, and other Gibson stalwarts, they still continued to produce Epiphone-specific guitar models as well, also at wallet-friendly prices, such as the Casino, Wilshire, Sheraton, and Emperor.
Despite this shift in production, some of Epiphone's highest quality instruments were and are still manufactured in the US at the Gibson plants as they still sell some expensive, custom shop-esque acoustics and electrics.


What Company Makes Epiphone Guitars?
Gibson controls and manufactures under the Epiphone company brand name. You'll find obvious signs of that control on Epiphone instruments, often on truss-rod covers.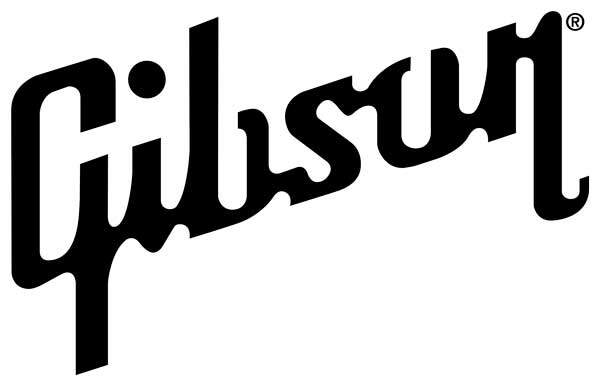 Unlike, the Squier by Fender name brand, Epiphone produces a wide range of acoustic guitars and artist signature electric guitars in addition to the low-end versions of their parent company. While Fender has a sort of intermediate brand, the Made in Mexico Fenders,
Gibson does not necessarily have an intermediate product line, which means the Epiphone is leveraged to produce guitars ranging in price from $119.00 all the way up to high end $1000.00.
Fender's $400-$900 range is generally covered by these higher quality, but still outsourced, models from Mexico.






Best Selling Models
Does Epiphone Make Good Guitars?
There are many interesting factors about Epiphone's products that make their best-selling guitar models unique. First off, they have many more signature models than their main competitors at Squier do.
Secondly, they offer many more guitar types such as dreadnought, acoustic-electric, hollowbody, semi-hollowbody, and solid body electric and bass guitars. Let's take a look at a large list of some of their best-selling models.


Epiphone Les Paul Player Pack

Epiphone offers a number of awesome beginner guitar packs for both electric and acoustic models that include all the essentials a student would need.
Including an amp, strap, cables, cases, and picks, these can be a great value and an easy way for parents, teachers, or new players to make a smart purchase without knowing much about guitars.
The most common pack of them is the Les Paul Player Pack, including an Epiphone Les Paul Special II, which will go into detail about below.
Are Epiphone Les Pauls Good Guitars?
With a sale price in the mid-200's, you are limited in finish options and are getting the lowest quality Epiphone electric guitar but the convenience value is certainly a plus.


Epiphone Les Paul Special VE

The Epiphone Les Paull VE guitar is one of their most basic electric guitar offerings and is a budget-restricted take on the Les Paul, one of the most popular guitar designs of all time.
With the common HH configuration and 3-way selector switch circuitry that most people know, this makes an excellent beginner guitar for students who were inspired to play by watching Slash, Eric Clapton, or Jimmy Page rip an LP.
While Gibson's main design for all their guitars is a set-in neck, meaning it is secured to the body by wood glue, many of their cheap solid body guitars like this actually feature the bolt on neck popularized by Fender.
One important thing about that is how difficult it can make it to change necks. You cannot simply just screw in a nicer Gibson neck the way you can just screw in a Fender neck on a Squier.
You either have to shop for after-market bolt on necks that are to Epiphone's scale, or pay a tech to glue in a nicer one.


Epiphone SG Standard Electric Guitar

A bit of step up from the Les Paul and SG Special models mentioned above, the Epiphone SG Standard is a beautiful, highly rated alternative to pricier Gibson SG's and comes in a glossy red or black finish.
Usually around the mid-400 dollar mark, these guys are loaded with Epiphone's own Alnico humbuckers and even feature upgraded premium CTS electronics, which is uncommon in this price range. While it is still priced to potentially be an entry level guitar it is definitely on the higher end of the spectrum.
Instead, this is a prototypical "second guitar" for someone looking to upgrade and would not sound out of place at all being used in a live setting by a young band or musician. The Epiphone SG Standard is no doubt one of Epiphone's best values.


Epiphone Les Paul Standard '60's Electric





True to its name, the Epiphone Les Paul Standard '60's Electric Guitar is, well, your standard Les Paul just at a more accessible price point. Especially considering even the most barebones Gibson LP costs almost $1000 before taxes and shipping,
it can be really challenging for many musicians to get a quality LP from the Gibson family line without going broke.
Luckily, Epiphone has produced a great option here, retailing in the middle hundreds, that is much more palatable to most. With a variety of classic Les Paul finishes available and high output Alnico Probucker pickups, these things are built to rock and make great candidates for a project guitar to upgrade.
With its upgraded tuners and PAF-style humbuckers you've practically got a Gibson for a few less bucks.



Epiphone Casino

Arguably the guitar most associated with Epiphone throughout their history, the Casino has never quite gone out of style. Featuring two dog ear P90 pickups in a semi-hollow guitar body, the Casino has excellent sustain, single coil chime, and killer looks.
Moving into the upper echelon of their guitar offerings, the Epiphone Casino is a bit pricy for entry level or student guitars. At just above the middle hundreds, it fits a great price level for many modern musicians looking for their main guitar.
The Casino is the first in a line of many Epiphone semi hollowbody guitars that are not remakes of Gibson's ES-300 lines but are still affordable to the average musician.
While the company has recently started producing budget ES-339's and 335's, the Casino, Sheraton, Riviera, and Dot remain their best sellers.


Epiphone Sheraton II PRO

Continuing on with another high-quality archtop, the Epiphone Sheraton II PRO is a favorite of amateurs and pros alike looking to get a reliable hollowbody capable of bluesy leads or high output rock riffs.
Retailing typically in the higher hundreds, the Sheraton packs a lot of quality into an import guitar for that high of a price. Featuring the same Alnico humbuckers as the Les Paul Standard, upgrades include Grover tuners, multi-body and multi-neck binding, and Abalone inlays.
With Natural, Ebony, and Sunburst finish options, one of the Sheraton's top selling points is how beautiful of a guitar it is.
While the Casino offers classic P90 tone, the Sheraton offers more of the classic Gibson Humbucker tone at a similar price point, especially considering almost all of Gibson's archtops retail for well over $1000.
---
Another Epiphone archtop guitar worth noting is the Wildkat Semi-Hollowbody sporting a Bigsby B70 Vibrato and powered by classic P-90 dogear pickups. Find out more about the Epiphone Wildkat guitar here.


Epiphone G-1275 Double Neck Electric Guitar

First popularized by Jimmy Page during live performances of "Stairway to Heaven", the double neck Gibson SG has become one of the most well-known guitars in rock history.
Featuring a 12 string neck alongside a 6 string neck, this monster of an instrument allows for one guitar player to fill multiple tonal needs in a song such as rich, stadium filling chords before transitioning to a blistering 6 string solo.
Now obviously, the Epiphone G-1275 is one of the most expensive guitars in the Epiphone line at over a thousand dollars, but that pales in comparison to the cost of the Gibson version which currently is a custom shop model worth almost $8000.
While this instrument certainly doesn't appeal to everyone, it's always great to have an inexpensive option should this be your dream guitar or a live concert necessity.


Epiphone EB-0 Electric Bass

While Epiphone and Gibson are more famous for guitars than basses, they still have had some historically prevalent models such as the EB-0.
Best known for being Jack Bruce's bass of choice in Cream, the guitar features a SG-style body with a single humbucking bass pickup at the neck.
Epiphone's offering is extremely affordable, with a sale price less than $300 and providing a solid entry level alternative for young musicians not looking to just play another P or J bass copy.
The EB-0 is as simple and straightforward a bass as any, and that simplicity is partly what has made it such an attractive instrument over the years.
While some people can be confused or overwhelmed by the variety of tonal options presented by the Jazz bass, there is nothing but pure, bass tone here.


Thunderbird IV PRO Electric Bass

Probably Epiphone's most well-known bass, the thunderbird is a beautiful example of Gibson's attempts at an offset style model.
At a still affordable mid-hundreds, this bass is a bit of a step up in Epiphone's line from the more entry focused EB-0. Well known as Nicki Sixx's bass of choice, it wouldn't surprise me if the recent Motley Crue documentary re-ignited some interest in this model.
Two humbucking pickups, with a volume control for each, and one tone knob, are outfit on this beautiful, streamlined design.
Similar to Epiphone's hollowbody guitar options, the Thunderbird IV PRO bass represents more of a serious option for even the most experienced musicians and shouldn't be limited to just students.


Epiphone PRO-1 Acoustic Guitar

One of the cheapest guitars in the whole Epiphone line, the PRO-1 Acoustic is designed to be an affordable entry level option for players looking to learn on a trusted brand name instrument.
Costing much less than $200 , Epiphone leverages years of high-quality acoustic guitar making by its big brother Gibson, into a more accessible option.
While it is no doubt great for beginners, experience players would be wise to take a look at more options on the expansive Epiphone line of Acoustics or Acoustic-Electrics.


Epiphone Hummingbird PRO Acoustic-Electric

Modelled after the famous Gibson Hummingbird design that is one of the gold standards of the acoustic guitar world, Epiphone scales down the cost here while still producing a quality instrument.
Until this year, Gibson has never offered an Acoustic guitar under $1000, which is why Epiphone's take, costing less than $400 and usually found on sale, has been a top seller for years.
Despite the huge price reduction, playability, build quality, and sound has still been well regarded on these models, making it a top seller at most major retailers.
Made of solid spruce tonewood and sporting Gibson's iconic, detailed pickguard, this model will get you close to the sound popularized by Keith Richards on the original Gibson model.


Epiphone EJ-200SCE

Epiphone's take on another Gibson classic, the Jumbo acoustic guitar, is much of the same story as the Hummingbird. They take the shape, design, and feel of the classic, and distill it down into a price that is easier for young players and working singer-songwriters.
For around $500, you'll be getting a time-tested Acoustic-Electric guitar design in one of the three classic finishes: black, natural, or sunburst.
With the well-known "mustache bridge" and detailed pickguard, the Epiphone EJ-200SCE is as close as you can get to vintage Gibson quality without taking out a mortgage for the real thing.








Popular Signature Models
Unlike their main competitor Squier, Epiphone has dozens of artist signature models in the middle of their price range.
By focusing the core of their lines on simple, well known models, they have freed up much of their signature line for crazy modifications and interesting finishes. Ranging from heavy metal pioneers to blues giants, Epiphone has a signature model for everyone.


Epiphone Slash Firebird

While he may be more known for his use of a Gibson Les Paul, Slash recently worked with Epiphone to release a beautiful Firebird model in limited quantities.
Despite the relatively high price of around $900 for an imported guitar, it features upgraded Seymour Duncan Slash Alnico pickups, a gloss mahogany neck, and trapezoid inlays.
Slash went as far as to say, "who doesn't want a firebird?", and he might be right when you see this gorgeous offering that is sure to turn heads as an alternative another LP or SG.


Epiphone BB King Lucille Signature

BB King is without a doubt one of the most recognizable guitar players to ever pick up the instrument. Almost as well-known as his songs however is his ebony Gibson hollowbody known as "Lucille", which is differentiated from all others by the lack of any of Gibson's traditional f-holes.
While Gibson signature models of this blues guitar staple cost thousands, Epiphone has a beautifully bound, ebony copy with vintage specs for just over $700, not much more than their other hollowbody options.
Complete with BB King's classic "VariTone" control knob next to the volume and tone pots and mono and stereo outputs, this guitar is loaded with features.


Epiphone Limited Edition Richie Faulkner Flying V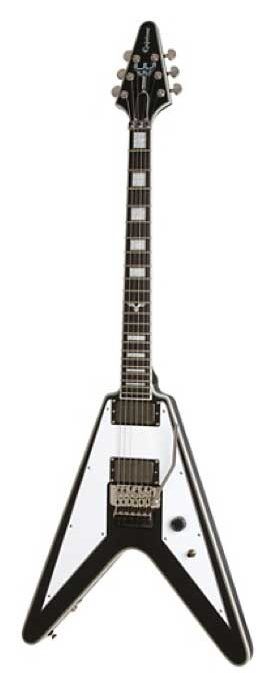 One half of Judas Priest's two guitar attack, Richie Faulkner adds some serious metal credibility to Epiphone's artist list and boy does this instrument live up to the billing.
It is loaded with features including a Floyd rose tremolo system, locking nut, and two EMG active humbuckers under traditional Gibson-style covers.
Of course, this comes at a cost of around $1000 but surely checks every box you're likely looking for on a metal guitar aside from the brand name. Finished in ebony with a heavy gloss coating, it is ready to stand up to any tests that the road may throw at it.


Epiphone Lzzy Hale Explorer Outfit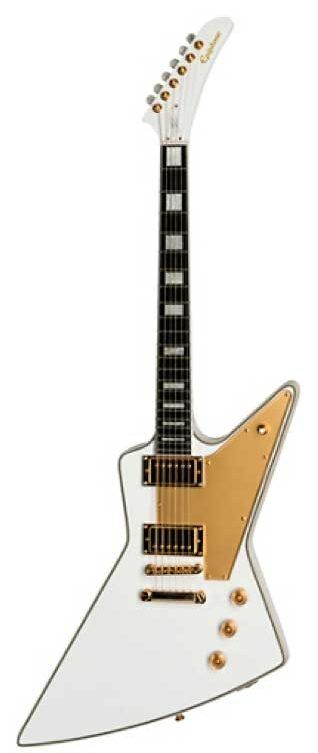 Like Richie Faulkner's Flying V, this signature model is one of the best ways you can get your hands on an Explorer without having to shell out for the expensive Gibson model.
Over the years, the Explorer has become one of the staples of modern hard rock with musicians like Jason Hook and James Hetfield donning the futuristic guitar.




Lzzy Hale and her band Halestorm have wasted no time showing that women can keep up and push hard rock into the future as Epiphone pays homage to her skill with this stunning white and gold explorer.
As with most Epiphone signature models, it comes at a stiffer price tag in the higher hundreds. But that pales in comparison to the $1400 or more expected for Gibson models and provides a modern rock roar through the Epiphone Alnico PRO humbuckers.


Epiphone Joe Bonamassa ES-335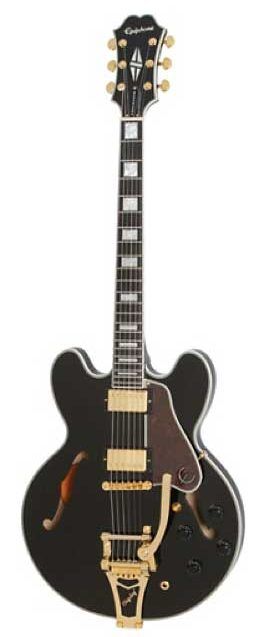 A recent addition to the Epiphone signature series is this beautiful recreation of one of Gibson's best guitars, the ES-335. Spec'd to Joe's impeccable standards as a vintage guitar collector, it packs some of the best hardware and sounds out of all the guitars discussed here.
With two ProBucker pickups and a Bigsby B7 vibrato tailpiece, most people will easily confuse this guitar with a Gibson custom shop creation.
As one of today's premier guitar revivalists, it is no surprise Joe Bonamassa's Epiphone signature model is a homage to everything he has loved about vintage Gibson's at a way more accessible price of around $1000 than anything you'll find from the custom shop or at a vintage guitar dealer.


Epiphone Jared James Nichols Old Glory Les Paul


Last but not least we have one of the new faces of Epiphone, Jared James Nichols. Nichols has been thrilling crowds these past couple years with his American-blues and classic rock act that has revitalized guitar and rock music.
Just like his playing, this guitar is stripped back to the basics with a single Seymour Duncan dog ear P90 in the bridge position, one tone knob, and one volume knob.
'Reminiscent of Gibson's "Black Beauty" Les Paul, this guitar features Grover tuners, full binding, and a gorgeous ebony fretboard.
Priced in the hi-mid hundreds range, it's on the more affordable end of Epiphone's signature models and should be a must-have model for any new, young blues enthusiasts looking to follow in Nichols' footsteps.



Find Great Deals on Epiphone Guitars at Sweetwater.com






Final Thoughts: Are Epiphone Guitars Good?
We've certainly seen our fair share of Epiphone guitars come in for service. Dollar for dollar, their entry level guitars offer great value for beginners, and the upper end models easily stand toe-to-toe with professional instruments offered by other manufacturers.




Pros Use Epiphone Too
Considering the wide range of signature models, you'd be correct to guess a number of active performers use Epiphone guitars on stage despite their humble price points.
The Edge, of U2 fame, who is notorious for his particular use of many, expensive guitars, still uses vintage Casinos and Sheratons on tour.
A more modern musician, Gary Clark Jr still uses a 2007 Epiphone Casino standard out on tour despite his rise to guitar hero status capable of playing whatever he wants.
Jared James Nichols put his money where his mouth is and actively uses the exact Epiphone signature model that he endorses on tour despite his similar rise to fame like Clark Jr.
For all the alternative and garage rock fans out there, you may have noticed Nick Valensi of The Strokes rocking his Epiphone Riviera on stage throughout the history of the band.


Overall Average Build Quality

Overall Average Sound Quality

Overall Average Value Factor
Summary
Overall Average Score: