Gibson or Epiphone, Who Gets Your Vote?
The mere mention of a Gibson vs Epiphone comparison can spark some serious debates in the guitar community. But what are we debating?


Direct Comparison

Countries of Origin

Gibson

Nashville & Montana, USA

Epiphone

Qingdao, China

Price Range

Gibson

$999 – $3900 *

Epiphone

$139 – $899 *

Popular Models

Gibson

Les Paul, ES 335, SG, Les Paul Studio

Epiphone

Dot, Casino, G-400, Les Paul Studio

Best For

Gibson

Pros and Collectors

Epiphone

Beginners and hobbyists
* Not including special models and custom shop instruments.
Ever since Gibson acquired Epiphone in the 1950s, guitar enthusiasts have scrutinized the differences and similarities of these two guitar brands even closer. Experienced guitar players likely have their preference.
Is Gibson too expensive? Or Epiphone too cheap?
But the Epiphone vs. Gibson matchup is not about looking for a winner. It's about making sure the potential buyer makes a great choice.
This article will answer the most relevant questions about these guitars and elaborate on their features.


Common Questions About Gibson and Epiphone Guitars
Before we assess the differences in construction, sound quality, and other vital elements, we must address the crucial Gibson vs. Epiphone question: How do they compare overall?
Some people will jump in and say that there is no comparison between the two right off the bat. Gibson is the go-to option. But that's not a nuanced approach to the topic.
By answering the questions below, we'll give you a much clearer picture.


Is Gibson Really Better Than Epiphone?
Experienced guitarists might come out and say – yes, it is. They would be able to immediately notice the difference between the build quality and the finish, as well as the pickups.
It must be acknowledged that Epiphone, as a subsidiary of Gibson, holds a unique position.


Epiphone guitars are undoubtedly well built and meant to reflect the reputability of the Gibson brand. But they're also meant to be the budget option for people who still want high-quality guitars.


Although some will argue that Epiphone guitars sound and feel the same as Gibson guitars, it's all just snobbery.
Others go a step further and claim that some of the best Epiphone guitar options, such as Epiphone Sheraton II, sound better than Gibson's finest.


Is Epiphone Made by Gibson?
Epiphone guitars have been made by Gibson since the company acquired the brand in the mid-50's.
Furthermore, Epiphone instruments are made overseas while all Gibson guitars are, at least for the time being, made exclusively in the US.
Regardless of this difference, the idea behind Epiphone guitars is that they're inspired by Gibson models.
You may even notice many Epiphone branded instruments have Gibson-type markings emblazoned on the truss-rod cover – such as "Les Paul" or "Standard".

This, unfortunately for some, implies that these are Gibson instruments, and therefor they're buying a Gibson guitar.
In a way they are, but the "Gibson" pedigree is removed by one step. The truth is the instrument is in fact an Epiphone product.
Are Epiphone Guitars Good Quality?
The marketing angle of Epiphone might make some buyers wonder if Epiphone guitars are good at all.
However, the fact that Epiphone guitars are mass-produced overseas doesn't mean they're not good quality.
The production method with oversight by Gibson ensures the guitars stay inexpensive while relying on the officially licensed design of Gibson guitars.
Epiphone offers good quality at a reasonable price.
The combination of construction, design, and affordability makes Epiphone guitars one of the best choices on the market.
When paired with an amplifier of excellent quality, they can sound as good as any high-end Gibson guitar.
However, some components of an Epiphone won't be as good as a Gibson, such as the hardware, electronics, and finishing details.
Where are Epiphone Guitars Made?

Since 2004, The majority of Epiphone instruments have been made exclusively in Gibson's Chinese-based Qingdao factory. This facility produces their acoustic, hollow-body, and solid-body guitars.
In the 80's and 90's, Epiphones were made in Korea and Japan by licensed contractors to Gibson.
Some of these companies included Samick and Matsumoku, with the latter being well-known for producing exceptional instruments during the 70's.
Previous to those decades, the instruments were made in an adjacent factory next to the main plant up until 1970 following Epiphone's original acquisition by Gibson in 1957.
What is the Difference Between an Epiphone and Gibson Les Paul?
Les Paul guitars are known for their versatility. Whether you're a jazz, rock, or country guitarist, they are a popular choice. Notable players such as Jimmy Page and Slash play Les Paul guitars.
The original Gibson came out of the Gibson factory in 1952. These days, budget-conscious players can opt for the Epiphone Les Paul too.

If this is the guitar you're interested in, you might wonder how Epiphone vs. Gibson Les Paul guitars compare?

Epiphone Les Paul Gold Top Guitar
From model to model, there aren't too many variations in general specifications. The areas where Gibson takes the lead are in electronics, pickups, finish, and man-hours executing the finer details.
There are also some differences in controls, fretboard material, and tuners, with Gibson using overall better quality components. However, the main difference is the price tag.
Do Professionals Use Epiphone?
The short answer is yes, they do, and they have. But why wouldn't they? The Gibson vs. Epiphone debate is mostly about highlighting the relatively minor differences between the two.
While many professionals tend to choose Gibson guitars for their quality, others don't take Epiphone "flaws" as meaningful.
For example, Nick Valensi from The Strokes is known to use an Epiphone Riviera.

Epiphone Riviera Semi-hollowbody
And of course, John Lennon from The Beatles was known to use an Epiphone Casino.

Epiphone Casino Archtop Hollowbody
The same Epiphone model is a part of the famous singer-songwriter Paul Weller's collection.
And let's not forget that nearly all members of The Beatles played their hit songs on Epiphone Casino guitars.


Is Epiphone Better Than Squier?
In terms of quality and price, both Epiphone and Squier guitars are around the same range.
As a result, they're both an excellent choice for beginners and more experienced players.
The better question is probably whether you're looking for a more Gibson feel or more Fender experience.
Perhaps it's safe to say that low-end Epiphones are often comparable to mid-range Squier guitars, but that also depends on taste and preference.


Gibson and Epiphone: The Subtle Yet Meaningful Differences
Choosing the right guitar for the first time can be overwhelming. You don't want to buy an inadequate instrument, but you don't want to take on more than you can handle either.
When it comes to Gibson vs. Epiphone comparison, it's imperative to remember that this is fundamentally the same brand.

Gibson Acoustic Hummingbird Original
Current Price: $3,849.00

Epiphone Hummingbird Acoustic Guitar
Current Price: $799.00
Sure, many guitarists will want that prominently displayed Gibson logo no matter what, but that isn't important to everyone.
That's why we'll cover some of the most relevant features of both Epiphone and Gibson in the same breath.
The Matter of Pricing
We should get the talk about price out of the way immediately. There's no way that some Gibson guitars can rationally cost ten times more than Epiphone guitars. But in fact they do.
Most prominently, you'll see the price difference between Epiphone Les Paul vs. Gibson Les Paul models.
Does this mean the more expensive Gibson product will play and sound ten times better?
No. The devil is in the details – everything from the choice of woods to control configurations.

Gibson Les Paul Standard '50s Model
Current Price: $2,499.00

Current Price: $249.00
For example, the typical Gibson Les Paul Standard model will cost around $2,500, while the Epiphone equivalent sits around $250.
But again, of course, the different starting prices vary from model to model, and can be higher or lower. It all depends on the buyer's wishes and budget limitations.
For example, let's look at just how close Gibson and Epiphone can get in regular production pricepoints:

Gibson Les Paul Special Tribute Humbucker
Current Price: $999.00

Epiphone Les Paul Prophecy Electric Guitar
Current Price: $899.00
Granted, the design elements and finishing appointments between the two guitars are different, but both instruments are remarkably close in price.
Finally, and hopefully without laboring the point, let's look at two guitars which are incredibly close visually:

Gibson SG Standard '61 with Maestro Vibrola 
Current Price: $1999.00

Epiphone SG Standard '61 with Maestro Vibrola
Current Price: $549.00
How do we account for the sometimes dramatic differences in price? Keep reading and you'll find the answers…
The Details Are in the Build Quality
Both Gibson and Epiphone use mahogany as the primary material for the solid-body guitar models.
Gibson takes special care to use only the highest quality tonewood and ships it to their factories in Nashville, Tennessee and Bozeman, Montana.
The Gibson company focuses on making the US-made guitars constructed from the best materials in terms of sound and appearance.
Epiphone guitars feature lower quality tonewood materials, such as poplar.
All Gibson guitars and high-end Epiphone models have rosewood fingerboards, making them look and feel quite similar.
However, on cheaper Epiphone guitars, the fingerboards are typically made from of pau ferro, a relative of rosewood.
Also, the Gibson vs. Epiphone headstock shape is significantly different. Even with the updated Epiphone headstock profile the untrained eye will spot it.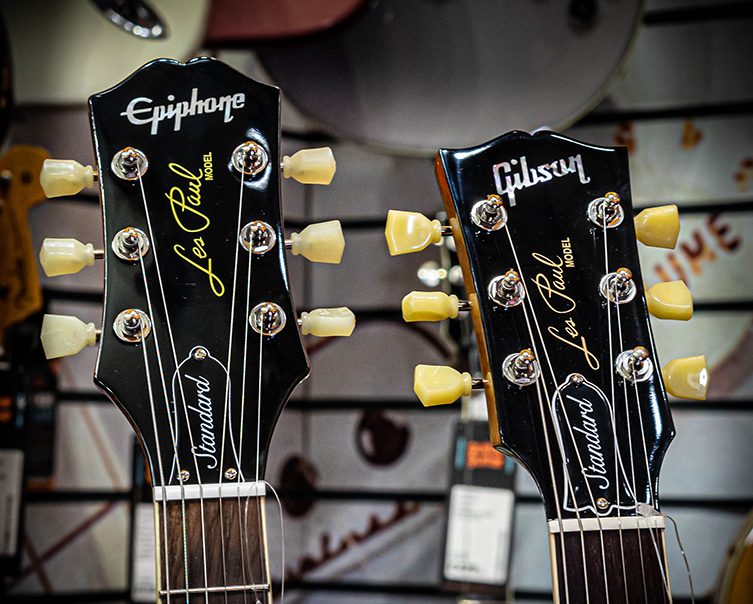 Finally, in terms of build quality, we also have to mention the guitar finish.
All Gibson models are covered with a nitrocellulose lacquer which is considered the "old school" approach. In fact, that's one of the reasons why Gibson guitars are held in such high regard.
Epiphone models are finished with polyester and polyurethane, which are considered the industry standard for most guitars these days.
The Target Market
Understandably, Gibson and Epiphone are marketed differently for a reason. It's not about the competition but for both brands to find the perfect audience and market share.
Ever since they joined forces, Gibson guitars are recommended for guitarists who already have experience playing or are even professional musicians.
With Epiphone guitars, the situation is different. It's the perfect guitar for beginners or enthusiasts – those learning to play guitar merely as a hobby.
You could easily call it the most incredible guitar a music-mad teenager could receive for their birthday.
Likewise, Epiphone is also the ideal guitar for grownups who aren't interested in spending thousands of dollars on an instrument.
Gibson vs Epiphone: Long Term Value
The baseline price point for Gibson and Epiphone is not something that can be ignored. However, many people are simply looking for an instrument that will last.
Perhaps they even turn it into a family heirloom or want their kids to carry on the tradition of playing.
Simply put, the higher the quality of materials used in Gibson guitars, the more gracefully they will age.
Therefore, paying more upfront makes more sense. Although, with proper maintenance, who's to say the Epiphone guitars can't achieve the same?
Given enough time, every guitar has the potential to become "vintage" fifty years down the road.
Gibson and Epiphone in Summary


The Good
Superior materials
High-quality finish
Legacy brand
The Not So Good
Expensive
Not for beginners
Heavy for some


The Good
Great price to value ratio
Excellent range of choices
Suitable for beginners and pros
The Not So Good
Quality control issues
Not as durable
Lower quality tonewoods


Gibson vs Epiphone Guitars: Which Is Right for You?
As you no doubt expect, we can't give you a straight answer to that question. Only you can be sure of the best option for your current skill set, style, and budget.
But, if we are going to keep it real, Gibson is rarely the wrong choice.
A beginner might get overwhelmed with a Les Paul, but they'll be impressed with it, nonetheless.
However, if you don't want to spend a lot of money, Epiphone is a worthy alternative that will serve almost any guitarist perfectly.
But as with all matters in music, personality and preference play decisive roles. Ultimately, only you can tell which of these exceptional instruments is best for you.