Does the Epiphone SG Special VE electric have everything a new guitarist needs in a starter instrument with classic style? Find out in our expert review!

We certainly hope you benefit from the information we provide in this article! Just so you know, we may receive compensation if you use the links on this page. If you do, thank you so much!


Epiphone SG Special VE, Vintage Edition Electric Review
The SG Special VE at a glance: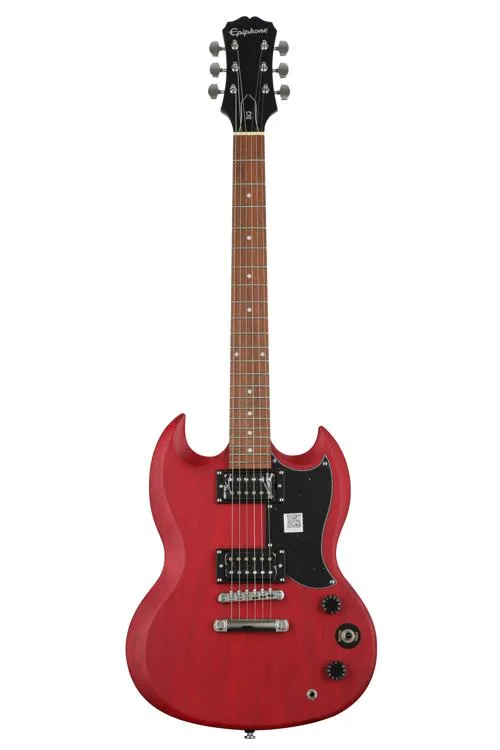 Epiphone SG Special VE, Vintage Edition Electric Guitar


USER FRIENDLINESS

4.4 / 5

Short scale and compact, comfortable body

BUILD QUALITY

4.5 / 5

Vintage style finish and reliable construction

SOUND QUALITY

4.2 / 5

Hot pickups with decent clarity and voice

VALUE FACTOR

4.2 / 5

Affordable, basic electric option for beginners


Presenting Epiphone's SG Special Vintage Edition Electric Guitar
The Gibson SG shape is probably most well known because of AC/DC and Angus Young. Or maybe you got into it because of Tony Iommi from Black Sabbath?
Either way, you're more than aware that Gibson's straightforward solid body is a hard rock monster. That essence has been distilled down into Gibson's more affordable Epiphone family of guitars with the SG Special VE electric guitar.
This dual humbucking guitar has long been one of the most recognizable guitars, and a strong beginner option. Let's dig into the Epiphone SG Special Vinatage Edition and find out if it's the next guitar for you!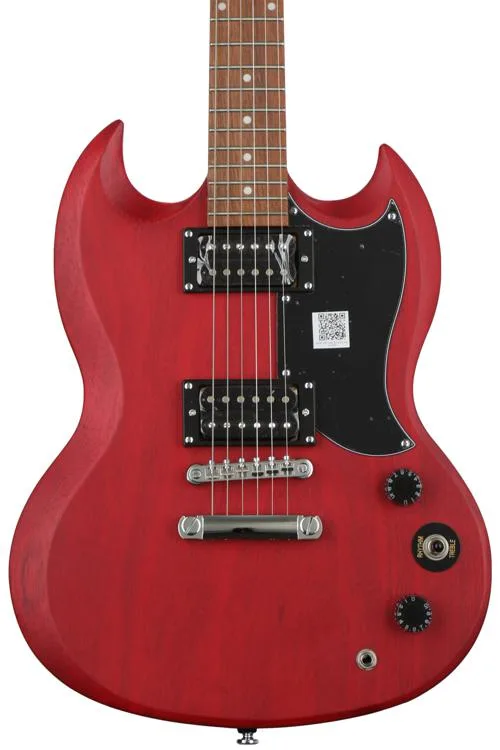 One Of Gibson's Most Famous Models At Budget Prices
Despite being an entirely different guitar, the SG was actually introduced as the Gibson Les Paul SG in 1961. Since it has dropped the Les Paul signet, it has taken on a complete life of its own.
The guitar is even reported to be Gibson's highest selling Standard model of all time. Part of the reason for this guitar's inception was to create a more streamlined, affordable guitar.
One that lacked the arch top and binding of traditional Les Pauls. Epiphone's SG Special VE isn't much different in that it was designed to be stable and affordable.


Who Is the SG Special VE Best Suited For?
Epiphone's SG Special VE is certainly best suited for beginners and students. Partly because of how affordable it is, coming in under $300.
But also, it's a very simple, straightforward guitar that most students will recognize their idols playing. Epiphone's standard 24.75" scale length is also easier for some players to wrap their hands around.
For beginners, it may make for an easier learning experience with less distance between each fret. Plus, the lightweight, compact body is comfortable to play for students of all sizes.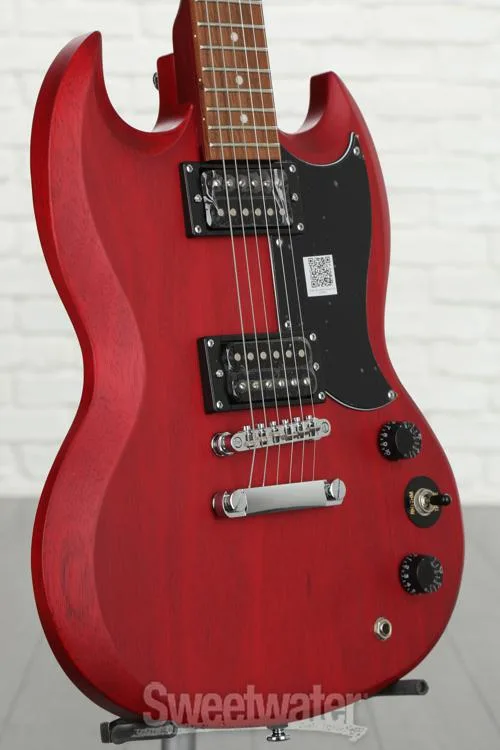 Does The Epiphone SG Vintage Edition Come With Accessories?
Unlike other Squier or Epiphone products, the SG Special VE does not come as part of a beginner package. Such packages are known to include an amp, strap, power cables, and picks.
The SG Special VE is an excellent beginner option, but you will have to spend additional money on necessary accessories.


Epiphone SG Special VE Features & Specs
Epiphone's SG Special VE is made of Poplar with a Mahogany veneer and a bolt on Mahogany neck. Unlike Gibson, many of these more affordable Epiphone's feature bolt on necks.
This does lessen the sustain of the guitar, but also makes them easier and cheaper to replace should they be damaged. Two Epiphone Open Coil humbuckers with ceramic magnets provide tons of high output tones.
These pickups are plenty loud enough, but lose note to note clarity quickly. One of the true highlights on these guitars is the "worn in" finish you get, available in Black, Heritage Cherry Sunburst, Vintage Sunburst, and Walnut.
Lastly, the simplified tone controls make it fairly easy for a student or beginner to workout the SG's best sounds.





Epiphone SG VE Key Features
Classic SG tone and style at an affordable price
Poplar body with an okoume neck and rosewood fretboard
Epiphone humbuckers deliver thick tones

Bridge Pickup: 700T Ceramic-8 Humbucker
Neck Pickup: 650R Ceramic-8 Humbucker

Worn Vintage Edition finish
Refined intonation thanks to a Tune-o-matic bridge


How To Best Use The SG Special VE
The SG Special VE should come ready to play right out of the box. You'll just have to tune it up and you'll be off to the races.
To be fair, it will not have all the accessories included in the package that some Squier models do, so to really use it to its full potential, have an amplifier and cable ready.
Otherwise, there isn't much else necessary for a tutorial. Check out this demo below to get some idea about the guitar's best tones!




How Does The Epiphone SG Special VE Stack Up Overall?
The Good And The Bad


Epiphone SG Special VE Electric Review


What We Like
Hot humbuckers
Lightweight body
Classic, solid body shape
Comfortable, shorter scale


What We Don't Like
Poor tuning stability
Thin, worn in finish
Lose clarity at higher volumes






Alternatives to Consider


Gibson's long time rival Fender also has an affordable line of guitars, under the name Squier. Specially, Squier's Affinity HSS Stratocaster Pack is an excellent option for comparison shoppers.
The humbucker-single-single pickup configuration adds additional tonal versatility. Plus, the longer scale length may be advantageous for players with larger hands.


Epiphone's Les Paul Special VE is another affordable, flat top electric that will satisfy your humbucker needs. While the SG Special VE is excellent, some people prefer the single cut shape of the Les Paul.
If you're more Jimmy Page than Angus Young, the Les Paul Special Vintage Edition is worth checking out. Tonally, the pickups and sounds are very similar in quality and output.


If the Epiphone SG VE has a very close sibling, the Epiphone SG Classic Worn P-90s.
A step up in features, the Classic Worn P-90s comes with a set of P-90 PRO single-coil pickups on original Gibson designs which provide detailed, responsive, and come full of attitude and feature a full set of controls.
Otherwise both the guitars share many key characteristics like the slim taper D-shaped necks and vintage style finishes.


Final Thoughts On The SG Special VE
Overall, the Epiphone Special VE is a sturdy and fairly dependable guitar option. The dual humbuckers and classic Gibson wiring design give you plenty of hard rock snarl.
There are definitely more versatile guitars out there, but if you're an SG fan it's hard to beat the value here.
Some Gibson-style headstocks have been known to lead to iffy tuning stability, but it is hard to find any other red flags on this vintage inspired models!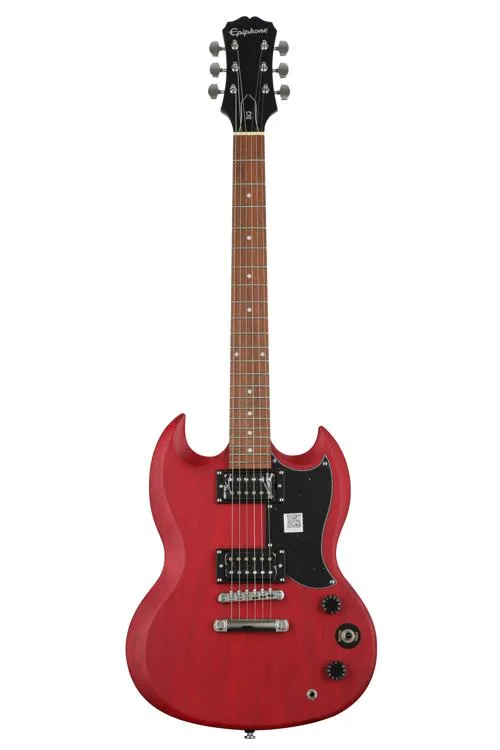 Check Today's Epiphone SG Special VE Price >>


Ease Of Use

Build Quality

Sound Quality

Value Factor