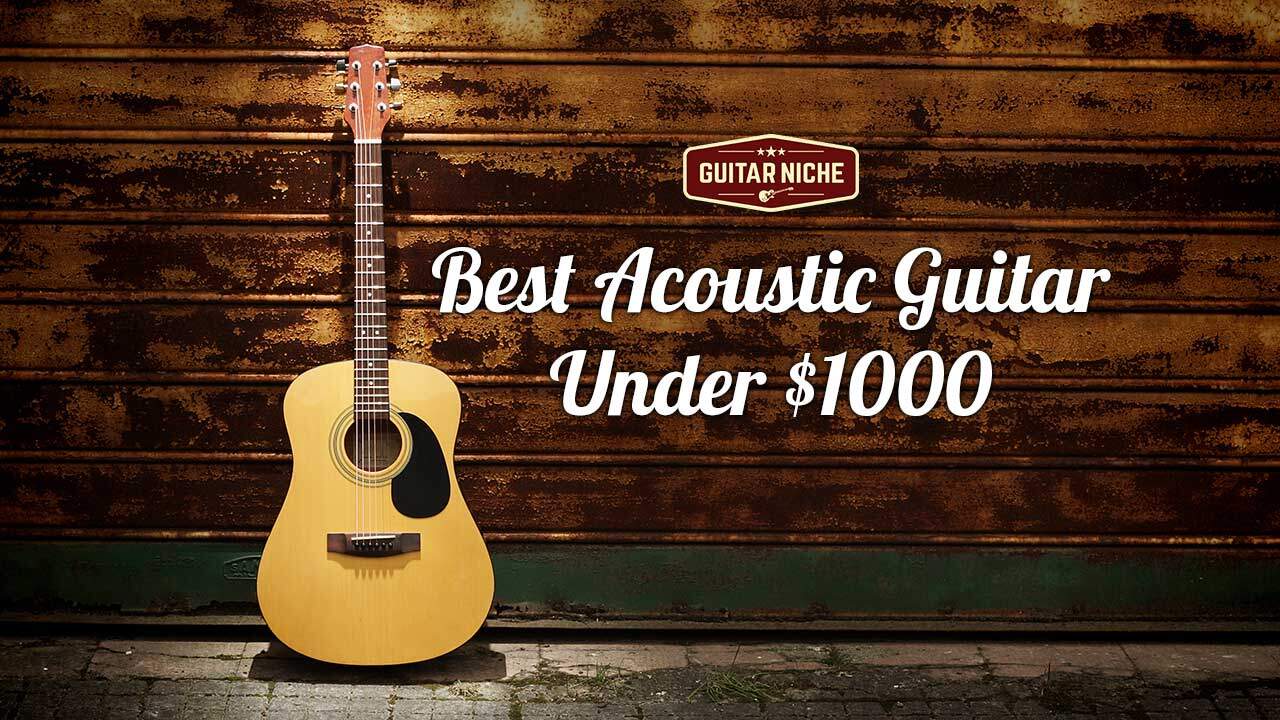 Choosing the Best Acoustic Guitar Under $1,000
If you're looking for the best acoustic guitar under $1,000, you'll be thrilled to know you can find the cheapest premium guitar matching your expectations for great sound, feel, and looks.
What Are the Benefits of Buying A Better Guitar?
Compared to just a couple of decades ago, we now have a perfect storm of quality and price due to improved manufacturing processes and market competition.
It's obvious that spending a great deal of money on an acoustic guitar must meet all your priorities. You may want to follow your favorite guitar player, and you may have had a look at their guitar and thought, "this is the instrument I must have to complete my list of professional instruments."
Consider Taylor Swift, fan or not, who's guitar do you think she's playing?...
The good news is you can get a better guitar as such from Yamaha, a Martin and Taylor, or any one of the famous brands for $1,000 — this is big money for a guitar, and you have plenty of choices. All you need is a bit of time to go through the list of guitars in their price ranges, or you could simply create a list of essentials that make up a good guitar.
Sound and design
These are two areas you will not want to compromise on, irrespective of the brand you choose.
For example, great sound is a must for this price. You'd think this is a given for a $1,000 guitar. You may be on the right track; however, good sound can turn into great sound, especially if the guitar has a good setup. The guitar you choose should be backed by at least 1,000 or more satisfied customers.
Again, the design you specifically need to suit your style of play is available without compromising in sound.
Affordability
Since you have already decided on the cost, your target must be to get the best option within that range. You can follow a definite process to arrive at a quality guitar that costs approximately $700 to $800, go higher to $800 to $900, then cap it up at $1000 to arrive at a reasonable number of options meeting your demands.
There's no doubt the guitar industry as a whole is experiencing a renaissance. Brian Majeski of The Music Trades, continuously published since 1890, has written about this phenomenon and it's implications more than a few times over the last few years.
Visual Appeal
This is a highly subjective element, and very dependant on individual taste. Personally, I've turned away absolutely incredible playing instruments simply on the basis that I though they were butt ugly - fugly! Point is, to each his own, there's no accounting for taste. If the instrument strikes a chord with you visually, that's a big plus for long term enjoyment. But be warned, cosmetic elements come at a price: if a new guitar has a lot of bells and whistles visually, it's a safe bet that's where your money's going.
Would you rather have a shoebox with rubber bands that looks great, or a plain jane that plays and sounds incredible? The choice is yours. Gratefully, we have a guide that finds the perfect balance of both.
Here are five of the best guitars available for less than $1,000:

Seagull Artist Mosaic Acoustic Guitar
Features
Delivered as a six-string guitar with dimensions of 45" x 8.5" x 19"
Weighs just 8 lbs.
Made in North America
Designed with a new rosewood bridge and fretboard
Made of selected mahogany back and sides
Comes with a hand-picked and pressure-tested solid top
Has a new-style scalloped Adirondack spruce bracing
Designed with premium gold-finished machine pegs
Comes with a nice storage case
Pros
Looks beautiful and provides great value for your money
Comes with black TUSQ nut, saddle, and bridge pins that look just like bone
Has very rich and balanced sound all along the neck
Warm and full sound without drowning out high notes
Designed with wide-string spacing to satisfy finger-picking guitarists
Comes with string height and neck relief adjustments to the lowest possible setting
Allows great control over the guitar
Counted among the best high-end guitar models
Cons
Some may prefer the shorter scale that arrived with older models
Summary
Even though the Seagull Artist Mosaic Acoustic Guitar is less expensive than some of these higher-priced brands, it comes finished with beautiful appointments like its glossy top, tortoise-shell pick guard, and Indian rosewood headstock overlay, and truss-rod cover.
If you've played a high-end guitar that costs around $3,000 or so, then it's time to check out this Seagull acoustic guitar for similar feel and sound. It is definitely among the best guitars in its price range.
You could possibly spend hours going through 100+ guitar reviews, and you'll probably include the Artist Mosiac as one of the premium guitars on your checklist. This is one guitar even the most demanding of professional players will find to their liking, and it's only a matter of time before you'll find some of your favorite players recommending this guitar. It is destined to become a bestseller for its excellent tone and sound.
If you're looking for the best acoustic guitar under $1,000 dollars, this Seagull acoustic guitar is a great choice.

La Patrie Guitar, Collection
Sale
La Patrie Guitar, Collection
North American made
Radiused fingerboard for added ease and comort
Pressure tested solid cedar top
Double function truss rod
Tusq nut and compensated saddle for better intonation
Features
Has standard dimensions of 42" x 14.8" x 5.5"
Weighs a low 5.8 lbs.
Delivered as a North American-made six-string guitar
Comes with a pressure-tested solid top made of cedar
Has rosewood sides and back
Finished with the high-gloss custom polish
Comes with a standard rosewood fretboard and bridge
Offered with a mahogany neck
Has a fingerboard with radius to increase comfort and ease of play
Delivered with a double-function truss rod
Designed with a compensated saddle over a TUSQ nut
Pros
Sold at an unbeatable price range without compromising on quality
Can be played with and without electronics
Has improved volume and tone as compared to other medium-range classical guitars
Arrives in impeccable condition and on time
Makes barre chords easier with its radius fretboard
Comes with a truss rod in the neck yielding a ready out-of-the-box guitar
Delivered with silky-smooth tuners without play or any kind or slip
Produces beautiful, brighter, and cleaner high notes
Cons
Comes with a slightly muffled sound with the top unable to resonate freely
Summary
This smart-looking La Patrie Guitar, Collection comes with a spruced top made of wood acquired from aged wood. The sides and back, made of solid Indian rosewood, complement the semi-glossy lacquered finish. Free vibrations are allowed along this adequately-thick guitar. Its neck is made of Honduras mahogany with a satin finish, and its medium-size frets are nicely edged.
This La Patrie, Collection guitar is unlike other traditional guitars in that it comes with a dual-action truss rod that may disappoint guitar players wanting the traditional look. Also, if you're a professional looking for the best acoustic guitar under $1,000, and with a tone that resonates freely, you may not like its slightly muffled sound.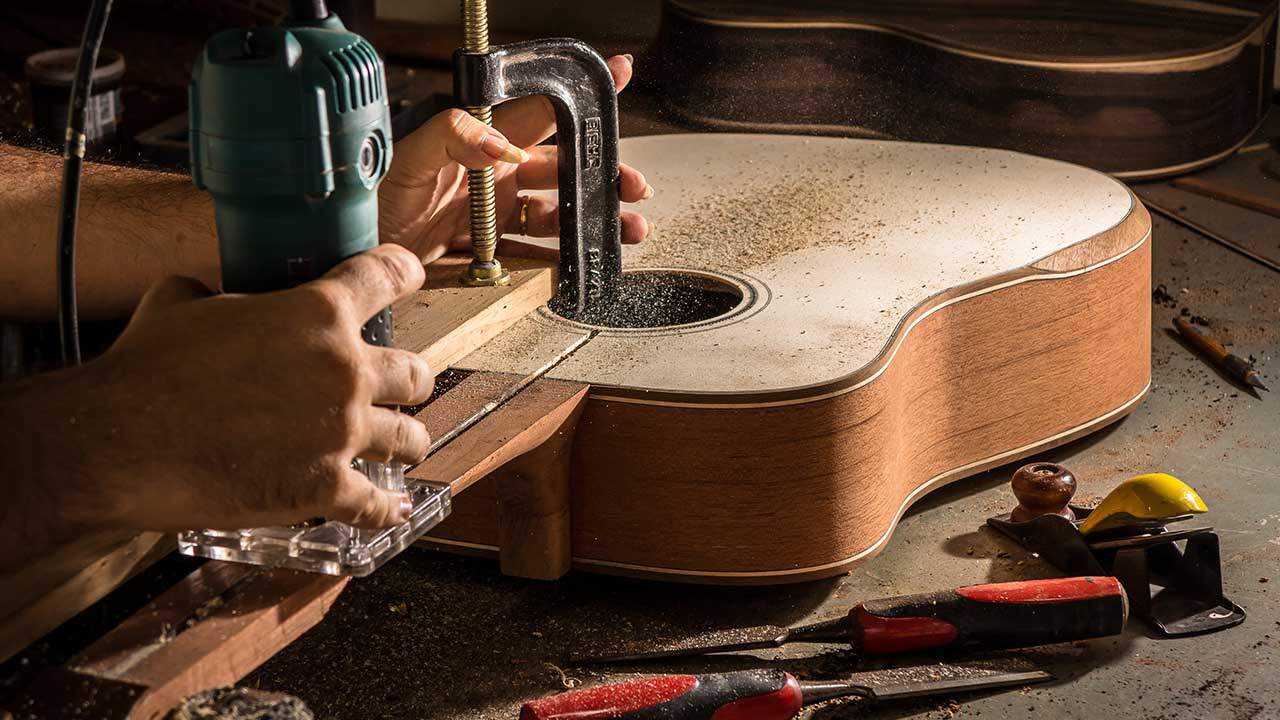 Blueridge BR-160 Historic Series Dreadnought Guitar Review
Sale
Blueridge BR-160A Historic Craftsman Series Dreadnought Guitar
Solid Adirondack spruce top with scalloped braces provides you with superior note clarity and volume to spare
Solid Indian rosewood back and sides guarantees deep bass and strong cutting power
Slim mahogany neck offers fast, easy action and inherently long-lasting stability
Distinctive herringbone marquetry, tortoise style pickguard and snowflake position markers evoke vintage 30's beauty
Nickel-plated 14:1 tuners are smooth and precise to always keep you in tune
Features
Dimensions are 40" x 16" x 5"
Has scalloped braces offering a crisp tone and clean articulation
Made of the choicest Indian rosewood fingerboard that increases playing smoothness
Designed with a slim neck for long-lasting stability, and quick, easy action.
Offers a vintage look with its distinctive tortoise-style pick guard
Has a rosewood bridge with rosewood bridge plate
Delivered in a natural, high-gloss finished six-string guitar
Designed with bone-finish saddle and nut
Comes with a delicate herringbone inlay around the top
Offers highly accurate 14:1 ratio open-back tuners with nickel plating
Pros
Produces deep bass, open, and crisp sound
Offers a tightly grained top with heavy silking
Has great styling with dark ebony-like bridge and fretboard
Rated as one of the finest medium-range acoustic guitars by professionals
Designed with perfect string height for playing finger style and chords
Looks like an expensive guitar with great fit and finish
Has a spot-on setup with plenty of harmonics
Cons
Delivered in guitar-sized cardboard packaging that can cause damage on impact
Summary
Experienced guitar players have found the Blueridge BR-160 Historic Series Dreadnought Guitar the best acoustic guitar under $1,000, much for its vintage styling that reminded them of yesteryear acoustic guitars. It comes with a mahogany neck fitted with an adjustable truss rod. High-performance quality is sustained with this carefully crafted guitar. Its exclusive Dalmatian-style pick guard and high-gloss finish look very striking.
The Blueridge BR-160 comes in two variations of spruce tops: Adirondack and Sitka. Depending on which model you choose, you will see a swing in base price of around $300 for the premium Adirondack version.
Read the full review on the BR-160 Sitka version here.
There is an attractive wide-body binding around the top, which is made of top-quality tone-wood, and highly durable back and sides made of Indian rosewood. Its traditional forward-shifting X-brace pattern at the top adds great authenticity to this vintage-class guitar.
Carefully crafted at the Blueridge factory under the Saga Music umbrella, its intricate inlays, fretwork, and hand-carved parabolic top braces will get your immediate attention and take you back to the 1930s—a time when guitars were handmade and set to match the highest quality standards.

Seagull Maritime SWS SG Guitar Review
Seagull Maritime SWS SG Guitar
Made in North America
Select Pressure Tested Top
Double Action Truss Rod
Tapered Headstock for precise and stable tuning and great for open tunings
Tusq nut and compensated saddle for better intonation
Features
Comes with dimensions of 49" x 20" x 9"
Designed with a solid wood construction including back and sides
Made of selected pressure-tested spruce top
Delivered in a strong mellow tone with semi-gloss finish
Delivers better intonation with its TUSQ nut and compensated saddle
Made in North America
Comes with a double-action truss rod
Comes with a matched body and neck to enable high-precision setting
Designed with a compound-curved top for additional stability
Pros
Priced at the ideal point to deliver a high-quality guitar
Comes as a perfect upgrade to standard guitars used by recreational strummers
Filled with a great tonal quality and excellent bright sound across the board
Has a tapered headstock to deliver stable and precise tuning
Easily compares with higher priced guitars with excellent workmanship
Reproduces great music for guitar players with mellow voices
Looks great with its clear paint on straight grains
Delivers well-defined sound, ideal for indoor use and in studios
Cons
Has slightly lower sound that turns harsh and dry on increased or hard strumming
Need some experience to adapt to its bulky and wide neck
Summary
This solid wood Seagull Maritime SWS SG Guitar has all the premium features to last for a very long time, including its select pressure-tested solid spruce top and custom-polished finish.
This elastic and extremely light guitar from the Godin family of instruments ages very well, and is made available to more people with its attractive price range. It delivers full sound and can be used as an accompaniment to other instruments. Its thin, resilient sheen offers ideal protection but also maximizes total projection and improves the sound quality.
The slightly wider-than-normal neck needs some adjustment. However, this is the best acoustic guitar under $1,000 for casual players looking to upgrade their playing skills to the professional level. 

Final Verdict
Out of all these great guitars known to produce a warm, sweet tone, the Seagull Artist Mosaic Acoustic Guitar has received only positive reviews and is a great solid-wood guitar purchase.
If you're looking for the best acoustic guitar under $1,000 dollars, this is a great buy. The La Patrie Collection, the Blueridge Historic Series and the Seagull Maritime SWS SG are among the best currently available at less than $1,000.
However, if you were to make a choice based on referrals, the Seagull Artist Mosaic Acoustic is unbeatable. Made in North America, this guitar has a solid top, back, and sites with an Indian rosewood headstock overlay and an excellent scalloped Adirondack Spruced bracing.
If our recommended choice doesn't quite resonate with your preferences, consider reading our reviews on two other very fine instruments offered by exceptional brands: the Martin DRS2, and the Taylor 114CE respectively.

Just starting out or have kids? Consider these choices:
New Arrivals for Beginners!
New
New
New
New
Fender FA-100 Beginner Acoustic Guitar with Gig Bag, Dreadnought Body Style, Natural Finish, Laurel Fretboard
Protective Fender black nylon gig bag included.
Keep this acoustic in proper playing position with the included Fender strap when standing or sitting from the factory installed forward facing strap button and rear strap button.
Under the natural glossy Basswood top, the time tested quarter sawn X bracing adds to the distinct FA 100's projection and top stability.
Sophisticated modern construction techniques typically reserved for acoustics at much higher price points
1 Year Limited Warranty Included