Does the vintage styling and build materials make the Blueridge BR-160 Sitka Dreadnought a great choice for a musician on a budget? Let's find out: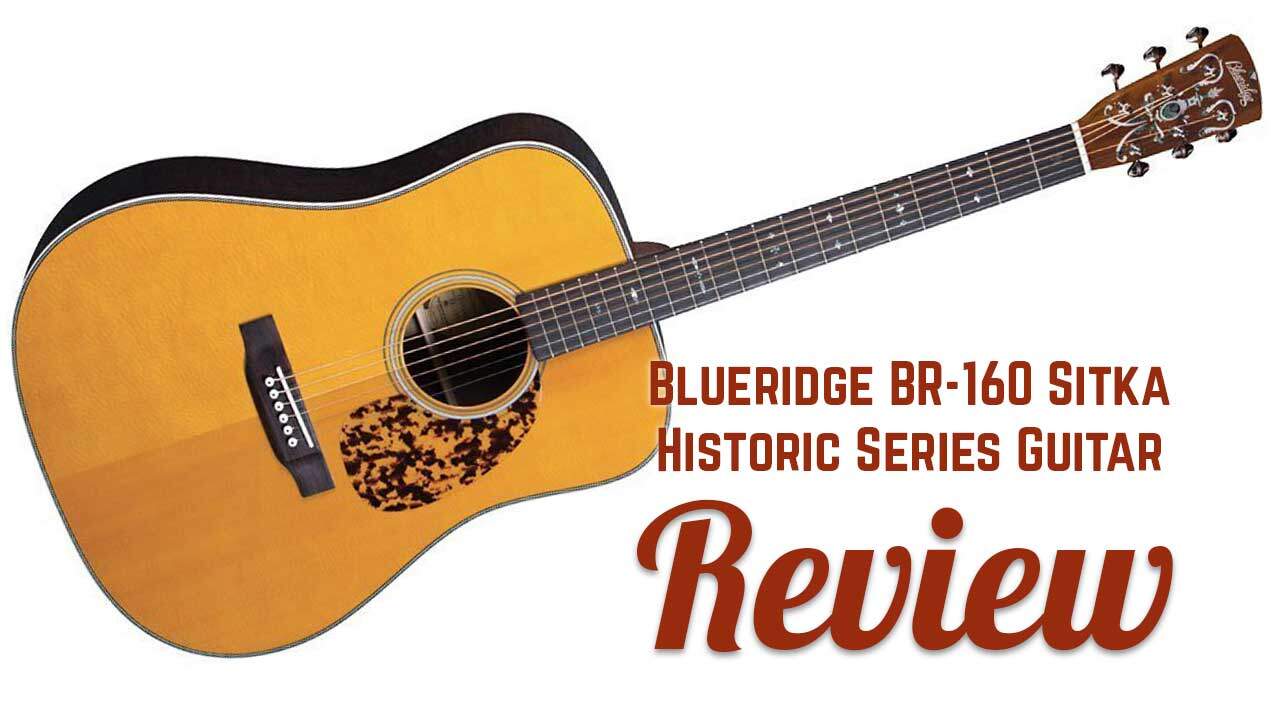 We certainly hope you benefit from the information we provide in this article! Just so you know, we may receive compensation if you use the links on this page. If you do, thank you so much!


Blueridge Historic Series Acoustic Guitars: Vintage Tone on a Budget
In my search for a competitively priced, all-around guitar, the Blueridge BR-160 consistently emerged as one of the best choices. The vintage styling, coupled with superior build materials, make this guitar an important consideration for any musician on a budget.


Blueridge BR-160 Sitka at a Glance:







(4.7 / 5)


Blueridge BR-160 Sitka Spruce Acoustic Guitar


The BR-160, part of the Historic Series, has most of the important features found on expensive vintage guitars, harkening back to the post WWII stylings.
Additionally, Canadian sourced woods allow a range of available tones, give these guitars a professional quality at an entry-level price certainly qualifying it as one of the best acoustic guitars deals.


Quality Construction
Starting with the top soundboard, the BR-160 has a solid Sitka Spruce top, giving it both strong and flexible qualities while being cost-effective. The premium Adirondack version of this same instrument also comes at a premium price due to the costly nature of the legendary tonewood.
Still, the Sitka version is no slouch when it comes to responsiveness which makes it suitable for flat picking and aggressive strumming techniques.





Likewise, the expressive dynamics of the Spruce allows it to articulate a broad tonal range of notes. Taking design cues from the prewar forward X-pattern, the hand-carved parabolic top braces.







The sides and back of this guitar are made from solid Rosewood, which is rare, because instruments at this price level usually feature laminates or other lower-quality woods.





The Blueridge BR-160's bridge is also made from Rosewood, helping to transfer the strumming energy of the strings to the soundboard without incurring inefficient energy losses. The Mahogany neck is strong and hard, but light enough to handle the tension of the strings without adding too much weight.
Another beautiful feature, impressive for the price range, is the saddle and nut bone composition. That being said, the ABS plastic bridge and end pins are arguably the most frugal element of this guitar, however they can be easily replaced if other materials are preferred.





Vintage Voiced Features
Select, solid Sitka spruce top with hand-carved parabolic top braces in authentic prewar forward-X pattern

Solid Indian rosewood back and sides with centre strip of delicate wood marquetry

Choice East Indian rosewood fingerboard ensures silky smooth playability
Distinctive tortoise style pickguard recreates that 30's vintage look

White body binding with delicate herringbone inlay around top

Slim mahogany neck with dovetail neck joint and adjustable truss rod

Rosewood bridge and bridge plate

Rosewood peghead overlay adorned with a unique M-O-P and Abalone design

Saga's exclusive Dalmatian style pickguard

Natural high-gloss finish with aged toner

Accurate Vintage-style 14:1 ratio nickel-plated open-back tuners with butterbean-style buttons

Nut and saddle are made from bone

Nut width: 1 11/16 inch

Scale length: 25.6 inch (650 mm)







How Does the Blueridge BR-160 Play?
Truly, the experience of playing a guitar is a personal one, however for me the action and playability of the BR-160 was great straight out of the beautifully designed case.
The narrowness of the neck will improve playability for those with smaller hands, but is suitable for everyone, as it is now becoming a standard for these dreadnought style guitars.
Some people may argue that the action needs to be adjusted for their playing style, but for me it seemed just right. Clearly with the size and volume, this guitar is less suited for classical or flamenco styles, and potentially better for country, rock, or pop music.


Compare Similar Acoustic Guitars:


How Does the BR-160 Sitka Version Sound?
Other online reviews compare the Blueridge BR-160 Historic Series to the Martin D28, which is reasonable since both guitars feature similar materials and construction.
I wouldn't agree that the two guitars are exactly similar, but the overall sound quality compared to the price makes the BR-160 Sitka a serious contender. This guitar has an impressive volume, more than the Washburn D10 I usually sport, making it an ideal candidate for purely acoustic performance.




Should I Buy a Blueridge Historic Series Acoustic?
Certainly, choosing a guitar is a personal experience, and ultimately the instrument has to feel right to you. But for me, the Blueridge BR-160 Historic Series Acoustic is one of the best instruments in its class.
The clear, bright sound, with impressive volume make it a suitable replacement for other dreadnought guitars well outside of its price range.
Likewise, the high-quality materials used, and vintage styling, make it a slick looking guitar worthy of any venue. Finally, the feel and weight of the guitar really demonstrate its value.
For these reasons, I'd say it is a great choice for either an emerging musician, or a well-seasoned professional.





Check Blueridge BR-160 Acoustic Availability! >>


Build Quality

Sound Quality

Value Factor