Designed specifically for the price sensitive player, we review the Martin DRS2 Dreadnought to see if it really does deliver traditional Martin tone at an affordable price.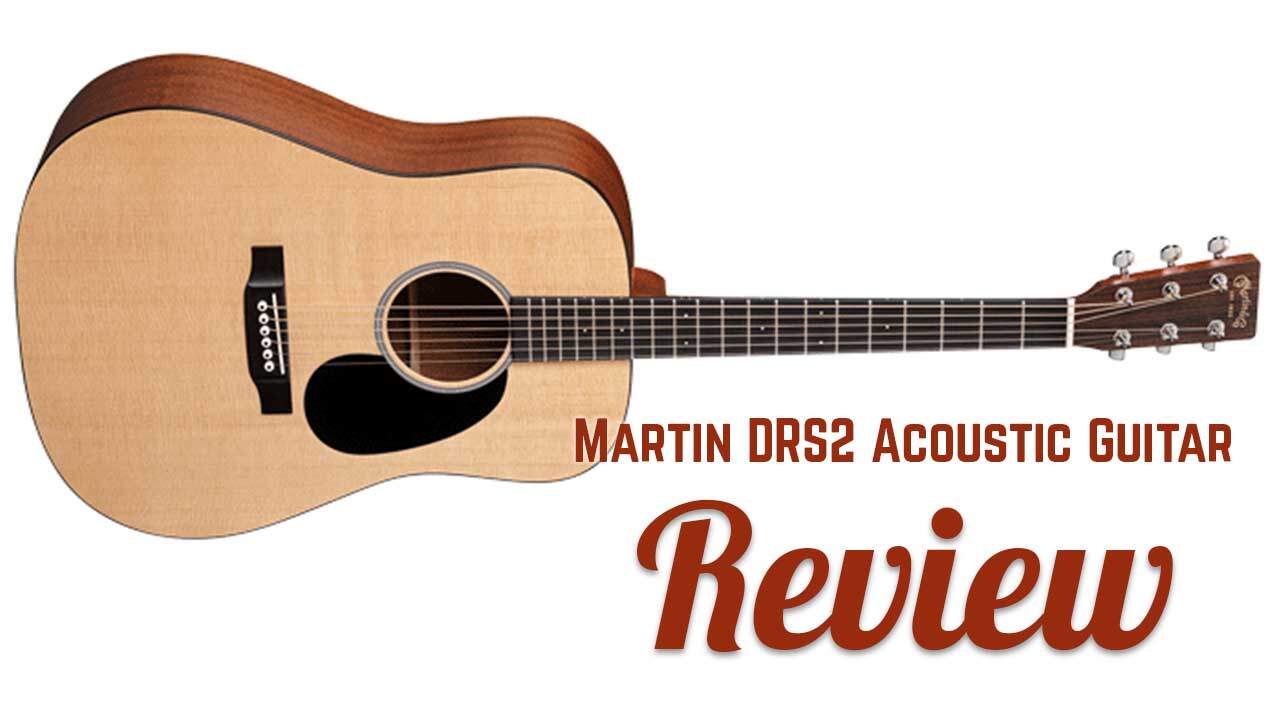 The Martin DRS2: Amazing Acoustics Electrified
Legendary Martin tone and solid-wood construction are the hallmarks of this addition to the Martin Road Series line. The DRS2 Dreadnought acoustic electric guitar was designed specifically for the price sensitive player looking for a rich traditional Martin tone at an affordable price.
We certainly hope you benefit from the information we provide in this article! Just so you know, we may receive compensation if you use the links on this page. If you do, thank you so much!


The DRS2 at a Glance:

Martin DRS2 Dreadnought Acoustic-Electric Guitar


The solid Sitka spruce top is carefully selected with a defined grain displaying proper silting to help ensure a traditional Martin signature sonic footprint. The sides and back are solid sapele, a relative in tone to mahogany's rich mids, but more sustainable and cost effective. That's very good news for your guitar budget.
The bridge and fingerboard are made of Black Richlite, similar to ebony but again, a consideration which is the result of cost effective construction. The top, back and sides are braced for maximum projection and resonance, and the DRS2's smooth, modified low oval neck is built with select hardwood for extra rigidity and durability.
Fit and finish are of course excellent as with any Martin branded instrument at this level.





Martin Playability
The slim neck profile fits comfortably in your and the action is easy to manage throughout top to bottom ranges.
As an added feature, the DRS2's frets were precision milled with a modern Plek machine. Martin uses the Plek to automate the labor intensive levelling process of a guitar setup.
To have an instrument "Pleked" would cost you anywhere from $250-$400 just for the service. Note: a good hands-on master guitar tech can do this for you after the fact for about $75.00 to $100.00 depending on the instrument.





What Does the Martin DRS2 Sound Like?
The Martin DRS2 comes complete with the latest Fishman Sonitone electronics. This compact, plug and play electronics package makes dealing in a great tone that much easier.
There's no need for you to spend hours fiddling around to get a great sound. The volume and tone controls are discretely located directly in the soundhole for ease of access. Once you get used to the control's positioning, changes are made easily on the fly.






DRS2 Features
The Martin DRS2 Acoustic-Electric comes with a variety of features to meet your musical instrument needs. These features include:
Dreadnought body style
Solid Sitka spruce top
"X-1" with A-frame bracing
Sapele back and sides
Dimensions: 9" x 20" x 48"
Select hardwood neck with low oval shape
Black Richlite fingerboard
Fishman Sonitone Electronics
Tuners are enclosed with chrome
Comes with a modern belly bridge that includes a saddle with "white tusq"
Comes with a hard-shell case







Martin DRS2 Pros and Cons


Martin DRS2 Dreadnought Acoustic-Electric Guitar Review


What We Like
Great for beginners and more experienced players
Easy to use
Has a great sound
Built-in electronics system helps you EQ and tune your guitar
One of the best "Martin" sounds
Very affordable price for what you're getting
Comes with a hard-shell case in the price
Sound is amazing both electric and acoustic


What We Don't Like
Very plain looking guitar, with no added "bling" that you might want; neutral colour.
No onboard tuner








Compare Similar Manufacturer's Guitars:


Final Thoughts: Is The Martin DRS2 Acoustic-Electric Worth The Money?
There are so many brands out there to choose from that can literally stretch in price from a mere $25 all the way up to thousands and thousands of dollars.
While Martins do have their own signature sound, other top brands such as Taylor offer a different flavor. Find out more on how they compare in our article here: Taylor vs Martin.
Buying online is definitely the way to go as it is much cheaper, but I always recommend going in person and testing it out for yourself.
Musical instruments are all about personal preference and what someone else might love, you might hate, never buy one online without at least holding the brand in a store.
That being said, I highly recommend the Martin DRS2 Dreadnought Acoustic-Electric Guitar as a trustworthy name-brand instrument. It is reasonably priced, but more importantly it sounds and plays fantastic.
Martin Guitars often have a nice full sound, and this one is no exception. It's fun and includes everything you need in an all out acoustic package.
If you're looking for a guitar that stands out a bit more on stage, this one might not be the one for you, as it has a typical "normal" guitar look. I actually prefer more plain guitars as I am all about quality of sound, much more than "bling".
The price also includes a hard-shell carrying case as opposed to a gigbag, a must for anyone who travels extensively as it helps protect your investment.
Enjoy!



What Do Martin DRS2 Owners Think? >>
Build Quality

Sound Quality

Value Factor




Manufacturer Info:
Website: https://www.martinguitar.com/
About: C.F. Martin & Co. ® has been creating the finest instruments in the world for over 180 years.