🎸 TrueFire sports an impressive total of over 45,000 videos, and an equally impressive lifetime on the net. But do they really offer a fair bang for the buck? Let's find out in this TrueFire guitar lessons review.
TrueFire Lessons Review: Read This Before You Make A Decision
Key features at a glance:
USER INTERFACE

(4.4)

Tabs easily accessed at the top of the page. Streamlined, easy to use design.

LESSON TOOLBOX

(4.4)

Easy to access options under all videos, high quality graphics. Many tool options.

LESSON QUALITY

(4.3)

Very detailed, many instructors, some famous, but videos often short.

SONG OPTIONS

(3.8)

Few song lesson options almost entirely made up of only "classic" or old songs.
We certainly hope you benefit from the information we provide in this article! Just so you know, we may receive compensation if you use the links on this page. If you do, thank you so much!
TrueFire is video-based guitar lessons website that also offers limited lessons for bass, ukulele, and harmonica. Started in 1991 and boasting contributions from 600+ instructors, TrueFire boasts that over 2 million students have learned through their system.
Many competitors brag about their wide selection and diversity of song lessons, but TrueFire specifically focuses on detailed technical instruction videos with learning paths guided by the genre of music you wish to play.
Furthermore, the site has many spectacular instructors including top session players and GRAMMY award winners as well as an awesome feature, "In the Jam", which lets students play alongside pre-recorded rhythm sections.
For a full comparison of available the best online teaching services, check out our complete review of online guitar lessons providers here.
Let's dig into the site for a thorough TrueFire review.
Who Is TrueFire For?
Some of you may be asking, what is TrueFire and what separates it from the other lesson sites?
Well, the true strength of the TrueFire guitar courses lies in its offerings for beginner and intermediate players, as many of the lessons explain basic musical theory or terms alongside guitar fundamentals.
Also, the site has so many video lessons because many of them are short, only minutes long, opposed to some of the 10 or 20-minute lessons featured on other sites.
From the Creators: LEARN. PRACTICE. PLAY.
Shorter videos help keep the attention of new students who would otherwise get fatigued or frustrated should they struggled.
The video feature is further enforced by the lack of song lessons for newer music, a trait that usually helps engage more experienced players to access other established lesson sites.
While many non-students may turn to these sites for accurate tabs or advanced technique lessons, it would appear TrueFire guitar courses use song lessons as more of a teaching tool for beginners than a specific learning resource.
What's Included With a TrueFire Subscription?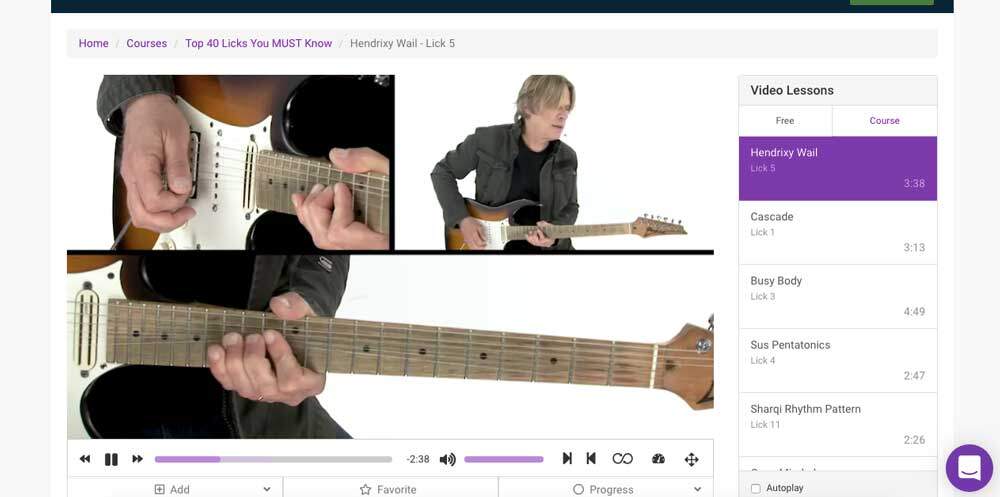 TrueFire is free to sign up for your first 30 days and when you do, you get plenty of coupons of future lesson downloads.
After that 30 days, you must begin paying to download lessons or features such as the "In the Jam" sessions. If you're looking for their All-Access package, similar to what other subscription sites offer, it costs about $19 per month which is comparable to competitors like Guitar Tricks or JamPlay.
With the All Access pass you're entitled to, like it says, access to all of the website's lessons and features.
In addition to the lesson plans and song videos, the site boasts an impressive number of complementary lessons meant to add additional skills from top artists such as Jimi Hendrix or Bo Diddley.
Interested in trying TrueFire?
Use the code "PARTNER10" and get 10% OFF! >>
Overview of Features
When comparing TrueFire vs Artistworks or TrueFire vs JamPlay, it is important to look at the distinct features of each site.
One of the coolest features we've seen on a lesson website is TrueFire's "In The Jam" which features 10 minute, multi-track video sessions, some featuring famous musicians, that allows players to play along with a pre-recorded band.
Featuring a large variety of options including jams like "Modern Groove" and "Soul Jazz", this is truly a one of a kind option for students to begin practicing improvisation.
Inspiring creativity, songwriting, and improvisation is key, especially has students begin to progress out of the most basic level, to keeping them engaged with the instrument.
The song lessons that are included are on par in quality and useable tools with all other major sites, but generally the songs are limited to mostly older classic rock, jazz, and pop songs which may turn off some younger players.
Lastly, the beginner lessons are built in a linear fashion based on what genre or style of music you want to play such as rock or blues. Even better, the video lessons have awesome tools like speed up/slow down and discussion forums for the students to chat about the video.
Truefire Tutorials & How To Access
TrueFire's extensive video lesson selection can be accessed at www.truefire.com where you will find easy direction to log in or create your own account to access your 30 day free trial.
They even have an ios app, named "TrueFire" so you can take your lessons on the go via your mobile phone or tablet. For a great introduction to the site and how it works, hit the "About TrueFire" button option on the top right of the website.
TrueFire Guitar Lessons Review – Key Points
What We Like
Easy to follow, clean website
Multiple, linear lesson plans for each genre
Mostly free lesson options available
Some famous instructors

What We Don't Like
No modern song lessons
Hard to find song lessons via webpage
Number of lessons may be hard to navigate
>Lots of videos but all short lessons

Top Lesson Site Alternatives
As you'll find in our other reviews of GuitarTricks, FenderPlay, and JamPlay, there are many different options out there for guitar students looking to learn online.
TrueFire is another awesome choice with its diverse lesson options, streamlined website, and strong toolbox.
JamPlay has drawn raves reviews for the number of famous musicians who have recorded lessons on how to play their own songs or techniques, something Truefire has begun to compete with.
Furthermore, TrueFire has the history and student testimonials to go against any of those sites. Ultimately, the choice will come down to what instructors or lesson plans you are looking for.
Conclusion: Are TrueFire Guitar Lessons Worth It?
Ultimately, we believe TrueFire is the most technically impressive of all online offerings. The web page is easy to navigate, which is certainly valuable for attracting and maintaining a base of beginner students.
These two factors, in addition to the diverse toolbox that comes with each video lesson, make it an excellent option for students looking to dive right into the guitar head first.
The lack of present-day song demos and lessons makes the site feel somewhat dated and limited to pure skill learning, but the "In the Jam" feature helps make up for it by inspiring improvisation and creativity in students.
For the $19 a month, you get a lot of value with the sheer volume of lessons, especially after the first 30 days are free giving you a great introductory period to see if TrueFire is the lesson site for you.


USER INTERFACE

LESSON TOOLBOX

LESSON QUALITY

SONG OPTIONS