As one of the largest and most diverse instrument instruction sites on the web, is it worth the money, or just the result of good marketing? Find out in our expert ArtistWorks guitar lessons review.

Key features at a glance:
User Interface

(4.1)

It's fairly easy to navigate, with all options laid out for you, but the screen is somewhat busy.

Lesson Toolbox

(3.8)

Not much in the way of a lesson toolbox aside from playback speed and speech transcription.

Lesson Quality

(4.5)

Great, famous instructors like Guthrie Trapp and Paul Gilbert to take you through genres.

Song Options

(4.0)

No apparent database for selecting songs to learn, you tend to learn a few as you go along.
We hope you find this article helpful and unbiased. By using links on this page we may receive compensation at no extra cost. If you do, thank you so much!
ArtistWorks Guitar Lessons in Review: Is The Service Worth It?

ArtistWorks Overview

Boasting lessons for over 15 different instruments besides the electric and acoustic guitar, ArtistWorks has thousands of published video lessons.
Featuring famous musicians who teach each genre or style of guitar playing that made them famous, ArtistWorks also has one of the most interactive student bodies of any online music lesson site.
Started in 2008 after the founder couldn't find any suitable Jazz guitar teachers in their area, ArtistWorks does have one of the longer histories of successful online guitar lessons. Let's take a look at all the site has to offer in this GuitarNiche ArtistWorks review.
Who Is ArtistWorks For?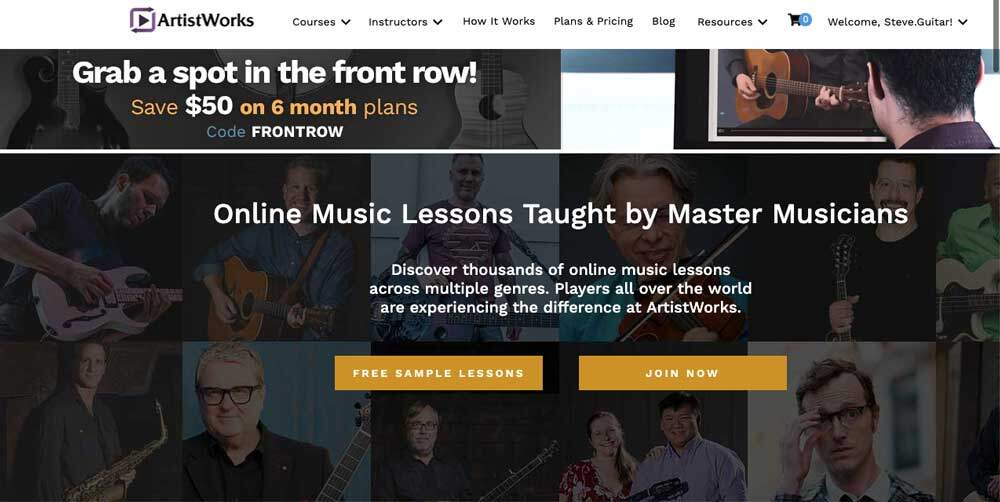 If you're looking for the best guitar course, ArtistWorks is certainly worth considering. ArtistWorks is best suited for beginner students who are looking to learn specific genres or styles from the basics to advanced levels.
Guitar fans may rejoice when they see that each step by step set of lessons is taught by a genre specific professional musician.
Rock guitar is taught by Paul Gilbert, country by Guthrie Trapp, and Keith Wyatt handles blues guitar.
However, with no designated metal or hard rock teachers, players hoping to learn jazz, rock, blues, or acoustic should make up the primary student group here.
Additionally, each genre-based course selection features the lesson's page, a Video Exchange Learning® platform, study materials, and links to forums where you can discuss music topics with other students.
Paul Gilbert ArtistWorks Review
If you're a serious fan of electric guitar. particularly from the 80′ and 90's, you'll have heard of Paul Gilbert.
Paul Gilbert is simply a monster rock guitarist world-renowned for his intense shredding ability and musicality.
Not only is he rated by Guitar World as one of 50 fastest guitarists of all time. He's also an accomplished and very experienced guitar teacher.
Early on in his career Paul graduated from the Guitar Institute of Technology, which is enough to give any guitar player serious credibility.
Throughout his career, both in collective efforts and as a solo artist, Paul has been known as a player that can shred guitar like no one else.
His incredible skill combined with a very personable presence and guitar teaching ability made him a natural fit for ArtistWorks.
From ArtistWorks:
He's known for his enthusiastic and approachable guitar lessons, which are founded on decades of experience.
Gilbert has been the guitar teacher of an impressive list of players including Buckethead, Joey Tafolla, "Satchel" from Steel Panther (Russ Parrish) and Nicole Couch of Phantom Blue among many others.
Other notable accomplishments include writing articles for the prestigious Premier Guitar magazine.
In May, 2012 he launched the Online Rock Guitar School with Paul Gilbert as a part ArtistWorks' offerings and has since been sharing his extraordinary talents under the category of "Rock Lessons with Paul Gilbert".
Paul Gilbert Jamming with Online Students
In terms of what ArtistWorks has to offer for edgier guitar lessons, Paul Gilbert is a pleasant surprise. Whether you're a beginner, intermediate or highly advanced guitar player, he has something to bring to the table.
Paul Gilbert's video lesson lengths run from roughly five minutes to a half hour with the built-in option to play them at slower speeds or in a loop.
As mentioned, the Video Exchange feature allows students to submit their own videos of themselves rocking out, or just asking Paul a question.
Consequently, Paul goes through each student's video and in exchange, as the name implies, records a video offering support and answers in response to the questions.
Although this could seem intimidating for some, students in Paul's community are nothing short of supportive and respective. The channel is held accountable as a judgment-free zone and in turn, is friendly, collaborative and highly interactive.
Alternatively, if you want to observe more than interact, you can still draw inspiration from the hundreds of archived exchange videos. You'll find tons of useful hints you can interpret and then apply to improve your own technique.

ArtistWorks Rock Guitar Lessons with Paul Gilbert: Highlights
Students get a music theory workshop from an A-List pro
Access the Video Exchange Library at any time
Subscribed students get up to 5 submissions
Affordable guitar lessons from a world recognized personality
Communication through a mini chatroom.
Community spirit fostered by the video exchange platform
Easy navigation
Check out Paul Gilbert's Rock Guitar Course here >>
For those who prefer a less intense style of playing, Paul Gilbert may be a bit much. And for you we have other choices mentioned in this article.
But if you gravitate to online lessons with Paul Gilbert, your guitar abilities are sure to improve. With regular practice and instruction, your guitar technique, repertoire, and confidence will all reach new levels.
As mentioned, the real value here is in the the video exchanges. This is what sets Paul Gilbert's ArtistWorks lessons apart from all the others. If you take advantage of it, you'll realize the true value of the service and can't go wrong.
ArtistWorks Adult Beginner Acoustic Guitar Lessons
In answering the call for more diversity, and the demand for those who are looking for a creative pastime during a pandemic, ArtistWorks has added a full Beginner Acoustic Guitar Lessons course to their platform.
Perhaps the most interesting part of the course is its instructor: David Butler who is the Chairman and Cofounder of ArtistWorks.
As a lifelong acoustic guitarist and one of the original engineers at AOL, he developing an industry-unique approach to online music instruction only available at ArtistWorks. Moreover, he has been awarded three US patents in the process.
Geared more towards adult beginners, the course features familiar songs and focuses on developing core skills.
With a focus on comprehensive, step by step instruction, the online guitar course is designed to help first time players avoid getting frustrated.
Access the ArtistWorks Beginner Guitar Lessons Course Here >>
ArtistWorks Beginner Acoustic Guitar Lessons Highlights:
introductory monthly price of $35 (discounts available)
Beginner Guitar Chords
Guitar Tab
Basic Music Concepts
100s of guitar lessons at your own pace
Specifically geared to adult beginners
Easy Guitar Lessons & Tunes
What's Included with the Service?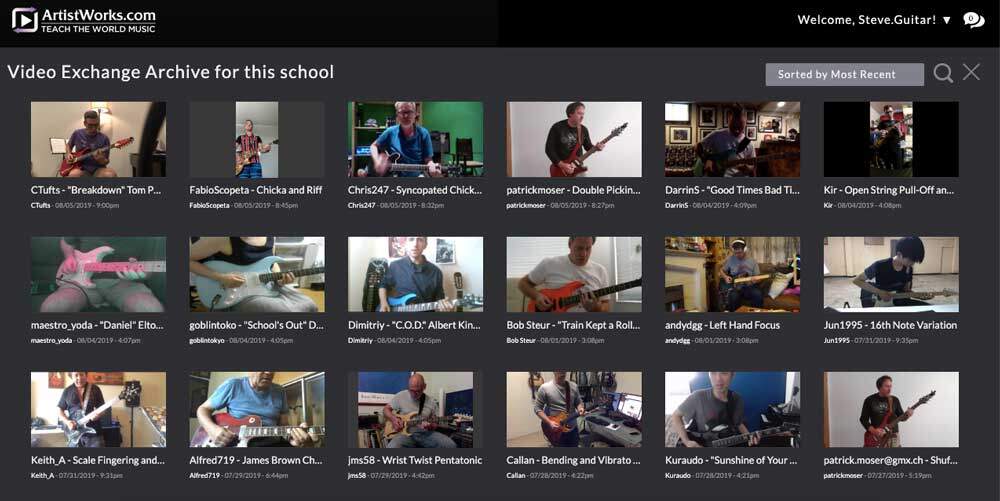 When figuring out if ArtistWorks lessons are the best option for you, it 's important to consider all that's included in your subscription.
It seems, at the moment at least, there are no ArtistWorks free trial options, making some people hesitant to purchase a subscription without a test run.
Still, there is quite a bit included in your subscription fee, which can be anywhere from $23 a month for 12 months or $35 a month for 3 months.
Most notably, the huge diversity in lessons is a huge plus, you can learn multiple guitar styles, both electric and acoustic, as well as multiple electric bass styles.
If your musical thirst still isn't quenched, you can peruse the piano, mandolin, voice, or woodwind instrument options.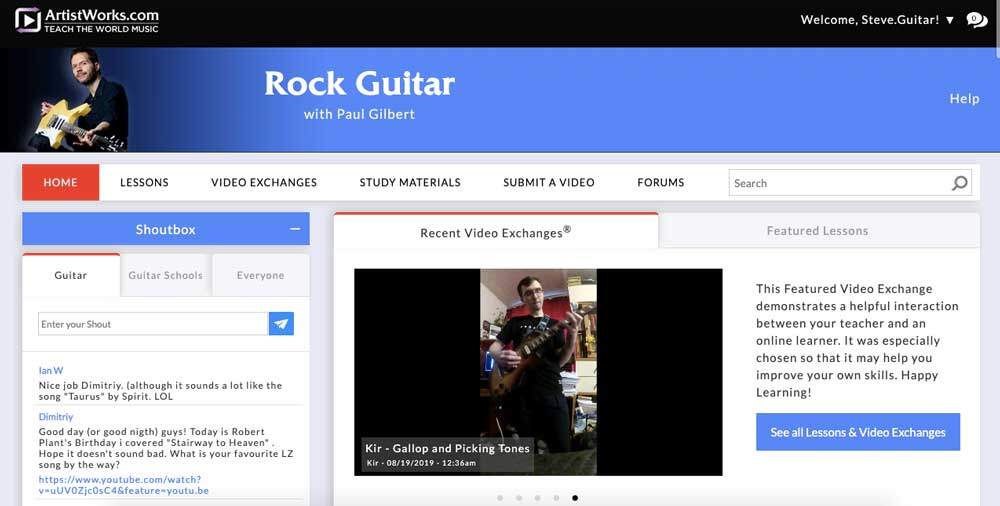 That's a lot of musical opportunities laid out in front of you if you so choose. If diversity is of value to you, ArtistWorks may be the best guitar course for you.
While the lessons are engaging and feature quality content, one of the most endearing inclusions has to be Video Exchange which allows students to upload videos of themselves playing.
Having the ability to learn from other students while also getting or giving constructive feedback, can improve your playing, musicianship, and music communication in no time.
Features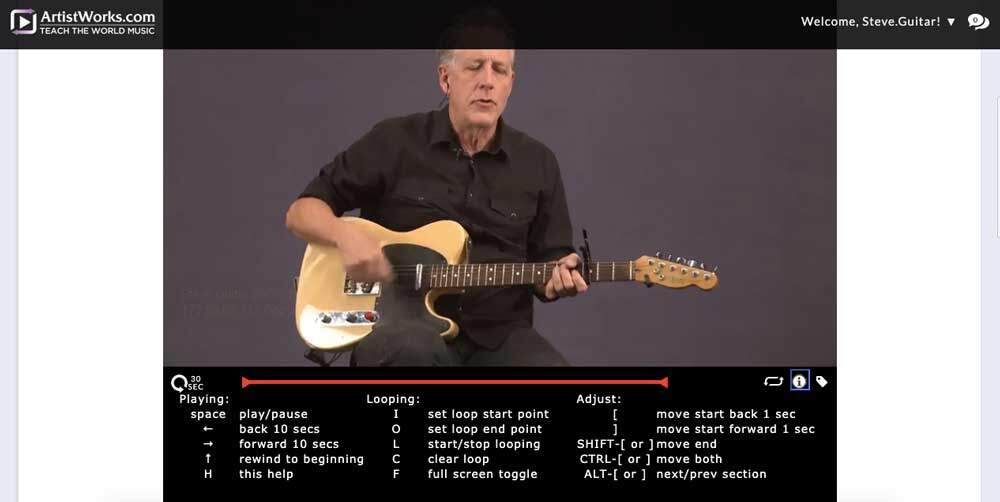 No review of ArtistWorks online would be complete without a detailed look into what makes these included features so great. The backbone of ArtistWorks learning experience is the instructors.
Each course, aka the series of lessons for each genre, features the same instructor throughout, giving you the chance to build familiarity with the learning experience.
The lessons are typically short, ranging from a few minutes to tens of minutes, allowing even the shortest of attention spans to follow along lesson by lesson.
One thing that struck us about the lessons was the lack of follow along tablature, We don't see any option to have it pop up while you watch a video.
Easy to follow tabs or musical notation can be a huge help for young musicians looking to follow along at their own pace and learn where the notes and frets are up and down the neck.
Access, Tutorials & How To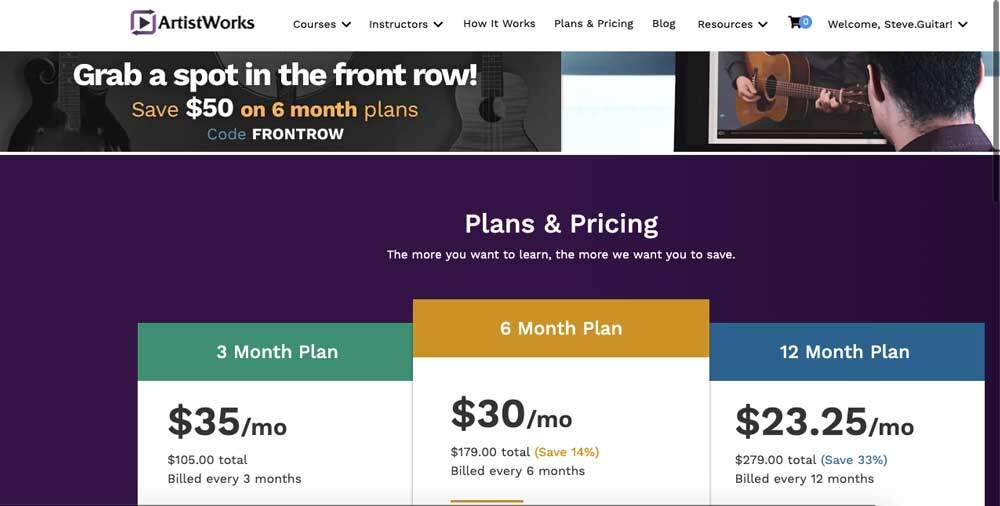 ArtistWorks can easily be accessed via its webpage, artistworks.com, or by googling "ArtistWorks". Unfortunately, there is no app currently available so that you can take ArtistWorks on the go with your guitar.
Between having no app and no ArtistWorks free trial, it makes the site's lessons somewhat inaccessible. If someone asked "what is ArtistWorks?"
I'd happily reply that it is a great online community of teachers and students but is strictly computer based, and one of the more expensive online guitar lesson options when compared to alternatives.
Overall, any type of expansion into the IOS world would likely draw in a few more users as the world moves towards more and more mobile entertainment and learning.
Alternative Sites to ArtistWorks
As you'll find in our other reviews of TrueFire, JamPlay, Guitar Tricks, and Fender Play, there are many different options out there for guitar students looking to learn online.
For your convenience, we've put together a complete review of the best online guitar lessons for beginners.
JamPlay is one of many great choices with its diverse lesson options, quality instructors and great lesson toolbox to help you get the most out of each video.
JamPlay has drawn rave reviews for the number of famous musicians who have recorded lessons on how to play their own songs or techniques, something other sites, like Truefire, have begun to compete with.
Furthermore, JamPlay has the history and student testimonials to go against any of those sites. Ultimately, the choice will come down to what instructors or lesson plans you are looking for and how easily you feel you can navigate the website.
If you're debating Fender Play or Guitar Tricks, or any of the other sites, try a 14 day Guitar Tricks free trial before investing. For those significantly worried about their budget,
Justin Guitar is one of the only completely free guitar lesson sites and should be given careful review as well.
It's important to remember that for $23 a month, you need to make sure you are getting that much more than you do with free/cheaper sites like Justin Guitar or Fender Play.

ArtistWorks Lessons – Key Points
What We Like
Linear lesson paths for each sub-topic
Instructors are all great and engaging
Interactive video exchange
Popular forums and chat


What We Don't Like
No song lesson database
$23.25+/month plan may be costly for some
Weak lesson toolbox


In Closing, Are ArtistWorks Guitar Lessons A Good Choice?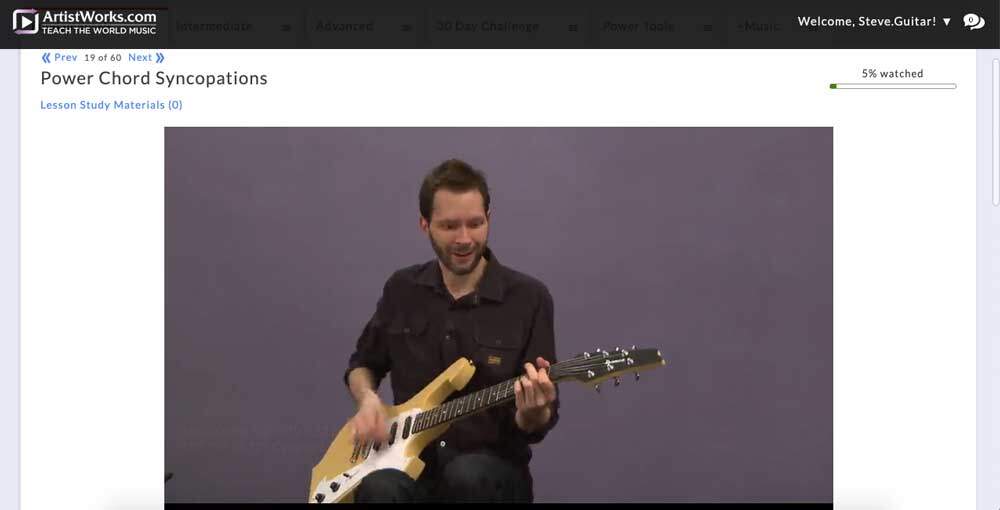 While doing the research for this ArtistWorks lessons review, we found the service to definitely be one of the most diverse and in-depth musical lesson sites we've discussed to date.
But in our opinion, you may have better choices depending on your preferences.
For the price, we feel you are missing too many features like follow along tablature, dedicated song lesson databases, or live lessons.
If you are or are aspiring to be a multi-instrumentalist, then this is no doubt the lesson site for you.
With many guitar, bass, woodwind, and piano lessons available, even mandolin options, you can learn a wide variety of styles and instruments that could further inspire your aspiring music career.
Without the free trial, it may make more sense for some comparison shoppers to take advantage of other sites free trials and then circle back to ArtistWorks if they don't have what you're looking for.
Overall, it's still a great option, just like all the others we've reviewed, and especially if you want to become proficient on more than one instrument.


View the Latest ArtistWorks Deal Here! >>
USER INTERFACE

LESSON TOOLBOX

LESSON QUALITY

SONG OPTIONS