With over 8000 lessons and tons of extras, is this long-time guitar lessons provider worth your valued attention? Find out in our Guitar Tricks review.


Key features at a glance:
User Interface

(4.5)

Easy to navigate panels featuring helpful "beginners lessons" tab

Lesson Toolbox

(4.0)

Follow along tab, descriptions, notes, playback control speed

Lesson Quality

(4.0)

Great Instructors take students slowly through high quality lessons

Song Options

(4.0)

Large selection with diverse options in genres, difficulty, and styles
We certainly hope you benefit from the information we provide in this article! Just so you know, we may receive compensation if you use the links on this page. If you do, thank you so much!


Guitar Tricks Review – Are Their Lessons Really Worth It?
Overview
Guitar Tricks is one of the largest, and most well known online guitar lesson sites with 20+ years of guitar teaching experience. In this Guitar Tricks review we'll go over their various video lesson selections including beginner, song, and advanced guides.
Quick Stats:
Price: $19.95 a month, or $179 per year
Free Trial: 14 days
Lessons: Over 11,000
Refund: 60 days guaranteed
Song Tutorials: 1,000+
We'll also look at some of the extra features that make the site so popular such as the forums, blogs, and informative videos they offer all the for the Guitar Tricks price of $19.99 per month.
With over 8000 lessons and guided programs, students should have no trouble combing through the easy to use website to find something that interests them.

Interested In Improving Your Guitar Skills?
If you're looking for the best guitar teaching website, Guitar Tricks is certainly one of the top options. Guitar Tricks is best suited for beginners with a variety of linear learning paths aimed at teaching students the genre of their choice.
Though the paths seem limited to three major genres, the linear, step by step features make it easy to navigate the site and follow along as a student.
Some interesting features that will keep students engaged passed the beginner stage include a diverse song list and guitar style lessons.
Once you've progressed through the beginner stages, which takes about 4-8 weeks to finish according to Guitar Tricks, you'll find many, interesting video lessons on a wide variety of topics on their "channel" page.
Lessons ranging from artist-specific lessons, to technical information, to in-depth jazz chord discussions should help push students forward as musicians and players.
What's Included with Guitar Tricks?

When asking "is guitar tricks worth the money?" it's important to first understand everything that is included in the subscription deal. In addition to linear beginner lessons for country, blues, and rock guitar, there are a wide variety of extra features.
Guitar styles lessons to expand your horizon after completing the beginner phases include world, funk, classical, and bluegrass just to name a few. And the song list features 500+ lessons for all of those same genres and styles.
Beginner Fingerpicking Lesson
When comparing Guitar Tricks vs JamPlay or Justin Guitar vs Guitar Tricks, Guitar Tricks contains more variety and quantity. If you're pitting TrueFire vs Guitar Tricks, you'll be happy to know Guitar Tricks features its own "In the Jam"-style tool called "Jam Station" albeit with more limited options.
Lastly, Guitar Tricks includes a diverse toolbox with scale and chord finders among other features and a helpful chat forum for students to interact, discuss, and learn from one another.
Guitar Tricks Features Overview

One of Guitar Trick's best features is the engaging instructors and lessons. Take for example this lesson for modern alternative rock hit "Trouble" by Cage the Elephant.
Along with the video lesson you'll find tablature, lyrics, a description of the lesson, and even gear and tone recommendations by the instructor.
All of Guitar Tricks lessons are similarly detailed and should be explored by you via a Guitar Tricks free trial before you settle on subscribing to a site.
While Guitar Tricks has an overall less diverse toolbox and no famous instructors like JamPlay and TrueFire, it has an incredibly easy to navigate web page that should make it easy for students to jump right in and begin learning guitar.
As mentioned before the Guitar Tricks "Channel" page has access to even more interesting, lessons for a variety of topics meant to enhance your experience. So how much does Guitar Tricks cost? You get access to all these lovely features for $19.99/month.
Online Tutorials & How To Access

Guitar Tricks can be easily accessed via their website, www.guitartricks.com and even has an ios application so you can take lessons on the go.
With a 4.3 rating out of 5 stars on the google play platform, it seems the app may be a reliable additional option for students interested in it.
Guitar Tricks also features a "Beginner Lessons" option right in the middle of their front page that should lead eager newcomers right to the first guitar and website tutorials available.
Even better, once you click on that selection, you're brought to a page with a "beginners start here" option making it so easy for students to access the correct lessons.
Eddie Van Halen Artist Study
GuitarTricks: The Good and The Bad


Guitar Tricks Review – Key Points
What We Like
Linear core lesson path
Extensive toolkit with video lessons
Large number of song options
Nice extras such as "jam station" and student forums


What We Don't Like
No famous instructors
$19/month plan may be costly for some


Alternative Guitar Lessons Sites
As you'll find in our other reviews of TrueFire, ArtistWorks, and JamPlay, there are many different options out there for guitar students looking to learn online.
JamPlay is one of many great choices with its diverse lesson options, quality instructors and great lesson toolbox to help you get the most out of each video.
JamPlay has drawn rave reviews for the number of famous musicians who have recorded lessons on how to play their own songs or techniques, something other sites, like Truefire, have begun to compete with.
Furthermore, JamPlay has the history and student testimonials to go against any of those sites. Ultimately, the choice will come down to what instructors or lesson plans you are looking for and how easily you feel you can navigate the website.
If you're debating Fender Play or Guitar Tricks, or any of the other sites, try a 14 day Guitar Tricks free trial before investing.
For those significantly worried about their budget, Justin Guitar is one of the only completely free guitar lesson sites and should be given careful review as well.
Final Thoughts: Is Guitar Tricks the Right Lessons Site for You?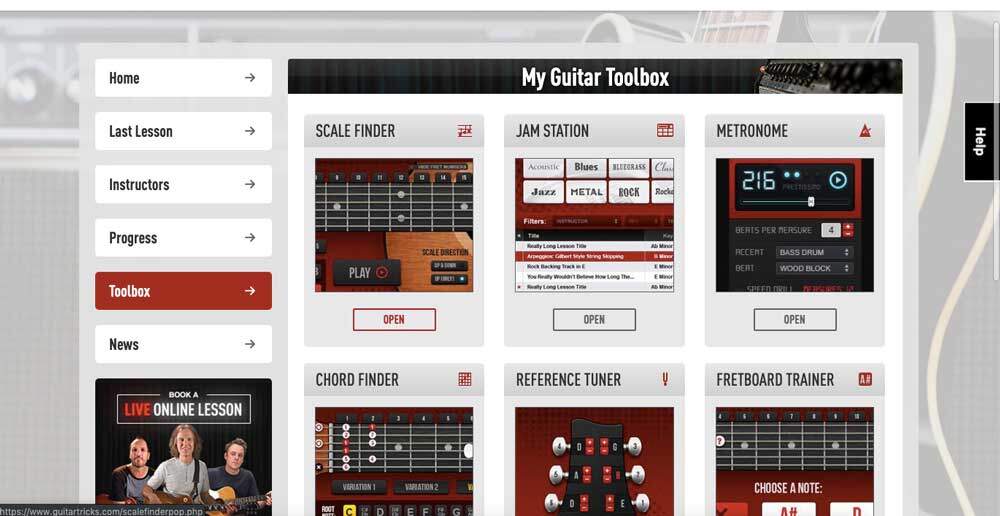 You definitely can't go wrong if you choose Guitar Tricks for your online lesson needs and it rates as one of the best guitar teaching websites.
Thanks to diverse lessons and song options there should be something for every guitar student on Guitar Tricks. The only issue is that the cost of a Guitar Tricks subscription, about $20 per month, may create a financial barrier for some students.
With cheaper options like the free Justin Guitar or $10 per month Fender Play sites, Guitar Tricks certainly has to continue to add bells and whistles to its Jam Station, channel, and blog features.
While the lessons don't have as complete a toolbox or interface as JamPlay, we think Guitar Tricks features more diversity in its lessons and content.
If you're still not convinced, take the 14 day free trial to sift through all the information and see why Guitar Tricks prioritizes its students making music on day one.
Overall, Guitar Tricks is an awesome choice for you or the guitar student in your life as long as you're willing to pay the price.

Check Out GuitarTricks.com Free >>
USER INTERFACE

LESSON TOOLBOX

LESSON QUALITY

SONG OPTIONS