Does Fender's online guitar lessons service live up to the standards of its world-class manufacturing heritage? Find out in our Fender Play review.

Key features at a glance:
User Interface

(4.4)

Best looking and easiest webpage to follow and navigate of all lesson sites.

Lesson Toolbox

(4.0)

Great options including tabs/tuners but no option for slowing down video speed.

Lesson Quality

(3.9)

Lessons are easy to follow and navigate and introduce songs and riffs early on.

Song Options

(3.8)

Adding more each month but some songs are limited to main "riff" only lessons.


Learning Guitar Online with Fender Play: Read This First!
We certainly hope you benefit from the information we provide in this article! Just so you know, we may receive compensation if you use the links on this page. If you do, thank you so much!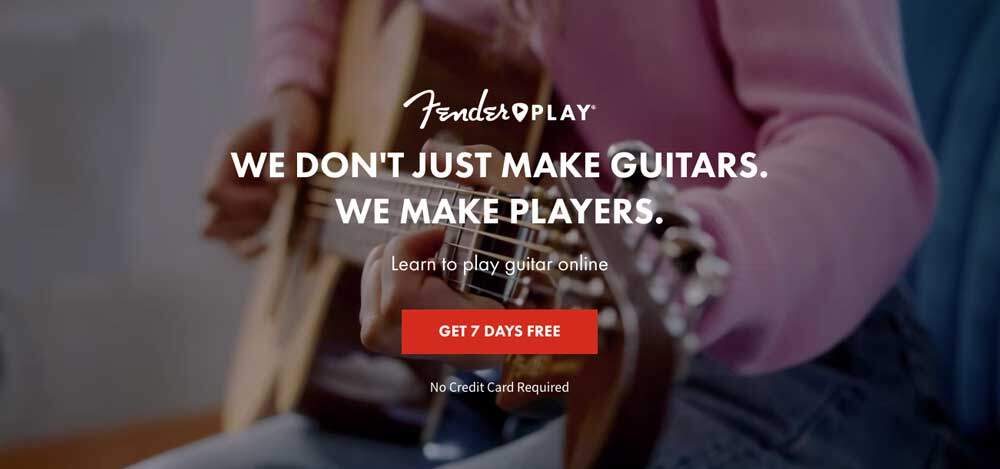 Fender Play Overview
Fender Play is a rather new entry into the online guitar lesson competition. While it doesn't have the rich teaching history of Guitar Tricks or JamPlay, it does offer detailed courses for modern guitar students.
Featuring multiple young instructors, Fender Play is a video-based lesson system that offers students a linear teaching plan based on the style of music you wish to learn.
Fender Play Key Stats:
Lessons Taken : 55,000,000
App Store Rating: 4.8
Development: 30,000+ Hours
Available Lessons: 3,000 and counting…
Lessons often focus on using popular songs or riffs to teach basic guitar techniques while also introducing players to the different types of Fender guitar lines, pickups, and features.
Follow along as we here at Guitar Niche perform a thorough Fender Play review and let us know if you think it is worth the subscription cost!
Fender Play Paths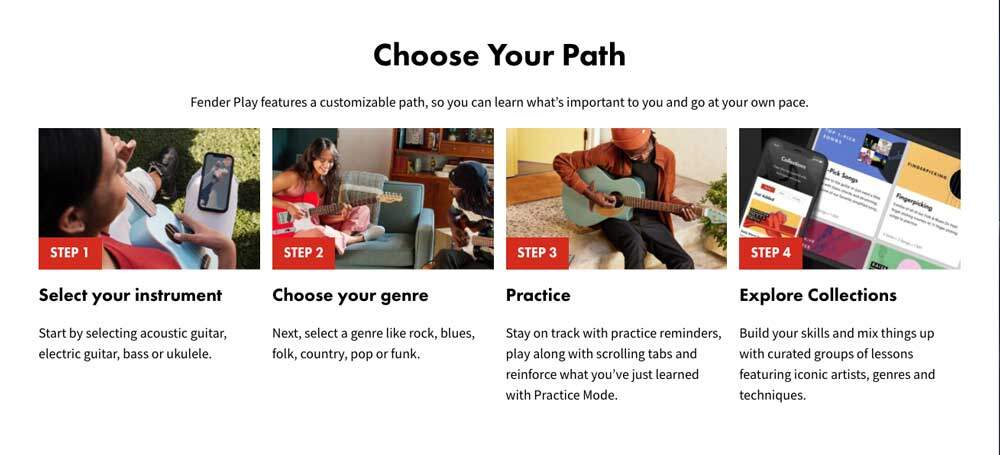 Who Is Fender Play For?
Fender Play is unique in the sense that while it is certainly a beginner-oriented site, it generally targets anyone buying or playing Fender guitars.
In fact, almost all new Fender or Squier guitars come with 6 months of free access to Fender Play meaning that even an experienced player like me may hop on the web page to check out specific song or high-level technique lessons.
Fender Play comes from a brand still making history at its grass roots.
The lessons are especially easy to follow for new students and the user interphase is built around a simple, linear lesson plan.
Due to the ease of use and limited song lesson selection, Fender play is ideal for true beginners and more of a non-essential supplement for others.
At $9.99 a month, it is certainly accessible to all players and is much more affordable than the $19.99 per month when comparing Fender Play vs JamPlay or Fender Play vs Guitar Tricks.
What's Included with the Service?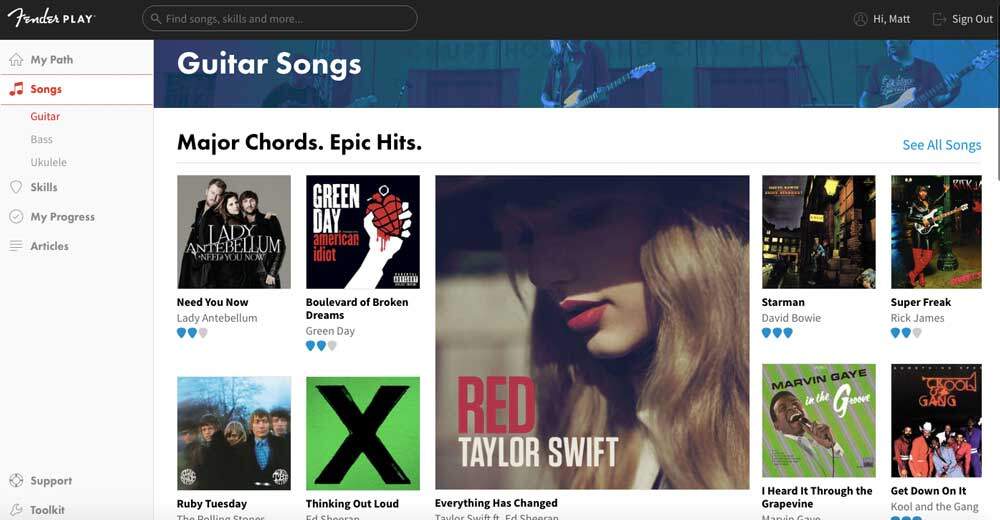 Before you decide whether this lesson plan is for you or not, you may be wondering: How long is the Fender Play free trial?
Everyone gets a free two weeks period when signing up to look around, check out videos, and become familiar with the set-up which can be really useful when shopping around for the right fit.
If you go out and buy a Fender or Squier guitar to learn on, that two-week trail can get an additional free 6 months of Fender play which can save you a ton of money and add significant value to your new instrument purchase.
Once you've signed up there are number of great tools and lessons available to you including guitar, bass, and ukulele tuners, informative articles, gear demos, along with the video lessons.
In addition to enjoying the easy guitar lessons for beginners, you can also skip ahead to browsing their list of popular song lessons including hits ranging from Marvin Gaye to Taylor Swift to The Rolling Stones.
By hand count, it seems there are around 700 song lessons for guitar, bass, and ukulele, however some of these lessons are only the main riff and not the full song.
Overview of Fender Play Features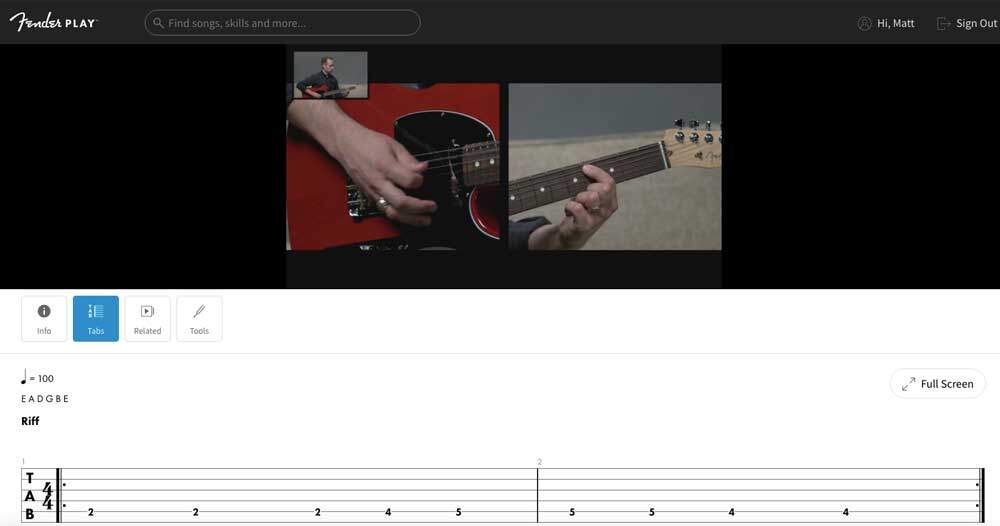 The best feature about Fender Play has to be in the in depth and easy to follow lessons you'll find under the "My Path" tab on the left side of the screen.
The "My Path" section walks you through 5 levels of lessons that get more and more difficult as you progress mixing in basic guitar lessons such as chord and scale structures with famous guitar riffs or songs that demonstrate their usage.
One of our favourite parts of these levels was how informative they were about guitar technique such as telling you the importance of strumming right as opposed to only telling you that you need to strum correctly.
You learn how to play music as well as the guitar
The inclusion of famous songs and riffs in the lessons as you learn also should help motivate students and keep them focused on learning how to make music with the guitar, not just how to play the guitar.
Each video lesson has helpful and accessible tabs below the lesson screen for tags, tools, and external links as well as three screen images to help you learn.
One screen focuses on the picking hand, one on the fretting hand, and a smaller one shows the whole video.
Tutorials & How To Access
Fender Play guitar lessons are incredibly easy to access by visiting www.Fender.com/play or simply searching "Fender Play" on your preferred web browser.
Furthermore, this site, like most, requires no downloads and takes up no valuable desktop or application space on your computer.
Conveniently, Fender Play also has an app meaning you can learn on a phone or tablet and take lessons to go if needed.
Fender Play: The Good and The Bad


Fender Play Review – Key Points
What We Like
Beautiful, sleek website design
Streamlined, linear lesson plans
Affordable monthly subscription ($9.99)
Fast growth rate in terms of songs/lessons


What We Don't Like
Some "song" lessons only teach main riff
Only 5 genres of music on song lessons page
Can't slow down video lessons
Some video lessons are too short


Online Guitar Lessons Alternatives
As you'll find in our other reviews of TrueFire, ArtistWorks, or Guitar Tricks, there are many different options out there for guitar students looking to learn online.
Fender Play is no doubt a great choice with its modern, easy to access web design and streamlined lesson plans, but it does lack some of features of the other sites.
JamPlay has drawn raves reviews for the number of famous musicians who have recorded lessons on how to play their own songs or techniques and all three of those sites have a much longer history of success and peer review.
Ultimately, the choice will come down to what instructors or web page you find most engaging, for me, that was Fender Play.
Final Thoughts: Does Fender Play Offer Good Value?
Ultimately, I find Fender Play to be growing rapidly, as the number of song lessons seems to have doubled since I first visited the site over a year ago.
Fender Play simply has one of the easiest to follow and aesthetically pleasing web sites out of all online lesson options, something that is sure to attract and engage visitors.
Fender Play simply has one of the easiest to follow and aesthetically pleasing web sites out of all online lesson options, something that is sure to attract and engage visitors.
You get a free kick-start, and an affordable subscription
When you combine the two-week Fender Play free trial, 6-month subscription that comes with new Fender guitars, and the affordable $9.99 a month cost, there is just a ton of surplus value here.
The lessons are shot with high definition video quality and feature a young, diverse, and exciting array of instructors that represents the modern-day guitar community phenomenally.
Overall, I think Fender Play has the potential to be the best of all four sites mentioned if it continues to add songs and lessons at this rate making it the most fun and educational site for online lessons.

Get 50% Off Fender Play >> Use Code "learntoplay50"
USER INTERFACE

LESSON TOOLBOX

LESSON QUALITY

SONG OPTIONS