Who wins the fight between Fender Play vs Guitar Tricks? Find out which legendary brand provides more punch per dollar in this in-depth article!
Fender Play vs Guitar Tricks, Which Legendary Brand is Superior?
Quick Comparison:

Membership Fee: $9.99/Month


Famous
Teachers

Yes

Diverse
Toolbox

Yes

Large
Library

No

1-on-1
Lessons

Yes





Membership Fee: $19.95/Month


Famous
Teachers

No

Diverse
Toolbox

Yes

Large
Library

Yes

1-on-1
Lessons

Yes


We hope you find this article helpful, informative and unbiased. Just so you know, we may receive compensation if you use the links on this page. If you do, thank you so much!


Regardless of Price, Which Site Provides the Better Guitar Lessons?
While Guitar Tricks has long been one of the best guitar lessons sites out there, Fender Play is a far more recent addition to the competition.
Both sites offer a ton of options to keep beginners or experienced players engaged. Like Guitar Tricks, Fender Play employs a ton of different instructors and gives you lesson choices based on techniques and genres.
Fender Play does come for free for 6 months with new Fender/Squier gear however. This may make it a bit more accessible for some beginners who just purchased their first guitar.
Let's dive into the specifics and throw Fender Play vs Guitar Tricks in this side by side comparison!


Breaking Down the Battle Between Guitar Tricks vs Fender Play
Before we get started, let's go over how we're going to compare and judge the two sites against each other.
We'll be comparing both the features and appearance of the websites as how we imagine a beginner and an experienced player will view them.
For example, an experienced guitar player is more likely to be impressed by the number of songs or technical lessons available while a beginner will be looking for an easy to follow set of introductory steps or lessons.
The major criteria will be:
how easy it is to navigate each page
how many features and lessons are available
and how easy each video is to follow.
Hopefully, taking a look at these features will help you decide whether Guitar Tricks or Fender Play is right for you!


Guitar Teachers and Basic Lesson Plans
No matter how easy the user interface is, the site will ultimately only be as good as the teachers who are teaching the lessons.
This hinges on the teacher's ability to communicate, the importance of each technique or lesson, and how the subject matter pertains to the overall lesson plan.
Without being able to see progress on the instrument and through each site's student path, beginners are likely to get frustrated, or lose interest.
Furthermore, some guitar players may be interested in getting lessons from pros, touring musicians, or their guitar heroes themselves.
Fender Play Instructors and Lessons

We're big fans of how Fender Play has set up their lesson plans. Fender online guitar lessons can essentially be broken down into two categories:
songs & riffs
playing skills.
Furthermore, you can subdivide these lesson plans by genre.
Want to learn to play rock guitar? Fender Play will lead you through The Rolling Stones' and Foo Fighters' hit singles to show off the basics of electric guitar playing.
Fender Play's basic lesson style is built around their "My Path" feature that has tons of excellent features built into the user interface to get you learning quick and easy.
On the instructor side, Fender has excellent in house instructors but is always featuring famous guests from across the guitar world in live videos or pre-recorded lessons.
It doesn't have any featured famous instructors like some competitors, but you will certainly see high profile Fender users pop up now and again.
No Fender guitar lessons review would be complete without mentioning how nicely this site pairs with their wonderful beginner line of instruments, the Squier Affinity Series.
For more info read our complete Fender Play review here.
Guitar Tricks Teachers and Plans

The most important part of this Guitar Tricks review has to be the core lesson plan. Guitar Tricks, much like Fender Play, doesn't have any resident rock stars on the instructor staff.
While they also provide live video lessons, you're not as likely to find as many popular musicians popping in. On the other hand, Guitar Tricks has long been a popular, trusted source of lessons because of the quality of their instructors.
It may be no-frills, but their linear "core lesson plan" helps breed familiarity. The same instructor takes you from the beginning steps of your lesson plan until the end.
These lessons are still engaging, and most importantly informative. Ultimately, while Guitar Tricks may not have the shine of the newer Fender Play, it is the time trusted and reliable. Guitar lessons by Guitar Tricks will not let you down.
Winner: GUITAR TRICKS

User Interface – Your Online Experience
When learning guitar, there are enough small things to frustrate and discourage you enough to quit altogether. One thing that can easily make it worse on a student is a hard to navigate website or lesson plan.
Even for experienced players, you don't want to have to spend too much time trying to find your way around the lesson page or website.
Fender Play's Site

The user interface is a real highlight of this Fender Play review, and is quite modern and sleek. Helpful buttons like "how it works" and "start your free trial" make it easy to find starting points.
For mobile users, there is also a Fender Play App, which helps broaden the opportunities for students to practice. Fender Play is littered with helpful drop down menus and a prominent search feature.
While it does miss something like a clear "start here" pathway, most everything else is very user friendly.
Guitar Tricks' Site

For this Guitar Tricks review, we think the winning feature is the helpful "start here" buttons that then clearly show the lesson paths.
It's very easy for Guitar Tricks users to figure out where to start and where they will be going next. Plus, retaining the same instructor throughout the path makes it a comfortable experience.
There are great features built into the user interface like the toolbox, pop up tabs, and home button, all presented in big text. Similar to Fender Play, there's a convenient Guitar Tricks free trial feature that quickly gets your attention.
On the other hand, we wouldn't describe the website as sleek looking as Fender Play. At the end of the day though, Guitar Tricks takes the win for the "start here"-type user interface!
Winner: GUITAR TRICKS


Lessons Toolbox
Along with all the videos and great teachers that makes these sites great, the real value lies within the tools they offer via the website.
Things like tabs that pop up next to the video can make the experience even better. We're looking for features like slow down/speed up the pace, built in tuners, or chord finders that are all invaluable to students.
Fender Play's Features

Fender online guitar lessons feature a fairly stripped back video and tab set up. The tool box is certainly not limited however, with tuners, chord charts, and even gear demos alongside lessons and song videos.
When paired with other Fender Play apps like Fender Songs and Fender Tune, you'll be getting the most out of your subscription in no time.
Personally, we like that the tools and tabs are stripped down, only coming on screen when you click on them. You'll find everything you could ever need and more alongside each Fender Play lesson video.
Better yet, we find this function more streamlined than Guitar Tricks.
Guitar Tricks Features

Guitar lessons by Guitar Tricks feature excellent and engaging videos with a nice toolbox of features. Pop up tab, easy controls, and tutorial progress reports are all available.
Furthermore, you can easily slow down or speed up the lessons and tablature on your screen. On the other hand, there are some features missing even with the elevated Guitar Tricks price.
Some features common on other sites but not here include an "ask the teacher" feature or a notes section. Despite the Guitar Tricks cost, we still wouldn't say you're getting a bad deal at all though.
The rest of the high quality features of this website speak for themselves.
Winner: FENDER PLAY


Song Libraries – Does Size Matter?
For more experienced musicians, these sites can be attractive due to their detailed song lessons. No matter where you are in your progression, having access to learning the songs you love is important.
Let's take a quick look over the song offerings from each service.
Fender Play Song Library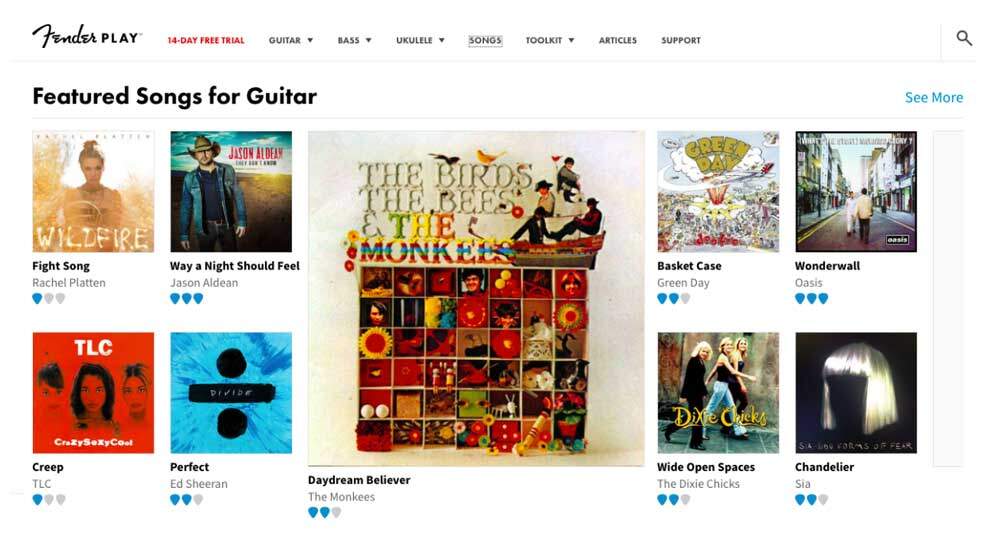 This is where the relative youth of Fender Play may hinder its chances. The website does boast an impressive 500+ song collection that is always growing, but it still lags a bit behind others.
Fender Play seems to focus more on popular hit singles from a diverse list of bands and genres.
The one downside to that is that the number of songs per artist is low, even if the overall song choices are wide and varied.
You'd be likely to find only a few Led Zeppelin tunes for instance compared to the handful of classic Zep tunes found on other sites. However, you can expect this song list to continually keep growing.
The lessons they do have are incredibly effective and engaging. Perhaps the more affordable Fender Play cost limits the song choice.
Guitar Tricks Song Library

Home to one of the largest and most diverse song lesson collections, Guitar Tricks clearly wins this round.
We simply lost count after trying to manually tally all the song offerings, but it certainly beats Fender Play's 500 or so options.
One thing we also appreciated was while Guitar Tricks may not have as many pop-oriented options as Fender, it has more depth to each bigger artist.
You can find more lessons for classic rock, blues, and jazz musicians than just the one or two big hits featured on Fender Play.
When considering the Guitar Tricks cost, this is one feature where the price can pay off.
Perhaps more of that money has gone into the licensing for songs. But the options here are second to none and will keep you engaged in the site long after you've learned the basics of guitar lessons by Guitar Tricks.
For more, read our complete GuitarTricks review here.
Winner: GUITAR TRICKS


Fender Play vs Guitar Tricks Final Recount






(1 / 4)
WINS 1 OUT OF 4 CATEGORIES


PROS
Beautiful, sleek website design
Streamlined, linear lesson plans
Affordable monthly subscription ($9.99)
Fast growth rate in terms of songs/lessons


CONS
Some lessons only teach main riff
Some video lessons are too short







(3 / 4)
WINS 3 OUT OF 4 CATEGORIES


PROS
Beautiful, sleek website design
Streamlined, linear lesson plans
Affordable monthly subscription ($9.99)
Fast growth rate in terms of songs/lessons


CONS
No famous instructors
Few in-lesson tools




In Summary, Fender Play vs Guitar Tricks – Who Wins?
When comparing Guitar Tricks vs Fender Play you surely can't go wrong with either option.
The sleeker, more modern Fender Play may engage younger students, but Guitar Tricks has the longer history of success.
The Fender play review has to get extra credit because you can pair their free trial along with a free 6 month subscription included with a new Squier or Fender guitar.
This gives you tons of free lessons and content, raising the question is Fender Play worth it?
While we think the answer is yes, the time trusted lessons from Guitar Tricks are our final recommendation.
While the Guitar Tricks price may be higher, the volume of lessons and easy-to-follow lesson plan make it the clear winner.


Overall Winner: