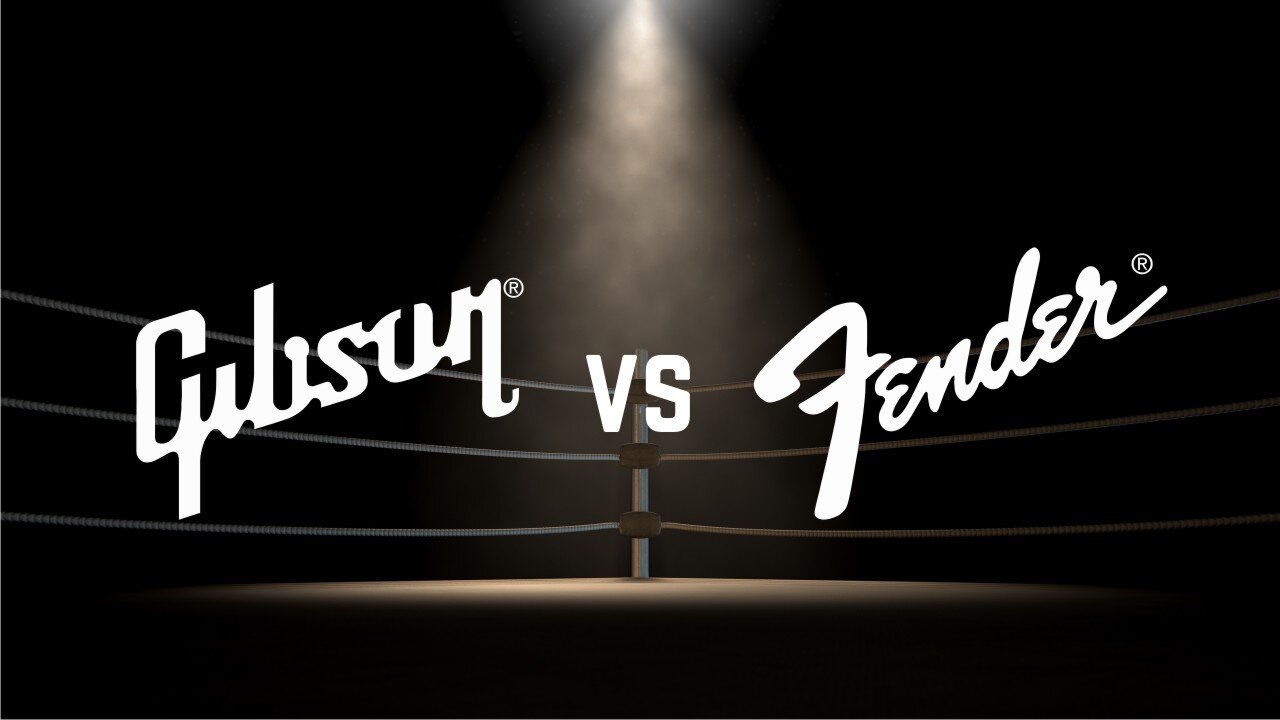 Gibson vs Fender
And In This Corner…
Gibson lovers - who will nearly go catatonic at the mere hint of a beautifully carved top with just the right stripe and hue.
In the opposing corner...
Fender fans who believe their choice of six string razor is the ONLY choice that qualifies one as a knockout guitar player.
---
The ongoing Gibson vs Fender debate is an eternal part of our guitar aficionado community.
Anyone who gets bitten by the guitar bug will develop a burning fever for a particular manufacturer. It's an entirely subjective and intensely personal choice that resonates with their musical senses.
In this case I've singled out the two most prominent players specifically in today's guitar market.
These two massive brands have been as much a part of the history of rock and roll as the iconoclast guitarists that played them. But overall, does Gibson or Fender win this age-old fight?
Who has superiority?
Who's guitars are better?
This article will examine the differences between the two brand's most iconic models that have made each the go-to guitar for many of rock's most famous personalities and inspired guitar enthusiasts for decades.
---
Tone
One of the biggest topics in any Gibson vs Fender debate are the signature tones that emanate from two guitar brands. And of course, any discussion on their respective tones wouldn't be complete without reference the type of tone woods used to construct the instruments.
Starting in the 50s, Fender started using pine and ash. Here's a superb example of one of the best values on the market today that captures the essential sound that first originated from a small factory in California; a Squier Classic Vibe 50's Telecaster by Fender
. Take this modern descendant, make some modest upgrades and you have a killer tone time machine. Read our full review on this fine instrument here.
While pine was certainly light and cost effective, ash gave Fender guitars its signature sound: light, bell-like and relaxed, yet twangy when the player desires that effect. This is due to the malleability of ash wood, which added to the easy feel of Fender guitars. In the 50s and 60s, Fender also experimented with alder wood.
Gibson, on the other hand, primarily uses mahogany for its solid bodies, a much denser wood. This contributes to the thicker, warmer tones of models as the Les Paul Standard. Gibson also uses maple tops on these guitars which imparts a crisp, light sound. When mixed together, they produce the familiar Les Paul sonic footprint.
Find the Best Price!
Build Quality
While Gibson may have been first of the two to be an instrument builder, time, production methods and market stratification have leveled the playing field for both companies dramatically.
Orville Gibson's original vision was to create an aesthetically beautiful superior built instrument, a mandolin, that reproduced the sound he wanted.
Leo Fender on the other hand needed to sell amplifiers so he developed a guitar that was cost effective, serviceable and user friendly for the average working musician of the day.
Here's a really cool vintage video tour of the fledgling Fender Plant in Fullerton:

Totally different approaches, and yet the build quality of each company's guitars remain more or less on par with each other by today's production standards. Using state of the art machinery, they are both capable of producing stunningly superior guitars.
Structurally, the major difference would be Gibson's set neck design compared to Fender's bolt on style. Obviously one is more mass production friendly than the other.
Conversely, a more hands-on approach to marrying neck to body will require more attention to detail, but at a higher cost.
Pickups
You can't have a good Gibson vs Fender debate without discussing pickups, the engine of any electric guitar.
The two companies differ in the type they use.
---
---
The Guitar Body
---
---
---
For guitarists who are uncomfortable with the extra weight, Les Pauls are a huge turn-off but...
Regarding (over) weight issues, the seventies were renowned as a decade for putting out substandard product on both accounts. Fender was using body material which was not within it's normal specific gravity tolerances. Some of the instruments were so heavy they could stay in the ring with a Les Paul any day.
The Neck
---
---
---
It's important to note that original 50's necks, particularly Gibsons, were not just pumped out of a CNC machine. They were each hand carved by very skilled craftsmen who were careful to stay within tolerance but still imparted that random human element.
The resulting neck profiles still had a wide range from instrument to instrument. Do yourself a favour and keep that in mind the next time you're discussing a specific "50's" style neck profile :)
Price Points
With respect to the original incarnations, the advantage has to go to Fender whose models such as the Fender Precision Bass and the Fender Strat can often be less than half the price of a Gibson Les Paul or a Gibson 335.
In the 80's, Gibson released it's dressed down Les Paul Studio series, subsequently re-released in 2013, in an attempt to keep prices more in line with the competition.
Historically, both companies have tinkered with budget friendly, cost effective models to capture market share.
---
---
---
So Which Brand is Better?
Whoever you want it to be.
I know, how anticlimactic is that...
The better guitar is determined by what you're looking for in your axe. If you want the bright, bell-like, powerful sound that has catapulted legends such as Eric Clapton and Ritchie Blackmore to stratospheric heights, go with Fender.
If you want the mellow tone that has defined the sound of rock and roll since it's inception, go with Gibson. Jimmy Page and Tony Iommi sure did.
Whichever corner of the Gibson vs Fender ring you stand in, just know that the right guitar is whichever one makes you a better player.