In this expert review, we examine the best electric guitars under $500 that provide the greatest overall value for beginner to intermediate players.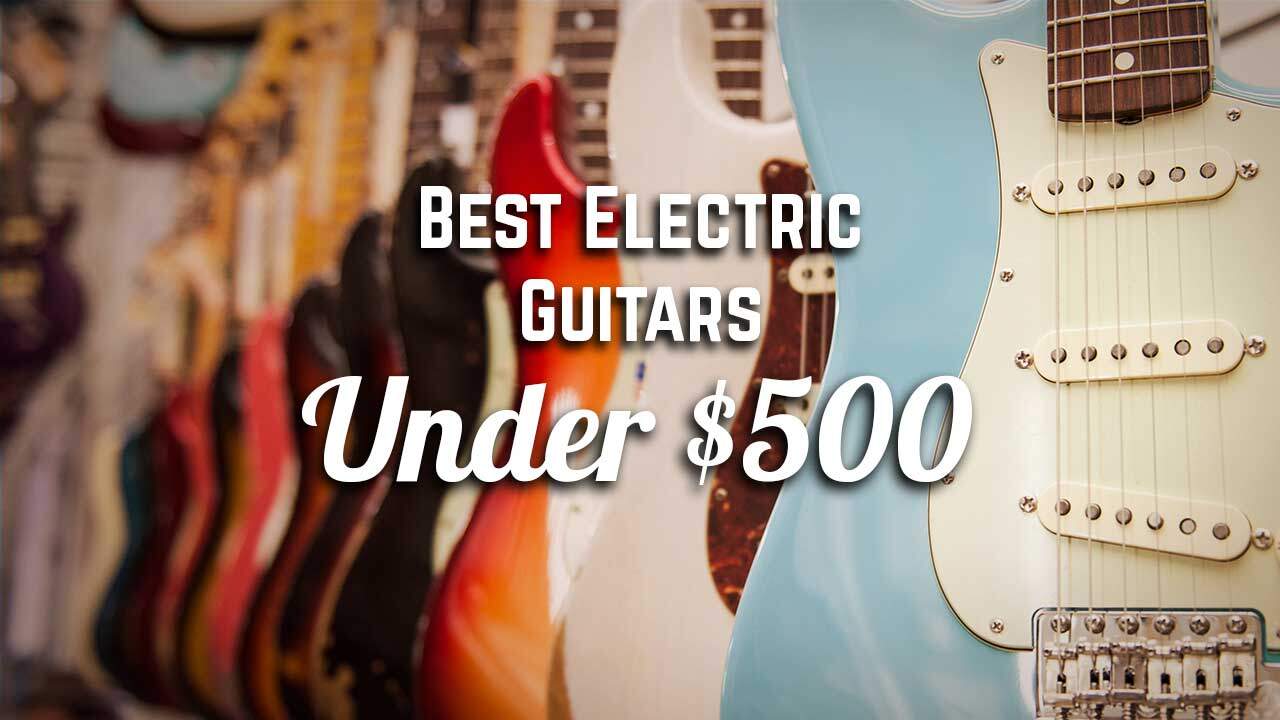 We certainly hope you benefit from the information we provide in this article! Just so you know, we may receive compensation if you use the links on this page. If you do, thank you so much!


What's the Best Electric Guitar Under $500? Let's Find Out!
Budget Electric Guitars at a glance:
| | | | |
| --- | --- | --- | --- |
| Product | Feature Image | Rating | Relative Price |
| #1 Best Value | | | $$ |
| #2 Modern Voicing | | | $$ |
| #3 Most Versatile | | | $$$ |




In Review: The Top 3 Electric Guitars Under $500






1. Best Value: Squier by Fender Affinity Series Stratocaster Guitar
The Squier Affinity Series Stratocaster Electric Guitar is a very affordable electric guitar that beginners and intermediate players can buy. It has a poplar body and maple neck with a radius of 10".
The pickups used for the guitar are three Strat single coils. They're dynamically responsive, clear-sounding  crisp, and provide a rich tone.




The Squier Affinity Stratocaster comes with suitable die-cast tuners good enough to tune the guitar and play it, although there are tuners that are better. The well-crafted maple neck sports a laurel fingerboard with a very smooth satin finish; perfect for moving up and down the fretboard .
The Squier Affinity Series Stratocaster comes in a rainbow of attractive finishes to suit any taste. Considering the parent company's heritage and outstanding consistent level of quality, this is certainly one of the best electric guitar under $500.
A great option especially for those who want an electric guitar that not only sounds good, but looks good as well.





Squier Strat Key Features
Guitar body is made of basswood and has a polyurethane finish
Neck is made from maple and has a radius of 9.5"
Has 22 medium jumbo frets that is on a maple fingerboard
Makes use of single-coil pickups that are Three Duncan Designed
Has a synchronous twin-pivot tremolo
Has controls for volume, tone and a position selector
Available in different colors


Affinity Pros and Cons


Squier Affinity Stratocaster Electric Guitar Review


What We Like
Low price for the great value of the guitar
Looks just like a high end guitar
Frets and neck are smooth and comfortable


What We Don't Like
Difficult to keep in tune with excessive use of the whammy bar
Tuners are not the best quality
Guitar may not be set up and needs to be adjusted to lower the action















2. Most Modern: Schecter C-1 SGR Electric Guitar
The C-1 SGR by Schecter beginner electric guitar has an arched top, carved body with a maple neck, and rosewood fretboard. It has pearloid dots, a custom inlay on the 12th fret, and has black chrome hardware.




This is a great looking guitar that plays excellent considering it's low price. The C-1 SGR by Schecter we examined on our workbench had all the earmarks of great overall value.
Many entry-level guitars can have less than great ergonomic design making uncomfortable to play.
This guitar is shaped with the comfort of the player in mind.







C-1 Key Features
smooth, arched top
pickups are clean and reasonably well balanced
polished black chrome hardware
24 frets for a full two octave span
pearloid dots
unique pattern on the 12th fret
attractive and unique shape
comes with its own gig bag
easy playing, fast action neck


Schecter Pros and Cons


Schecter C-1 SGR Electric Guitar Review


What We Like
This guitar comes in a variety of colors, including walnut satin, electric blue, and midnight satin black
You have 24 frets to work with, so the guitar is going to be able to grow with you as you learn and want to experiment more on the higher frets
The rosewood fretboard is attractive with the pearloid dots and interesting 12th fret design, and it is smooth and easy to play on


What We Don't Like
One of the biggest problems we can find with this guitar is that it sometimes will buzz between frets, therefor a minor setup is necessary
There are other entry-level guitars around the same price that have much better pickups
This is probably not the best choice for advanced musicians, as it is designed to be a beginner guitar









Read our complete expert Schecter C-1 SGR electric guitar review here.






3. Most Versatile: Yamaha Pacifica Series PAC12 Electric Guitar
The guitars that fall under the Yamaha Pacifica Series such as this PAC12 Electric Guitar are well known for their tone as well as how great they are to play. It comes from a well- known brand when it comes to producing musical instruments.
It certainly qualifies as one of the best electric guitars under $500 for those who are looking for a guitar with a great quality of sound.




This Yamaha guitar comes in different colors and there are also different models that are under the same series. They can also be purchased as a set with accessories, with the amp only, or a guitar only.





Yamaha PAC12 Key Features
Body is made from solid alder
The neck is made of maple and is bolt-on
It has a beautiful rosewood fingerboard
It includes a vintage tremolo
Finished with a clear varnish to showcase the natural grain of the wood
Has a 5-position pickup switch with humbucker coil-splitting
There are 2 single-coil pickups and an Alnico V magnet humbucker
Guitar can be purchased as the guitar alone, with a set of accessories or only with the amp


Pacifica Pros and Cons


Yamaha Pacifica PAC12 Electric Guitar Review


What We Like
Low action makes it easier for beginners to use and practice on it
Materials used for the guitar are properly built to make sure they are durable


What We Don't Like
Initially set up for low action which causes some fret buzz, but this can be remedied by having it properly set up by a local music store
Doesn't include other accessories such as an amp, picks, guitar cord or a stand









What To Look For When Choosing A Good Electric Guitar Under $500
The best way to learn how to play an electric guitar is to have a decent instrument that you can practice on. At first it may seem that some electric guitars are too expensive, which is why some choose to go for a self-contained acoustic.
If you're committed to learning and playing an electric guitar, you'll certainly find one that will fit your $500 budget.
There are tons of electric guitars are under $500, but you still have to make sure a particular electric guitar you choose is well suited for you.
There are electrics that not only sound great but look great too – but keep in mind cosmetic appointments come at a price. Still, these are instruments you'll certainly be happy to take with you to your gigs and jam sessions.
Of course there are electric guitars produced by well-known brands; these may be budget friendly, but they're still great quality.
When selecting a guitar, it's important to consider how you're going to use it. It must It must also be user friendly and easy to play. This will help make sure the guitar you choose will really be useful to you.


Compare your best choices for electric guitars under $500:








Final Verdict: Which Mid-level Electric Guitar Promises the Best Value?
Affordable guitars under $500 are available today and you can find a great quality model within that budget.
The three mentioned here are all under $500 but if we just had to choose one, we'd say that the Squier Affinity Stratocaster Electric Guitar is the best electric guitar under $500.
For those who are concerned not only with the sound and quality but also the appearance of their guitar, this guitar can certainly be taken to gigs and jamming sessions.


EDITOR'S PICK





What are Squier Strat Owners Saying? >>


Overall Build Quality

Overall Sound Quality

Overall Value Factor


Top Guitar Accessories: