In this Yamaha Gigmaker Guitar Pack review, we'll take a look at the Gigmaker package as a whole to help you decide if it fits your needs.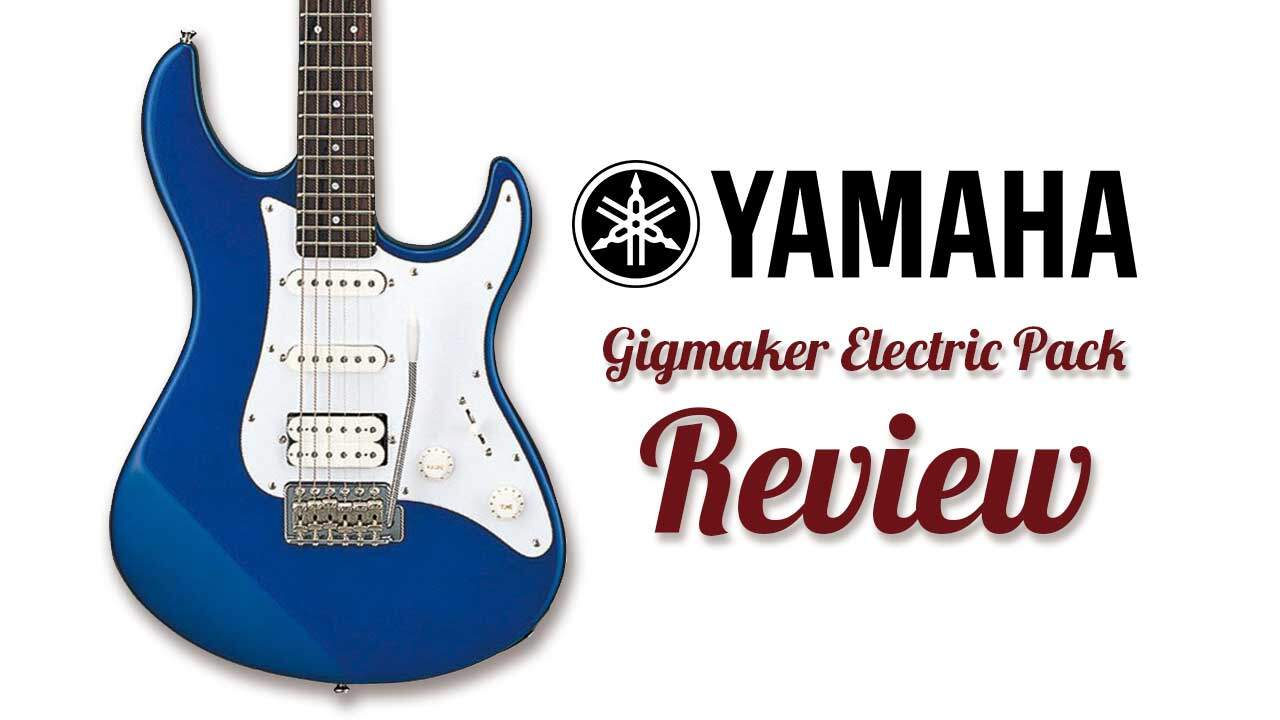 We certainly hope you benefit from the information we provide in this article! Just so you know, we may receive compensation if you use the links on this page. If you do, thank you so much!


Gigmaker Guitar Pack by Yamaha Review: Why Are Users Rating it 4.6/5 Stars?
Yamaha Gigmaker PAC012 Pack at a glance:





When many folks start researching electric guitars, they're shocked to find how many options are out there beyond the ever-famous Fender and Gibson. For instance,
Yamaha may be best-known for their motorcycles, but they're also one of the world's largest producers of electric guitars. They offer a wide range of quality amplifiers as well.





One of their more popular electric guitars is the Yamaha Gigmaker PAC012. The PAC012 is from Yamaha's celebrated Pacifica series.
This guitar alone is an affordable and effective choice, but a Gigmaker purchase actually comes as a package deal built for people who want to hit the ground running.
You can get everything you need from a single source including an electric guitar, an amplifier, guitar picks, a strap, carrying bag, and more.
This comprehensive approach makes the Yamaha Gigmaker a great guitar pack for those first starting out, those who don't want to shop around for an amplifier and accessories, or as a gift.
In this Yamaha Gigmaker review, we'll take a look at the Gigmaker package as a whole to—hopefully—help you decide if it fits your needs. First, we'll explore some of the features of this guitar followed by the pros and cons at a glance.


The Heart of the Gigmaker: the PAC012 Pacifica Series
The essential component of the Yamaha Gigmaker package is the guitar. The PAC012 of the Pacifica series is the most basic Pacifica guitar in the range – but this doesn't mean it doesn't have the power and functionality needed to take your playing to the next level.





This guitar comes with master volume controls, master tone controls, two single pickups, and a humbucker pickup. The Pacifica series first made its entrance to the guitar market in 1990. Its popularity continues to increase with musicians.
The unique design of the PAC012 incorporates a range of different design genres. It's a beautiful guitar that is recognizable to almost any guitarist.


Available Variations:


A Comprehensive Guitar Package
Another significant benefit of the Yamaha Gigmaker is the additional items and accessories included in the package.
The 15-watt Yamaha amp provides plenty of power for the included guitar – it's also very portable if you plan on playing on-the-road. An amplifier cable is also included in this package.
The strap and travel bag ensure safe storage and use of your PAC012, and if that isn't enough, the guitar picks and instructional DVDs ensure you have everything you need to get started right away.


A Trusted Company with a One-Year Warranty
Yamaha is an extremely trusted international manufacturing brand. They're a great choice if you're looking to work with a reputable guitar manufacturer. Best of all, they include a one-year factory warranty with all their guitars.


How Does the Yamaha Gigmaker Sound?
Despite the PAC012 being one of Yamaha's cheapest guitars, it's actually well-known for having great sound. The guitar provides clear sound at a range of volume levels.
While it doesn't have as much power as more expensive guitars, it's definitely a good value – especially if you're a beginner.
However, if you're an advanced guitarist, you're more likely to prefer a guitar that packs a little more punch than the Gigmaker.




What's the Build Quality Like?
The build quality of the Yamaha PAC012 is solid. Yamaha uses strong materials that have been extensively tested over time.
There's a reason the company is so successful at selling guitars on the mass market — Yamaha knows how to manufacturer attractive and reliable products.
The staying power of their FG acoustic guitar series, first introduced in the mid 60's, is proof that the company is committed to manufacturing superior quality guitars that last.



Pros and Cons


Yamaha Gigmaker Electric Guitar Pack Review


What We Like
Great value for money
Included accessories and amp provide you with everything you need to play
Smooth, attractive design
Sound quality much better than other guitars at the same price point
Backed with a solid warranty
Manufactured by Yamaha – one of the best guitar companies on the planet


What We Don't Like
Better for beginners than experienced guitar players
Not as much sound power or features as more expensive guitars








Compare Featured Manufacturer Packages:






Verdict: Should you buy the Yamaha Gigmaker Guitar Pack?
At the end of the day, you can't go wrong with the Yamaha Gigmaker Electric Guitar Pack. if you're looking to start playing the guitar. We recommend this package for people who are trying to find an affordable entry point to the electric guitar market.
The accessories included in the Gigmaker package also offer the opportunity to save time and money making it a great gift for someone looking to start their music career.
However, if you're someone with vast experience playing the guitar, you may want to look at more expensive options. Additionally, if you're planning on performing in front of large crowds or public spaces, you'll need something more powerful.

Check Yamaha Gigmaker Guitar Pack Availability! >>


Build Quality

Sound Quality

Value Factor
---
Manufacturer Info:
Website: https://www.yamaha.com/en/
About: Yamaha's history began when its founder, Torakusu Yamaha, repaired a broken reed organ in 1887. Shortly thereafter, he successfully completed the first reed organ to be built in Japan.
---
Remember the Accessories!