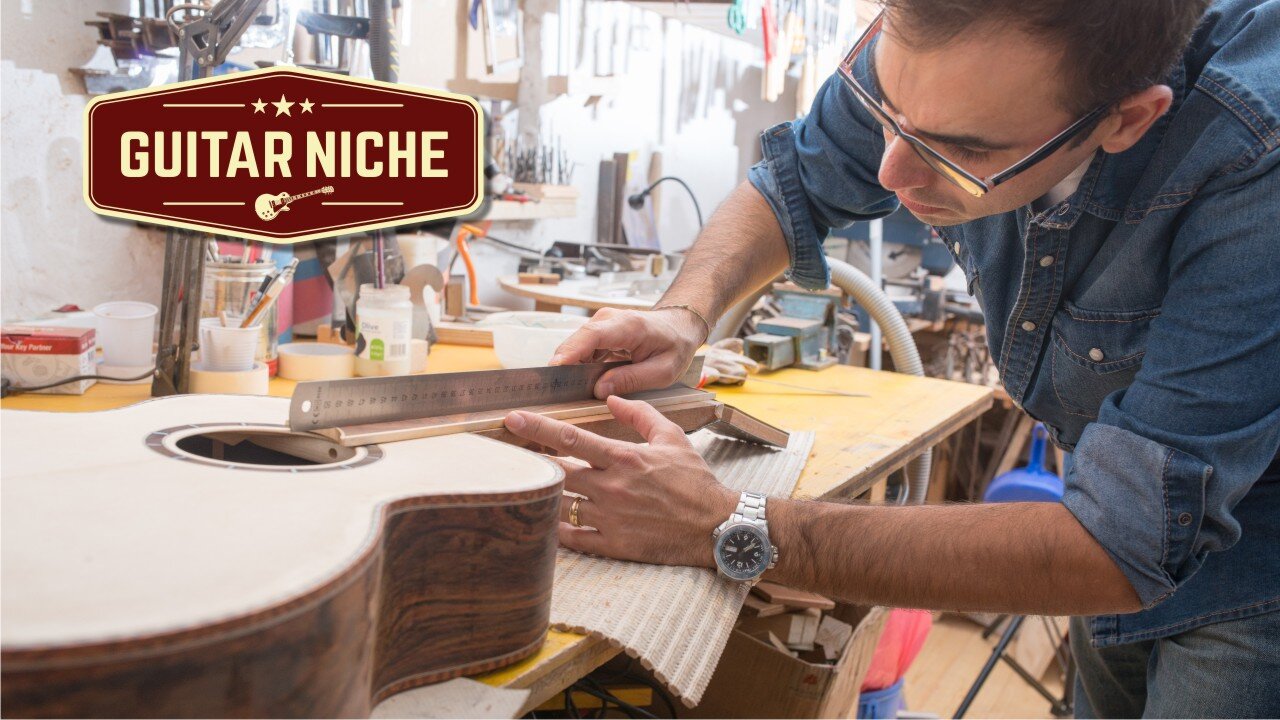 ---
What Is A Luthier?
From Webster's:
noun lu·thi·er

Definition of LUTHIER: one who makes stringed musical instruments (as violins or guitars).
---
Being a fairly broad statement, let's put a finer point on it…
By today's standards, there are newer, modern levels of luthery that all stem from the same basic principle: having a complex intimate knowledge of the building process from which the instrument is derived.
Sounds easy enough.
Many guitarists have had dreams of opening up their own shop, handcrafting exquisite guitars at their own pace, and selling them at their own prices.
Glorious.
While luthiers do just that, there is a lot for one person to learn before they get to that point.
This post will tell you exactly what a luthier is, provide sources for online and live instruction, the luthier tools that you'll need and where to get them, as well as how to get started in the guitar building business.
You will also find that most luthiers will specifically work on instruments that they can also play well. For example, those who work on guitars should also be expert-level players.

---
Are You A Luthier Or A Technician?
One of the main differences between a guitar luthier and a technician is that a luthier makes their own guitars.
Technicians mainly work with guitars that are already made and focus on the finessing an instrument to it's maximum point of playability.
Unlike some luthiers, technicians typically have the expertise to repair both acoustic and electric guitars. Another difference between a luthier and a technician is in their work place.
While a guitar technician may work in a guitar shop or for an instrument manufacturer, luthiers are usually found either in their own one-man shops or in a factory that creates one-of-a-kind guitars.
With new technologies such as CNC, 3D printing, and the ever expanding availability of unique products through the internet, new micro builders are popping up every day as their operations become more cost effective.
The off-the-shelf component nature of electric guitar suppliers such as Allparts and Stewart MacDonald have helped create a whole new sub-type of guitar builder that could even be referred to an "electric luthier".
Fun fact: Leo Fender, guitar inventor, consummate musical entrepreneur and creator of one the world's premier guitar companies that still bears his name – never knew how to play guitar.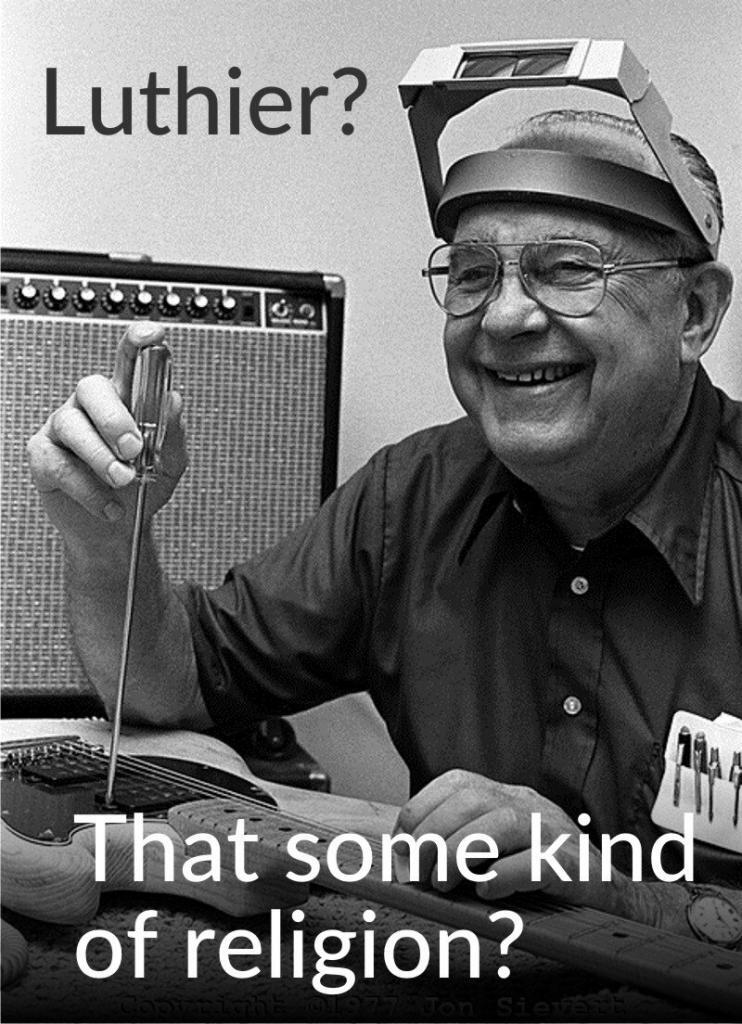 How's that for irony?
---
Where Can You Learn To Be a Luthier?
There is no specific process for becoming a luthier in North America. Many apprentice with the luthier in their local area until they know enough to go out on their own. Others attend a luthier school, either online or in their local area.
Live training programs can come in the form of demonstration-only classes or a vocational-type atmosphere where you come to class every week to learn a certain aspect of guitar making in a hands-on manner.
Live luthier training classes are located in over two dozen north american locations. Many of them hold classes and sessions that last no more than a week. This would be beneficial to someone who wants live instruction but does not live in a state with a luthier school.
If you don't live in an area that has live luthier instruction, another option you have for learning the trade is online classes. The Guild for American Luthiers has a comprehensive list of online courses and instructors that are vetted by them.
Another great source of online luthier instruction are the courses on Tom Bills' website The Art of Lutherie. Bills features plenty of tips and tutorials for beginners and experts alike. The courses that he currently features on his website are "The Art of Guitar Design", "The Art of French Polishing" and "Guitar Physics & Design".



---
Tools You'll Need to Start Making Acoustic Guitars
As a luthier, you are going to require a variety of tools in order to create the not only the instrument itself, but the aesthetic effects you want for your guitars as well. The luthier tools you'll need to purchase include the following:
Many of the tools can be purchased directly from suppliers such as Luthiers Mercantile.
If buying brand new luthier tools turns out to be too pricey for your budget, purchasing your tools on eBay can certainly be one option. As you do with all of your eBay purchases, make sure that whatever seller you deal with is a trusted entity on the website with a good feedback score.
---
There are also a number of excellent publications that will help guide you in the primary elements of structure, tone woods, design, sonic response and best building practices. Electric Guitar and Bass Design by Leonardo Lospennato

 is an excellent primer for getting started.
---
If the more technical approach is your taste, one of the benchmark publications – and one I have completely destroyed from constant use – is Dan Erlewine's shop staple: Guitar Player Repair Guide – 3rd Edition

.
---
If handcrafting guitars is your passion, the good news is that there are many paths you can take to get from student to master.
Whether you decide to take a certificate course, learn from online classes, or ask every luthier in your local area for an apprentice position, your options for creating a business for yourself in this field are numerous.
The deciding factors will be the time you are willing to invest, and your own faith in your ability to build something extraordinary; to bring something new and exciting into the world of guitar. Being persistent, detail-oriented and infinitely curious are your keys to eventual success.