Can you still make money playing guitar regardless of what's going on in the world? Here are 7 ways we found to answer that question!






Do You Still Have Opportunities to Make Money Playing Guitar?
In the wake of the Coronavirus pandemic, musicians have had to scramble to continue to find work. Concerts and live performances are at a stand-still, with no end in sight as to when we can resume being able to go to a live show.
The online world has become saturated with creative ways that guitar players have discovered and implemented to continue working. Here are some great virtual opportunities that guitar players can take on so they can keep making money right now.


1. Do A Virtual Live Show
Though you can't pack an auditorium to be on stage and perform a live show, guitar players can still find ways to do virtual performances.
Hosting your own premiere streaming event with other musicians and executing proper social distancing, you can easily market and gain viewership with your intended audience.
You can take things a step further and have a pre-sale for "seats" to see the concert from at home, ensuring that you will be getting compensated for your efforts.
If you performed with a band previously you could dub this a "virtual reunion" of sorts. Many of your followers will be interested in watching the group perform together again, and wouldn't mind paying to listen to your music.


2. Fundraising Opportunities
You can use crowdfunding programs like GoFundMe or Kickstarter, but sometimes just hosting your own fundraiser for yourself or your band can go a long way.
You can even make a game of it, such as whoever donates the most to your fundraiser gets to pick the set list, or have multiple people pick some of their favorite songs for you to play.
As a guitar player you are already creative, so get creative in thinking of how you can easily earn money with a fundraiser.


3. Teach Online Guitar Lessons
So many music teachers and instructors have been pivoting to helping their students by teaching guitar online. You, too, can benefit as a guitarist by offering one and one, individualized online guitar lessons.
This is a great way to not only meet new people but market yourself as more than just a player, but someone who can help others and train them learn the guitar.
You can easily set up weekly, 30 or 60 minute lessons with students that they pay for on a monthly basis up-front, where you can help guide them through their playing.
Depending on your skill level, you can promote yourself as someone to work with beginners to more advanced players.


4. Create Music For Movies Or Television
Musicians have unique capabilities when it comes to creating music, and if you know how to arrange or compose your own tracks, you can easily make money by joining a music licensing agency that helps up and coming artists sell original works for royalty fees.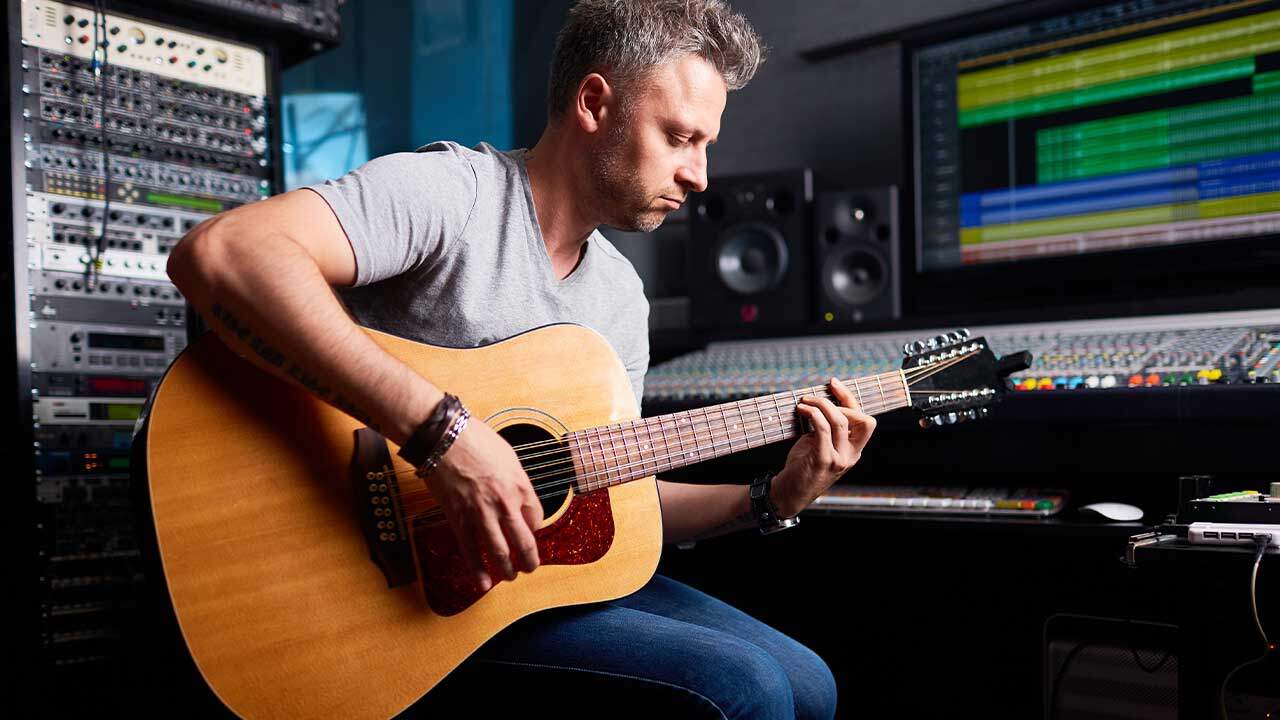 Directors and producers are always looking to have royalty-free music that they can utilize in scenes or backgrounds, and having a custom licensing agency that promotes your work is a great way to earn some money in a virtual setting.
Appearing in the credits doesn't hurt, either, and could open the door for more opportunities with your music as well, so it's a great way to make yourself more visible as well as earning more income.


5. Playing For Private Online Parties
Even with a pandemic, people are still finding alternate ways to throw parties in virtual settings so that people can essentially "get together" for special events.
You could promote your guitar playing services for things like these. Whether it be playing for some sort of virtual dinner party where people want music in the background.
Events such as a special occasions that people might want to have some musical interludes included, like someone who is hosting some kind of talent show or live awards ceremony.
You can offer this as a gift option for purchase, and be there to "perform" online when needed. You could even put together packages that provide music at different times, with different tiers, and so on.
Create your own custom music packages for purchase online. You can compose or arrange in specific genres and sell for small fees, customizing for specific events or occasions. Get creative with your options, giving people more opportunity to invest!


6. Work Online With Other Musicians
A great way to take advantage of virtual opportunities is the ability to work with musicians outside of your location. You can reach out to musicians you may have wanted to work with in the past and see if you can't create music together.
If you're both teaching online, you can put together a masterclass for all of your students to attend together with your guitar expertise. Combining your talents is a great way to expand your reach, and fill your pockets more.


7. Make Some Online Guitar Courses
One last way that you can create income in a virtual setting – creating your own online and digital courses revolving around your guitar knowledge for purchase.
There are so many basic things that people miss when trying to self-teach. Maybe you can eliminate that pain point in your audience and help them learn some things.
Whether it's an online tutorial where you walk through something as simple as how to properly hold and strum a guitar.
There are beginner lessons on how to play, where to find the best acoustic guitar for the best price, or practice exercises to help you with your finger placement.
Even writing songs on your own, you can easily take your well-known guitar knowledge and help others to learn.
---
For example, even guitar legend Carlos Santana has an online guitar course available through Masterclass:









In Closing, If You're Passionate Enough About Playing Guitar, You Will Make Money
Thanks to technology, and learning to embrace it, you can find multiple opportunities to generate income virtually as a guitar player.
You should now have a lot of innovative and creative ideas to help you continue as a musician in today's world. Any of these income streams can continue to serve you even when you get back to playing live again.