Does Martin's LXK2 "Little Martin" hit the sweet spot for beginners looking for a small yet affordable high quality acoustic? Find out in our expert review!

We certainly hope you benefit from the information we provide in this article! Just so you know, we may receive compensation if you use the links on this page. If you do, thank you so much!


Martin LXK2 "Little Martin" Koa Acoustic Guitar Review
The Martin LXK2 at a glance: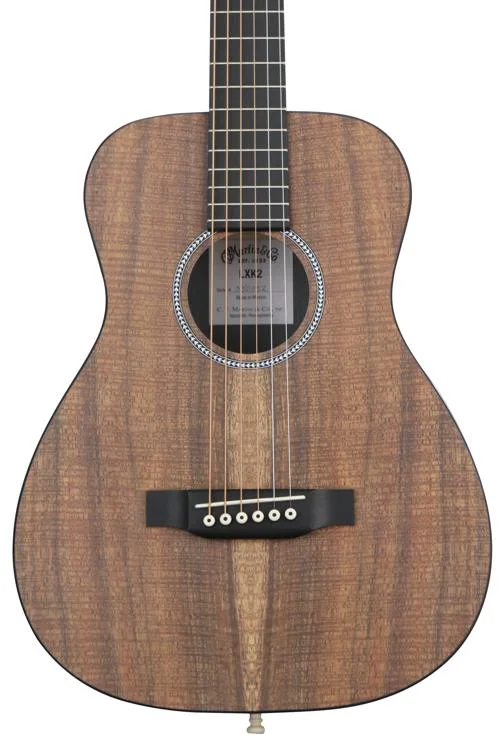 USER FRIENDLINESS

4.5 / 5

Ambidextrous and comfortable scale length

BUILD QUALITY

4.7 / 5

Beautifully built with a stunning Koa finish pattern

SOUND QUALITY

4.5 / 5

Snappy, responsive tones from a compact dreadnought

VALUE FACTOR

4.4 / 5

More expensive, but higher rated than other options


Introducing The LXK2 Little Martin Koa-Grained Acoustic Guitar
If you've ever seen someone play acoustic guitar in concert or on tv, odds are you saw a Martin guitar. In fact, Martin is one of two or three companies that has pretty much set the standard for acoustic guitar excellence since the 1900s.
Now, they've tried to distill that quality and magic down into a smaller stature and smaller price tag. Meet the Martin LXK2 Little Martin Koa Grain acoustic guitar. Built for players with smaller hands, this little Martin is still all tone.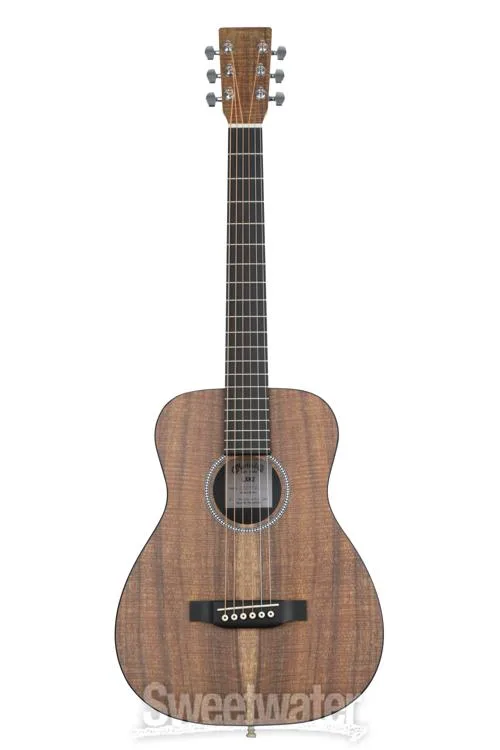 One Of The Best Acoustic Guitar Makers Turns Their Attention To Beginners 
Coming in with a cozy 23" scale length, the LXK2 is a Martin acoustic build for players with smaller hands. Generally, this means beginners, children, or women.
However, the tones hidden in the LXK2 shouldn't be discounted just because of its small stature. The LXK2 Little Martin is built to compete with the many other affordable acoustics targeted towards beginners.
However, the slight increase in price compared to others does come with tonal improvements and a name that should inspire huge trust in the product.


Who Is The LXK2 "Little Martin" Made For?
The short scale length and affordable price tag makes the LXK2 a perfect option for beginner guitarists. The closer distance between frets can make the learning process easier and more comfortable for players of all ages and sizes.
For more experienced players, this is also a superb travel guitar. Thanks to the small size, padded gig bag, and great sounds it makes it easy to write or practice on the road.
The sub $400 price tag also makes it incredibly accessible to anyone who has always wanted a Martin guitar, but couldn't necessarily afford one of the flagship models.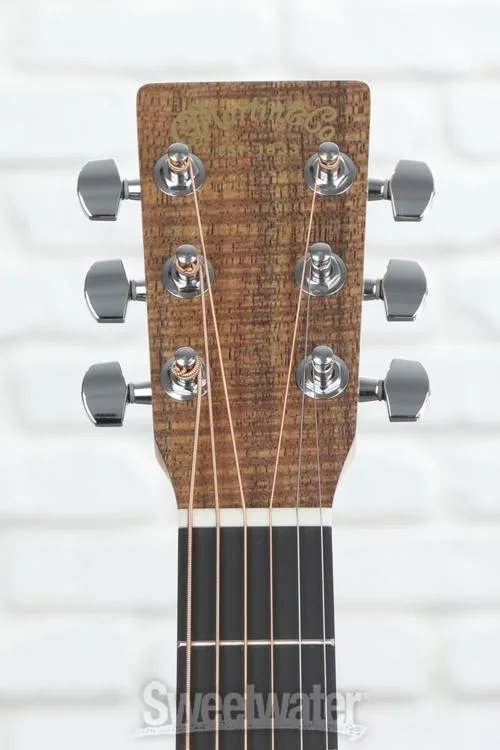 Unboxing The LXK2
Unlike many other acoustics we've written about, this guitar is not sold as part of a starter pack. You won't find instructional DVD's, tuners, or picks falling out the box with your new LXK2.
What you do get however, is a really high quality, padded gig bag. This makes it really easy to bring your LXK2 on the go whether it's to guitar lessons, band practice, or vacation.
However, without some of the better accessories like a strap or tuner, beginners may have to visit their local guitar store before they get up to playing speed.


Going Piece By Piece Through Martin's LXK2
The Little Martin Koa Pattern is built around "1-style" solid Spruce bracing and Koa Pattern HPL Wood. The 23" guitar is a few inches shorter than the standard steel string acoustic guitar, making it easier to reach chords for many players, new or experienced.
The neck is comfortable, consisting of a Richlite fretboard with 20 frets. Like most dreadnoughts, the neck meets the body at the 15th fret, making upper fret access difficult.
Quality Gotoh nickel-plated tuners give the guitar surprisingly strong tuning stability for a beginner instrument. The bridge is also made of Micarta, fixed onto the stunning Koa Pattern top. This is definitely a better looking beginner guitar than most.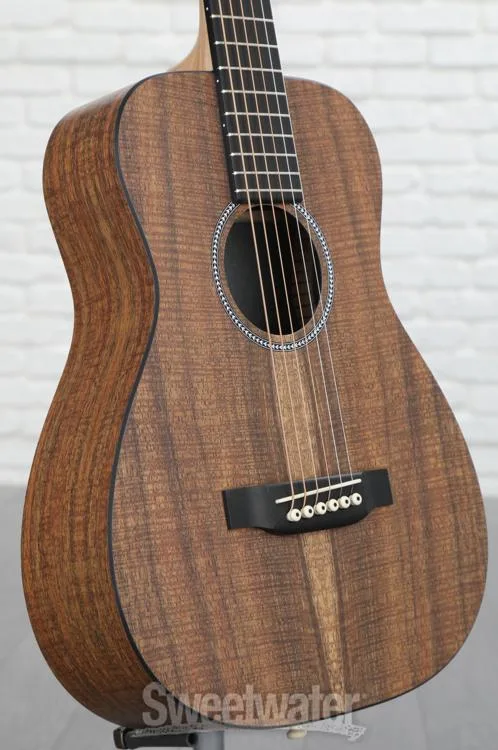 The Martin LXK2 Little Martin is also a sweet sounding instrument, full of the snap and sparkle. It's a touch more responsive than most acoustic guitars geared toward beginners and makes the Martin moniker proud.
Many players also comment on the high volume sounds produced by such a compact acoustic.


LXK2 Key Features
Loud, vibrant tones
Beautiful Koa pattern top
Reliable tuning stability
Short 23" scale length
Quality parts like Gotoh tuners


Getting The Most Out Of Your LXK2
While it doesn't come with all the fancy extras and accessories some of the competitors do, the LXK2 Little Martin is still a fine value.
The sound quality and padded gig bag more than make up for the lack of a strap, picks, tuner, or extra strings.
While you may have to go spend extra money on all these accessories yourself, you'll no doubt be pleased with the sounds you can get.
Check out the demo below to see what you can expect from the Martin LXK2 Little Martin Koa Pattern acoustic.




How Does The Little Martin LXK2 Stack Up Overall?
The Good And The Bad


Little Martin LXK2 Review


What We Like
Beautiful Koa finish
Short scale neck
Great build quality
Legendary brand name
Included heavy padded gig bag


What We Don't Like
More expensive than competitors
Some cheap tone woods
Not sold as part of starter pack






Comparison Shopping
Another legendary acoustic guitar brand, Taylor has their own competitor for the LXK2. The BT2 Baby Taylor packs all of Taylor's rich, acoustic legacy into a smaller, more affordable dreadnought.
In the same vein as the LXK2, you can't go wrong opting for the Taylor option if your heroes or idols preferred this brand to Martin.


A more affordable option, definitely check out the Yamaha JR2 acoustic guitar starter pack. While the guitar isn't held in as high regard as the LXK2, you do get all the accessories and extras you could need.
All of those extras and lower price make the JR2 a far more accessible option for many players and students.


Looking for an affordable acoustic electric? Martin also sells a lovely sub-$500 model called the LX1E. This acoustic electric can serve as a beginner guitar good enough for practice or live shows.
Experienced musicians will also be able to enjoy this short scale acoustic electric, full of rich tones and ready to hit the road!






Final Thoughts On The LXK2 Little Martin Acoustic Guitar
It's really hard to beat a Martin acoustic, at almost any price point. For beginners who want to top quality option, regardless of price, the LXK2 Little Martin is an excellent first acoustic guitar.
The rugged gig bag and vibrant sounds will also make sure you never end up falling out of love or struggling to find a use for this Koa beauty.
It's important to remember that it's a bit more expensive, and doesn't come as part of a starter pack like most competitors.
Even so, it's a high quality, beautiful acoustic that will inspire you to continue to grow as an acoustic player and student.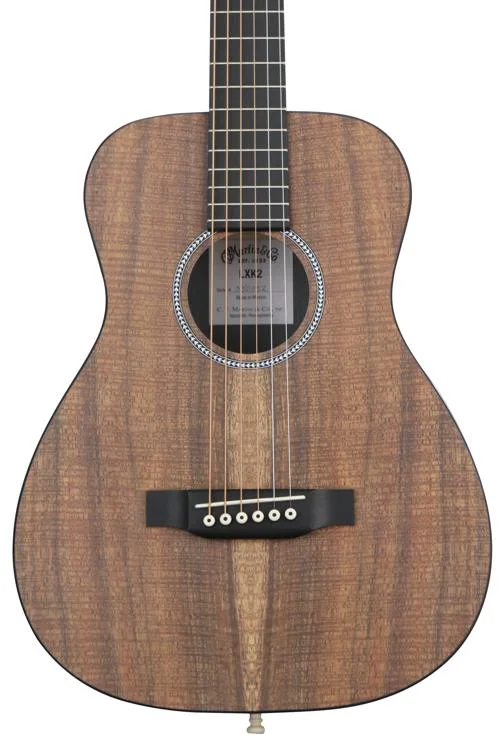 Check Today's Martin LXK2 Price Here >>


Ease Of Use

Build Quality

Sound Quality

Value Factor