Welcome to Part 3 of our Authentic Guitar Setup Video Series on How To Setup A Classic Fender Telecaster. So what's next? Time for teardown!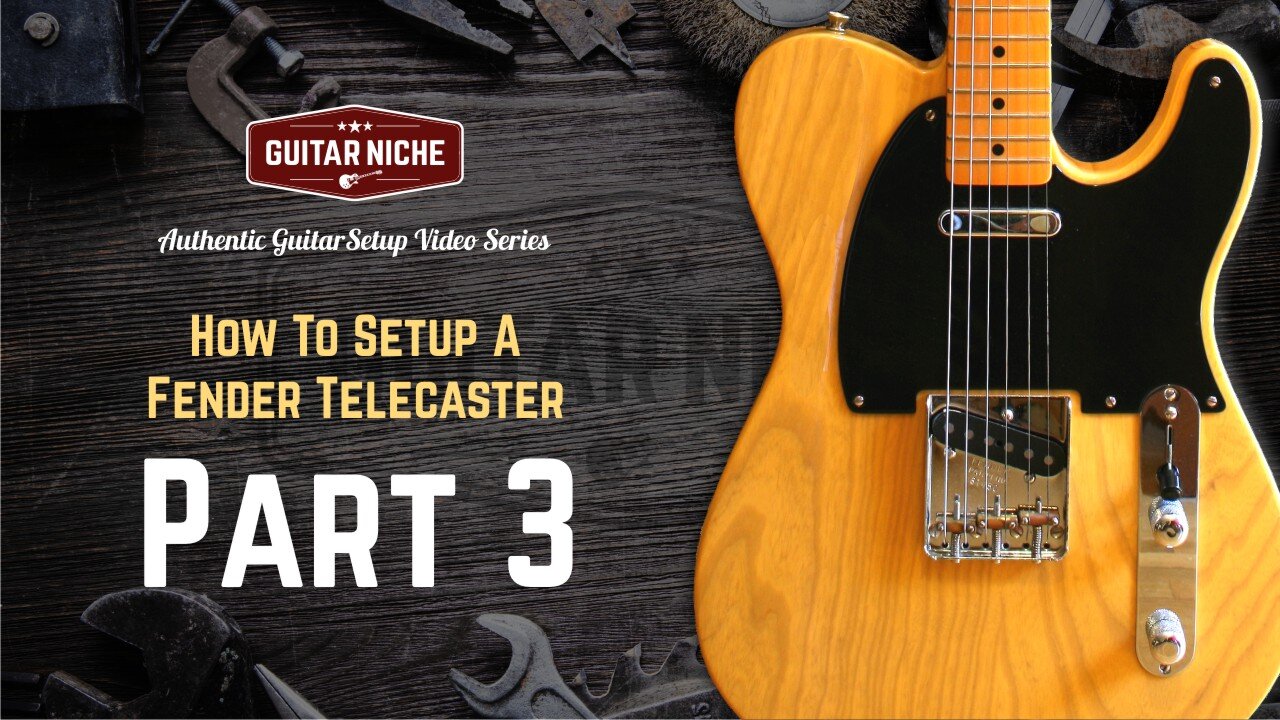 Part 3 of How To Setup A Classic Fender Telecaster.


Housekeeping and Restringing
In order to get this '52 Reissue performing up to it's maximum, we have to knock it down a bit. This way, we get to peek under the hood and have clean access to adjustments that may be hidden.


What's covered in the video:
Tele bridge tweaks

Restringing quickly and efficiently

Neck polish & prep

Beginning critical adjustments


Telecaster Setup Video Tutorial Part 3


Regarding cleaning the guitar's finish, there seems to be a bit of a debate – is it ok to use paper towels to clean the finish or not?
I say, throw the dirt straight in the garbage.
With a background in finishing and polishing, I can tell you with absolute certainty, your enemies are contaminated cleaning materials and a work surface that holds on to fine debris.
Imagine putting a TON of work into a pristine finish only to see it marred by a small shift across a work surface that's abrasive – no fun.
You'll notice my old workbench in the videos is glass.
I keep a small guitar mat under the butt end of the guitar, the neck goes in the cradle and that's it. Glass is super easy to clean of course, plus it keeps me aware of hitting anything with excessive force.





Previously, the best material I ever found for a long lasting safe surface was, believe it or not, velour! The ultra short hair-like fibers keep large particles on the surface for a quick brush off.
They also allow super fine debris to collect under the surface and away from delicate finishes. When it builds up too much, just take a vacuum to it and it releases the dirt easily.
Whatever your work surface, point is, it's all about controlling the cast-off junk.
If paper towels are free of particles that can cause damage – which is easy enough to test inconspicuously – go right ahead, use them.
As far as hardware and such goes, we'll cover cleaning that in another article.
Alright, back to the guitar in the spotlight…
PRO TIP: Want to keep your strings organized while you service your guitar? Use a guitar capo! These things are wicked time savers as well an indispensable musical tool.







What Makes A Tele So Remarkable?
Talk at length with any Telecaster enthusiast and it becomes clear that they occupy a special place among guitar players. Versatility in tone, a rich history and simplicity of design are just a few of the instrument's charms.





From a service point of view, it doesn't get much better – with exception of the vintage style truss rod access, still a pain, but there are workarounds as you'll see. For a detailed look at the complete process of setting up a guitar, check out our How To Set Up A Guitar page.
As always, I have a few comments and stories to share about guitar repair in this next video.


Great Guitars Deserve Great Accessories!
Coming Up in Part 4:
More Tele tips and tweaks including cutting the nut for perfect playability.




Top Recommended Guitar Accessories: