In How To Setup A Gibson Les Paul Part 6, we begin preliminary adjustments that bring the guitar to a state of maximum performance and dependability.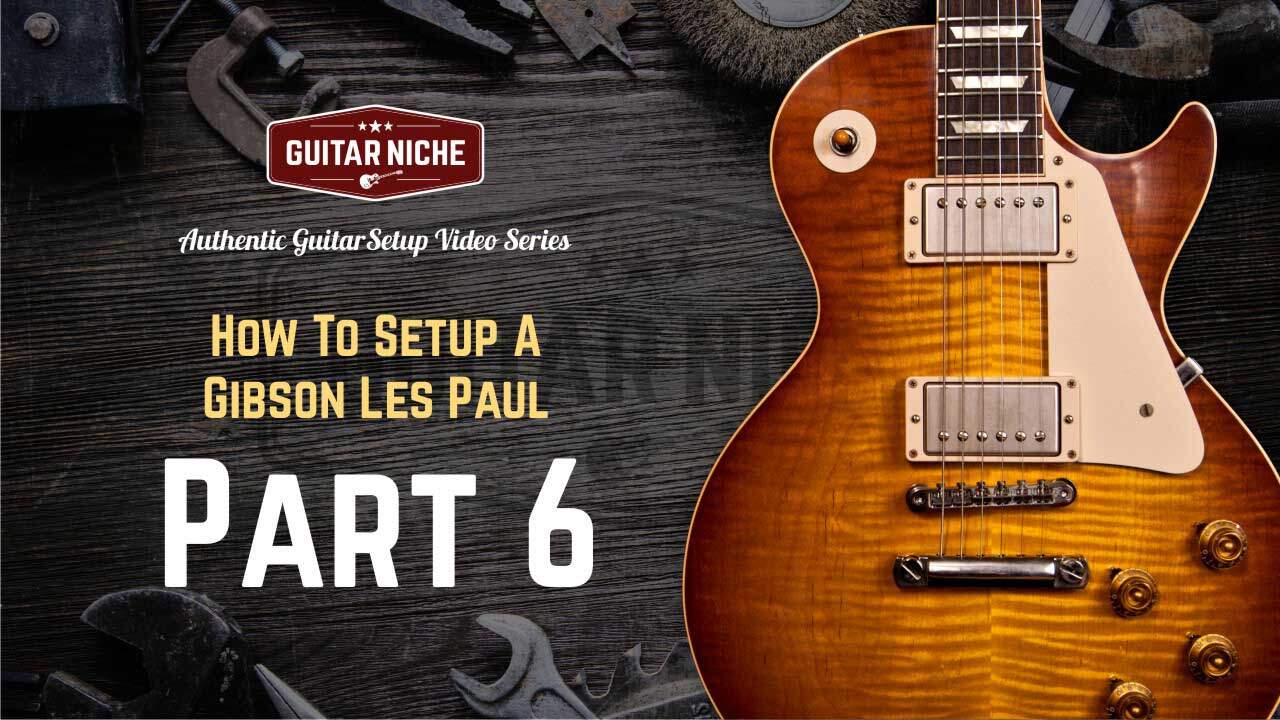 Part 6: How To Setup A Gibson Les Paul. Beginning Fine Adjustments.


What's Covered:
Adjusting pickup pole pieces

Preliminary truss rod adjustments

Setting the string height

Stop tailpiece adjustments
In the last segment, How To Setup A Gibson Les Paul Part 5, we tackled the rather menial but very necessary task of housekeeping. With that out of the way, we can now begin preliminary adjustments that bring the guitar to a state of maximum performance and dependability.


Les Paul Setup Video Tutorial Part 6


Transcript:
Adjusting Pickup Pole Pieces
While trying to adjust the pole pieces here I noticed that this last screw head is just destroyed with corrosion. I'm going to dig that out a little bit with a small screwdriver, a jeweller's screwdriver, of course being careful not to scratch anything in the process. You've got to be careful that you don't damage any of the surrounding area.
I'm going to take that screwdriver again and go around and knock off any of the junk carefully that is any of the wax that popped up and what not. It's pretty clean actually, I've seen a lot worse.
Adjust the pole pieces so that when you look across that pickup face you see a nice gradual arc that would match the radius of the fret board.
On to the next step, we're going bring a little bit more tension into the instrument by tightening up the strings. Not up to full pitch, just inducing some pressure on it. Then we'll look at the look at the end geometry.


Preliminary Truss Rod Adjustments
First we're going to set the height after giving the neck a quick read. It doesn't look too bad, I'm going to straighten it out just a hair.
We are in a bit of a hurry so I'm going to bring the truss rod adjuster towards me to tighten up the truss rod. There is a separate video I did about this that explains how that little mechanism works for you.
Just a small movement, not a quarter turn or anything, just a little judgment turn. You can feel the stiffness of the truss rod, whether it is engaged or not.
If the adjuster is loose and going chatter then you have got to snug it up to the end. If it is really, really tight, you might want to try backing it off and put a bit of 3in1 Oil on the threads.
Set the neck relief as it should be for the player. Different people want their strings at different heights. I'll give you a bit of information so that you'll be able to do that correctly for your own playing style.


Great Strings, Great Results:


Setting the String Height
I've set the truss rod in what I'd consider a good median position. At about the 15th or 17th fret on the bass side, in this case, its the 16th, I want to see is that the height is about the height of two dimes or 3/32″ (.085″ or a hair over 2mm). If you're not sure, get two dimes and look at them. That's your gauge. In our case here, the current height is going to come down a little bit.
And then on the treble side, I am going to look around the same area where the neck meets the body. It's just an arbitrary point that works for me. You can tinker with this and try to figure out some way that may be more specific to the way that you like to get things done.
The 15th fret area works well as a general rule. On the treble side here, I am going to re-situate the string height by adjusting that thumb wheel. I want to see the thickness of a nickel or just a hair over a 16th of an inch (.075″ or 1.8mm).
Keep in mind these are guidelines for setting a starting point, and that point is pretty low. My approach is to start from an ideal low-action position, then compensate for the player's tastes and the instrument's limitations as I finalize setting up the action.
So I have adjusted the truss rod. I haven't talked about the neck yet, but I will get to that. I have made some preliminary adjustments to the truss rod.
The strings are at a nominal pressure. It is not up to pitch or anything. If things are tight and bound up it makes it very hard to adjust these things properly.


Awesome Guitars and Awesome Guitar Accessories!




Stop Tailpiece Adjustments
Now the tailpiece, I have a preference for where I like to see these things. This is ballpark to the fine point. I might make a small incremental adjustment down the road. But this is very much where it is going to wind up as a final position.
Now there is a certain amount of angle break here where the strings transition from the bridge to the tailpiece. That amount of angle. If you tinker with this you will find a sweet spot that works really well for your playing.
Some people want the studs right tight to the body, That's great because the theory is you've got the studs tight to the body and you get maximum transference.
That's awesome. I personally don't notice too much of a difference either way but what I have noticed is that the amount of angle over the saddle that angular break there to the tailpiece can make a really significant change to the overall feel of how the strings play under your fingers.
So it is really worth tinkering at, but be careful because you don't want to wreck the studs, use a proper screwdriver. You can even use a coin that's the right size for a pretty significant slot in this stud.







The treble side it looks good to me and I am going to work on the bass side actually. I am going to be very, very careful with this thing.
Control it. The stud can be under a lot of tension unless you loosen the strings. And watching a flat end screwdriver skate across the top of a guitar is no fun.
There are tools out there that you can use to make sure that you don't slip off and what not. I believe if you are careful enough you wouldn't have that problem to begin with.
I have those slots are in line with each other laterally. It is a nice finish. It just looks pleasant that way. Looking from the end of the guitar I want to see the same angle of the studs to the thumb wheels.
So I can actually see the bottoms of the studs of the tailpiece. I see the same amount of reveal on each side looking straight down the middle of the instrument so that I know that this plane is exactly in line with this plane.
That's just the way I prefer to do it. I have never, ever had any issues with that. I think it works very, very well.
I am going to take a little break and we will come back and we'll look at getting the strings up to pitch. We are going to address the nut and we are going to deal with setting the pickup height, okay. All right, I will be right back.




Les Paul Setup Video Series Contents