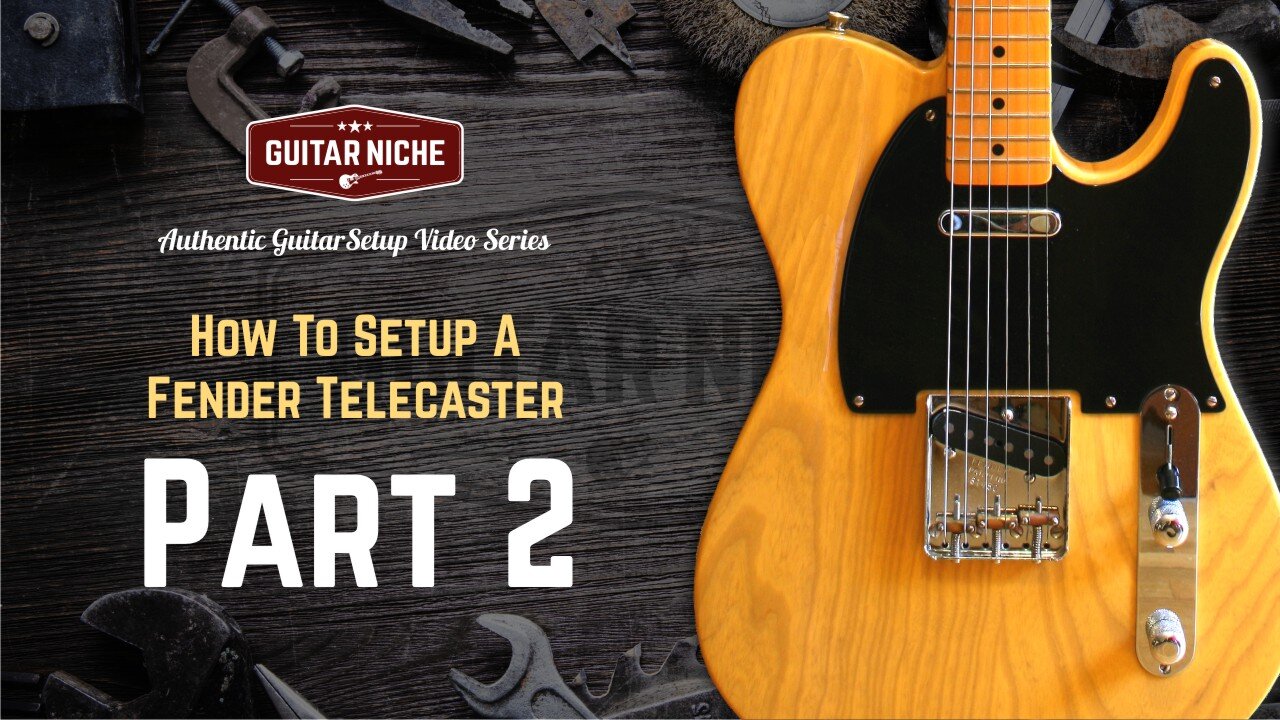 Part 2 of How To Setup A Fender Telecaster.
In this segment, we continue to tackle the job of making this killer '52 Reissue roadworthy.
Teardown and Neck Adjustment
Tearing the instrument down to it's bare essentials is a relatively simple task.
The real trick with setting up a Telecaster, especially these old school Teles, is dealing with screws and hardware that may be deteriorated. The slot screws that hold everything together on a vintage style instrument can be particularly troublesome because of the lack of tool grip.
Pleeeease be careful.
It's VERY easy to slip and wind up with a big headache. Watching a flathead screwdriver skate across a premium instrument's finish is no fun.
For a complete list of recommended tools, check out our Guitar Setup Tools Guide page.
Whether you have an original vintage instrument (lucky you) or one of the fine reissues, they setup just the same.
There are tons of variations on the theme that share this same early family trait:
[su_button url="http://amzn.to/1nuX9OV" target="blank" radius="square" center="yes" background="#e46711" size="8"]Find The Best Price[/su_button]
The recent American Vintage '52 Telecaster, the very fine Japanese FujiGen TL52-75, excellent Custom Shop editions, cost effective MIM models and of course our current 90's era patient.
Which leads to the next question, which one is better?
If you really love Teles, they're all good. If you're a purist, they're still all good - they're Teles!
What's covered:
Tools needed

Removing the old strings

Dealing with a loose ferrule

Adjusting the neck

Tips and tricks to make the job less painless

The U.S. made '52 Vintage Telecaster first hit the market in 1982 and featured the expected 4 numbers stamped into the bridge plate. Later in 1988 it changed to 5.
According to many Telecaster Reissue fans with a broad range of experience, Custom Shop versions such as this [eafl id=2402 name="Fender Custom Shop 1952 Time Machine Heavy Relic Telecaster" text="Fender Custom Shop 1952 Time Machine Heavy Relic"] is about as close as you can get to the real deal.
Of course there are winners in every rendition. I've handled some that were just stellar.
Once in a while you get one in your hands and it just has… that sound, that feel that is just right.
All that without the price gap that will set you back $30,000.00 investing in an original instrument. Think about it, those original beauties have approached the average person's retirement age.
Find The Best Price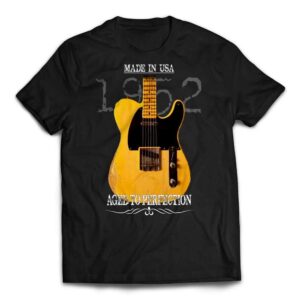 Do you love Telecaster guitars? Do you love vintage Telecaster guitars?... like the original '52 Fender Telecaster?
Of course you do!
What better way to show your appreciation for this iconic instrument than to wear it on a custom tee. Exclusively from Guitar Niche, crafted with care in California.
Order Yours Today!
Coming Up:
A little housekeeping and some preliminary adjustments that get us closer to Tele nirvana.
Top Recommended Guitar Accessories: