What are best DIY guitar kits to consider when you're just starting out? Read our expert guide on guitar kits first before buying one.

We certainly hope you benefit from the information we provide in this article! Just so you know, we may receive compensation if you use the links on this page. If you do, thank you so much!


Finding the Best DIY Guitar Kit for the Money
Great DIY Guitar Kits at a Glance:
Product

Image

Rating

Relative Price

#1 Best Overall Value

$$

#2 Best Budget Kit

No products found.

$

#3 Best Rated

The Fretwire Hollow Body Build Your Own Guitar Kit – Rockabilly

$$$


What You Should Know About Guitar Building Kits
Building your own guitar sounds like a mountain you can't climb, but that's not necessarily the case. DIY guitar kits make it so much easier than ever before.
There's nothing sub-standard about building your own instrument, you can go a long way with even the most basic of kits. Plus it's an extremely rewarding experience.
Typical do it yourself guitar kits are designed to provide the best balance of price, quality of construction and ease of assembly. Most manuals included give clear step by step instructions, so even a first timer can build the perfect instrument.
If you're new to the building process, starting off with a beginner model is always the best bet, because you can a) find out if this really is the instrument for you, b) learn slowly and build up, and c) improve your guitar setup and customizing capabilities.
If you have some experience putting things together and aren't afraid of a challenge, you may be interested in building your own fully customized instrument. This article on how to build your own custom guitar will certainly give you an idea of what's involved.


What Exactly is a DIY Guitar Kit?
As the name would suggest guitar kits are pre-organized assemblies which contain everything you need to build your own custom-made guitar, including all hardware, electrical parts, and instructions.
A good quality guitar kit will have all holes pre-drilled and all electronics pre-assembled ready to go. Plus there's no need for drilling or soldering; all you'll need is a few modest guitar tools  – a couple of screwdrivers, a small assortment of allen keys, and perhaps a small adjustable wrench.
Guitar building kits are not only for novices, they are also for experienced musicians too, and the there are many different choices on the market, making this a totally customizable road to go down.
Not only that, you'll have a better understanding of how a guitar works from the ground up, plus a better appreciation for ready made instruments.


Quality DIY Electric Guitar Kits Available at The Fretwire:




Why Should You Build Your Own Guitar?
You may decide to build your own guitar for many reasons, some of the main ones include:
Building a guitar from scratch makes it more personal
You can customize instrument parts or aesthetics
You can customize the instrument to your playing style
You may take great pride in the fact you have built the guitar yourself
For children who are learning to play, building the instrument with a parent is a superb bonding experience
Guitar kits can sometimes work out cheaper than actually buying a pre-made instrument
Building your own guitar can also make you feel extremely attached to the instrument, and some argue that this helps you play it much more effectively.
The natural result being the music you produce will be higher quality and more soulful as you feel better connected.
A kit like this makes it very easy:





Read our full review of the Saga LC-10 Guitar Kit here


Guitar Construction Basics
To forgo any assumptions that we are dealing with one type of instrument exclusively, we must understand there are various types of guitars accommodating many, many musical styles. The basic family members are comprised of:
Acoustic
12-String
Classical
Steel and Lap Steel
Resonator
Archtop
Semi-Acoustic
Bass
Electric
…and many more depending on how specific the musical genre is.






While not all types of guitars may not be available in kit form, they all share the same basic traits:
Headstock – At the end of the neck and is on both acoustic and electric guitars
Tuners – To raise or lower each string's pitch as necessary, typically located around the headstock
Nut – Located at the end of the fretboard where it meets the headstock
Fretboard – Also known as the fingerboard – the playing surface on acoustics, electric guitars and basses
Frets – These are metal strips located laterally along the fretboard
Truss rod – A metal rod which runs internally along the neck of the instrument
Inlays – Cosmetic decorations set into the surface that help give the instrument an attractive appearance
Neck – A long wooden section carrying the playing surface extending from the body
Neck Joint – An important structural point where the neck meets the body, either with glue or bolted on
Strings – One of the most important and variable parts, also a consumable that needs regular replacement
Body – A main resonant point and anchor for the strings, also encompasses the sound box on acoustics
Pickups – This part is mostly seen in electric guitars, although many acoustic guitars have them too.
Bridge – Holds the strings firmly in place and transfers string energy to the instrument's body
Hardware – All the small bits and pieces that let everything else work. Screws, strap buttons, pickguards etc.
This is the main architecture of a guitar and each component plays an important role in the instrument.





Read our full Saga TC-10 Guitar Kit Review Here


A DIY electric guitar kit is often a cost-effective way to get started. They typically Include a few extra parts such as the electrical support mechanisms – the output jack, pots and switches.
When you purchase these kits, the electronic parts are usually already supplied as a complete harness, so you don't have to worry about firing up a soldering iron or having to make the extra purchase.
If you're serious about building your guitar to a high standard, it's a good idea to know about the hardware of the instrument and how it tone and operation. This basic knowledge will give you a strong base to build upon and produce a better end result.


How to Choose the Best Guitar Kit For You
We all love managing our personal things according to our own tastes and preferences, guitar kits are no different. In order for you to enjoy an instrument to it's maximum potential you need to choose the right kit for you.
There are countless on the market, and they range in ability level from beginner to expert. Here's what you should consider when picking your choice of guitar kits.
What is your ability level? – Generally speaking, you don't need prior skills or knowledge to build a guitar from a DIY kit, because the instructions will help you right to the end. If you're a total beginner, it's a good idea to pick a kit which has as many pre-assembled parts as possible.There are also kits which require a higher level of skill which is great for customization. These tend to be for more experienced musicians who have a better knowledge and understanding of how a guitar is put together, and how it works.
Shop around for the brand name – As with most products, there are many large brand names on the market. While these are probably going to be more expensive, it could also be that you get more confidence from buying guitar kits from established names.Looking for testimonial reviews online is a good way to choose your particular brand, and to find out which are best for beginners, which are best for more advanced users etc.
How long do you want the instrument to last? – Obviously if you are looking to build a guitar that is going to last a long time, you need to look for a sturdy, strong, and possibly more expensive kit using premium materials.If on the other hand you just want to try out your skills, and you're not overly concerned with its lifespan, you can go for a cheaper, lightweight option.


Compare Popular DIY Electric Guitar Kits:


What to Look For in High Quality Guitar Kits
Whatever your motivation for going the do-it-yourself guitar kit route, it's time to find the best one for your needs. Obviously online is going to be the best place to start because this allows you time to shop around easily.
It also gives you time to make sure you're making the right purchase. Online is also where you will find the best deals, as well as testimonials from previous purchasers.
When checking reviews it's important to weigh up the negatives against the positives, and to assess them for credibility – remember that people don't always say positive things, they much prefer to talk about the negatives.
Make sure you look for credible reviews to help you narrow your choices down and find the right choice for you.








Look for these features to the find best guitar kit:
Pre-drilled holes – This makes installation and construction much easier, especially for beginners
Comprehensive instruction manuals – Everything is easy to follow this way
Complete electronics – Soldering should not be required, electronics should be ready to go
Extras – Some have apps which you can connect to and they help you learn how to play the instrument once it is completely constructed
Lightweight, but not too lightweight – Any guitar player will tell you that an instrument which is not balanced is not easy to play, a body that's too lightweight will cause the neck to tip.
When you are constructing the instrument, yes, lightweight is good, but you need to go for middle ground here – again, this is where testimonials or reviews will help you out.
Good value for money in terms of initial cost – It's not necessarily a good idea to go absolute top end when purchasing your first kit, especially if you're not used to building or even playing a guitar.
If you are experienced, and you're looking for quality then yes, spend a little more. But generally speaking, look for some middle ground in this category too to give you a cost effective choice.


On a Budget? Check Out These Cheap Guitar Kits:


Are Build Your Own Guitar Kits Right For You?
The first question you have to ask is whether a guitar kit is the right choice for you – not everyone has the tinkerer skill set. If you're ready to create an entirely new affinity with the instrument with a minimum of tools, then a guitar kit is a great choice.
A good piece of motivation is: if you want to help your child learn about music, and you want to help them build something they are proud of, you have an amazing opportunity here.
Of course, you may simply want to pass the time and have an interest in building your own guitar – curiosity, the challenge, there are many reasons why you may go down this road.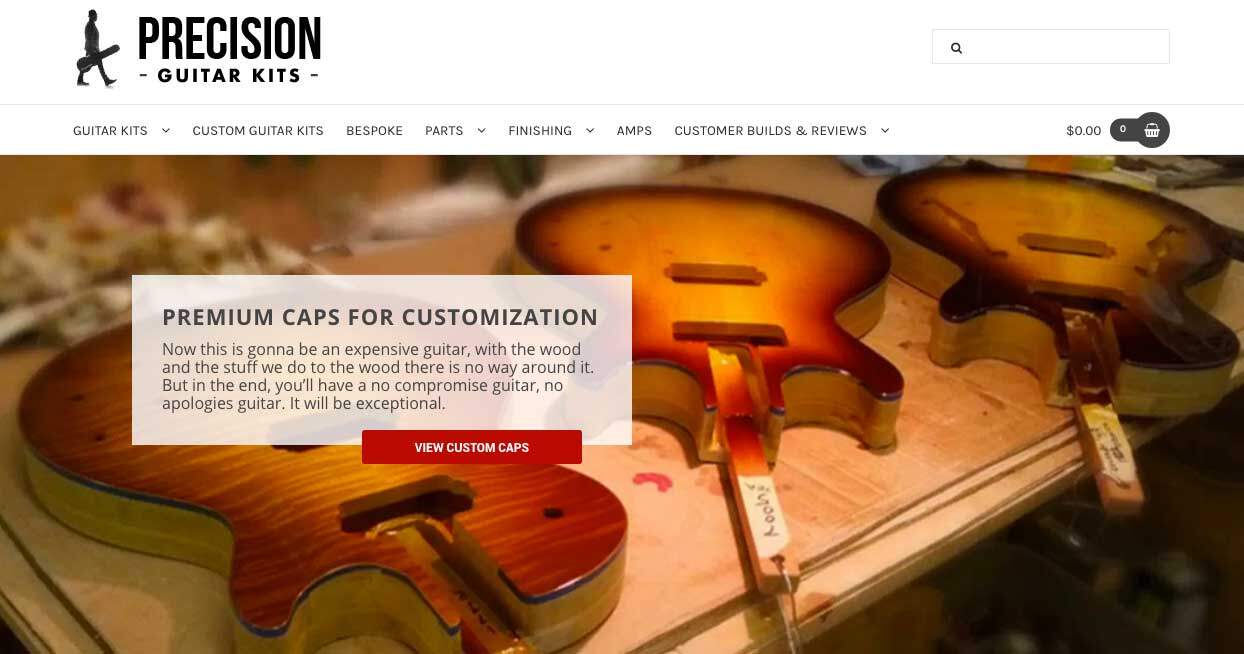 If you have the time, building a guitar, or even an accompanying amplifier is a superb creative hobby. The great news is that it's not really that time consuming.
Some of the pre-constructed kits can be put together in just over an hour; some are much less put together, more labour intensive requiring more time and effort
These can take anything from a few days up to a couple of weeks, especially when applying your own finish to the neck and body.
Build your own guitar kits are also a great way to introduce children the wonder of music, as well as many other benefits of music that help them express themselves in a different way.




Music isn't just about noise and things that sound nice, it is a way to release pent up emotion and misunderstanding, anger and many other negative feelings.
There are numerous scientific studies that prove the benefits of music and playing an instrument. If you can introduce your children to this at a young age, you're helping them learn to release pent up emotions in a healthy context.
The fact you can help them build the instrument also means you're bonding together in creating a common goal.
The sheer number of build your own guitar kits on the market is growing year upon year – which is great for the guitar industry. The more popular it becomes the more choices we have; a broader range of body styles, better quality typically plus better price points.
The fact you can customize the guitar to your needs and playing style is a major plus. Everyone plays differently and has a different sense of aesthetics, therefore you can make the instrument truly your own.


Recommended High Quality Guitar Kits from The Fretwire:




To Sum It All Up, The Best DIY Guitar Kits Offer A Lot Fun
Hopefully you're raring to go when it comes to finding the ideal choice for you amongst the many guitar kits on the market. Don't be put off by how intimidating the task may seem at first.
Once you get into it, you'll see that you really don't need any great deal of prior knowledge or skills to complete a kit. The great sense of achievement you get from creating something you can actually play is well worth the effort.
All that's left is to find the ideal kit for your needs, away you go!
---
Remember these important items when building your own guitar!