Inexpensive Guitar Choices at a Glance:
Interested in guitar but your finances are preventing you from getting one? The good news is electric guitars don't have to be very expensive and are quite affordable, such as those just under $300.
Things to consider when buying an electric guitar
When buying an inexpensive electric guitar, particularly on a budget, there are some other factors to keep in mind. It's not enough that the electric guitar you find simply fits your budget, you should also look at the quality of the instrument as well as how it looks and feels when you play it.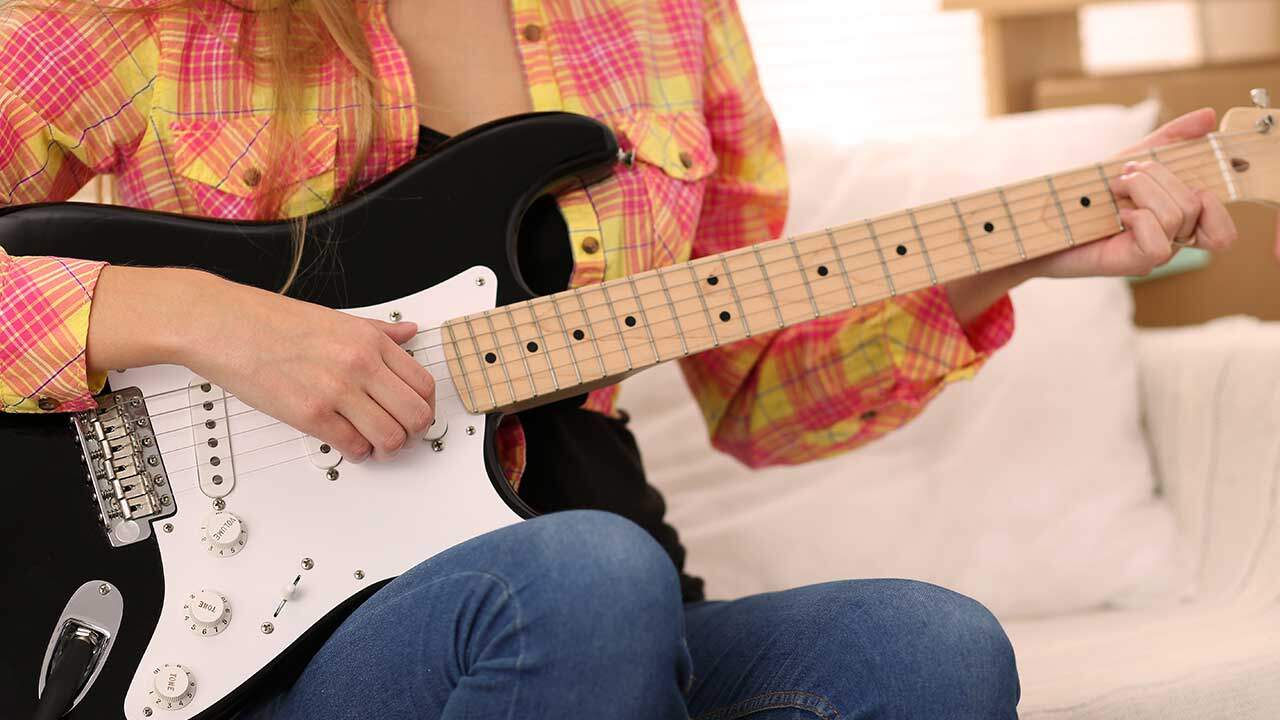 Sound or Tone
The tone produced by an electric guitar is due to several things, among them is the kind of pickup it has combined with the type of wood the guitar's made of.
For those who are just learning how to play and are just purchasing for personal use, you might want to skip investing guitars that cost hundreds, or thousands of dollars, just because the pedigree attests that they sound fantastic. It may sound obvious, but you probably won't have an ear developed enough to tell the difference – yet.
This can save you money but it doesn't mean that you should buy just any guitar. You still have to make sure that the guitar can be tuned and that it produces a decent sound. Finding the right guitar under $300 that fits your needs will help you enjoy your serious musical efforts, even if you're just practicing.
You should look into the specific wood that the guitar is made of. Lower priced guitars may produce a tighter, brighter tone as compared to more expensive instruments known for producing a richer pallet.
As mentioned, it's not just the wood that determines the overall tone, the pickups used greatly affect the sound you hear. If the guitar has a single coil pickup, expect to have a cleaner tone. On the other hand, humbucker pickups offer tones with less interference or electronic buzzing. Fortunately, it's possible to change the pickups if you're not satisfied with them, but the extra parts and labor come at a price.
Comfort
How the guitar feels when you hold it or how comfortable you are while playing it should also be considered when buying. Electric guitars come in a variety of shapes and sizes. Thicknesses of the necks also vary, which can make or break the enjoyment factor. That's why it's best if you can try to hold the guitar at a local guitar store before buying.
Appearance
The appearance or cosmetic elements of the electric guitar should also be considered. Although this is personal, you would certainly be happier if your guitar matches your style. Electric guitars come in a variety of colors and stylistic finishes. There are also some that have different shapes that not only affect the comfort while using it, but also its overall appearance.
Guitars come in a variety of shapes, sizes, colors, and designs to attract you to buy them. Although one guitar may look flawless and beautiful, it is still important to consider how they play over how they look. Guitars are meant to be played and not just displayed.
Buying a used electric guitar
In order to save some money on the purchase of an electric guitar, some may decide to purchase a used one. It's risky to buy a used electric guitar or any other item that was previously used. Although some deals are great, some may also be too good to be true.
When looking for used guitars to purchase, you have to be sure about the quality. The description may sound good, but sometimes it really isn't. You also have to consider the price of the parts that you may need to replace. Compare the overall cost of a used guitar plus the parts you need to replace with the price of a new guitar.
Ultimately it's up to you how comfortable you are in spending your money, and your time, sourcing out a great deal.

Epiphone Les Paul Electric Guitar Player Package
On Sale!
Epiphone PPEG-EGL1VSCH1 Les Paul Electric Guitar Player Package, Vintage Sunburst
Epiphone's Les Paul Player Pack has everything you need to start playing guitar right away
It includes a genuine Les Paul Special-II LTD guitar featuring two classic hum bucker pickups and a 10-watt Electra guitar amp with a 10ft guitar cable
Epiphone also includes a clip-on headstock chromatic tuner, a guitar strap, medium picks, and an easy-to-carry gig bag
And best of all for new players, the Les Paul Player Pack comes with free downloadable guitar lessons from media
The Epiphone Les Paul Electric Guitar Player Package comes complete with the guitar and accessories that you need to play. This is the best electric guitar under $300 for those who want a guitar package from one of the well-known brands in producing fine electric guitars. With the single coil pickup, the tone produced and amplified is buzz free. It also enables you to have a clean tone or to have it in overdrive.
The rosewood fingerboard, which has dot inlays, is bolted on the durable maple neck. It has the classic Les Paul signature on the headstock for that appealing look. Included in the set is the 10-watt amp that beginners as well as more experienced guitar players can use. It also includes an easy-to-use chromatic tuner that easily helps keep the guitar in tune.
Features
Player pack package includes other accessories such as the 10-watt amp, 10' guitar cable, clip-on headstock chromatic tuner, guitar strap, gig bag and picks
Also included in the pack are free downloadable guitar lessons for beginners
Available in different colors: ebony, heritage cherry sunburst and vintage sunburst
Available in different configurations for PS3, PS4, Xbox 360 or Xbox One
Makes use of a humbucker guitar pickup
Rosewood is used for the fretboard
The body is made of solid-wood and the neck is made from maple
Pros
The guitar itself is of good quality and additional accessories are included to help beginners start playing
The open-coil humbuckers combined with the solid wood body enables this electric guitar to produce a unique and great tone
Small sized amp is loud
The guitar has a warm tone and it sounds as great as other more expensive guitars
Cost- and beginner-friendly package
This doesn't only sound good but it looks good as well
Cons
The tuner doesn't come with instructions
Machine heads and strings may need replacement to further improve the quality and make it last longer
Rise by Sawtooth ST-RISE-ST-3/4-SB-KIT-1 Electric Guitar Pack
On Sale!
Rise by Sawtooth ST-RISE-ST-3/4-SB-KIT-1 Electric Guitar Pack, Sunburst
Basswood Body, Maple neck
Maple Freeboard with Dot Inlays
24" Scale Length, adjustable Bridge
Chrome Hardware
Kit Includes: electric guitar, portable beginner's amp(amp power adapter & batteries not included with purchase), guitar strap, Guitar cable, Gig Bag, pitch Pipe, 3 Pick Sampler & online Lesson
The Rise by Sawtooth ST-RISE-ST-3/4-SB-KIT-1 Electric Guitar Pack belongs to the newest line that Sawtooth produces. It includes a six string electric guitar that has a basswood body and maple neck. The fretboard is also made of smooth maple and it has dot inlays in black.
The shiny machined chrome heads look great with the double cutaway design. The guitar is slightly smaller than the full size one to help even young players to be comfortable in using it. It also comes with other essential things you need to start playing the electric guitar including an amp, guitar cord, strap, pick, strings, guitar bag and pitch pipe. It comes in a beautiful sunburst color but it is also available in black.
Features
Neck is made from maple while body is made from basswood
The fretboard is also made of maple and it has dot inlays
Has an adjustable bridge
Machine heads are of chrome
Pack includes the electric guitar, amp, guitar strap, guitar bag, pitch pipe, guitar cable, picks and lessons online
Pros
Smaller size makes it a great guitar for smaller players
Has a decent tone
Very affordable price
Comes with an amp and other accessories you need
Cons
Tuning pipe is difficult to use to tune the guitar and beginners may become frustrated because of it
Amp doesn't come with the 9v battery
Action is high and may need adjustment
Davison Full Size Black Electric Guitar with Amp, Case and Accessories Pack Beginner Starter Package
This full size guitar package is offered by Davison, which is a known brand that produces great sounding guitars. It has a maple neck and fretboard with black dot inlays for contrast and visibility. It has a humbucker pickup to help cancel out the interference and produce a better quality of sound.
This package has everything you need to play the guitar once the package arrives to your door step. It has a small-sized amp that produces a loud and clear sound. The amp also includes a headphone output so that you can rock even in the middle of the night. This certainly qualifies as one of the best electric guitar under $300 if you are looking for a full-size guitar with a particular contoured shape.
Features
Full-sized electric guitar
Humbucker pickup for better sound quality
Included in the package is an amp, guitar straps, guitar bag, amp chord and picks
Pros
Comes complete with everything you need to start playing right after you receive it
Humbucker pickup enables it to produce a clean sound
The body is contoured, making it comfortable for players of all ages
Available in various colors to suite your preference
Cons
Includes a pitch pipe as the tuner but it can't be easily used to tune the guitar
The strings and machine heads are not the best quality and may easily wear out
Compare Models:
Final Verdict
The three electric guitars reviewed here are all great for starting out under $300. But if you are looking for a particularly good value, the Epiphone Les Paul Electric Guitar Player Package would be our recommendation. It has a better tuner that can easily be used even by beginners. It holds a tune better so that you won't have to tune it all the time. It may require a proper setup at first, but when you've successfully made the adjustments, it'll sound and play wonderful.