With its minimalist features, does the Marshall Origin 20W Combo tick all the right boxes for a killer amp – and a great value? Maybe less IS more… Find out in our expert review!

We certainly hope you find this article helpful. Just so you know, we may receive compensation if you use the links on this page. If you do, thank you so much!






Marshall Origin 20W Combo Review: Classic English Tube Tone – Without The Half Stack!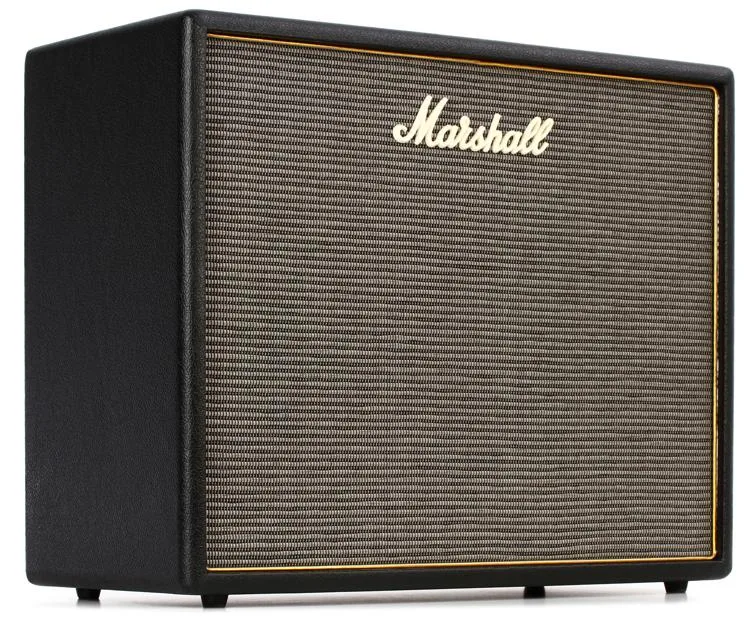 Marshall ORI20C Origin 1×10″ 20-watt Tube Combo Amp


Origin 20W Combo at a glance:
Ease Of Use

(5.0)

Switchable power section and pedal friendly

Build Quality

(4.9)

Rugged, Marshall amp ready to hit stage or studio

Sound Quality

(4.8)

All valve, British Invasion tone in a 20 watt combo amp

Value Factor

(4.9)

One of the most affordable pure tube amps available


Marshall Continues to Make Killer Combo Amps
For most guitar players, the company Marshall is only known for creating half stack or full monstrosities.





We've all seen the armada of amp cabs behind Lemmy, Jimi Hendrix, and Billie Joe Armstrong.
But did you know they actually make combo amps as well? Not just that, but they make iconic combo amplifiers like the famed Bluesbreaker with 2×12 speakers.
This Origin combo amp isn't packing quite that much muscle into its frame, but is still impressive nonetheless.
Marshall has put together an affordable, compact all-valve amplifier that will get many players the Marshall tone they dreamed of at a cheaper price.
Not to mention it is much easier to fit one of these in a bed room than a half stack! With 20 watts of classic tones and looks, it is hard to beat the Marshall Origin 20W.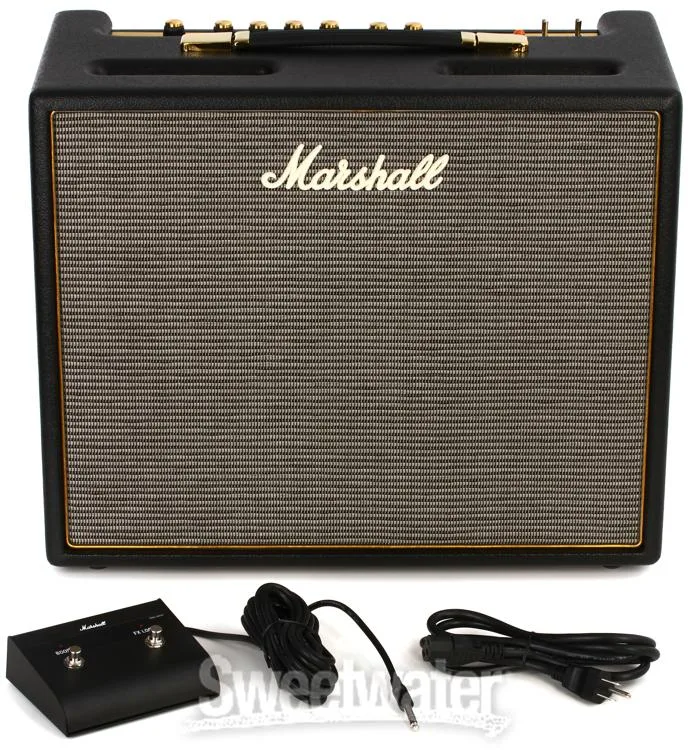 Digging Deeper Into This Marshall Origin
What Marshall has created here is a wonderfully versatile little tube amp that can take external effects pedals. It is not a modelling amplifier as it has no built-in effects.
Instead, it prioritizes tone shaping through an EQ section with a unique "tilt" control. Better yet, the switchable power options make it easier to crank this combo amp into overdriven territory without breaking any glass windows around you.
It's a modern take on the classic Marshall sound for sure, built with effects pedals and tone junkies in mind.





Origin 1×10″ 20-watt Tube Combo Key Points:


What We Like
All tube, single channel amp
Versatile EQ controls
Affordable for all tube combo
Adjustable power settings


What We Don't Like
No built-in effects
With power controls, why not go louder?




Who's The Marshall Origin 20W Combo Meant For?
This amplifier would suit any beginner or pro player equally well, thanks to the high quality tube tone.
For beginners, it would be affordable enough to consider while still being loud enough to potentially use in your first few gigs.
Likewise, the ability to lower the power makes it an appealing practice amplifier too, meaning you can lower the wattage when practicing inside.
On the other hand, the FX loop and dedicated EQ controls make this a fun option for pedal happy guitar veterans.
Run your effects in, dial in the right flavor of British Invasion for you, and you are off to the races with a really fun amp.
You can record with it, practice with it, or mic it up for bigger gigs.
While it may lack built-in effects that attract some beginners, this is a do-it-all amp in a lot of senses.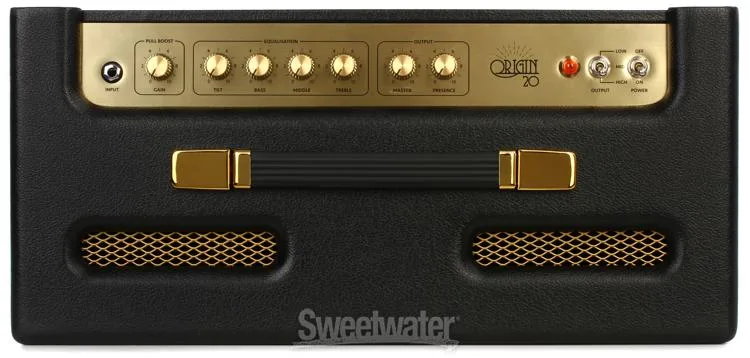 What Comes In The Marshall Box?
Unlike many of the amps in this price point, the Marshall Origin 20W Combo is light on extras.
There is no digital interface for downloading patches, or recording your first attempts at song writing. It's a straightforward all tube combo amplifier that provides quality over quantity.
In other words, when you unbox your new Marshall Origin 20W Combo Amp, that should be all that is in the box!




Marshall Origin Combo Amp Features
There are a lot of fun features to unpack here, especially when you consider the price.
First off, this Marshall really sticks out to me because of the switchable power options.
You can toggle between low, mid, and high power outputs, meaning your amp can get quieter for practicing without losing any tone quality.
f you want to crank some warm tube overdrive, just toggle down to low power and dime the master volume and gain knobs.
The built-in FX loop is incredibly useful for more experienced players with a full pedal board as well.
Last but not least, there is a fairly diverse EQ panel for a small combo amp, with their unique tilt control.
This tilt control lets you blend bright amp tones with more traditional Marshall amp tones.
In addition to the middle, bass, treble, presence, and master volume controls, you can even roll on more chime than expected.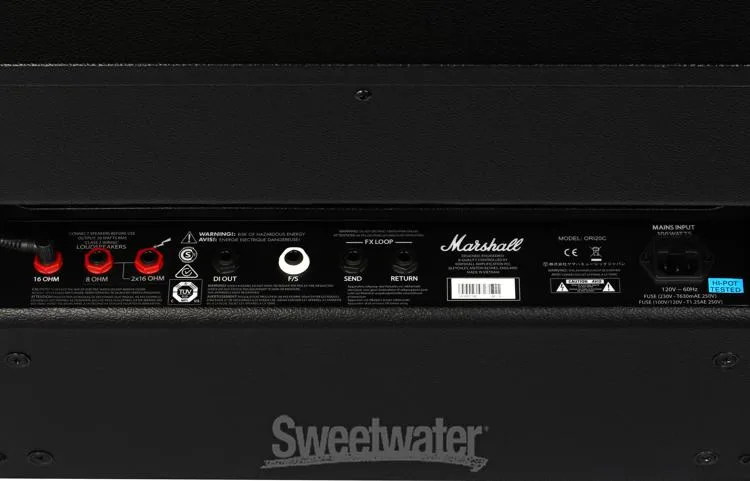 FX loop built-in
Diverse EQ controls with tilt knob
20 watts is small gig ready
Power controls to lower volume
All tube combo amp
Affordable price for the quality


How To Get The Most Out Of Your Origin 20W Guitar Amp
The Marshall Origin 20W Combo Amp is very easy to understand and use out of the box.
With no extras, accessories, or digital patches to download you can just plug in and play.
For beginners, they may be upset that there aren't built-in effects, but you will get a premium guitar tone that most of your peers won't have.
Consider saving up, adding some pedals, then you'll really be enjoy this tube combo to the full extent! Check out this killer demo below for more.




Alternatives to the Marshall Origin Amp


If pure tube tone doesn't do it for you, why not check out a more versatile modeling amplifier?
Fender's Mustang GTX 50 packs a ton of amp voicings and effects into one 50 watt package, plus Wi-Fi capability all at a lower price too.
While it lacks the expansive EQ, valve construction, and power controls, it offers more for beginners.
The Mustang GTX 50-watt combo is loaded with presets to get you sounding like so many of the greatest bands out there, no matter the guitar tone.
---




One of the other giants of British guitar amp technology, Orange has an affordable 20 watt amp to consider as well.
This solid state amp lacks the tube tech of the Marshall but makes up for it with two channels (clean and dirty) plus CabSim headphone outs. It may be the better bet for headphone guitar players who like to practice quietly.
Orange also has some impressively crunchy guitar tones hidden in this stylish, 20 watt package that costs almost a third of the Marshall Origin 20W combo amp.
---




If Fender is more your style than Marshall, check out their 20 watt offering called the Fender Champion. This is a modeling amp, not too unlike the Mustang I V2, but with a more vintage appearance.
Choose between a variety of onboard amp voiceings and guitar effects to experiment with new sounds while learning about tone shaping.
This is another great beginner option, with everything you need to get playing built in. Once again, it costs a far bit less than the Marshall as well.
---






Final Thoughts: Is The Origin Amp The Most Underrated Marshall Combo?
The Marshall Origin 20W Combo is a phenomenal little amplifier that brings a legacy sound down to an accessible price.
It may be a bit plain for beginners in the sense that there aren't any effects or amp voicings built in. But on the other hand, it will give beginners a much better guitar tone than any of the competition listed above.
For long time players this is a great value, letting you add a Marshall to your quiver that will take effect pedals really well. It's loud enough to play small gigs but can be mic'd up for bigger shows.
At the end of the day, this amp grades out significantly higher than others because of that British tube tone.
You can't fake it, and Marshall captured it wonderfully here.





Check Marshall Origin 20-watt Tube Amp Availability! >>


Marshall Origin 20W Combo Amplifier
Ease Of Use

Build Quality

Sound Quality

Value Factor