In this Bugera V5 review we look at why this combo amp is still enjoying a long run as an affordable 5-Watt tone machine. Is it still as good as enthusiasts say it is? Let's have a closer look.
We certainly hope you benefit from the information we provide in this article! Just so you know, we may receive compensation if you use the links on this page. If you do, thank you so much!
Bugera V5 Review: A 5-Watt Class Amplifier Combo With Infinium Tube Life Multiplier
The Bugera V5 at a glance: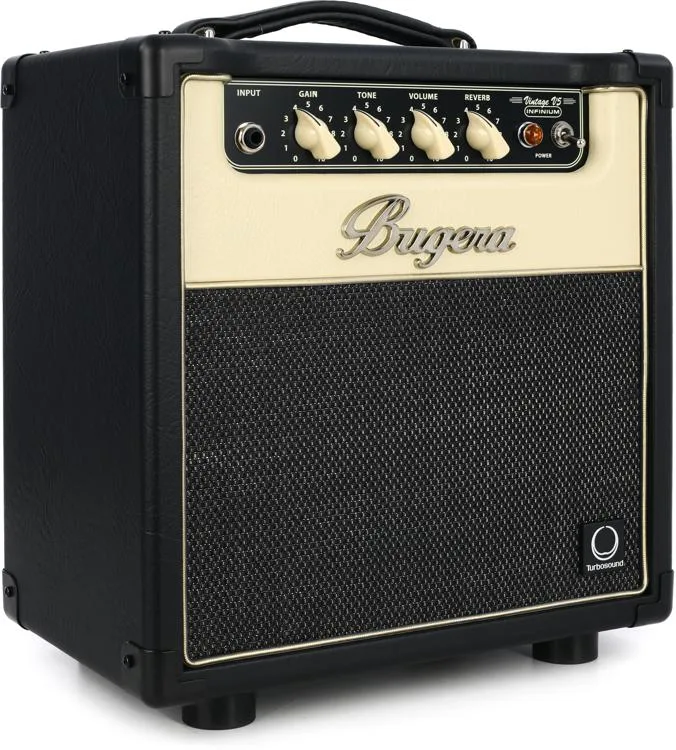 BUGERA V5 5-Watt Combo with Infinium Tube Life Multiplier
USER FRIENDLINESS

4.7 / 5

Great for practice and recording with its low output and small size

BUILD QUALITY

4.5 / 5

Reliable tube amp meant to outlast all others on the market

SOUND QUALITY

4.3 / 5

60s influenced sounds that go from clean to crunch with ease

VALUE FACTOR

4.5 / 5

Very affordable price tag for an at-home tube-driven amplifier


Bugera V5 Infinium Overview
Bugera may not have the name recognition of Marshall or Fender, but it's all about that classic rock tube tone with the V5 Infinium. This 5-watt combo amplifier is perfect for players who want a practice amp.
The V5 can snuggly fit into a dorm room, bedroom, or small home studio. Bugera have made a strong name for themselves recently behind the success of their affordable tube-powered amplifiers.
Their V5 5-watt combo amplifier is absolutely no different, providing vintage tones at a great price.

Classic Tube Amp Tone In A Practice Amp
The Bugera Infinium V5 packs plenty of interesting features into its small, single speaker enclosure. Even better, it all comes at an incredibly affordable price tag.
Before we get into some of the more specific features, the V5 does feature one that makes it truly distinct. This little amp is outfitted with the Infinium Tube Life Multiplier that gives the amp its name.
Infinium's system allows the tubes to last longer and triggers an LED indicator to let you know when they need replacing. What that all means is that you have one user friendly tube practice amp compared to the rest!
Who is the Bugera V5 Infinium Combo Amp for?
A 5-watt amp is certainly not gig worthy, no matter how you stretch it. That's not necessarily bad news however, it just means this is best suited for the at-home guitar player.
The 5-watt volume is quiet enough to not disrupt neighbors or roommates nearly as much as a full size amp would. Plus, the amp has a built in attenuator that lets you reach higher gain tones at lower volumes.
All this equates to an excellent product for a practice amp. Whether you're a beginner or a pro, this amp will serve you very well at low volumes. The tube powered sound also means you're not sacrificing tone quality for this convenience.

Unboxing The Bugera V5
The Bugera V5 doesn't come with anything fancy, no beginner bundle to unbox. You'll just open up a high quality, affordable practice amp with plenty of onboard features.
Unlock some affordable competitors, the Bugera doesn't include a footswitch, but won't you be needing one. It's only a one channel amplifier anyways, even though it has a built-in reverb effect.
Bugera V5 Infinium Specs
The Bugera is a simple, straightforward tube amp meant to get you playing quickly.
A single EL84 power tube is matched to a single 12AX7 preamp tube to provide 5 watts of power. 1×8" Turbosound speaker, designed in England.
The 5 watt amp can be attenuated down to a single watt or 0.1 watts. This is to help you get optimal tube breakup and crunch at any volume.
The amp can be controlled by gain, tone, and volume knobs with a built in reverb effect.
A helpful LED light sits on the back of the amp to disclose when tubes will need replacing.
Lastly, there is a headphone jack on the back, letting you plug in headphones to practice or jam out late into the night without disturbing anyone.

Bugera V5 Amp Highlights
Built-in reverb
Wattage attenuator
Headphone jack on back panel
EL84 and 12AX7 tubes
5 watts of tube tone
How To Use The Bugera V5 Infinium 5-Watt Combo Amp
As stated before, the Bugera V5 is best used as a practice amp. Don't expect to take it on the road for sold out gigs anytime soon.
Tweak the settings for the gain, master volume, and tone before practicing your favorite riffs and songs. It's really simple, no complicated onboard effects or multiple channels to switch through.
Check out this awesome demo of the Bugera V5 Infinium below!
BUGERA V5 Review – Pros and Cons
What We Like About the V5
Infinium system retains tube integrity
12AX7 and EL84 tubes power the amp
Easily goes from clean to crunch
Built in power-attenuator
Built in reverb


What We Don't Like
Too small to gig with without extra audio support
No FX loop



Check Out Some Of The Competition
If the classic Fender guitar amp sound is more your cup of tea, check out the Fender Champion 20. This 20-watt amplifier is far louder, and better suited for players who aspire to hit the stage sooner than later.
It has a slew of built in effects, and a bit more complicated and versatile EQ panel. Much like the V5, it has a single 1×8" speaker and a headphone output jack.
Onboard effects include tremolo, chorus, and delay and then there's the voice switch. The voice switch lets you choose from 4 different amp settings, from modern high gain voicings to vintage blues sounds.
It's one versatile amp that still won't blow your windows out, even if it's too loud to be a practice amp .
On the other end of the spectrum, the even quieter Orange Crush 12W Combo is a worthy competitor. Packing 12 watts of power, this British flavored Orange Crush is available with a built-in cabinet simulator.
It's an excellent practice amp to suit your low volume needs. Although solid state in design, this tiny combo amp provides all the tone you could want with British-inspired overdrive.
Better yet, it's also incredibly affordable, providing more of a British invasion alternative to the Bugera.


Bugera V5 Infinium Review Wrap Up
The low price tag and versatile wattage settings make this a superb practice amp. That being said, it really can't do much else than that. If you do fall in the love with the tone, it could certainly be mic'd up for studio work.
However, there are plenty of better studio amps out there. For beginners or pros who need to practice quietly inside, Bugera's V5 Infinium combo amplifier may be the best choice!
The built in reverb is convenient, as is the headphone jack and attenuator. Better yet, it takes up minimal space, and can provide that classic tube amp breakup and crunch at a fraction of the size and price.
Definitely check out one of these 5-watt combos soon, you won't be disappointed!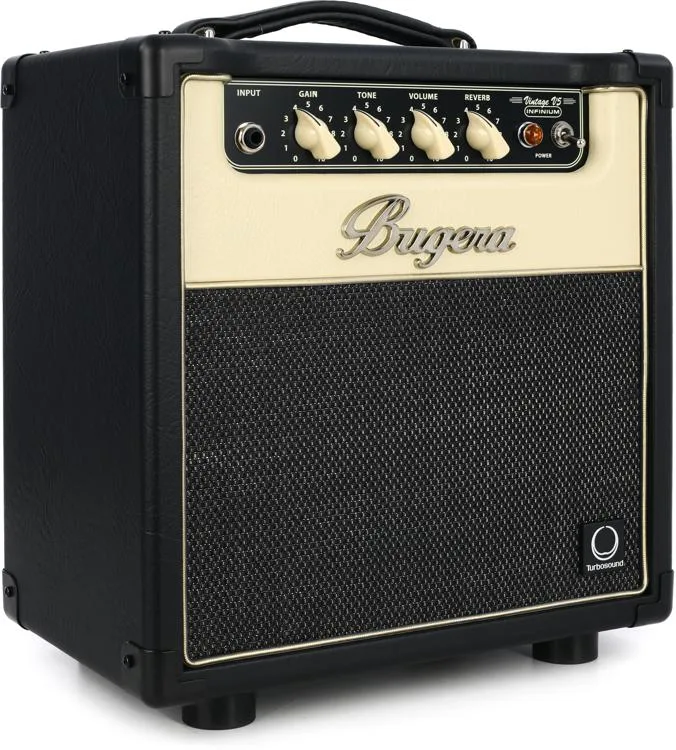 Check Today's BUGERA V5 Infinium Price! >> 
User Friendliness

Build Quality

Sound Quality

Value Factor