When two established giants go head-to-head in the guitar lessons ring: JamPlay vs Guitar Tricks, one of has to come out on top. Which one is the a real winner??


JamPlay vs Guitar Tricks: Which Guitar Lessons Website is Right for You?
While both make excellent options, let's pit JamPlay vs Guitar Tricks and compare them side by side to see which one is best for learning guitar or bass.
Both sites offer technique, song, and genre-specific lessons taught via videos including tabs, musical notation, and close ups of the finger positioning.
Both sites also feature good guitar lessons for beginners and guides from famous guitarists alongside dedicated, professional guitar teachers.
But which is the better choice?
We certainly hope you benefit from the information we provide in this article! Just so you know, we may receive compensation if you use the links on this page. If you do, thank you so much!


JamPlay vs GuitarTricks Quick Comparison:




Membership Fee: $19.95/Month


Famous
Teachers

Yes

Diverse
Toolbox

Yes

Large
Library

No

1-on-1
Lessons

No




Membership Fee: $19.95/Month


Famous
Teachers

No

Diverse
Toolbox

Yes

Large
Library

Yes

1-on-1
Lessons

Yes







Breaking Down The Details of JamPlay and Guitar Tricks Lessons
Before we get started, let's go over how we're going to compare and judge the two sites against each other.
We'll be comparing both the features and appearance of the websites as how we imagine a beginner and an experienced player will view them.
Furthermore, you want to make sure you're getting a good value for your Guitar Tricks subscription or JamPlay membership cost, so we'll be sure to pick the winner that offers the best features for the price.
For example, an experienced guitar player is more likely to be impressed by number of songs or technical lessons available while a beginner will be looking for an easy to follow set of introductory steps or lessons.
The major criteria will be how easy it is to navigate each page, how many features and lessons are available, and how easy each video is to follow. Without further ado, let's dig into this Guitar Tricks vs JamPlay review.


Guitar Teachers and Basic Lesson Plans
No matter how easy the user interface is, the site will ultimately only be as good as the teachers who are teaching the lessons.
The teacher's ability to communicate the importance of each technique or lesson and how it pertains to the overall lesson plan is vital.
Without being able to see progress on the instrument and through each site's student path, beginners are likely to get frustrated, or lose interest. So, let's see who has the better teachers and lesson plans: JamPlay vs Guitar Tricks.


JAMPLAY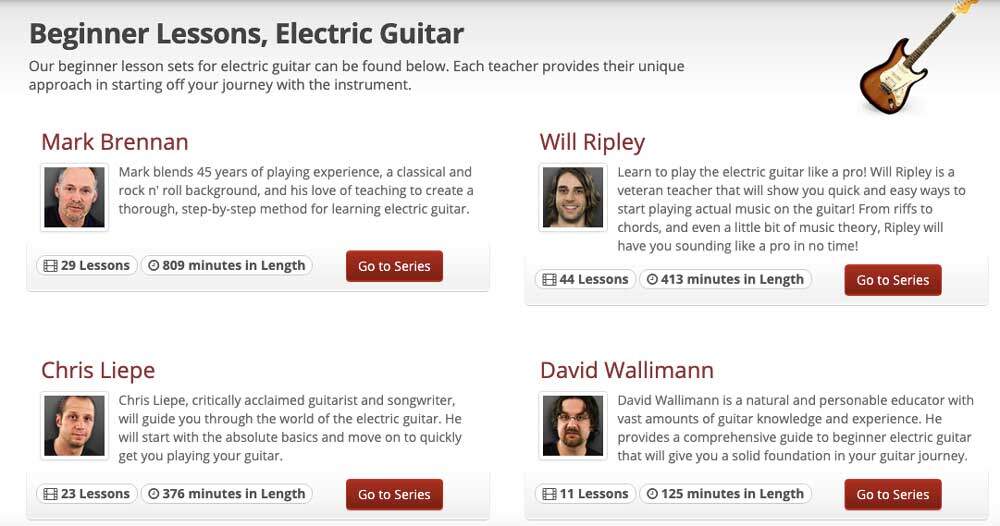 Our first impression while doing this JamPlay review was that the instructor list features a lot of big-name guitar players who teach either techniques or their own songs.
While it can be really inspiring and motivational to players to learn from their heroes, We feel this feature has more marketing value than teaching value. The basic lesson play is split into 4 phases, 1-Beginner, 2-Genres & Skills, 3-Songs, and 4-Songwriting.
We really like the flow of this order and think it makes it easy for the student to accumulate skills while constantly using them or learning them in a new context such as "here is a country riff, now let's play it in a popular country song, finally, let's write a song featuring this riff".
Furthermore, the instructors in the beginner series videos we reviewed spoke slowly and clearly, demonstrating years of experience teaching the guitar. However, there are multiple options and pathways for each phase and level which can be confusing or redundant.
For further insight into lessons providers, check out our article comparing JamPlay and Justin Guitar.


GUITAR TRICKS





Featuring less recognizable guitar instructors, Guitar Tricks seems to prioritize concise, easy to use features over the name recognition and flair of JamPlay.
Guitar Tricks bases their lessons around their "core learning system". While JamPlay offers multiple different beginner options from different teachers, Guitar Tricks slowly and easily takes you through all the basics with one teacher, and one set of classes, one core step at a time, offering a simple way to play guitar.
We personally believe this linear learning path is much easier for beginners and students as they don't have to choose from a number of options that they may not be able to differentiate between.
Keeping the same instructor through first lesson step can help breed familiarity and continuity as the student progresses through the most essential part of learning the guitar.
If you're going to pay the Guitar Tricks subscription cost of $19.99 per month, you should get access to the easiest path to learning guitar.


Winner: GUITAR TRICKS




User Interface
When learning guitar, there are enough small things to frustrate and discourage you enough to quite altogether. One thing that can easily make it worse on a student is a hard to navigate website or lesson plan.
Even for experienced players, you don't want to have to spend too much time trying to figure out to how to find your way around the song lesson pages or figuring out how to slow down the video or where the tabs load from.


JAMPLAY





Overall, the user interface is not difficult to navigate whatsoever, but we wish there was more of an emphasis on getting started with lessons. Once you scroll down a little bit, the viewer is bombarded with course options that don't seem to tie in together at all based on genre, style, or difficulty.
Once you get to the lessons tab on top of the site, the four phases are easily laid out and you are directed to the homepage for each phase.
However, as we mentioned before, it can be a little bit overwhelming to a new student as there are about two dozen options, split between acoustic and electric guitar.
This site puts the onus on the student to find out which path is best suited for them and the page layout further emphasizes that.


GUITAR TRICKS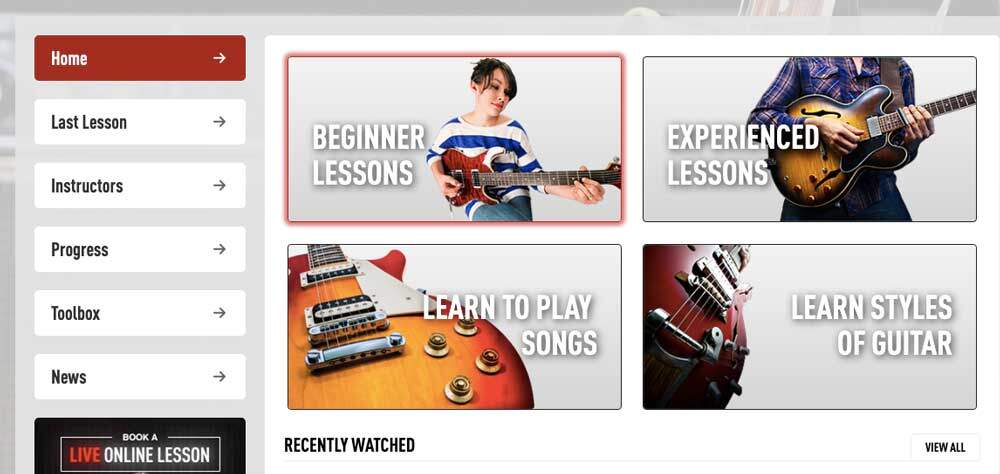 The home page on Guitar Tricks is set up with a much more user-friendly appearance in our opinion with the left side of the page featuring an easy to read menu.
Better yet, the center of the page features four, large, clickable options for beginner lessons, experienced lessons, learning songs, or learning styles. Once you click on the beginner lessons, it then directs you to the easy to follow core system, with a labeled starting point that says, "start here".
Even better, on the same page, there are sections for tuning your guitar, practicing, and learning songs below the main core system. We strongly feel if we were starting today, this site would be more appealing based strictly on the appearance and usability.
Keep in mind the guitar lessons landscape is always changing. For a look at where online lessons may be headed, check out our article comparing Fender Play and Guitar Tricks.


Winner: GUITAR TRICKS




Tools and Learning Aids
Along with all the videos and great teachers that makes these sites great, the real value lies within the tools they offer via the website.
Things like tabs that pop up next to the video, the ability to slow down/speed up the pace, built in tuners, or chord finders are all invaluable to students.


JAMPLAY





JamPlay has a very easy to use toolbox that is located right below the video screen of each lesson. It's simple to find and shouldn't be too confusing for students as it has helpful labels and links to multiple features.
Students can hit the clearly labeled "Ask A Teacher" button for additional help, take their own notes in "notes", and control playback speed with an adjustable clicker among many others.
While we have not been thrilled with their home screen and lesson selection user interface, this is clearly a top-notch video lesson webpage. Tools like this are the easiest way to play guitar while you learn.


GUITAR TRICKS





The toolbox and lesson interface for Guitar Tricks is much more stripped down and simple than JamPlay which some students or experienced players may prefer.
As someone who has been playing guitar for years, we appreciated the simple screen setup that only has options for slowing down the video speed, while the tab pops up on a screen next to it.
For beginners, it doesn't have quite the options and resources of the rival JamPlay but it still certainly is enjoyable and informative.


Winner: JAMPLAY



Available Song Lessons
Last but not least, if you're going to be shelling out your hard-earned money to learn your favorite songs, you expect at least some of those songs to be available on the platform.


JAMPLAY





While licensing and tablature rights can get legally tricky, JamPlay still appears to have a questionably low number of songs available for its students to learn; somewhere in the range of 200-300 by our hand count.
Hard rock and heavy metal are well represented, as are The Beatles but overall the selection is lot on many classic and modern rock hits such as guitar lesson staples "Wonderwall" or "Good Riddance".
Blues and Country are similarly understaffed as a dozen or more of the instructor's original pieces take up valuable space, not something that really justifies the Jamplay membership cost.
A diverse list of songs is a critical part of intermediate guitar lessons, as students begin to advance from the beginner stage.


GUITAR TRICKS





With over 700 song lessons available, Guitar Tricks is off to a good start in making sure your favorite song or at the very least, band, is represented.
The site also offers a more diverse group of styles such as world, surf, and funk music that JamPlay does not. Specifically, the "Top Hits" includes a great selection of the site's most popular lessons, including some made easier for the student.
Even just the rock section is wildly more variable with everything from modern day indie rock like Cage the Elephant, to pop rock such as Elton John. When comparing Guitar Tricks vs Jamplay, the former takes the cake here.


Winner: GUITAR TRICKS




Final Recount:





(3 / 4)
WINS 3 OUT OF 4 CATEGORIES


PROS
Beautiful, sleek website design
Streamlined, linear lesson plans
Affordable monthly subscription ($9.99)
Fast growth rate in terms of songs/lessons


CONS
No famous instructors
Few in-lesson tools







(1 / 4)
WINS 1 OUT OF 4 CATEGORIES


PROS
Famous instructors teach their owns songs
Diverse lesson selection
Great in-lesson tools




CONS
Limited song lesson options and variety
Confusing, branching beginner lessons
No "beginners start here" or easily found start point
No private lessons options








Conclusion: Which Is The Better Lessons Site – JamPlay or Guitar Tricks?
There are a lot of features between these two sites that weren't compared head to head because of similarities.
First off, looking for the best online guitar instruction, both sites have readily accessible and highly rate IOS apps that can be used to learn on the go or reference while practicing.
Secondly the Guitar Tricks cost and JamPlay cost are identical at $19.99 a month for the basic subscription plans, with yearly subscriptions also available. Both of the sites also offer basic tools such as guitar tuners, chord finders, and discussion forums or group chats.
For those looking for a bargain, a JamPlay or Guitar Tricks free trial is one option if you want to try before you buy (or steal a free month) and every so often coupons will pop up, sometimes associated with reviews.
So which is better, Jamplay or Guitar Tricks?
Guitar Tricks won three out of the four categories, making it far and away the most impressive of the two and our ultimate recommendation to anyone deciding between the two.


Overall Winner:




Overall, we believe you can't go too wrong with either option based on the number of commonalities between the two as well as the popularity of both, but Guitar Tricks clearly has the upper hand based on song options, user interface, and linear lesson plans.
That wraps up our JamPlay vs Guitar Tricks review, let us know which one you think is the better value or if you learned through either platform.