The best tablet for musicians should be lightweight, powerful and easy to carry. Find out who qualifies in our expert buying guide!
Great Tablet Choices at a Glance:
| Preview | Product | Rating | Price | |
| --- | --- | --- | --- | --- |
| | Samsung Galaxy Tab S3 9.7-Inch, 32GB Tablet (Black, SM-T820NZKAXAR) | 858 Reviews | from $499.00 | |
| | ASUS ZenPad 3S 10 9.7" (2048x1536), 4GB RAM, 64GB eMMC, 5MP Front / 8MP Rear Camera, Android 6.0,... | 1,274 Reviews | from $454.23 | |
| | Microsoft Surface Pro 4 SU3-00001 12.3-Inch Laptop (2.2 GHz Core M Family, 4GB RAM, 128 GB... | 246 Reviews | from $659.00 | |
| | Apple iPad Pro (128 GB, Wi-Fi + Cellular, Space Gray) - 12.9" Display | 1,128 Reviews | from $860.97 | |
| | Fire 7 Tablet with Alexa, 7" Display, 8 GB, Black - with Special Offers | 44,572 Reviews | $49.99 | |
Finding a Great Tablet for Musical Performance
There are a multitude of different tools that can be useful for musicians of all kinds. One of newest and most cutting edge tool growing within the music industry is the tablet. The best tablet for musicians is lightweight, making it easy to haul around without adding an extra burden to what is usually a full compliment of musical gear.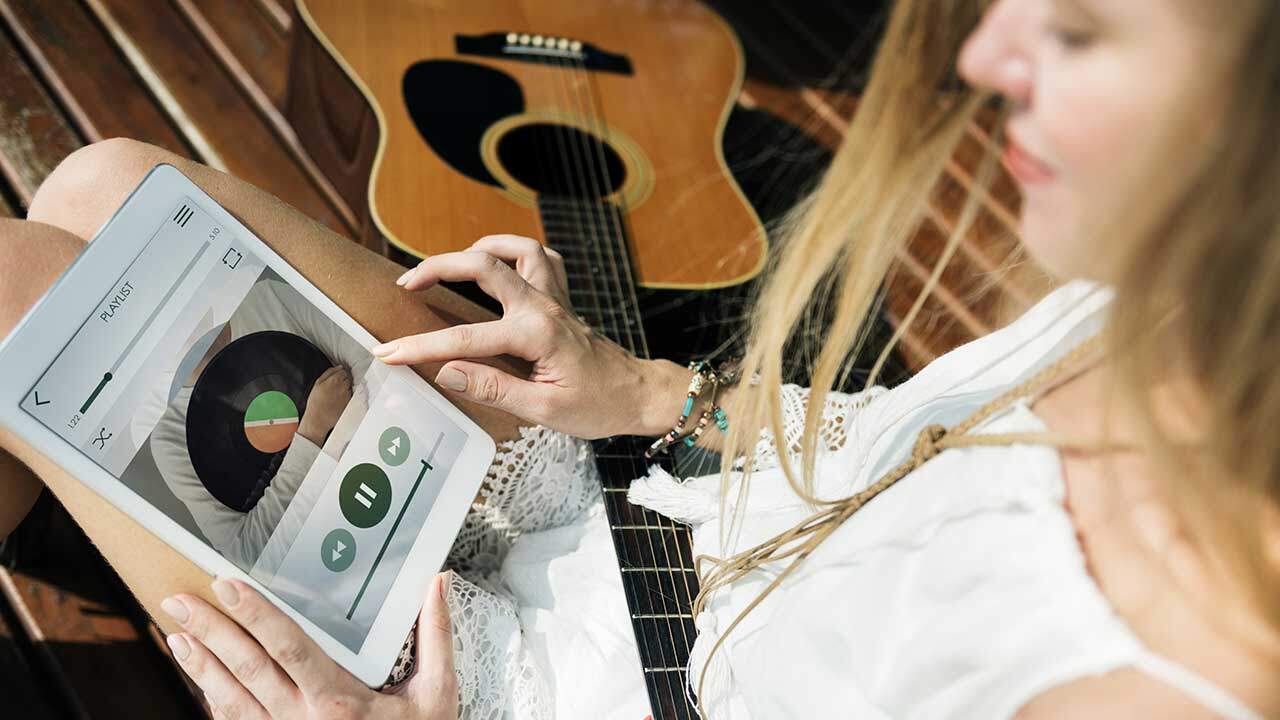 Our Top Tablet Picks for Musicians
Most tablets come with a plethora of different applications that can be used to assist in your musical hobby or career. From tuning apps to applications to apps that keep and allow you to use your sheet music at any time, to recording apps that can allow you to easily track your sound, a tablet is a great way to get ahead in the music industry with ease.
In order to help you figure out which tablet might suit you best, this article is going to take a look into five popular tablet options that may peak your interest,



On Sale!
Samsung Galaxy Tab S3 9.7-Inch, 32GB Tablet (Black, SM-T820NZKAXAR)
Featuring High Dynamic Range on a Super AMOLED display, the Galaxy Tab S3 delivers cinematic vividness, detail, and deep contrast to a screen that fits in your hands
Our revolutionary S Pen is more precise and pressure-responsive than ever, and never needs to be charged, liberating you to create, translate, and navigate without limits
Powerful Quad speakers, tuned by AKG, calibrate with your movements as you rotate the Galaxy Tab S3, and intuitively reflect what's playing on-screen
Easily switch from touch to type with a feather light keyboard that auto-pairs, attaches on contact, and never needs charging.Digital Optical Zoom:X8 (Digital)
Keyboard sold separately. Processor Speed Type : Quad Core(2.15 GHz + 1.6 GHz Quad), Qualcomm APQ8096. External memory or micro sd capacity up to 400 gb. Features bluetooth v4.2
Specs
The Samsung Galaxy Tablet S3 features a 9.7" screen with a 32GB hard drive and 4GB of RAM. To start off with, this is a lot of space for any apps, pictures, and recordings you may need at least until you have the time to upload them to a computer.
The max screen resolution for this tablet is 2048 x 1536, and the average battery life is around 12 hours. If you're out working all day, that means you'll have a long time to be able to use your tablet without worry of it dying on you. The kit for this tablet includes the S Pen stylus, whereas many other tablets require you to purchase a stylus separately.


Pros
This tablet is fast, meaning it's going to be able to handle just about whatever you need to do at a decent speed. You won't need to be sitting around waiting for an app or web page to load. This tablet is going to be great for the more intense purposes such as writing, drawing, games and business use.
Cons
As a well-known brand, the Samsung Galaxy S3 is one of the more expensive options for a tablet. It also doesn't come with a holder for the stylus unless you purchase a keyboard cover. It can be easy to lose your stylus without a place to keep it.





On Sale!
ASUS ZenPad 3S 10 9.7" (2048x1536), 4GB RAM, 64GB eMMC, 5MP Front / 8MP Rear Camera, Android 6.0, Tablet, Glacier Silver (Z500M-C1-SL)
9.7" 2K IPS Display (2048 x 1536) with ASUS TruVivid technology for better visual experience and Corning Gorilla Glass 3 cover glass for tougher and more damage resistant protection.
Powerful dual Core ARM Cortex 2.1 GHz combined with quad Core ARM Cortex 1.7 GHz, 64 bit MediaTek processor. 10 hours Battery Life
Easily handle games and speed up productivity with super-fast hexa-core processor, 4GB RAM, 64GB storage and IMG GX6250 graphics.
8M/5M Dual Camera; 1 x microSD Card slot, support up to 128GB SDXC.Fast and accurate fingerprint sensor is the perfect blend of strong security and incredible convenience. Android 6.0 OS. Interfaces: 2-in-1 Audio Jack (Headphone / Mic-in), Micro SD (SDXC)/ Max.128GB, Type C.Weight: 0.95 lbs
Display: 400 nits
Specs
The Asus ZenPad tablet has a 9.7" display, 64GB hard drive and 4GB of RAM. It also has a 8m/5m camera and room for one microSD slot to give you a little extra space for saving recordings, pictures, or anything else you may need. The Corning Gorilla Glass 3 allows the screen to be more durable to accidental drops and other issues.
This tablet can easily handle even some of the more demanding processes with its super fast hexa-core processor. It also has a fast and accurate fingerprint sensor to allow you to have a convenient but safe way to access your device.


Pros
Many customers enjoy the expandable storage on this tablet because it gives them more space to save important information. They also like the fingerprint sensor, which is a great way to keep the device safely locked without having to worry about remembering any passwords or patterns.
Cons
Customers have been concerned about the rate of battery usage for this tablet, as it seems to dwindle quickly. It is also important to note that while there is a stylus available for the ASUS ZenPad 3S tablet, it is sold separately so if you know you will be needing one, make sure to factor that into the overall cost.





On Sale!
Specs
This Microsoft Surface Pro 4 tablet has a wider 12.3" screen, making it larger than either the Samsung or the Asus. The screen is made to have very high contrast and low glare so you can use it comfortably throughout the day without it causing a strain to your eyes. It also has a 128GB hard drive and 4GB of RAM to help take care of your memory needs.
The average battery life on the Microsoft Surface Pro 4 is 9 hours, so you won't have to worry about it dying on you in the middle of a long day. This tablet also comes with a kickstand and a keyboard to allow you to use it as a laptop as needed.


Pros
Customers who have used this tablet love tit's flexibility as it replaces both textbooks and notebooks. It's great for storing digital textbooks, allowing them to spend less than they would on printed copies. It's also great for taking notes, whether that means through the use of the keyboard, or writing on the tablet with the stylus accessory, which is sold separately and will need to be factored into the overall cost.
Cons
This isn't a tablet made for very demanding games. It will run some that require less effort to run perfectly well, but it's by no means a gaming tablet. Compared to some other tablet brands, it does also have somewhat of a relatively high price tag. However, it certainly isn't the most expensive of the brands either.





On Sale!
Apple iPad Pro (128 GB, Wi-Fi + Cellular, Space Gray) - 12.9" Display
Photo alignment, Variable refresh rate and Timing controller
Four speaker audio gives an incredible sound experience
12.9 inches Retina Display, 2732 x 2048 Resolution. Apple iOS 9, Dual-Core A9X Chip with Quad-Core Graphics
8 MP iSight Camera, Four-Speaker Audio. 128GB Capacity, Wi-Fi (802.11a/ b/ g/ n/ ac) + Cellular plus MIMO plus Bluetooth 4.2
Up to 10 Hours of Battery Life. iPad Pro supports new Apple Smart Keyboard and Apple Pencil
Specs
The Apple iPad Pro has a 12.9" screen size, making it the largest of all the tablets on this list. Unlike the others that come with around 4GB of RAM, this one comes with a whopping 128GB of RAM. That's a huge difference and will give you a lot more space to store things on. It's very slim and lightweight, coming in at a little under a pound and a half. It has an 8Mp iSight camera and 4 speakers to make sure your audio sounds simply perfect.


Pros
Customers are loving the larger screen size on this tablet, as it makes everything from reading to recording to watching movies much easier. Due to the screen ability and the slim size, it works very well for tracking sheet music as you practice your favorite instrument. It will also fit easily onto a music stand or other space and be large enough to follow along with.
Cons
As can be expected, this is a larger tablet with larger capabilities, so it's going to have a larger price tag. At around $800.00, the Apple iPad Pro is the most expensive tablet of all the options on this list. Due to the price and technology, it's incredibly important to make sure you hang onto any purchase information such as shipping confirmations and warranties you may get, just in case there are any problems. It's always a smart idea to protect your investments, that way you don't end up losing money if something goes wrong.




Fire 7 Tablet with Alexa, 7" Display, 8 GB, Black - with Special Offers
The next generation of our best-selling Fire tablet ever - now thinner, lighter, and with longer battery life and an improved display.
Beautiful 7" IPS display with higher contrast and sharper text, a 1.3 GHz quad-core processor, and up to 8 hours of mixed-use battery life (may vary depending on usage). 8 or 16 GB of internal storage and a microSD slot for up to 256 GB of expandable storage.
Just ask Alexa for quick access to the information and entertainment you want. Ask questions, play music, check your calendar, get the news, weather, and more.
Ask Alexa to call or message almost anyone, or make video calls to family and friends with a Fire tablet, Echo Spot, Echo Show, or the Alexa App. Instantly connect to enabled Echo devices.
Enjoy millions of movies, TV shows, songs, Kindle eBooks, apps and games - including Netflix, Facebook, HBO, Spotify, and more.
Specs
Th Fire 7 tablet comes in a variety of colors including black, canary yellow, marine blue and punch red. It has an 8GB hard drive and 16GB of RAM. Amazon claims that this tablet can be described as "more durable than the latest iPad". That's a pretty huge claim! It has a 7" screen, making it one of the smaller and more portable options for a tablet, and 8 hours of battery life.
With a MicroSD card you can expand the memory by up to 256GB. Being an Amazon tablet, this tablet also has access to Alexa, who can help you by making orders, answering questions and more! As an Amazon prime member with this tablet, you can also get access to thousands of movies, tv shows, songs, books, all manner of digital media for free.


Pros
One of the best features of this tablet is the low price. For as low as $40.00 you can get your hands on a Fire 7 tablet. You won't have to worry about spending the big bucks or having to pay monthly to get what you need. It's a great tablet for web browsing, following social media, and reading. Essentially, if you'll be needing it to read along with sheet music or keep up on your musical social media, this is a great low cost option!
Cons
Being a low cost option, it is important to keep in mind that within reason you do get what you pay for. That's not to say that this tablet is low quality at all, it just won't have the extras you would find on a $500+ tablet. It only has one speaker, but can connect with bluetooth speakers easily. It also cannot play 1080p video.





Compare These Tablets:
Conclusion
Overall, choosing a tablet is going to depend on what kind of things you need it for, how much you'll need to have stored on it and the amount you're willing to spend.
Tablets do vary in what they can be used for – in this case, we're looking for a tool to support musical performance. Some are great for the more in-depth tasks while others are best used for note taking.
Since there are so many variables in price, performance, general usage, and the individual musician's requirements, there really isn't a clear winner. Personally, if I had the budget I would opt for the Apple IPad Pro for professional use – but it certainly comes at a price.
If having a quality camera is important to you, that's another thing to keep in mind. Prior to shopping for a tablet, it may be a good idea to make a list that will help you to find the tablet that will suit your needs the best, whether it's for recording music or following and saving sheet music.