Considering all the different ways you can learn guitar, it is time to examine each option and decide which is the best way of learning guitar online.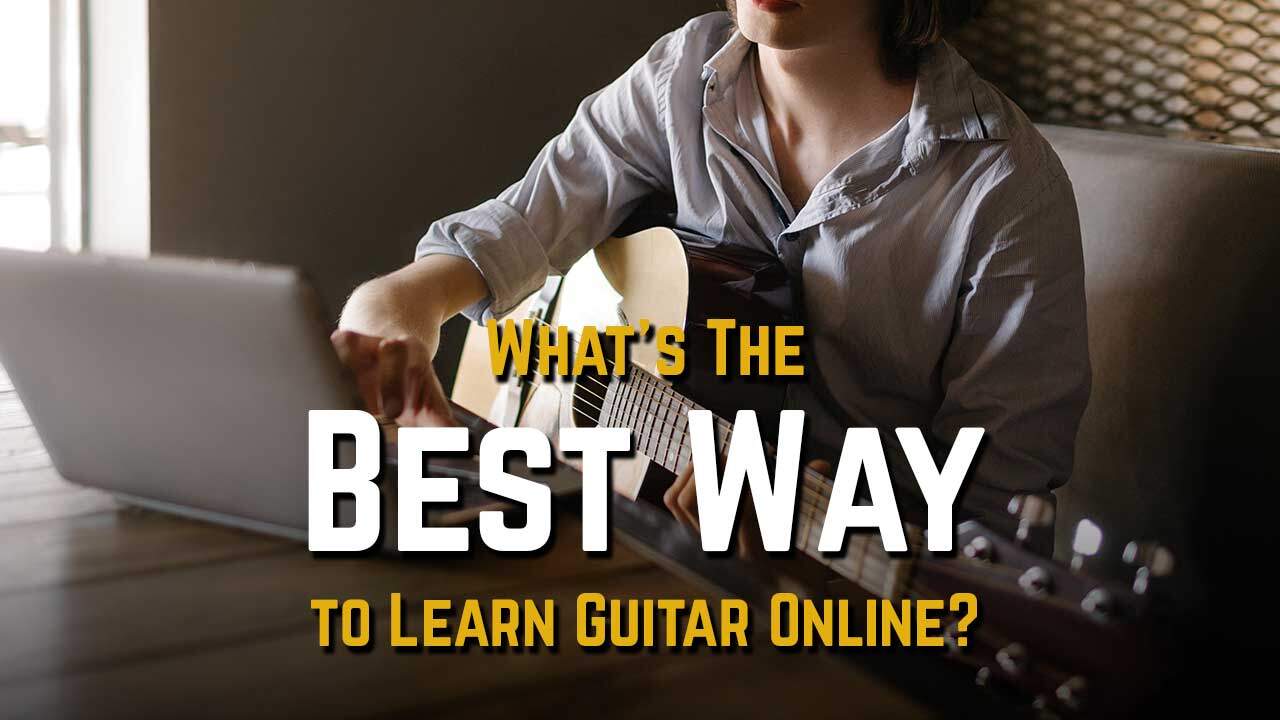 Learning Guitar Online: Which Way is Best?
There are hundreds of online guitar tutorials for beginners on YouTube, lesson websites, and forums, but there are many factors to consider before choosing what is right for you.
Are you looking for an online guitar teacher or more broadly, just the best place to learn guitar online? Furthermore, do you plan on paying for the service, or would you rather learn for free?
Of course, there are many more factors such as ease of use, lesson diversity, and song guides that will also influence your or your guitar student's decision.
Let's take a look at a variety of options from YouTubers, online lesson sites, and other web pages, to see which option has the best online electric guitar lessons.
We certainly hope you benefit from the information we provide in this article! Just so you know, we may receive compensation if you use the links on this page. If you do, thank you so much!

Who Has the Most Lessons Available?

YouTube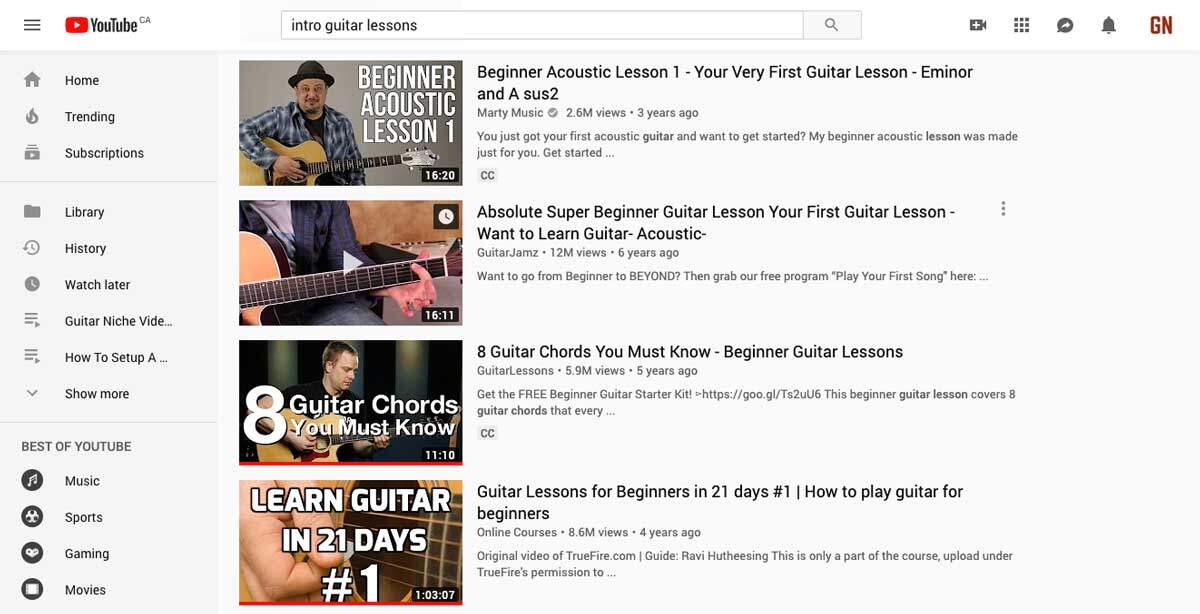 While YouTube isn't an organized, structured learning platform like most guitar lesson sites are, it does have one of the largest collections of videos available.
However, it will be up to you to search for and determine which are the most helpful or best quality. If you're willing to do the work, YouTube may be the best choice as it simply is a warehouse for any and all videos guitar related, including many video lessons also featured on popular websites like JustinGuitar.com or JamPlay.com.
For those looking specifically for an online guitar teacher, someone who they can build familiarity and continuity with, YouTube is limited to only a handful of highly rated and largely viewed personalities that you will have to choose from.

Lesson Sites
While there is a ton of variability from site to site, we can generally lump GuitarTricks.com, JamPlay.com, and all the other sites into one group for this perspective.

While the sheer volume of video content may be smaller on these sites than it is on YouTube, it will be more focused and surely higher quality with engaging paths and lesson plans to help get students started.
There is a reason many people consider these sites the best place to learn guitar online, and it certainly includes the diversity and reliability of the educational lessons available. Unfortunately, most of these sites will cost you a subscription fee however.

Forums, web sites, tablature sites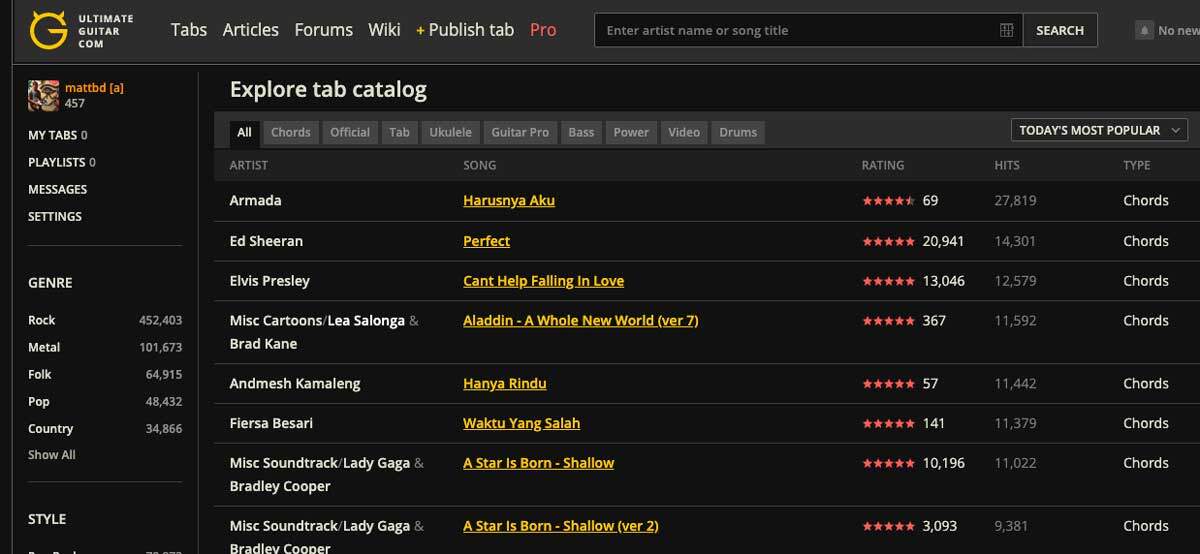 I'll save you some time, while these are excellent resources, they are best used as complementary tools to your guitar learning experience be it online or via a real live instructor.
Forums can give you great insight from other players about techniques, scales, or gear that may help take your playing up a notch but there will be few, if any lesson videos on these sites.
Any videos that are available will also likely be found on YouTube and referenced as you play.

 WINNER: Lesson Sites

Who Can Teach You the Most Songs?

YouTube
Similar to the video lessons discussed above, song lessons are an important feature of your guitar learning experience. Songs are a great way to practice rhythm, playing techniques, chord progressions, or scales.
Songs are especially helpful when used to show how distinct skills learned in past lessons can be used in a musical setting. YouTube will have tons of options as stated before, but will they all be the best?
Will they all include tabs? Likely not and you'll be left trying to zoom in on chord fingerings and neck positions in some cases.
One pro for YouTube though is that many online lesson sites are limited in song selection by licensing costs or resources to produce the video lessons and YouTube is filled with both many highly rated instructors and die-hard fans capable of teaching you songs from any artist, genre, or style.

Lesson Sites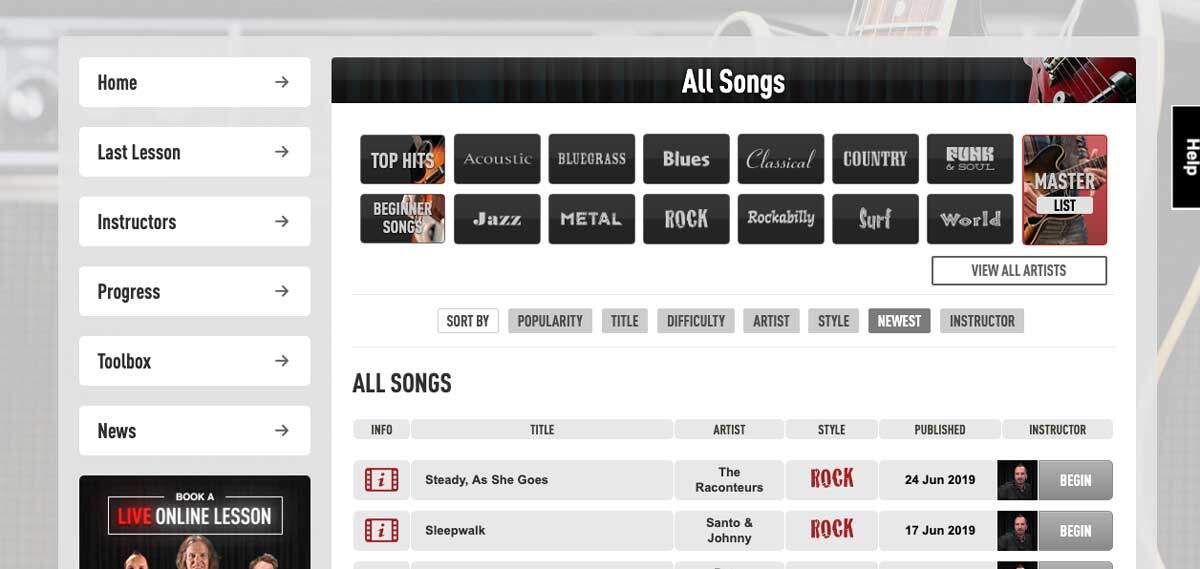 What the lesson sites like Fender Play or JamPlay may lack for in options, they make up for in detail and quality. Most, if not all, video lessons will come with tablature or musical notation written out on a screen next to the video.
And videos often feature multiple screens showing close ups of how the instructor fingers the chord and where on the neck it is played.
Most importantly, these sites also guide you towards song lessons that illustrate important guitar or bass playing concepts that help you develop skills you can translate into harder songs later.
Furthermore, many sites feature live lessons, private lessons, or just one online guitar teacher, that will be able to help you focus in on song or technique options not generally available on the site.

Forums, websites, tablature sites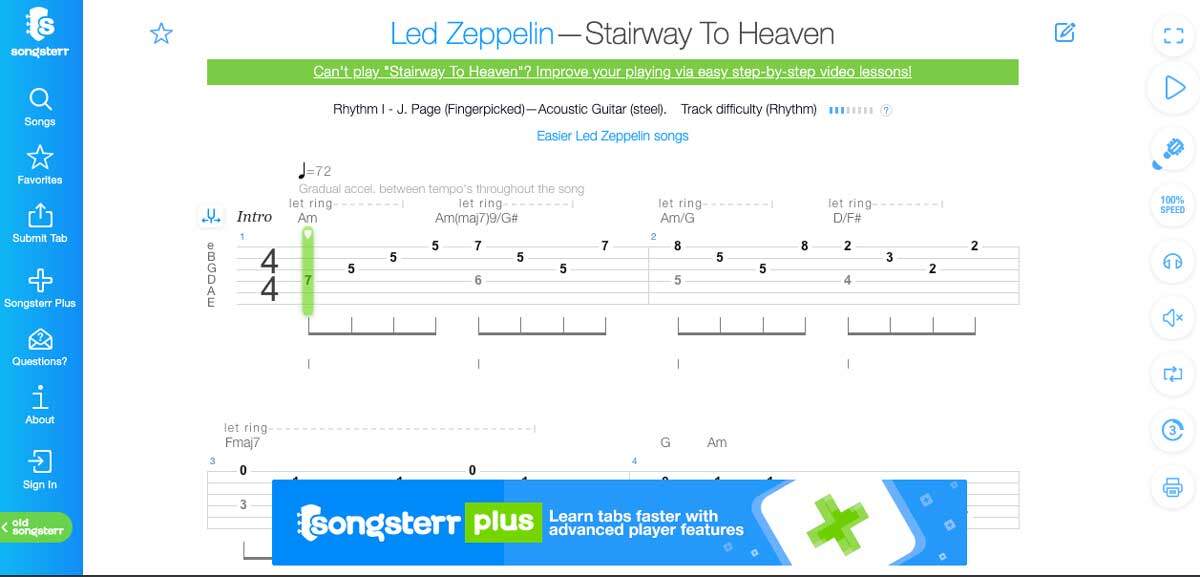 Tab sites, like Ultimate-Guitar.com or songsterr.com, start to be more competitive with the other options here as they have user rated tabs, chords, and notation options for almost every song ever written.
Songs are contributed from amateur players and fans all around the world and are a great way for you to test out the skills you learned from your YouTube, lesson sites, or other online guitar tutorials for beginners.
But once again, this work best when partnered with your online guitar teacher or lesson plan.

 WINNER: Lesson Sites

Who Has the Best User Interface and Toolbox?

YouTube
YouTube has come a long way in this regard thanks to one big feature, you can slow down or speed up the playback speed of each video lesson.
This makes watching tabs or song covers much easier if you're looking at how the musician is physically playing the notes.
However, YouTube pales in comparison to the streamlined lesson plans, help options, and tools of subscription lesson plans.
Things like online guitar tuners, notes sections, and chat help functions simply aren't available here, losing them points in this online guitar lessons review.

Lesson Sites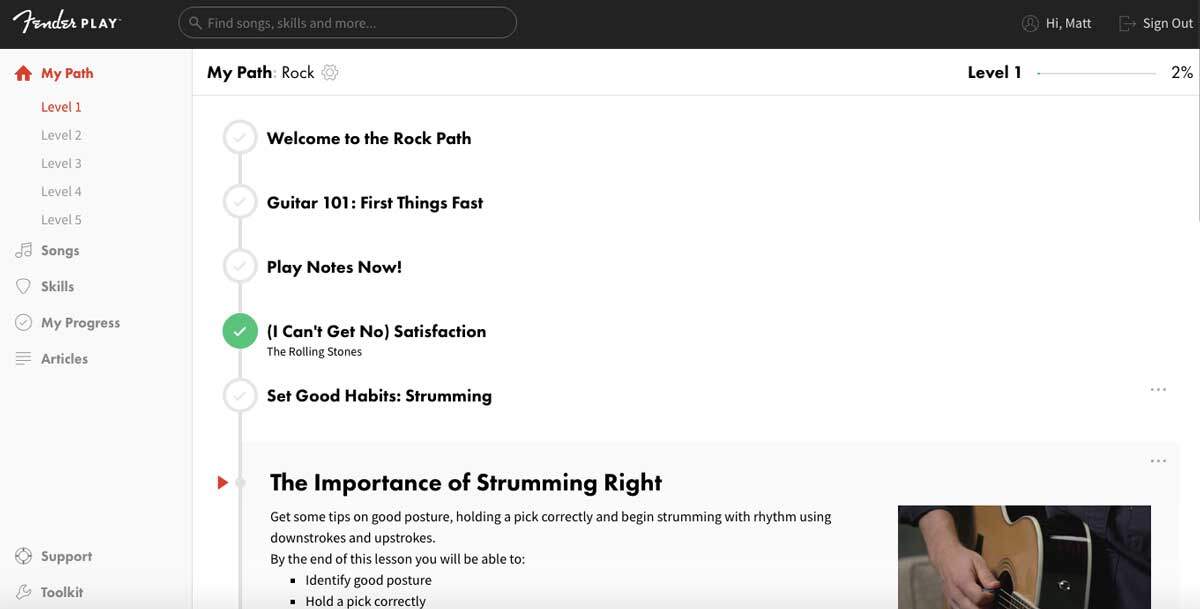 So many of these great lesson sites feature even great tool boxes or linear learning paths that are easy to access, follow, and pick up where you left off.
Videos can be slowed down or sped up, tabs pop up next to the screen, tuners and chord finders are built in for easy access. Better yet, they often have links on your homepage to pick up where you left off mid lesson plan or mid video.
Also, because they are designed specifically for guitar lessons, the user interfaces and webpages are easy to navigate and have helpful links everywhere on your personalized page.

Forums, websites, and tablature sites
Unfortunately, these online options once again can't compete with the video lesson options.
With the sheer number of easy guitar lessons online from YouTubers or lesson sites, there is no reason to solely rely on tab pages or forums where toolboxes aren't necessary, and help isn't moderated by experienced instructors.

 WINNER: Lesson Sites

Conclusion: The Best Way to Learn Guitar Online Is?..
Lesson Sites
Overall, you get what you pay for with any of the lesson sites available online. Yes, it builds extra cost into your guitar learning experience, but the higher quality lessons and tools available should make you play better, faster.
At the end of the day you're getting a streamlined, more personalized learning plan that focuses on providing you with top rated guitar lessons as opposed to making you search through hundreds of video options from amateur instructors on YouTube.
Forums, guitar websites, and tab sites make great additional learning tools for you to pursue more in depth or genre specific info but can't be relied upon to be the best method to learn guitar.
Lesson sites remain the best place to learn guitar online and if you're having trouble picking one, be sure to check out our many online guitar lesson reviews.