I Just Want to Drink Beer Play Guitar and Take Naps Slacker T-shirt
The aspirations of a serious guitar player can be very high… sometimes. The fact is most of us are content to just drink beer, play guitar, and take naps. Share your real dreams with this great guitar t-shirt.
Makes a great gift for any guitar player who aims high.
Order Yours Today!

---
not rated
$

23.97 USD
Select options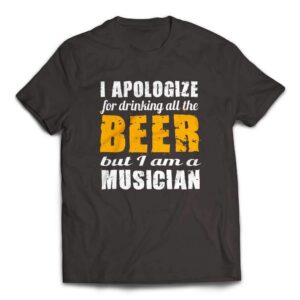 I Apologize For Drinking All The Beer T-Shirt
Many musicians, particularly guitar players, need liquid inspiration to hone their craft and stay on point. That means beer, and lots of it.
If you're too shy to apologize yourself, or you've had to do it so many times you're just tired of having to repeat yourself – let the shirt do it for you!
Stay lubricated, and save your energy for the beer.
Order Yours Today!

---
not rated
$

23.97 USD
Select options