Well known for Squier guitars, the Squier brand has been around for well over 100 years. Under the Fender family umbrella since 1965, they're doing better than ever!

We certainly hope you benefit from the information we provide in this article! Just so you know, we may receive compensation if you use the links on this page. If you do, thank you so much!


Brand Spotlight: Getting to Know Squier Guitars


Squier Background & History
While many of you surely know the brand Squier as Fender's little brother, did you know that the brand actually predates Fender itself?
Started in 1890 by Victor Carroll Squier, the company originally was originally created to produce strings for violins, banjos, and acoustic guitars.
It continued on successfully until 1965 when Fender purchased the company with the intention of using them as their primary string manufacturer.
Sadly, in 1975, Fender decided to instead make Fender-brand strings for their guitars and ceased Squier's production, essentially closing the company.





As fate would have it, this was not the end for the Squire company as Fender still owned the rights and in 1982, they decided to produce cheaper, entry level guitars under the Squier brand name overseas and sell them as "Squier by Fender".
Fender had been attempting to produce cheaper lines of their guitars under their brand name in their Fullerton factory but was finding more and more competition from cheap, asian-imported copies.
Realizing that they couldn't keep up with the lower prices at mass production levels, Squier was reborn.






Throughout their history, Squier has produced guitars in multiple locations including China, Japan, Mexico, America, and India before modern day operations moved primarily to Korea and Indonesia.
Squier continues to be owned by Fender and reproduces cheaper models of almost all famous, well known Fender standards ranging from Stratocasters to Mustangs.
While many of their guitars are awesome values and fun to play, it is important to remember what makes them cost so much less and how that may affect performance.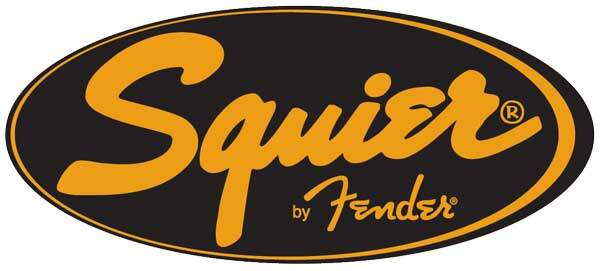 First off, mass production of anything overseas is cheaper than it is in America due to loose regulation, cheap labor costs, and sometimes spotty business ethics.
Regardless of your moral or economic opinion of the American manufacturing exodus to Asia, it certainly has helped make guitars cheaper.
Secondly, they rarely use name-brand parts such as pickups, tuners, or bridges, with some exceptions for more expensive, signature models.
Generally, you will not find advanced features like binding, locking tuners, or coil tapping on any of the entry level or mid-level Squier products either.
This doesn't mean the guitars are poor quality, especially with CNC mass production keeping guitars to strict quality standards.
You just can't expect much more than the basics from these instruments, which is why they often make great candidates for parts-casters or hot-rodded instruments.





Best Selling Squier Guitar Models
Most Squier models available currently run from $189.99 to $599.99 – depending on the sales source, and can be purchased directly through their site or via popular retailers like Amazon, Guitar Center, Sam Ash, or American Musical Supply.
Are Squier guitars any good?
They often have a robust used market on sites like Reverb.com or eBay.com due to their high production numbers and demand by money-strapped players like me.
They currently have five main series of guitars that they regularly produce at different price points called Bullet, Affinity, Contemporary, Vintage Modified and Classic Vibe.
Discontinued lines that you may still find floating around include the ill-fated Artist series from 2012 or the Deluxe series which produced some nice Strats but not much else. Let's take a look at some top sellers from all these lines.





Squier Affinity Series Stratocaster HSS Pack





A perfect starter pack for anyone trying to learn electric guitar, Squier has had lots of success with this marketing tactic of packaging a guitar, amp, case, and accessories together.
They have produced these options for both the Bullet and slightly better Affinity Series and can be found at almost any major retailer.
Furthermore, they have tried some packaging of higher end Squier models with low end Fender amps but that resulted in less success.
Often, it meant only getting a guitar and amp with no case/tuner/cord as a way of keeping prices low, which was less appealing to beginners.
With a number of parents buying instruments for their children to learn on, these are an easy way for people who know little to nothing about guitars to safely and securely buy one.
These packs also come in limited acoustic and bass guitar varieties, helping beginners of all kind get their start.
For more info, you might be interested in our complete Affinity Pack review.


If You're A New Guitar Player
All guitar players have to go through the same process of learning how to play. Today, it's never been easier – Fender understands this and has put together a great system to help you get started with "Fender Play".







Squier Bullet Stratocaster





The simplest of all their models, this take on a classic strat is targeted to dominate the entry level market as it features just the bare bones of Fender's most popular guitar.
Typically retailing for $179.99 it is priced to sell to just about anyone and offers a cheap option for parents of beginners or beginners wary of spending too much money on an instrument they may not stick with.
Often times, these models are sold as part of beginner packages that include a small guitar amp, a strap, guitar cables, picks and anything else you may need to learn to play guitar.
These are incredibly popular and are often the first guitars for many of the players in the latest generations, but they come with limited finish options and don't feature the tuning stability or fast necks of their Fender counterparts.






Squier Affinity Series Telecaster





Are Squier Affinity telecasters any good?
A step up from the Bullet series is the Affinity series which offers more finish options as well as introducing a Jazzmaster model to the world.
Currently costing $229.99 these are not crazy expensive but are generally regarded as one of the best values in the guitar world and feature much better craftsmanship.
Our writer Matt says, "I even recently purchased one of these Tele's to turn into a partscaster-copy of Joe Strummer's famous black Tele and was shocked at how much I liked it before any upgrades."
These are still entry level guitars but definitely make it a little bit easier to learn on as mine had great tuning stability and a comfortable neck. Also, they tend to come in more traditional Fender finishes such as Butterscotch,
Race Green, or 2-color Sunburst in addition to the White and Black variations of the Bullet line.
Find out more in our complete Telecaster Affinity Review here.





Squier Contemporary Stratocaster HH





Checking in for the Contemporary Series we have a gorgeous Strat with two zebra stripe humbuckers with a finish headstock.
This line was created to add some modern updates to Squier's family of instruments that target musicians playing high-gain or metal music.
While super-strats have long been the instrument of choice for shredders, hard rockers, and the like, they have often gone for instruments from Jackson, Charvel, or ESP in lieu of hot rodded Fender products.
The Contemporary Series offers Strats with HH, HSH, SSH, and even active EMG-style humbuckers and beautiful, bright finishes to get any 80's hair rock or modern metalhead in on the bandwagon.
While still incredibly affordable, these are some of the more expensive Squier guitars coming in around $449.99 or more.






Squier Classic Vibe '70s Telecaster Thinline





Last but not least is one of Squier's best series of instruments, the Classic Vibe series. They tend to cost in the mid-hundreds range – the starting price for many of Fender's made in Mexico series. Still, they have received great critical and commercial reception.
Boasting Squier's best hardware and pickups, often referred to as "Fender-designed" meaning that they made overseas copies of the same pieces used on Fender USA models, these things play very similarly to high end Fender's.
All of the Classic Vibe series set out to recreate the magical guitar models that were popularized in the 50's, 60's, and 70's by some of the world's biggest musicians.
Their take on the '70s thinline is one of the most beautiful guitars we've seen at this price point, and even features a heavy, smooth gloss finish associated with high end models.


Squier Classic Vibe 50's Telecaster





What is the best Squier guitar?
We've been asked this question many times. If we had to sum it up in one guitar, we'd have. to say it's the best is the Squier Classic Vibe 50's Telecaster.
We've had so many come across the workbench for simple mods and setups, we've found it to be one of the best overall Squier guitar values you can get!
For more info on this model, check out our complete Squier Classic Vibe Telecaster review.






Squier Vintage Modified Jazzmaster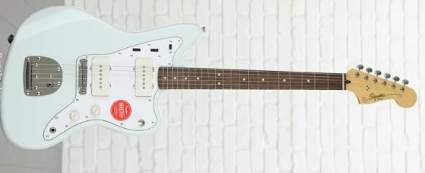 An older line that is slowly being replaced by the Classic Vibe Series, the Vintage Modified line of guitars was also a huge commercial success for Squier that featured higher quality remakes of classic Fender models.
Entering the market with new re-vamped finish options, upgraded "Fender-Designed" pickups, and vintage specifications their take on the Jazzmaster produced this beautiful model for only a few hundred dollars.
These and the Vintage Modified Telecasters are incredibly popular on the second hand market currently and represent fantastic "second" guitars for players looking for an upgrade or are great live guitars for budget minded performers.
At a lower price point than many of the new Classic Vibe guitars, these are one of the best values in the Squier family.







Squier Classic Vibe P & J Basses



Squier by Fender Classic Vibe 70's Jazz Bass Guitar


With both classic Fender basses represented in the new Classic Vibe line for only a few hundred dollars, many bass fans should rejoice.
Squier has reinvigorated its bass lines in coming years removing many Affinity and Bullet basses and replacing them with an Affinity P/J bass you'll see later and these higher quality, more expensive models.
The Precision (P) and Jazz (J) basses are arguably the two best bass guitars ever produced and have been widely used by most musical legends.
The P bass on top features the simple, one pickup design of Fender's P bass which has been relied on for thumping, powerful bass lines throughout rock and funk's history.
The J bass features two pickups and more onboard EQ options than it's Strat-bodied predecessor and has more of an offset, Jazzmaster body shape.
For the extra money over the Affinity series bases, many of the upgrades are cosmetic or have to do with the quality and playability of the neck.
The J bass features beautiful black block inlays on the maple neck while the P bass, true to its simple form, has dot inlays along an Indian Laurel fingerboard both with smooth gloss finishes.
Squier Affinity Series P/J Bass





Featuring both P and J bass pickups in the body, this represents one of Squier's flagship entry level bass guitars at the humble price of $229.99.
With three knobs giving more variable tonal options akin to the Jazz bass, you can get a number of great tones out it as you grow as a live player or songwriter.
In the familiar Strat-like body of the P bass, it has been noted by many for being incredibly comfortable to play.
This P/J bass also comes in the aforementioned packages with case, amplifier, cables, and tuner that makes it so readily accessible to students of all ages and budgets.
However, as with some of the Affinity guitars, you are likely limited in finish options to a basic white or black.






Popular Squier Guitar Signature Models
All popular guitar brands these days are constantly competing with one another to land more and more signature artists.
With each artist endorsement or signature model, the hope is that the band's recognition will generate sales of the instruments they use as fans try to emulate their idol's sound.
Often times, the most willing to buy signature models are beginners or students who are looking for their first guitar to learn their favorite songs on or are looking to upgrade from that Bullet series Strat to a more dependable instrument.
J Mascis Jazzmaster





According to J Mascis, he went to a local guitar store to buy a Strat, found out it was too expensive, and walked out with a Jazzmaster, which was a very lame guitar at the time.
Little did he know, his new Jazzmaster would go on to become a guitar icon in the world of alternative rock thanks to his work with the band Dinosaur Jr.
For $499.99 you're certainly getting a lot of guitar, comparable to a low end Fender model, for less than the $500+ price tag of Mexican or American models.
With a stunning gold pickguard and all the essential Jazzmaster features in tact, the popularity of this model has been driven more by the quality of the guitar than by the name association or fame of J Mascis.
Jim Root Telecaster





Squier's take on a true modern metal guitar saw them partner up with a true modern metal guitar hero in Jim Root of Stone Sour and Slipknot fame.
The humbuckers may look like active EMG pickups but are actually just matte black passive Squier humbuckers that have been noted for having impressive bite and output for the price range.
Root's Tele, which can be found on Reverb at good prices, adds a unique option for metal players on a budget who want to look past traditional ESP, Jackson, or Dean metal instruments.
Available in Flat White and Matte Black finishes Squire likely hopes continued artist diversification will pay off in the ever changing guitar retail landscape.
J5 Telecaster





Checking back into the world of modern metal and hard rock, John 5's love of Telecasters is well known and somewhat uncharacteristic for the music he makes.
Either way, Squier teamed up with him to make one of his signature hot rodded Tele's available on Reverb at the affordable prices with some great features.
The J5 Telecaster is one of their newest signature models released and features Alnico 5-based humbuckers, a three way selector switch that features two volume knobs and no tone, which allows you to use the selector in as a kill-switch when soloing.
This guitar, like the other signature models listed, has a beautiful finish and detailed headstock that has really made Squier unique in that many of their cheap guitars don't look like cheap guitars.






Squier Acoustic Guitars
Squier SA-150 Dreadnought Acoustic Guitar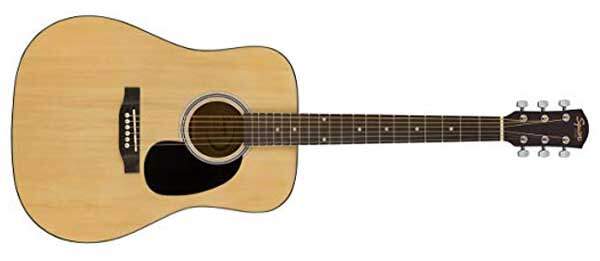 Fender makes many of its cheaper, entry level acoustics overseas under their own brand name leaving only one Squier acoustic commercially available.
The SA-150 is a budget acoustic targeted to those needing a cheap, acoustic guitar with no frills at a budget price point.
For more information on the package deal, read our full review here.






Pros Use Squier Guitars Too



Platinum-selling band Catfish and the Bottlemen have become one of the new faces of alternative and indie rock mixing the pub-rock influence of Oasis with the more textural guitar work inspired by U2's The Edge or The Killers' Dave Keuning.
But little did you know that frontman, rhythm guitarist, and songwriter Van McCann wrote and recorded the entire first album with one of the aforementioned Squier Jim Root Telecasters as his main instrument.
Proving you don't need expensive gear to write quality tunes, you can hear this affordable Squier tone all over popular singles such as "Kathleen", "Homesick", and "Cocoon".
McCann commented on his use of Root's signature model: "I don't even know him. Doesn't he have a mask on sometimes? I use that guitar because it's matte black and it's got a volume knob, and that's it. It was like £150 and I've swapped the scratchplates over and I've smashed it up, but it just doesn't break or go out of tune."