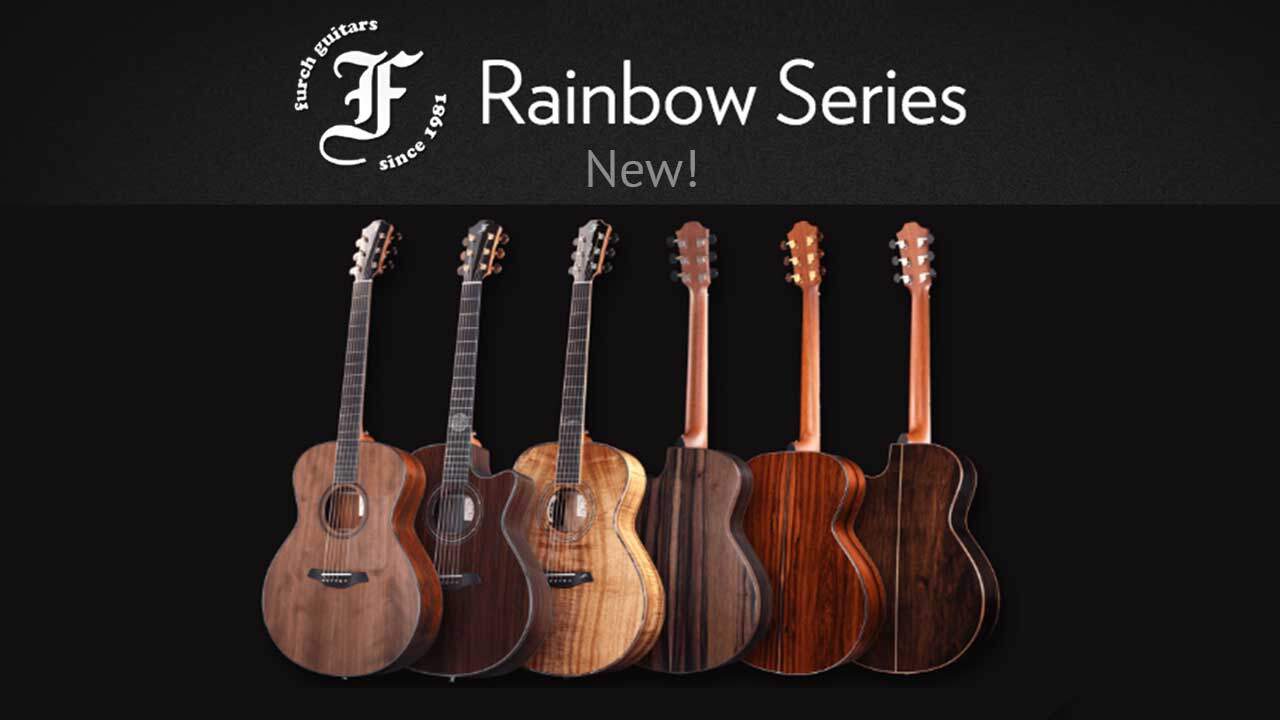 PRESS RELEASE
Furch Guitars (Furch), the world's leading maker of premium quality guitars, now offers guitar players the option to be a master luthier and design a custom guitar that meets their personal needs and preferences. Players who take advantage of this offer can choose from as many as 160 features and combine them in any way to create a truly unique instrument. Furch's new line of custom guitars bears the name RAINBOW.
RAINBOW custom guitars feature a top-notch base configuration, which includes a Sitka spruce soundboard and Indian rosewood back and sides. Both tonewoods are of the master grade variety, the highest available quality. The base design of the RAINBOW line can be customized using more than 160 varied features that include body shape, number of strings, materials, appointments, finish, tuning machines, and pickups and electronics. The available custom features can be combined in various ways to create as many as 25,000 different guitar designs.
"Demand for custom guitars has been growing steadily in the past 10 years. Last year, guitars with an above-average number of custom features accounted for about six percent of our production. We expect that this figure will be even higher this year. The new RAINBOW line responds to the continually growing demand for custom models, and it provides players with an unprecedented freedom to design their dream guitar. Guitarists are no longer limited to choosing one of the standard models in our portfolio. They can design their instrument essentially from scratch using a long list of custom features," says Petr Furch, CEO of Furch Guitars.
Even though each RAINBOW guitar is to a large extent unique, all RAINBOW instruments share top quality premium tonewoods and state-of-the-art production technologies, such as top and back voicing, proprietary extra thin and extra resistant UV finish, and the revolutionary Furch CNR System neck joint, which increases long-term neck stability by as much as 90%. The combination of the best available materials and top technologies not only provides RAINBOW models with stunning looks, but even more importantly, it also further enhances the superb acoustic qualities of Furch guitars.
RAINBOW guitars can be ordered through any Furch authorized dealer. For a list of dealers, visit www.furch.cz/eu-en/retailers.
Color Series
In addition to RAINBOW models, Furch offers seven new standard lines – RED, ORANGE, YELLOW, GREEN, BLUE, INDIGO, and VIOLET. The new models replaced Millennium guitars at the beginning of the year after they served as Furch's flagship line for 18 years. The color models bring together a stylish appearance, courtesy of a number of meticulously crafted details, a superb sound, and a host of technological innovations. Furch's color guitar lines differ by the combination of tonewoods, the types of finish, and appointments. The top standard line, RED, features premium tonewoods, top and back voicing, attractive unconventional appointments, and the proprietary Full-Pore High-Gloss Finish. The base line, VIOLET, offers a combination of solid and layered woods, Open-Pore Finish, and discreet adornments.
For detailed information on new models of Furch acoustic guitars, visit www.furchguitars.com.
Furch Guitars
Established in 1981, Furch Guitars (Furch) has worked its way up to become one of the world's leading manufacturers of all-solid-wood acoustic guitars and acoustic bass guitars. The company's production complex and head office are located in Velké Němčice near Brno, Czech Republic. Furch instruments combine the company's extensive know-how in building handmade guitars with state-of-the-art technologies, production processes, and proprietary innovations. Thanks to that, the company is able to bring to the market premium-quality musical instruments with outstanding acoustic properties and excellent design parameters.
Covered by a three-year warranty, Furch guitars are sold in 32 countries on five continents. Furch employs over 60 luthiers and craftsmen and makes in excess of 7,000 instruments annually. Furch guitars are the preferred choice of such artists as Suzanne Vega, Per Gessle, Glen Hansard, David Koller, Vlasta Redl, Zdeněk Bína, and Thom Artway. For additional information, visit www.furchguitars.com.